Susan Stripling Photography
1 Hotel Brooklyn Bridge Wedding Photography
How much do I love creating 1 Hotel Brooklyn Bridge wedding photography? There are almost too many reasons, but I'd love to break down just a few of the things that I adore about working at this beautiful venue in this beautiful part of New York!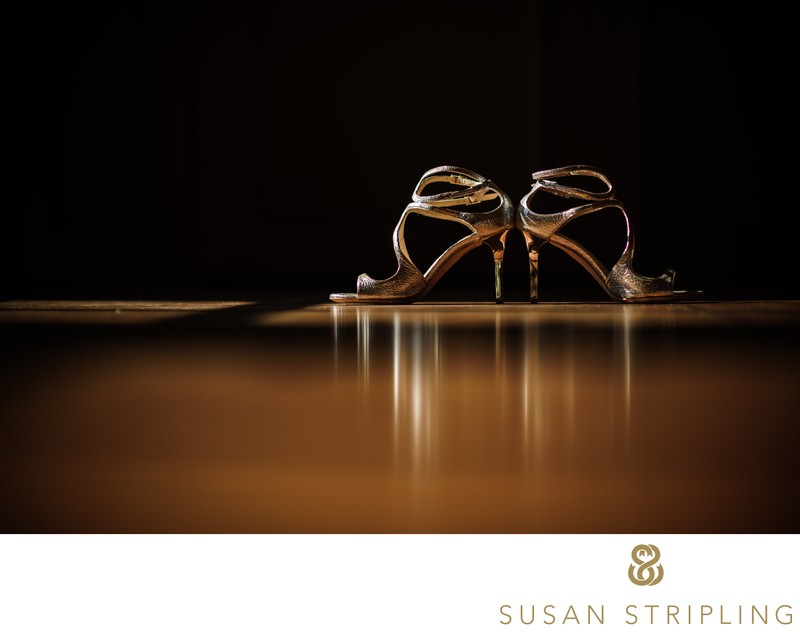 Let's start with the location itself first and foremost.
I moved to Brooklyn in the summer of 2008, and Brooklyn Bridge Park was the site of one of my very first portrait shoots as a New York resident.
I will never forget how I felt when I stepped onto that great lawn in between the two bridges and looked towards the magnificent Manhattan skyline. I feel that way every single time I have gone back there since!
There is something so spectacular about how majestic and inspiring that view is. No matter how many times I see it, it's always like the first time.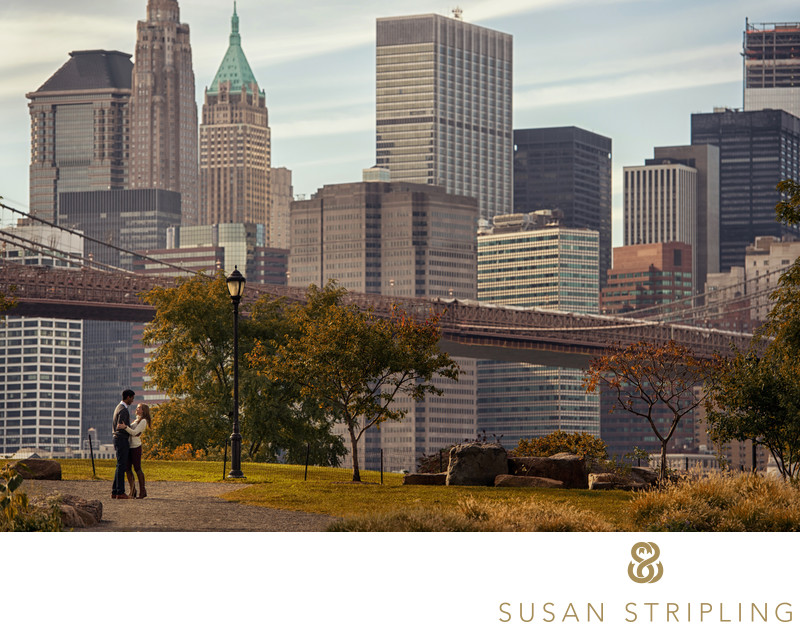 There are several reasons that I believe that Brooklyn Bridge Park is a spectacular location for wedding day photography. If you're looking for 1 Hotel Brooklyn Bridge wedding photography, you're in precisely the right spot!
Wedding photos with the Manhattan skyline
The first huge selling point when talking to clients about Brooklyn Bridge Park for their 1 Hotel Brooklyn Bridge wedding photography is that skyline.
Go ahead and google any of the following:
Wedding photos with Manhattan skyline
Best view of Manhattan skyline
Where to see Manhattan skyline
Where to take pictures with the Manhattan skyline
What do your results tell you? Almost 100% of those results point you straight towards Brooklyn Bridge Park.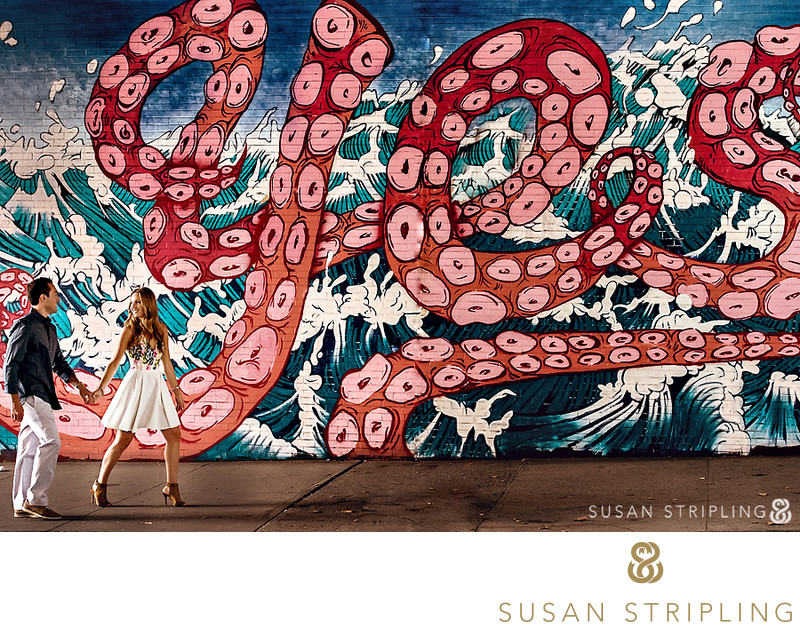 Situated right on the river, this unique property boasts utterly spectacular views of Manhattan from across the water. It really is incredible to see the skyline rising in the back of your wedding day photos.
There are other locations in Brooklyn that will get you great skyline views, such as:
The Brooklyn Heights Promenade
The Ides at the Wythe Hotel
Westlight in Williamsburg (a restaurant)
East River State Park in Williamsburg
Berry Park in Williamsburg
WNYC Transmitter Park in Greenpoint
Brooklyn Barge in Greenpoint
Brooklyn Crab in Red Hook
Fornino in Brooklyn Heights
Sunset Park in Sunset Park
Alma in Carrol Gardens
However, none of these offer quite the view that Brooklyn Bridge Park does. I love this location so much that it regularly makes my list of favorite places to take wedding and engagement pictures in New York and Brooklyn!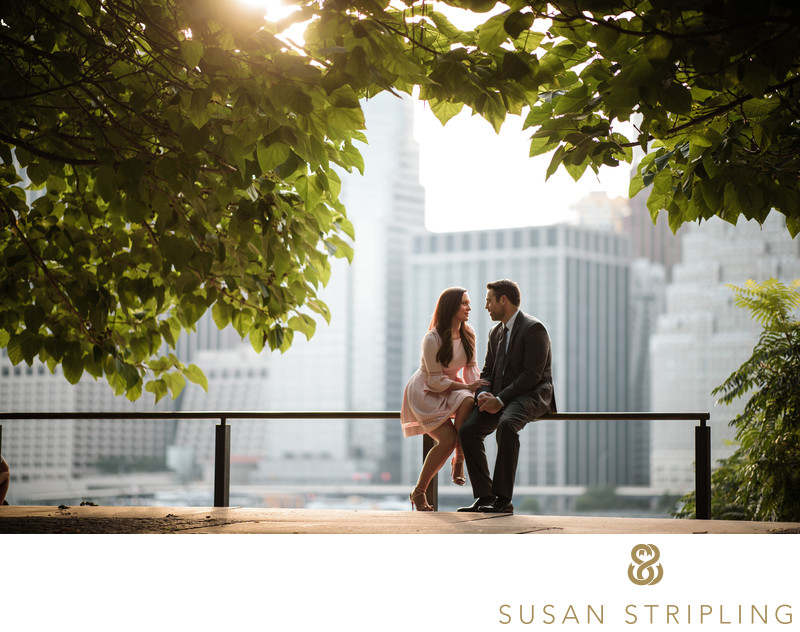 Versatile location for wedding day photos in Brooklyn
Another thing that makes Brooklyn Bridge Park a great choice for your 1 Hotel Brooklyn Bridge wedding photography is the extreme versatility of the location itself.
Looking for wedding day photos with an old New York feel? Longing for sweeping cobblestone streets and that gorgeous, old-world vibe? Brooklyn Bridge Park.
Want gorgeously dramatic wedding day photos with the Brooklyn Bridge or Manhattan Bridge rising behind you? Brooklyn Bridge Park.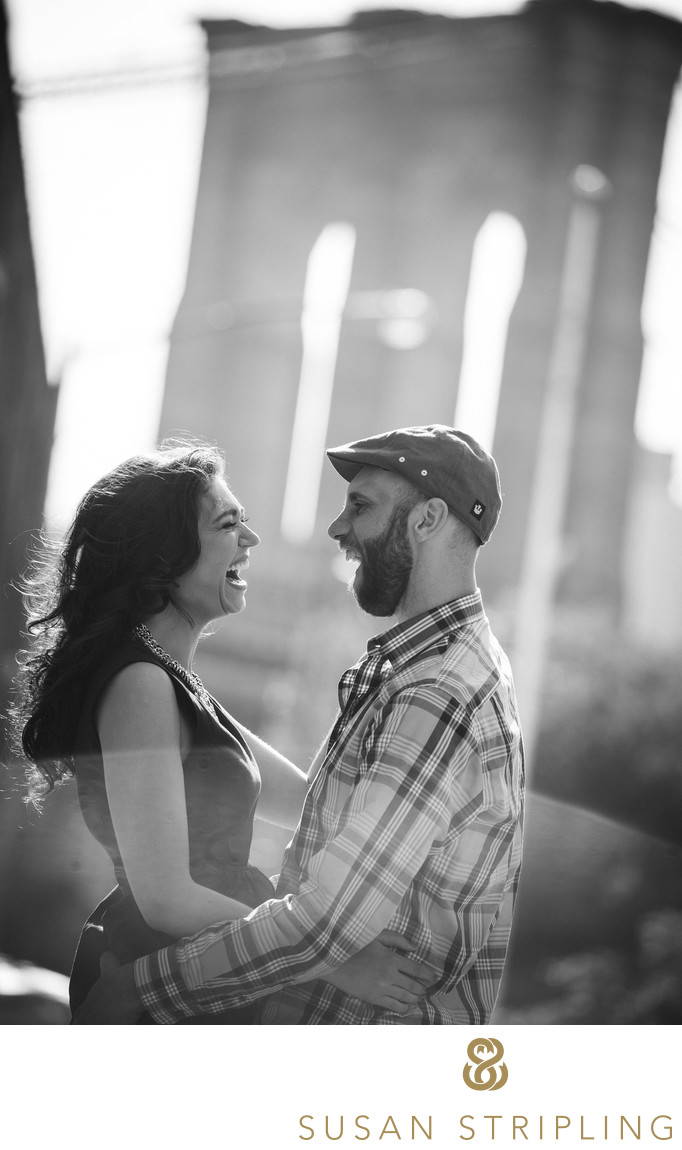 Want a water view? Brooklyn Bridge Park.
Want the skyline? Brooklyn Bridge Park.
Want lush greenery and a park-like feel? Looking for the warm ambience of Central Park or Prospect Park, surrounded by trees, shrubbery, and nature? Brooklyn Bridge Park.
Want cool brick walls, some fun graffiti, and a gritty city feel to your wedding day pictures? I know you won't be surprised at this point when I suggest Brooklyn Bridge Park.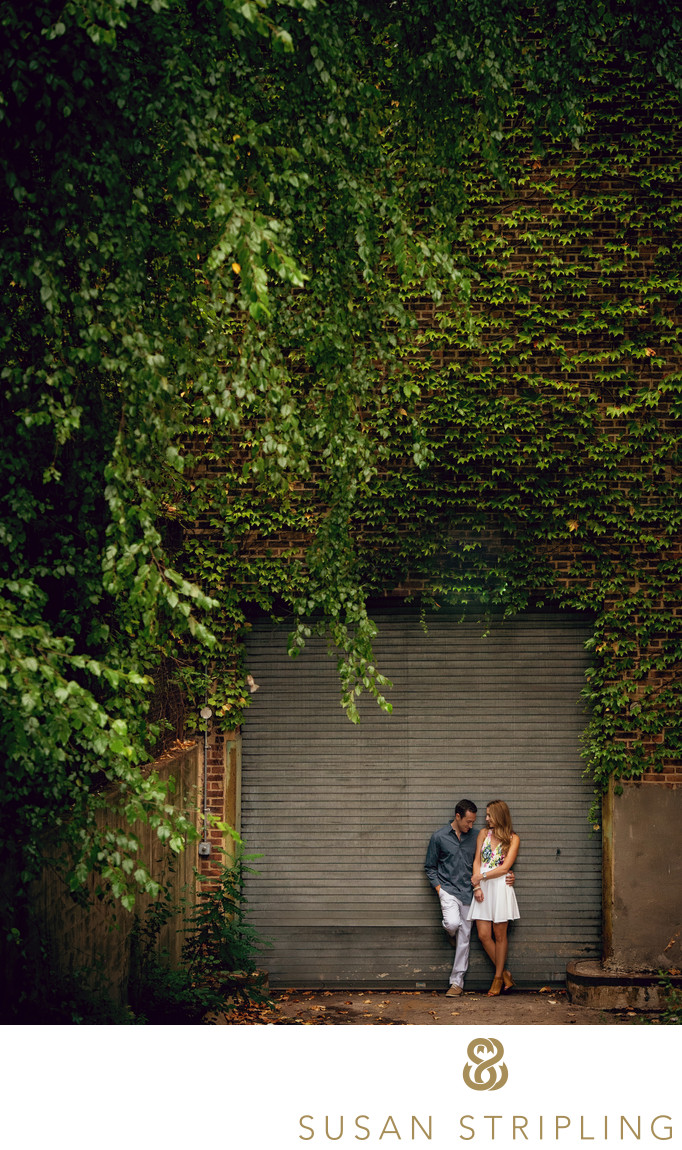 There aren't many locations in Manhattan or Brooklyn that will let you get almost a dozen different types of locations in one spot. Most of the time you have to pick and choose, or travel between the two.
I've had clients who want park and city, so we travel between Central Park and the Highline. I've had wedding day clients who want landmarks and greenery, so we go from Prospect Park to Grand Army Plaza.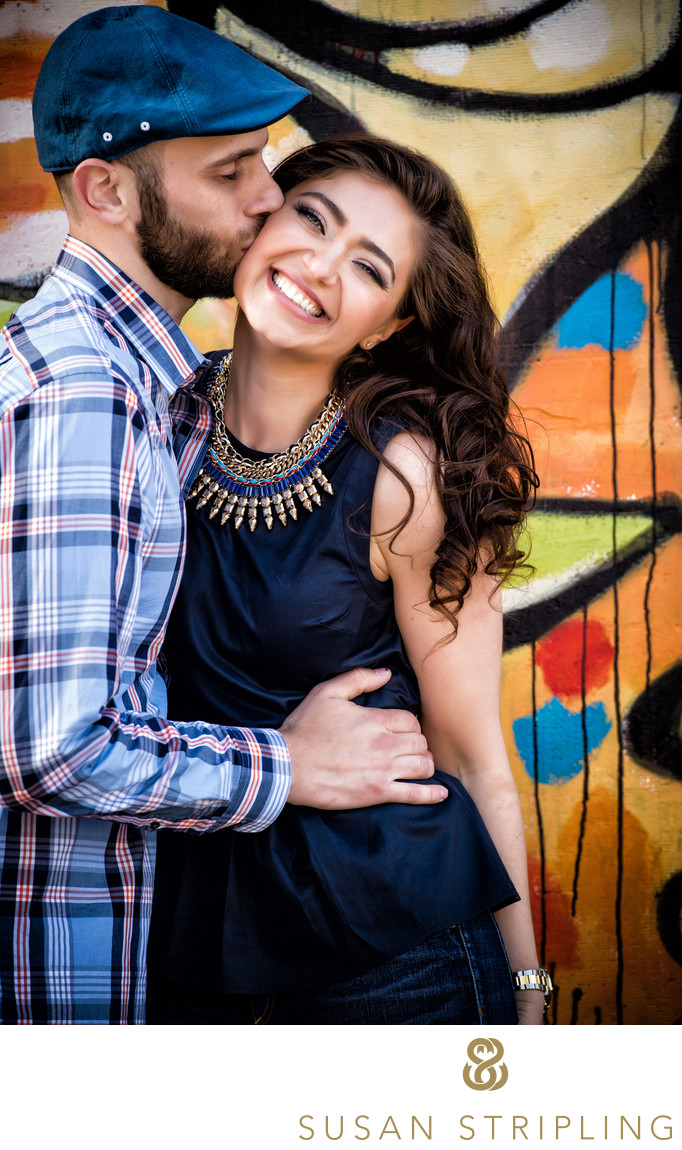 If you choose Brooklyn Bridge Park as the location for your 1 Hotel Brooklyn Bridge wedding photography, you won't have to go anywhere else! You'll be able to get all of these different "looks" without having to hop on the subway or in a cab.
Wedding pictures at the venue
When you are getting married at the 1 Hotel Brooklyn Bridge, the question of "where will we take our wedding pictures?" is an easy one to answer.

Right outside the front door of your hotel and wedding venue is the single best spot in all of Brooklyn to take wedding day photographs.
You can take your family portraits on the lawn of Brooklyn Bridge Park, situated perfectly between the Manhattan Bridge and the Brooklyn Bridge. How amazing would it be to have the Manhattan skyline in the back of all of these important photographs?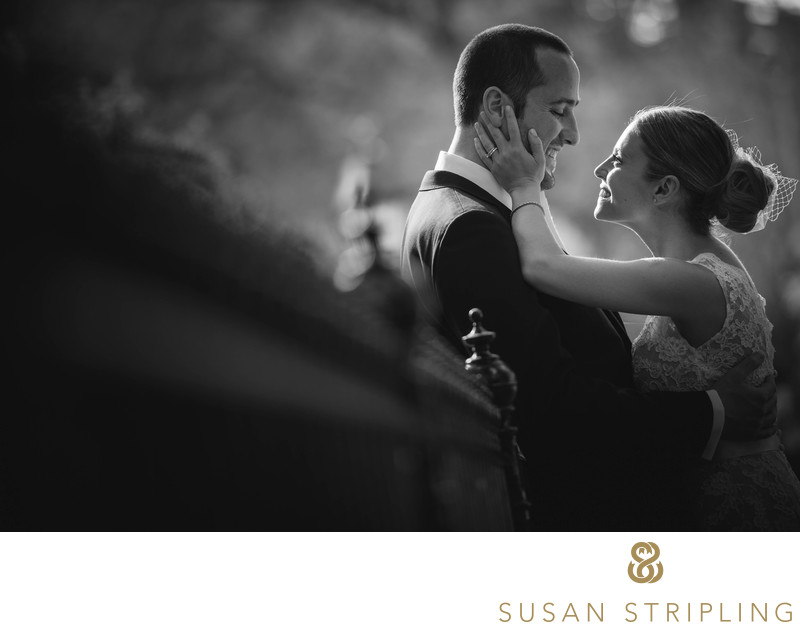 We can walk with your wedding party around DUMBO, stopping in many different places for wedding party photographs.
You can choose to set these images in a nature-like location, with graffiti walls in the background, with the brick walls of St. Anne's Warehouse, or with that amazing aforementioned skyline view!
When it's time for the pictures of the two of you together, our only limitation is time! If you give me five hours to shoot, we can find five hours worth of incredible locations without leaving the neighborhood.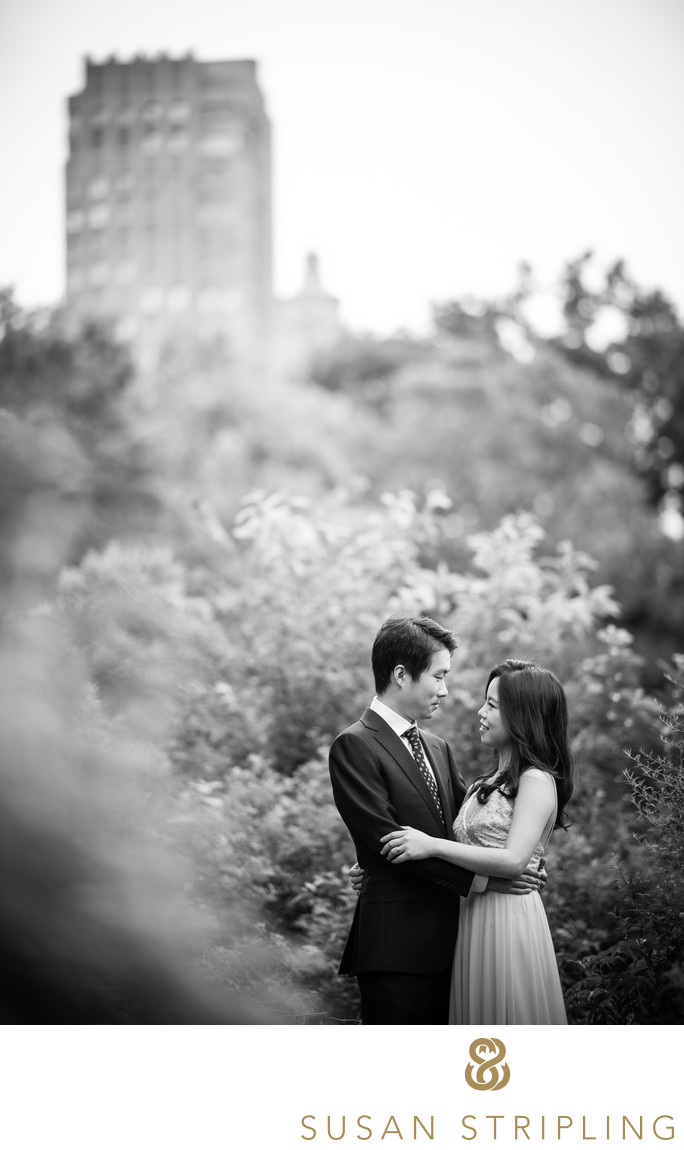 If I only have half an hour to photograph the two of you together, that's not a problem : we're in an amazing space that works fantastically even in just a brief amount of time!
Hiring a wedding photographer
If you are getting married at 1 Hotel Brooklyn Bridge, you're going to need a wedding photographer! How do you know who to hire to capture your event perfectly?
There are several parts of your day that should be considered when looking at photographers - as well as the time of year and time of day that your wedding will be taking place.
If you're having a winter wedding, with a 7pm ceremony, it will probably be dark before you even get dressed! Unless you want to get ready early in the day to take pictures before the early winter sunset, you'll need a photographer who excels at nighttime photography.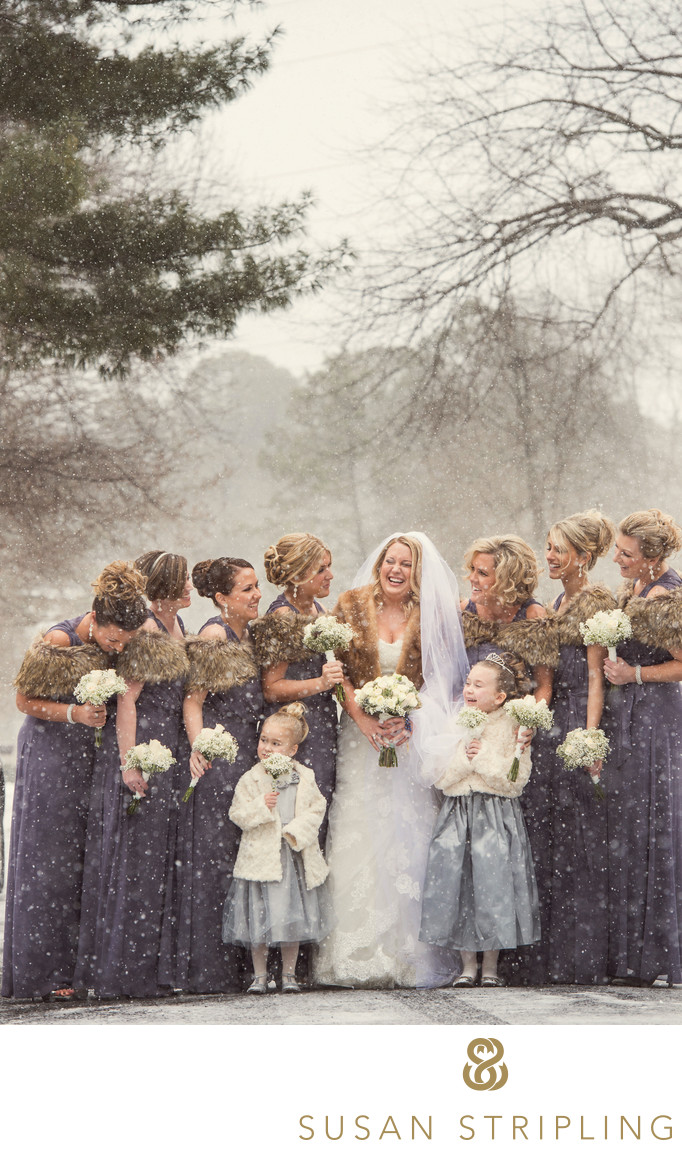 What other things should you consider?
Look carefully at photographers' portfolios to ensure that they excel at taking getting-ready pictures inside hotel rooms.
While the 1 Hotel Brooklyn Bridge is new, hotel rooms are not! It might be tricky to find a photographer who has shot at the 1 Hotel Brooklyn Bridge before (like I said, it's new!), so ask to see getting-ready images shot in similar hotel rooms.
Ask to see a full wedding shot in similar circumstances.
When your wedding venue is newly opened, it will take years for multiple weddings to show up online for you to browse through. Ask to see a wedding that is like yours. Are you having your ceremony in a church? And your reception in the ballroom at night? Ask to see a similar wedding.
While I might not have shot at a particular country club with a golf course, I've shot at many country clubs and many golf courses over the years I've been photographing weddings. I can provide prospective clients with weddings shot in similar venues so that they can see that I could easily excel shooting at their venue.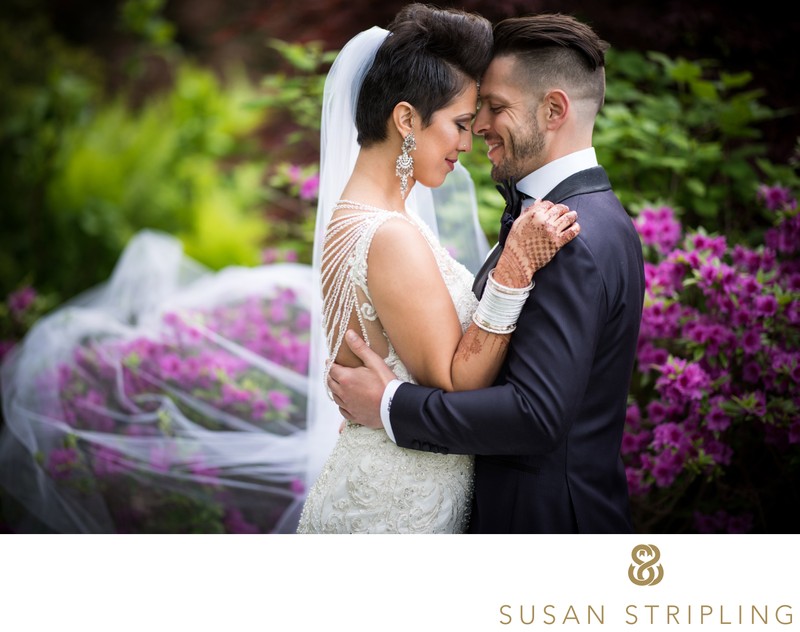 Don't get hung up on whether or not the photographer has shot at 1 Hotel Brooklyn Bridge before! Just make sure that he, she, or they are capable of shooting in a similar environment - the skills will translate from one venue to another!
Make sure your photographer is comfortable shooting in your environment.
Is your reception on the 1 Hotel Brooklyn Bridge roof deck? That's a gorgeous space, but make sure that whoever you hire for your wedding photography can rise to the challenge of shooting a reception in an open-air outdoor space.
Is your cocktail hour inside, and your reception in the ballroom? Beware the "natural light photographer" who doesn't use a flash! You need to check and make sure that your photographer is comfortable shooting in indoor spaces such as ballrooms.
You also need to make sure that he, she, or they are capable of lighting the space with the high windows and reflective surfaces. That can be tricky for some photographers!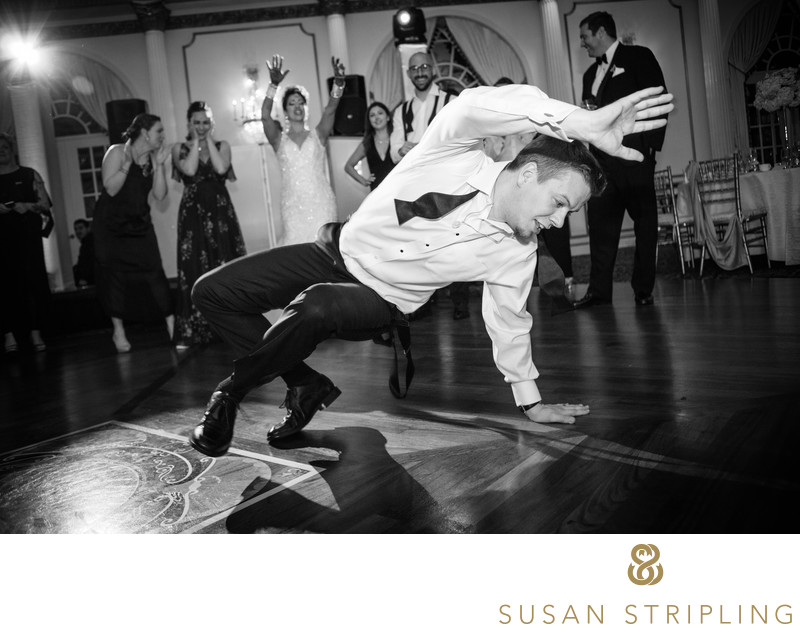 Can your photographer handle crowds?
Brooklyn Bridge Park is many amazing things, but peaceful and intimate are not two of those things! Crowded, crazy, and bustling are better words to describe this location!
Busy during the weeks and often packed to capacity on the weekends, it can be difficult to create a sense of intimacy in wedding day portraits when the scene is so hectic and chaotic.
Make sure that any photographer that you are considering for your wedding can isolate you in such a crowded space. Can he, she, or they handle the crowds and create compelling images of you, your family, and your wedding party in that type of scenario?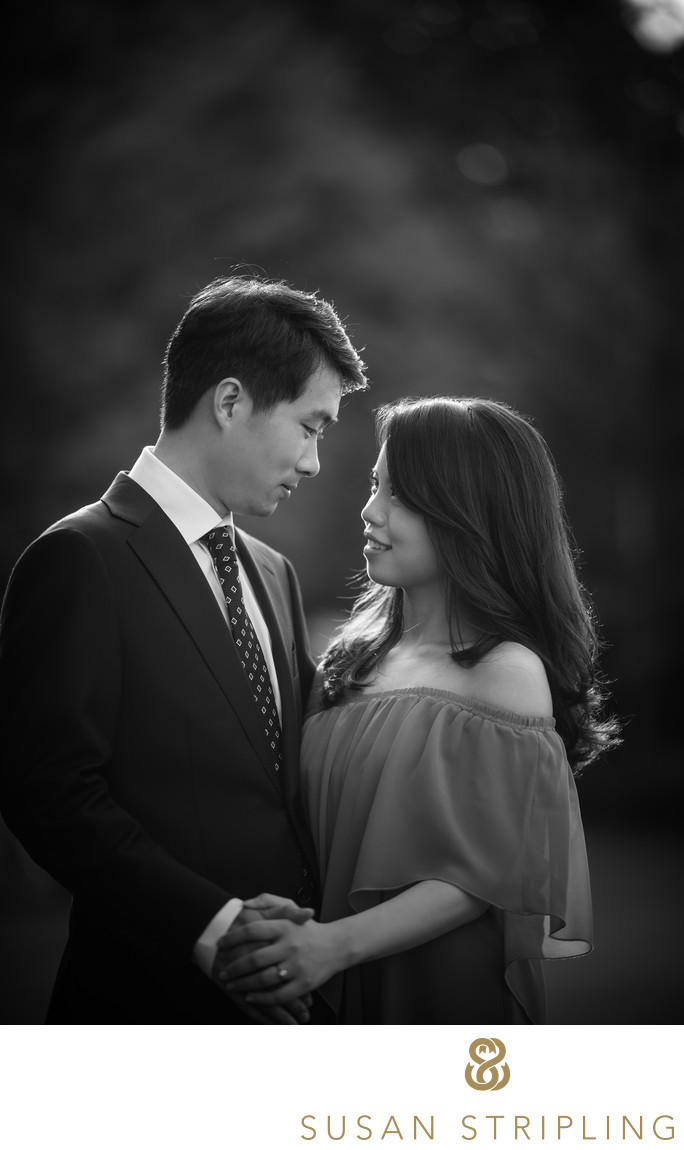 For example, this image above was taken in Brooklyn Bridge Park. That's right, in the park teeming with people! It was crowded and crazy, but I was able to isolate the couple to reflect the intimacy of the moment.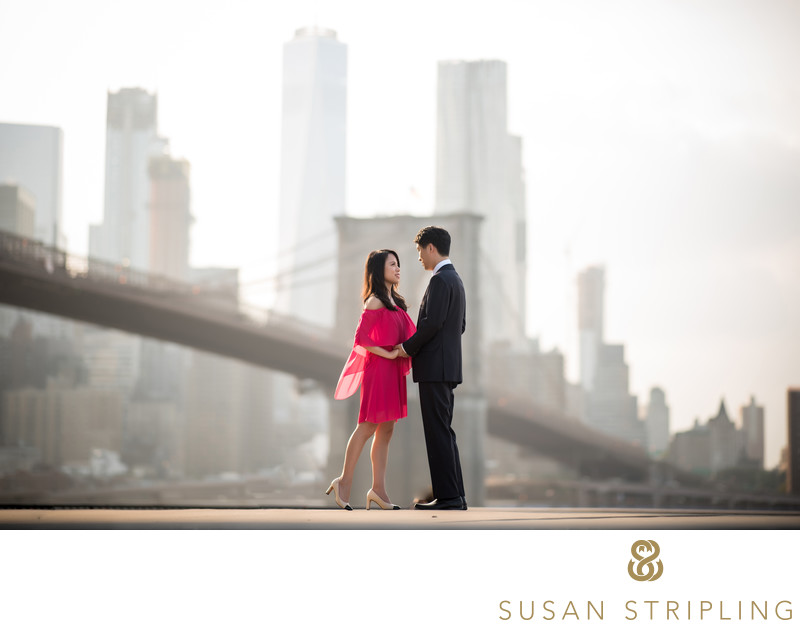 Above is another example of being able to work in a crowded location with ease, which is something I personally excel at as a wedding photographer. It was a busy day, and the park was teeming with tourists and locals alike.
I knew precisely where I wanted to put my couple to set them against the spectacular skyline and bridge in the background. I also knew what lens I'd need to use to capture the image perfectly.
I also knew I'd have to wait!
Crowded at best, and a total madhouse at worst, this particular area of the park is popular for a reason. It's gorgeous! I had to be patient and wait out the crowds.
I also had to know my proper vantage point, lens, settings, and composition to be able to take the picture in a brief moment when the seas of people parted!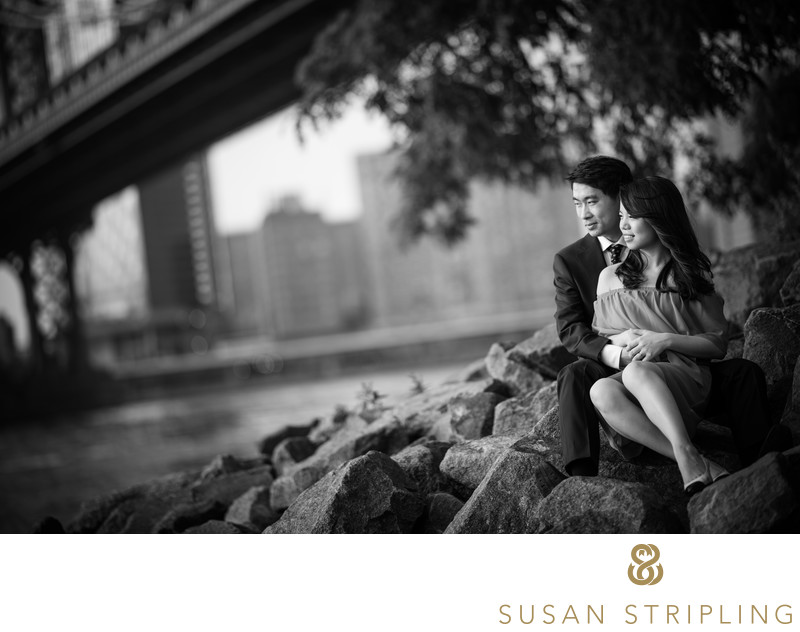 How to contact us
If you have chosen 1 Hotel Brooklyn Bridge for your wedding venue, or if you're considering it, I'd love to talk to you!
I'd love to hear about how your plans are coming along. Since this is a relatively new venue, every single wedding there is fresh and new! I love hearing the locations inside 1 Hotel Brooklyn Bridge that clients are choosing for the different parts of their day, and I look forward to hearing more about how your day is coming together!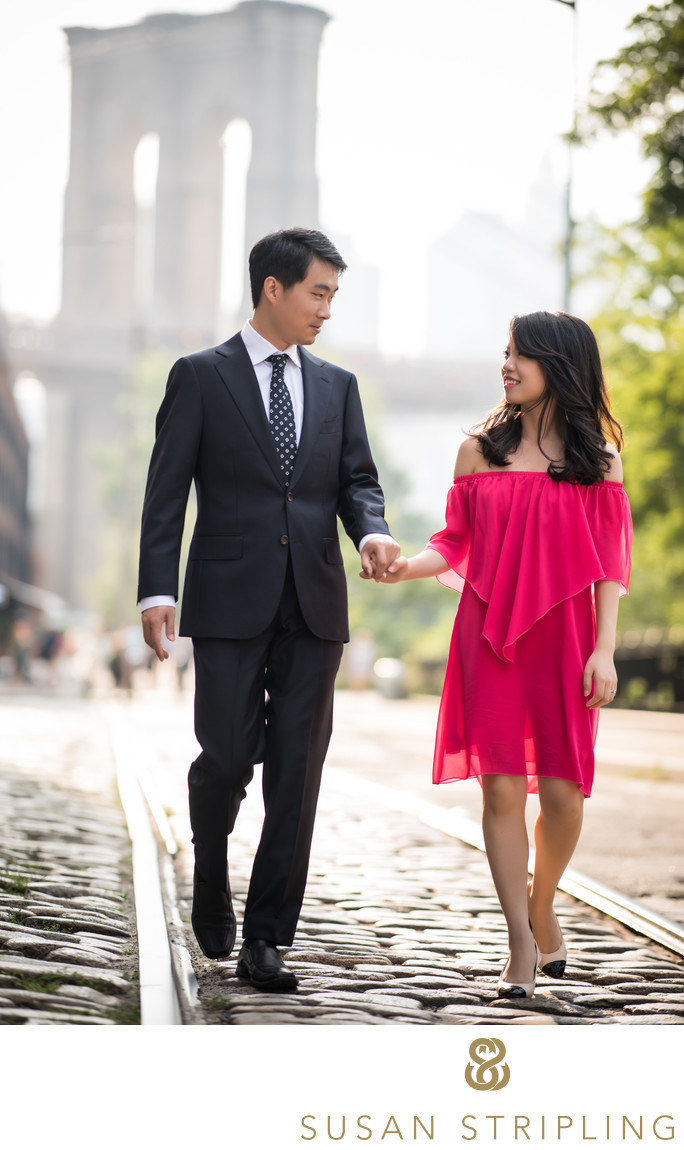 If you'd like to chat, drop me an email or give me a call! I would love to talk to you.

I'd also love to have you come visit my studio in Industry City! We can sit and chat while looking over albums and talking about the perfect wedding photography collection that will best suit your needs and plans for your day.

We can also start talking through your timeline! Helping clients put together a timeline is one of the many services that I offer as your wedding day gets closer.

It's truly important to me that you feel cared for and helped throughout the entire process. Timelines can be tricky to put together, and if there is anything that I can do to help ease that stress, I'm here!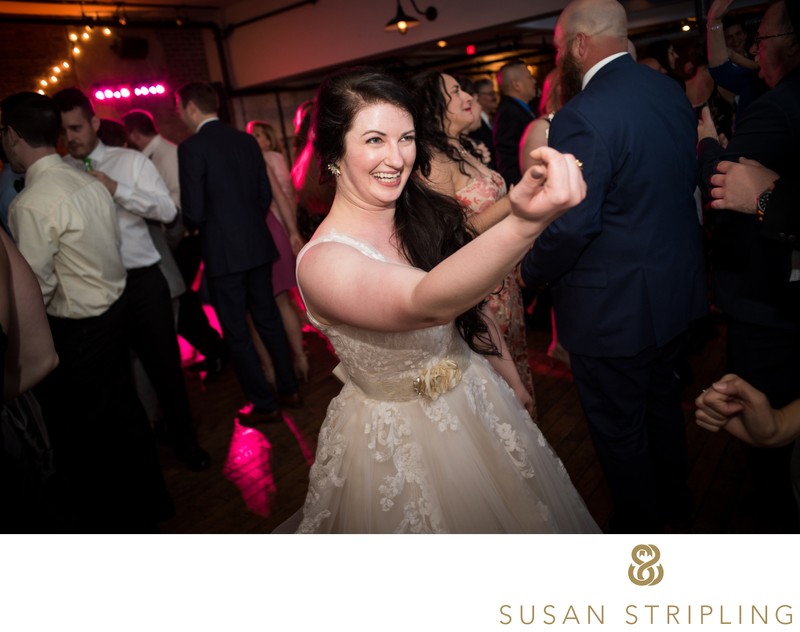 Planning a wedding can be great fun. It can also be time-consuming, frustrating, joyous, and confusing. I've been shooting weddings for seventeen years, and I've seen it all!
I'm glad to offer up my experience and knowledge as a wedding photographer to help make your day easier!
I can also help connect you with any other vendors you need for your 1 Hotel Brooklyn Bridge wedding. I know many excellent florists, event designers, event coordinators, makeup artist, hairstylists, dressers, bridal shops, calligraphers, cinematographers, and dozens of other vendors that I can help connect you with as you work on your wedding plans!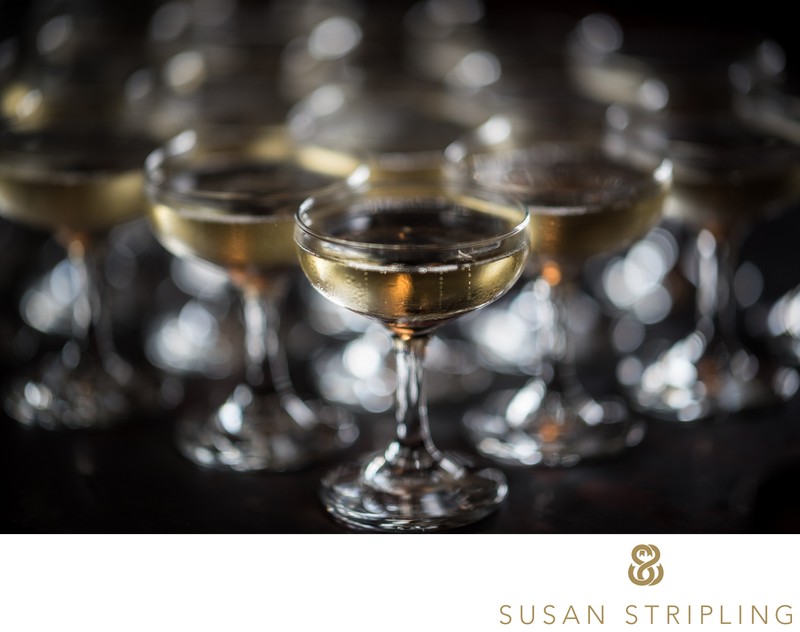 As we put together your perfect wedding day collection for your 1 Hotel Brooklyn Bridge wedding photography, we'll talk about multiple things. Some of these things will include:
Number of hours you'll need for your wedding day photorgaphy
Whether or not you need a second shooter for the wedding day
Travel logistics. Is everything taking place at

1 Hotel Brooklyn Bridge

? Or are you leaving to go to a church or other location for the ceremony and then coming back? Are there any other venue changes or travel plans during the day? Those things can impact a timeline, so it's crucial to chat them out well in advance!
If you'd like to shoot an engagement session or bridal session before your wedding date
Rehearsal dinner coverage, and whether or not that is something you'd like to add to your collection
Albums! Which album would you like for yourselves, and which albums would best suit your parents? Do you want albums at all? How many? Do you want to decide on them now, or after the wedding?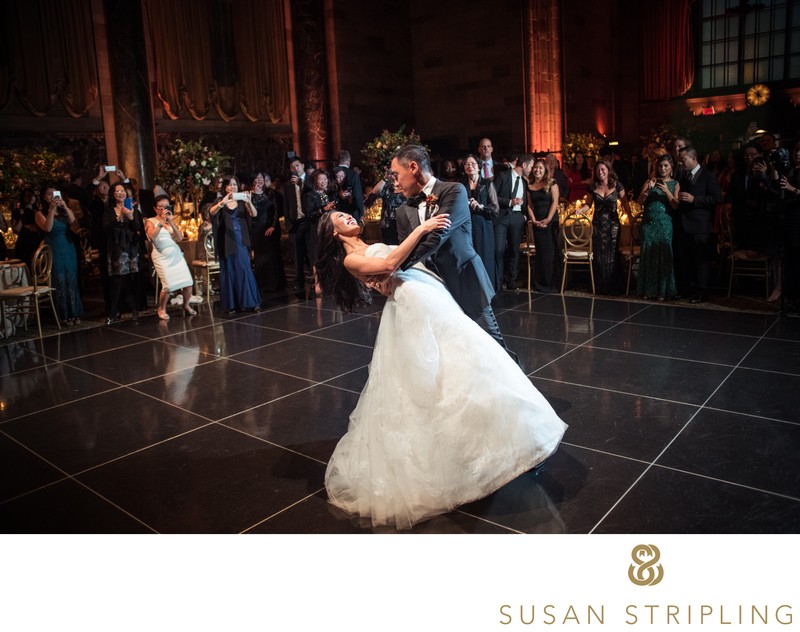 I am greatly looking forward to hearing from you and talking to to you soon!

Location: 60 Furman St, Brooklyn, NY 11201.

Keywords: 1 hotel brooklyn, brooklyn bridge.

Filename: 1-hotel-brooklyn-bridge-wedding-photography.JPG.

1/4000; f/1.4; ISO 100; 105.0 mm.