Susan Stripling Photography
New York Wedding Photos
There are so many places to take New York wedding photos that I almost don't even know where to begin. Whether you are looking for the quiet glamour of Central Park or the bustling energy of the meatpacking district, New York is a vibrant city that has hundreds of incredible locations to take wedding photos.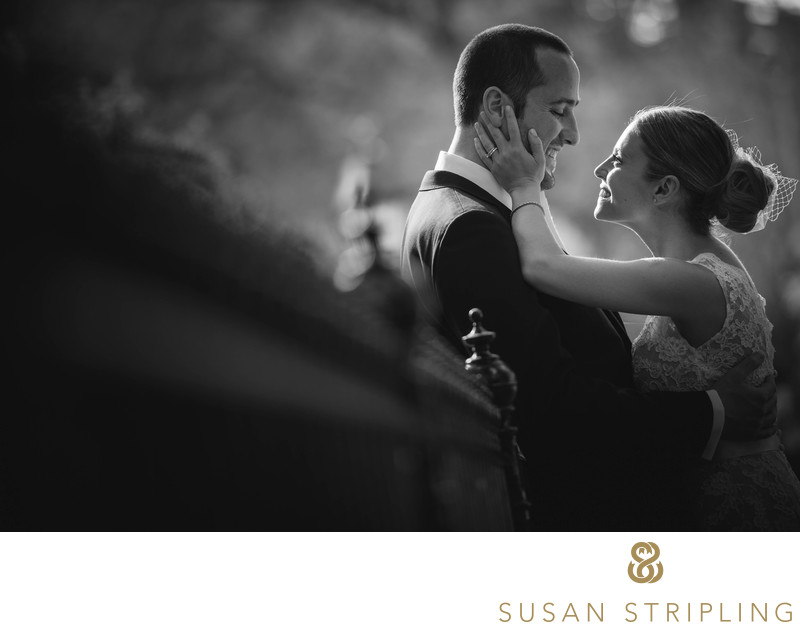 Where to take wedding photos in New York
It is important to me that my clients feel educated when it comes to the locations that they pick for their wedding photographs. Many clients choose to take their wedding day photos at a location nearby their ceremony or reception venue.
Many other clients decide to hire transportation and go to other locations in New York for their wedding day photos.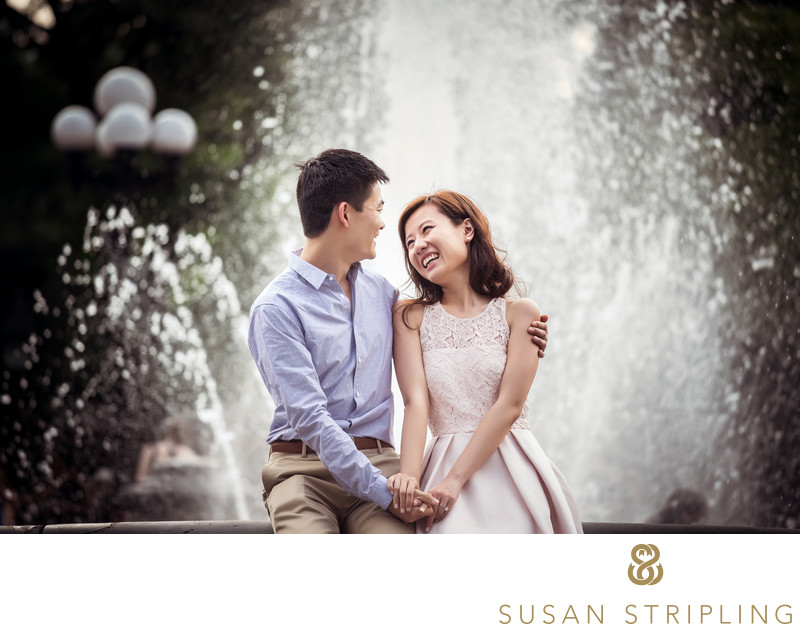 Seeing as how I have been a wedding photographer in the New York area since 2008, I feel that it is my great responsibility to help my clients pick the perfect location for their wedding day photos.
I've shot many weddings in New York, and creative portraits in many different locations around the city. It is my fervent desire that my experience being a wedding photographer in New York serves to help my clients and give them great customer service.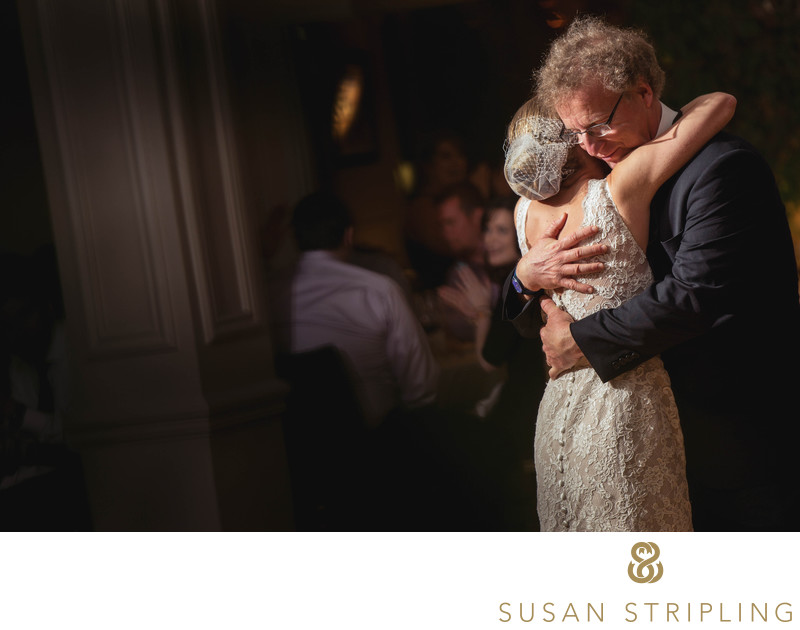 Indoor wedding photo locations in New York
It can be incredibly difficult to choose an indoor location to take your wedding day photographs in New York. Many hotels and wedding venues will not allow you to take pictures on their property unless you are getting married there. Some go so far as to not allow you to take photos there at all, whether you are or are not getting married there.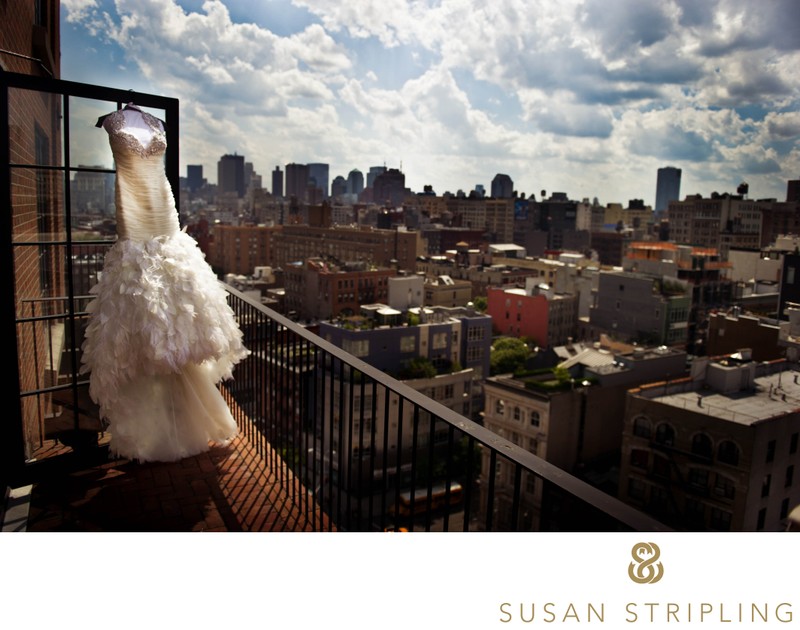 Take the Bowery Hotel for example. This incredible, iconic New York wedding location is one of my absolute favorite places to shoot in the entire city. I love the light on the balconies, the incredible hotel rooms, and the absolutely exquisite indoor space for ceremony and reception.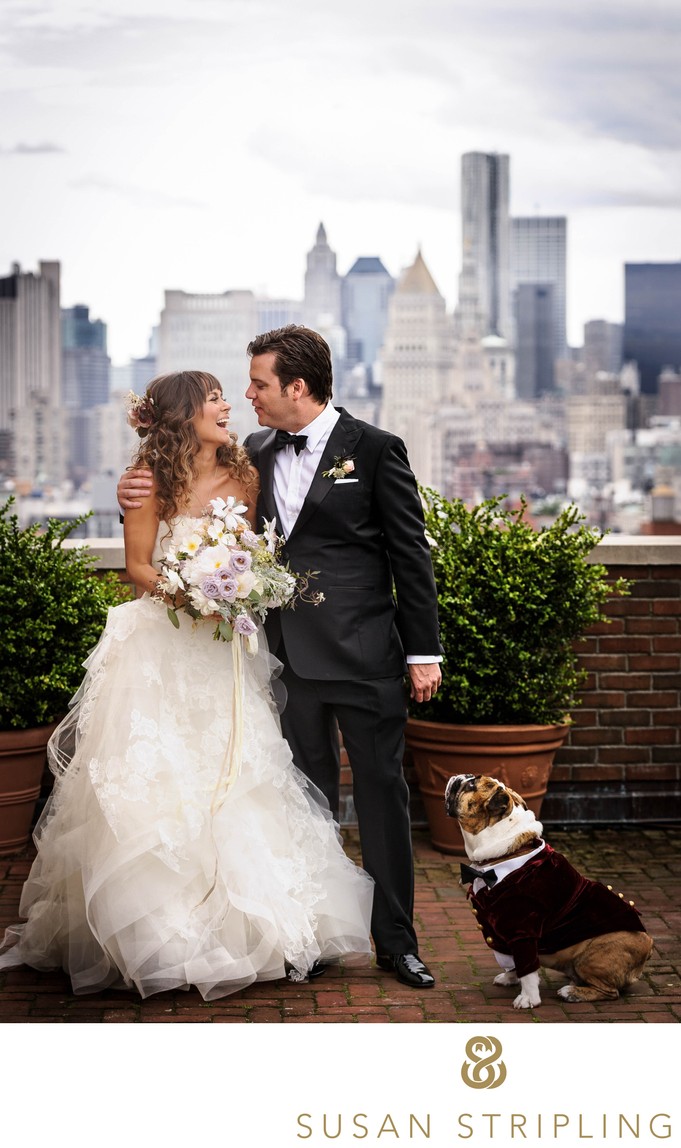 While there are many incredible locations to take pictures inside the Bowery Hotel, you are not allowed to take wedding day photographs in the lobby even if you are getting married there. It is the same at the beautifully iconic Gramercy Park Hotel. You will find that it is also the same at the famous Plaza Hotel.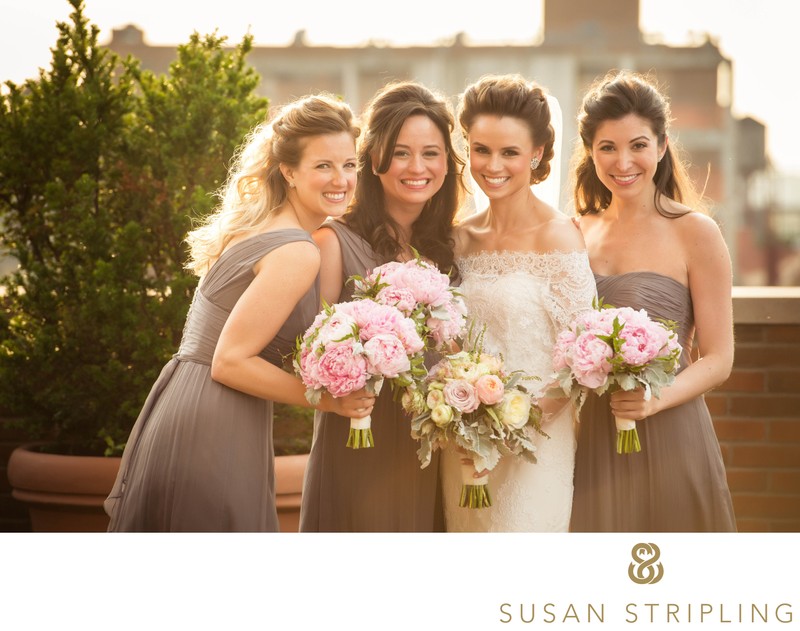 Many of these exclusive venues are also hotels with public spaces. They fiercely guard the privacy of their guests, and wedding day photography is not allowed in any of the public locations. This can be incredibly frustrating, especially if you are getting married at those locations.
What are you supposed to do if it rains on your wedding day? Where do you take indoor wedding photos in New York?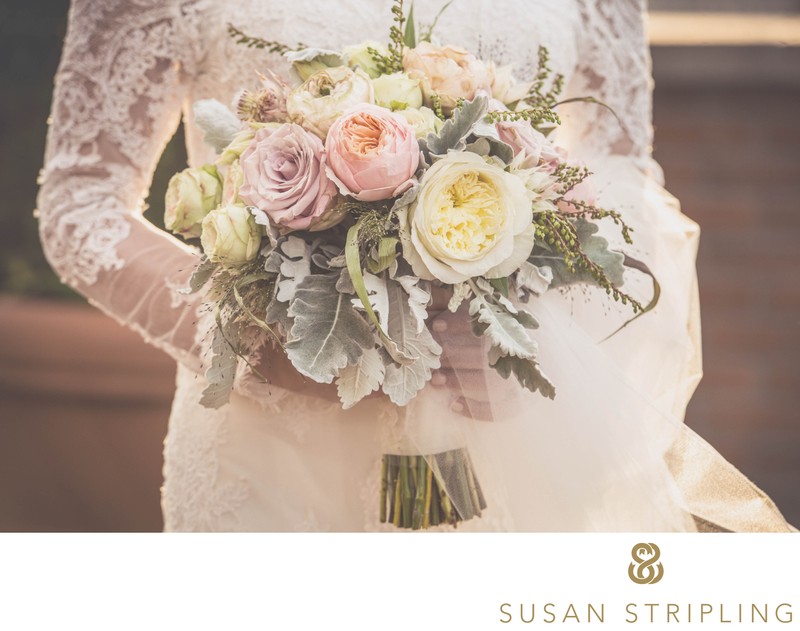 One of my absolute favorite locations for indoor wedding photograph in New York is Top of the Rock. For the low price of a simple ticket, you are allowed to take wedding day photographs in the interior of this famous tourist location. If there is a break in the clouds, it is also a wonderful location to catch a fantastic glimpse of the famous New York City skyline.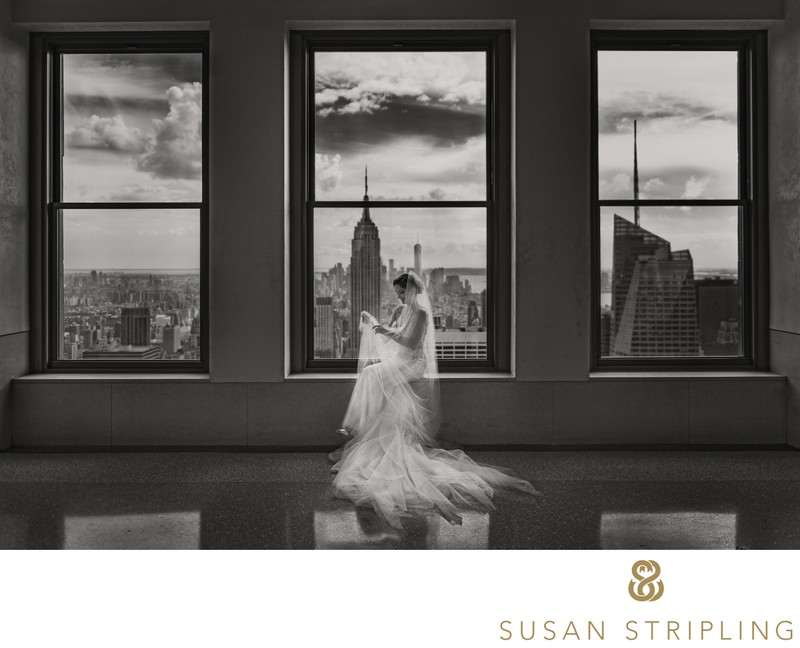 Another thing that you can do to ensure that you have a location to take indoor wedding photographs in New York is to book a hotel with a covered balcony. For example, the Bowery Hotel has several suites with canopies overhanging the balcony spaces. Even if it's raining outside, you can stand under the overhang and feel as if you are outdoors in the open air!
You can also speak to your wedding venue and find out what indoor locations might be available to you on your wedding day. I have photographed wedding day portrait inside reception rooms and ballrooms while they were still being set up for the reception. I have photographed inside ceremony spaces before the ceremonies even took place.
If you are unsure as to where you can photograph in your wedding venue, simply talk to the wedding venue coordinator and see what your options are!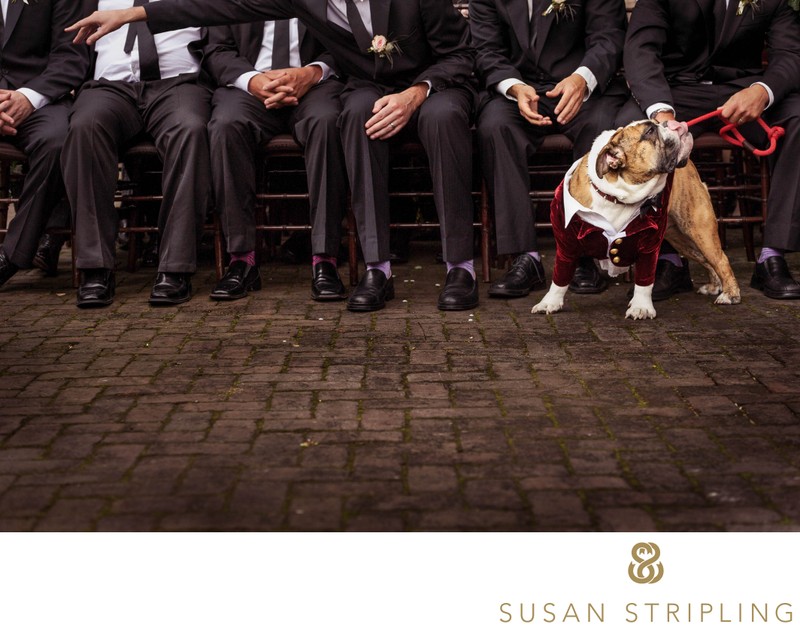 If you want to have your wedding day photos in New York taken outside, congratulations! When I think of everywhere that I have photographed in the entire 17 years of my career, I have never found somewhere quite as incredible as New York City. The outdoor options for New York wedding photos are almost limitless.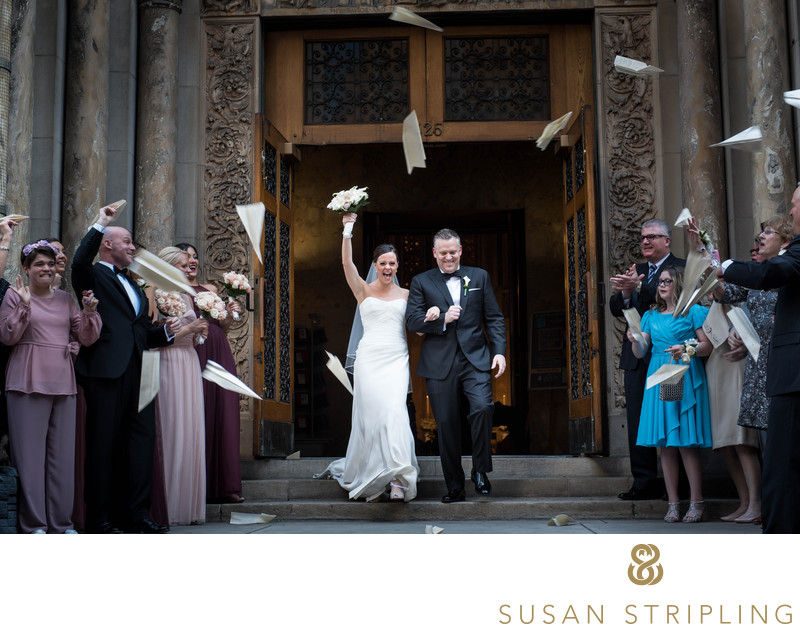 If you are looking for an iconic place to take your outdoor wedding photos in New York, I highly suggest Central Park. From Bethesda Terrace to the Bow Bridge, the famous Central Park lawn to the sprawling fields and meadows, Central Park has a little of everything.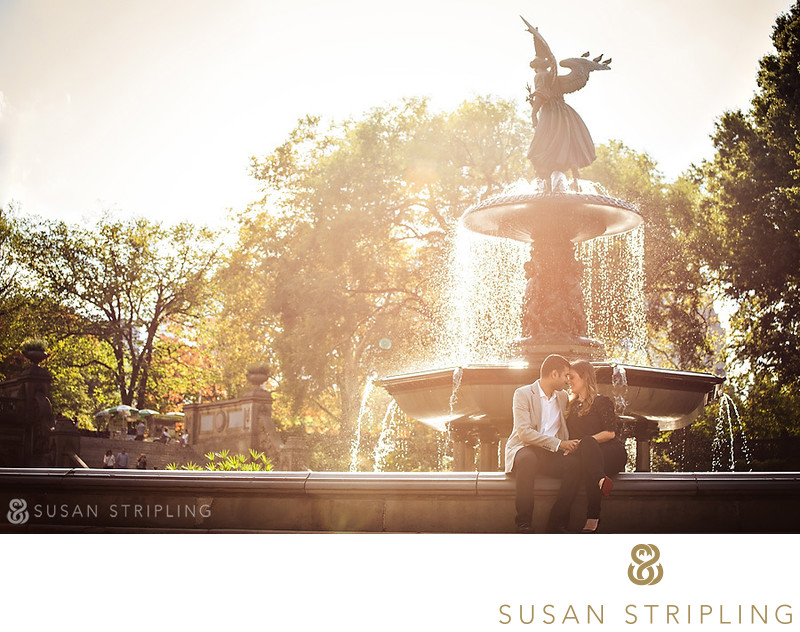 If you are looking somewhere a little more off the beaten path, I would love to suggest the High Line for your New York wedding photos.
The High Line absolutely has a little of everything as well, but in a more rustic and old world New York type of location. From the fantastic landscaping to the old world feel of the cobblestone streets, this is a fantastic location for wedding day photos.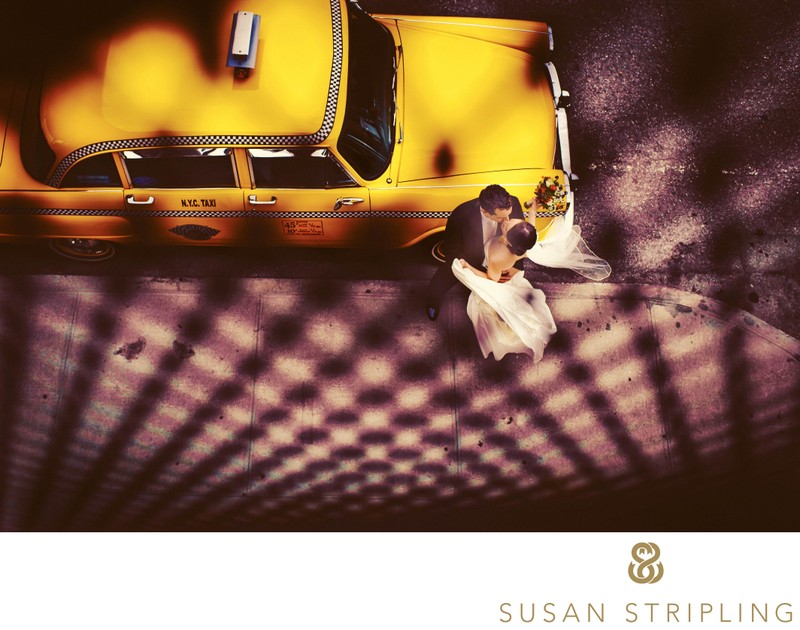 I have also recently become quite a fan of the outdoor area around Chelsea Piers. When I first moved to New York, there wasn't much in the way of landscaping or photo background in this area. If I shot a wedding at Chelsea Piers, the immediate outdoor location around the peer was really the only place to take wedding photos.
They have since done a remarkable job transforming the area around Chelsea Piers into an incredibly photogenic spot for New York wedding photos!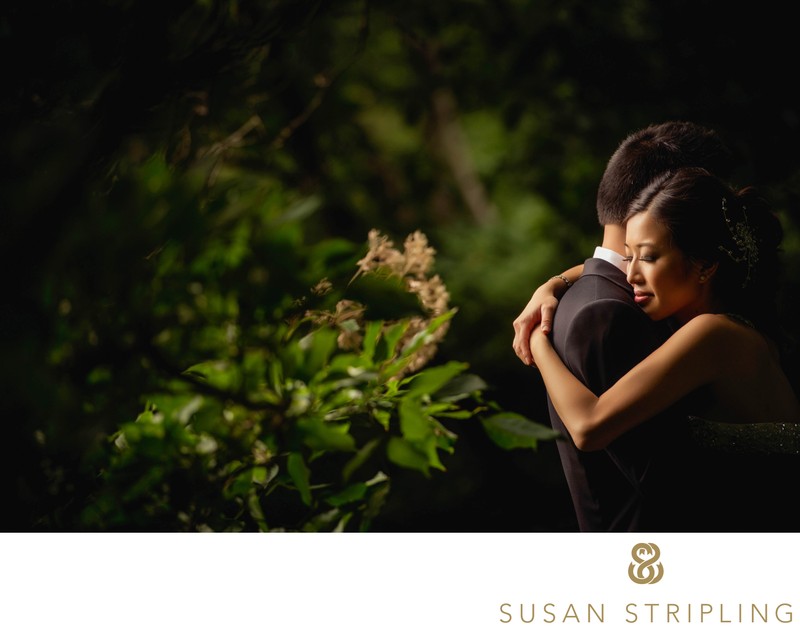 Another amazing outdoor location for New York wedding photos is Fort Tryon Park. While it is a little bit of a hike to northern Manhattan, I find that the drive is well worth the trip! If you are truly looking for an oasis in the middle of this crazy city, look no further than Fort Tryon Park.
If you are getting married in Manhattan, but would like your New York wedding photos to have a view of the skyline, let's hop over the bridge and head to Brooklyn!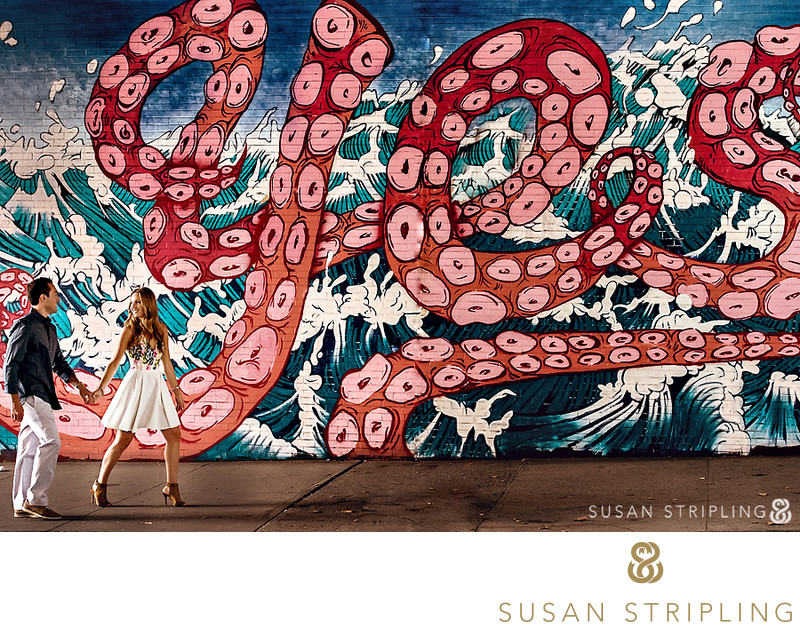 The Brooklyn Promenade and Brooklyn Bridge Park have absolutely unparalleled views of the Manhattan skyline. It is my absolute favorite place to shoot and see this extraordinary city sprawled out behind you.
You also have the added bonus of it being a little quieter than Manhattan, and a little bit less busy. This is a fantastic thing when you're trying to take wedding day photos and don't want to be surrounded by millions of people!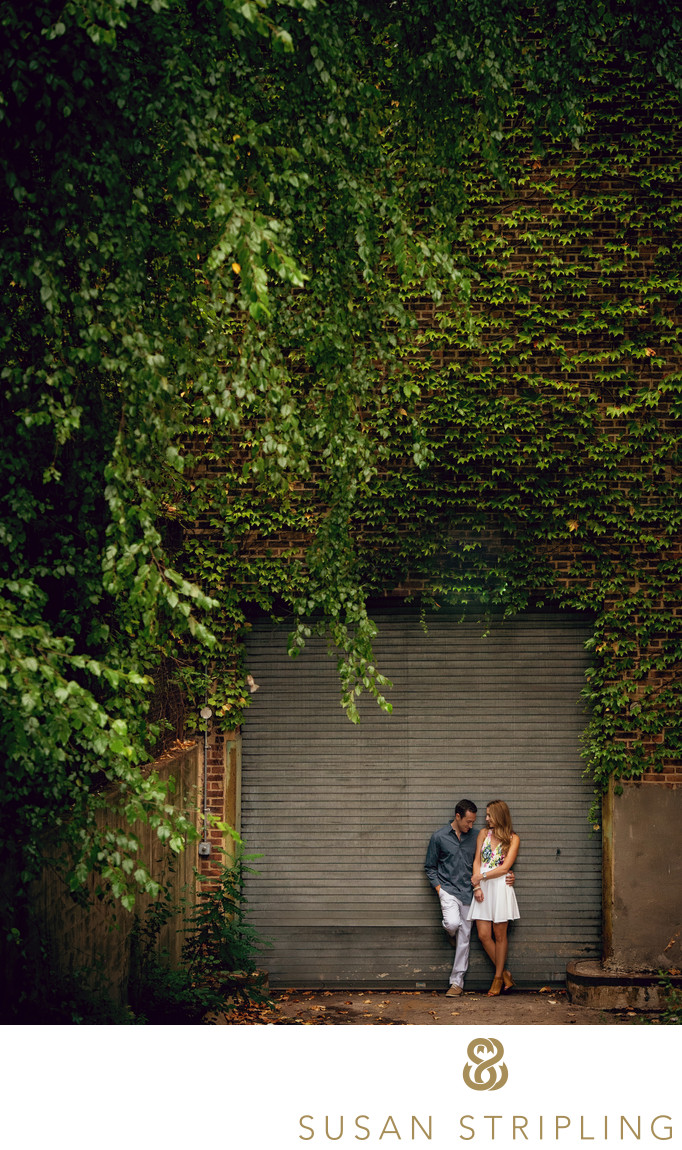 How do I choose where to take my wedding day photos in New York?
If you are unsure about where you would like to take your New York wedding photos, just ask! Part of my job as a wedding photographer is to help my clients plan the day that makes them the most happy.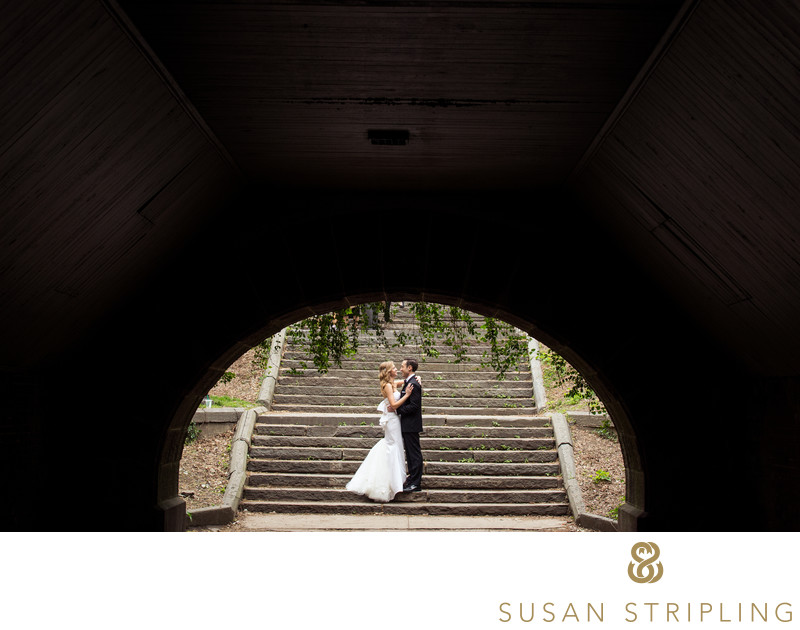 Sometimes this involves helping with the timeline on the wedding day. Sometimes this happens by recommending trusted vendors. Sometimes this also involves helping my clients choose where in New York to take their wedding day photos.
I am always happy to help, and always here by phone or email. I look forward to talking to you about your wedding day plans soon!


Filename: new-york-wedding-photos.JPG.
1/640; f/1.4; ISO 100; 105.0 mm.