Susan Stripling Photography
Brooklyn Botanic Garden Wedding Ceremony
What do you do if you want to get married in Brooklyn, New York, but you want to have an outdoor wedding ceremony in a gorgeous garden and an indoor wedding reception in a beautiful ballroom? You get married at the Brooklyn Botanic Garden.
When talking to prospective brides and grooms about their wedding days, I am often asked about my favorite venues. Client asked what I like and don't like about each of the wedding venues that they are considering. I love that my clients trust me enough to value my opinion!
It is incredibly difficult to summarize what I like about a Brooklyn Botanic Garden wedding in just a few short paragraphs.
The first thing that I love about the Brooklyn Botanic Garden Is its location. It is situated in an incredibly picturesque part of Brooklyn. I also have a particular fondness for this location, as it is right across Prospect Park from where I live!
It is an incredibly easy commute for me to get to any Brooklyn Botanic Garden wedding, and it is also easy for wedding guests and family to reach this location. There are many options for public transportation to get to the Brooklyn Botanic Garden, Whether you want to take the train, the bus, or a car service. if your guests decide to drive themselves to your Brooklyn Botanic Garden Wedding, it is often easy to find street parking on the streets surrounding the venue. Street parking is not easy to come by in Brooklyn, but I have never found it difficult to park near this location.
To fully describe everything that I adore about the Brooklyn Botanic Garden Wedding, it would be best to break it down by location.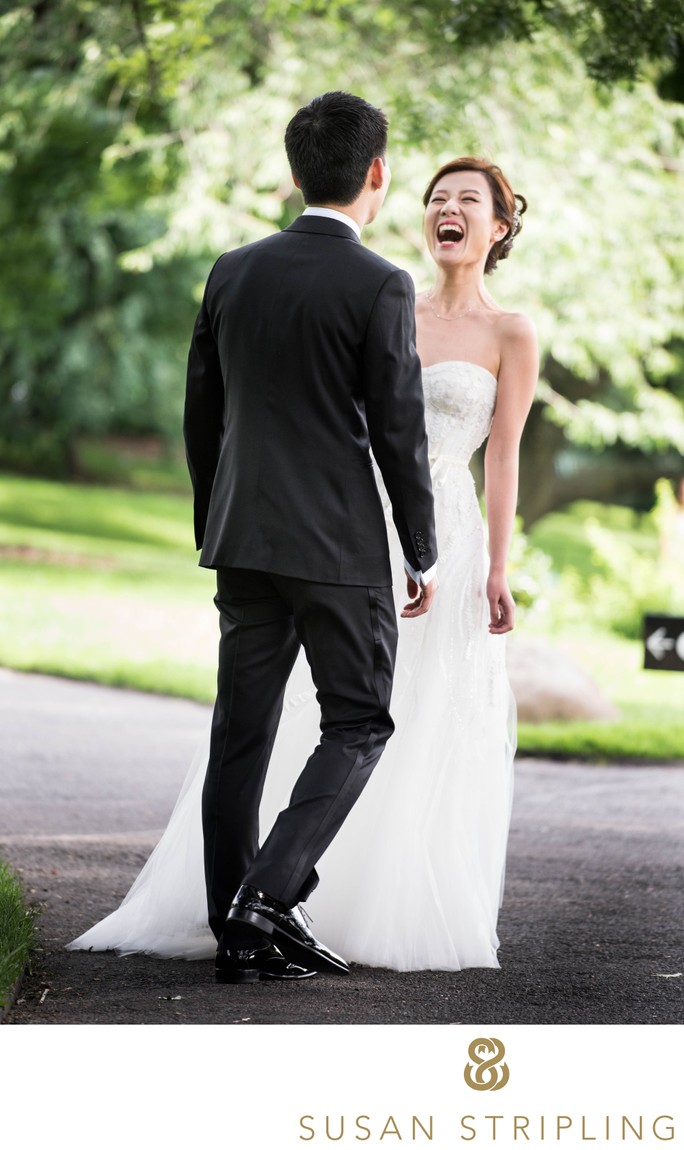 The Palm House
The Palm House is a very popular location for Brooklyn Botan Garden Wedding receptions. The Palm House has arching glass walls and a glass ceiling. This event space can seat up to two hundred and seventy-five people for a sit-down wedding reception.
It can be difficult to find a wedding venue in Brooklyn to allow a guest list of over two hundred wedding guests. The Palm House is a unique venue in that it feels intimate, yet it can accommodate a large amount of people.
Sunset is especially beautiful during a wedding reception at The Palm House. Because the walls and ceiling of this unique venue are made of glass, it really brings the outside inside. Is a beautiful effect, and one that wedding guests are always awed by.
Cocktail hour at the Brooklyn Botanic Garden
One of my favorite parts of a wedding at the Brooklyn Botanic Garden Is the outdoor cocktail hour. Guests can eat hors d'oeuvres and sip on signature drinks while watching the sunset over the garden.
Cocktail hour is almost always situated around the fountain just outside of the Palm House. This is a short walk from any ceremony location at the Brooklyn Botanic Garden, and is also steps away from the wedding reception. It is a beautiful space that needs minimal decor to look truly stellar.
Ceremony locations
There are many locations on the beautiful lawns of the Brooklyn Botanic Garden's to have your wedding ceremony.
When the cherry blossoms are in bloom, you can have your spring wedding with a right of pink blossoms behind you. When autumn comes to New York, you can get married with the beautiful fall foliage all around you. In the summer, the garden is an explosion of greenery and color. There is truly no time of year that it is anything other than picturesque to get married at the Brooklyn Botanic Garden.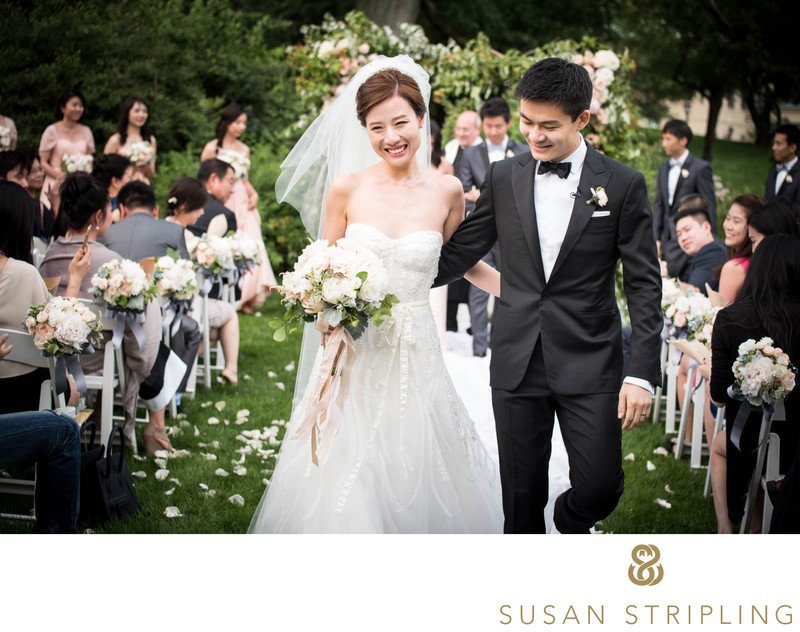 Summer weddings in Brooklyn
This particular summer wedding ceremony took place on the lawn of the Brooklyn Botanic Garden. This incredibly joyful bride was all smiles during her wedding ceremony.
I especially love outdoor wedding ceremonies because it gives the photographer freedom to move around. Oftentimes during church, synagogue, or indoor wedding ceremonies we are limited to the location in which we can stand. Many religious venues have rules about where the photographer can stand during the wedding ceremony. Many indoor venues push chairs all the way up to the walls, impairing our ability to move around. This never happens during outdoor wedding ceremonies!
Despite my freedom to move around during an outdoor wedding ceremony, I am always very conscious of all of the wedding guests. I never want to move around to such an extent that I cause a distraction, or take focus away from the wedding ceremony itself. I believe wholeheartedly in the sanctity of the wedding ceremony, whether we are indoors at a religious or we are outdoors in a park! I also believe that the wedding photographer should never draw focus from the wedding ceremony.
I often shoot wedding ceremonies with a very long focal length, enabling me to move around, get a close-up view of the action, and still stay discreet.
If you have any questions about how I photograph a wedding ceremony, I would love to talk to you. I'd love to hear about your particular wedding ceremony, and your plans for your wedding day. Whether you are getting married inside or outside, we can create a game plan to ensure that you get the best photographs of your wedding ceremony possible. Please don't hesitate to drop me an email or give me a call. I hope to hear from you soon!
Location: 990 Washington Ave, Brooklyn, NY 11225.
Filename: 392_070315_Song_Wedding.jpg.
1/400; f/4.0; ISO 560; 200.0 mm.