Susan Stripling Photography
Brooklyn Wedding Photographer
Choosing a wedding photographer can be tricky, as there are hundreds to choose from, but as a Brooklyn-based photographer, my whole life is based here, and I know my way around the area.
At Susan Stripling Photography, I love what I do, and I have an immense passion for photographing weddings.
I try to find the beauty in simplicity, take all the small, candid moments that make your wedding fun, and add my creative direction to make them shine.
As a Brooklyn wedding photographer, I work diligently to capture every moment of your love story. My priority is working with you to produce the images of your dreams.
My history in Brooklyn
I moved to Brooklyn in the summer of 2008.
I remember my first visits to the city, riding buses throughout neighborhoods and looking for the right place to settle. I first lived in Park Slope, but that lasted only about a year. (Note to self: never live in apartments on top of busy restaurants.). I then moved to Windsor Terrace where I have been since 2009.
My children were raised in Brooklyn. I have memories of walking them to elementary school, stressing about them being on the subway for the first time in middle school, and packing them for college in my apartment. In a way, I myself was raised in Brooklyn as well. I came into my own as a human, a partner, a photographer, and a mother in this amazing borough.
It's been an honor to call Brooklyn my home.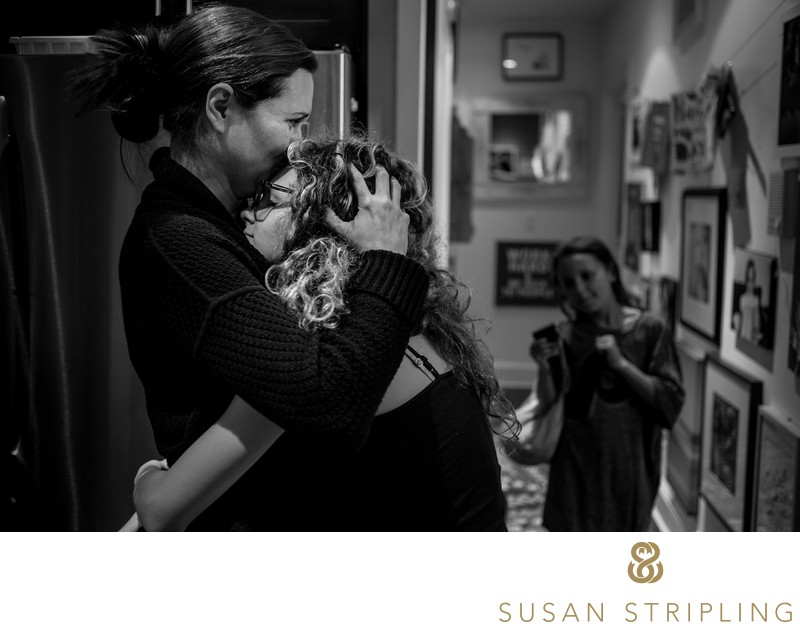 My daughters and I at home in Brooklyn, photo by Kirsten Lewis.
About me, a Brooklyn Wedding Photographer
As already mentioned, I'm based in Brooklyn, New York, and I genuinely love my job and my clients. My passion for photography has allowed me to travel all over the world, working with a wide variety of clients and doing all kinds of exciting projects. I choose to live in Brooklyn because it's a vibrant, wonderful place to cal home. As well as my personal home, my photography studio is here.
This makes me the ideal person to photograph clients who also live in this area.
My background is in business, theater, dance, and photography, giving me a unique lens through which I view the world and my work. I love everything about weddings: the celebration of a couple's love, unique storytelling, a passion for discovering beauty, and seeing dream worlds come to life. Weddings are an environment where a couple's wildest visions can become a reality as they gather family and friends together to celebrate their commitment to one another.
I'm a former dancer and theater performer, so photography took me slightly by surprise. But I tend to go with the flow of where life takes me. I've lived in Atlanta, Florida, and now New York. My love of the performing arts and enriched culture is what has continuously drawn me back to New York time and time again. I photographed my first wedding in 2001, and as they say, the rest is history. It was when I moved to Brooklyn that my style clicked firmly into place. For that, as well as a million other reasons, I absolutely love being a Brooklyn wedding photographer.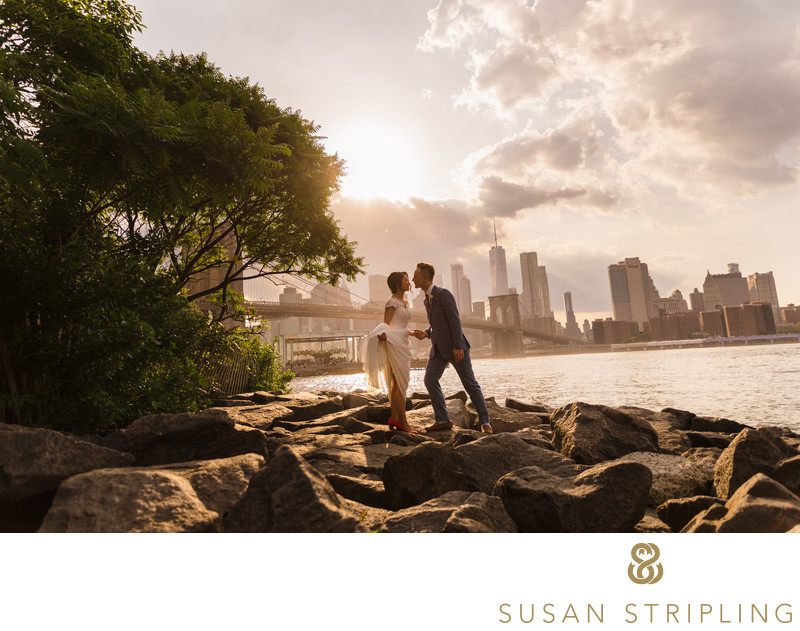 One of my favorite places to photograph in Brooklyn is DUMBO's Pebble Beach.
The Passion Behind the Photo
As a Brooklyn wedding photographer, I want my creative vision and style to bring joy to others. Photography is about capturing moments that clients will cherish for a lifetime. I am so grateful to my clients for allowing me to be a part of one of the most memorable times of their lives, at a pivotal moment where they celebrate and declare their commitment to one another for eternity. Moreover, I want to deliver exceptional, stunning images to each and every one of my clients so that they look back and remember all the fantastic moments that made their wedding day special.
My passion for shooting weddings has allowed me to meet extraordinary people and travel to amazing places. All of my experiences have shaped who I am as a photographer and business owner. Furthermore, my background in the arts has given me an eye for creative design and the ability to find enchantment and beauty in everyday moments.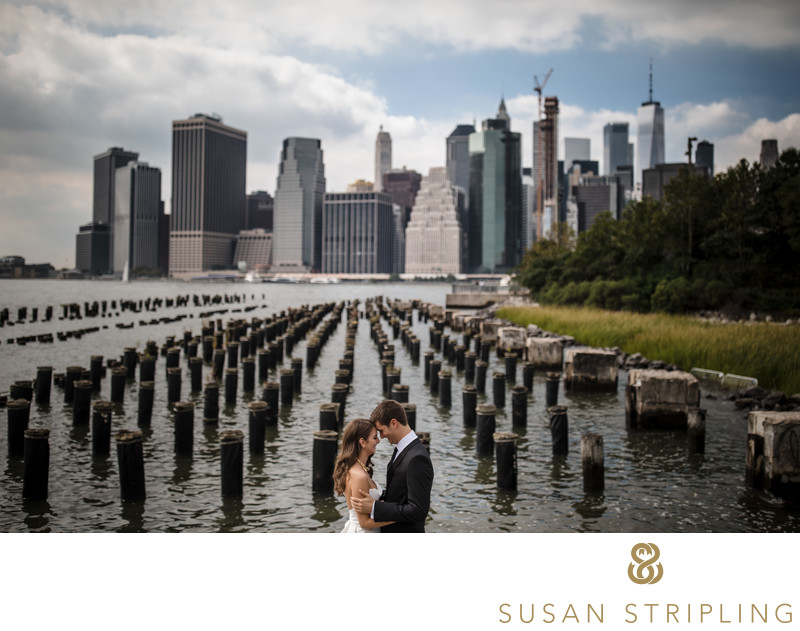 Another plus about living and working in Brooklyn? We have the BEST Manhattan city skyline views!
My studio can be found in the Gowanus neighborhood of Brooklyn at:
58 2nd Ave, #5804, Brooklyn, NY 11215
In addition to on-location photography at weddings, I do work at my photography studio in Brooklyn.
My studio is a great place to do portrait photography for anything from headshots to glamour-style images to dance portfolio photographs. The studio is a gorgeous, light-filled space that is absolutely perfect for headshots and portraits. The studio's ambiance is both calm and empowering, taking the stress out of photography sessions.
Additionally, I can do portraits for actor headshots, executive headshots, social media images, boudoir portraits, bridal portraits, corporate headshots, glamour photography, personal branding images, theatrical portraits, senior portraits, family portraits, and more.
Why Hire a Brooklyn Wedding Photographer
As a Brooklyn wedding photographer, I have a unique eye for detail and a knack for finding beauty in ordinary moments. I have photographed countless weddings and genuinely enjoy working with couples to create their dream snapshots of their big day. Additionally, I strive to provide couples with refined, stunning images that they'll cherish for a lifetime and show future generations.
In addition to my studio, I recommend several locations in Brooklyn for photography sessions, including Pier 1 at Brooklyn Bridge Park, Brooklyn Bridge Park, Brooklyn Botanic Garden, Sunset Park, The Prospect Park Boathouse, and 501 Union. I have done extensive work at these locations and know my way around well!
Other locations I love include: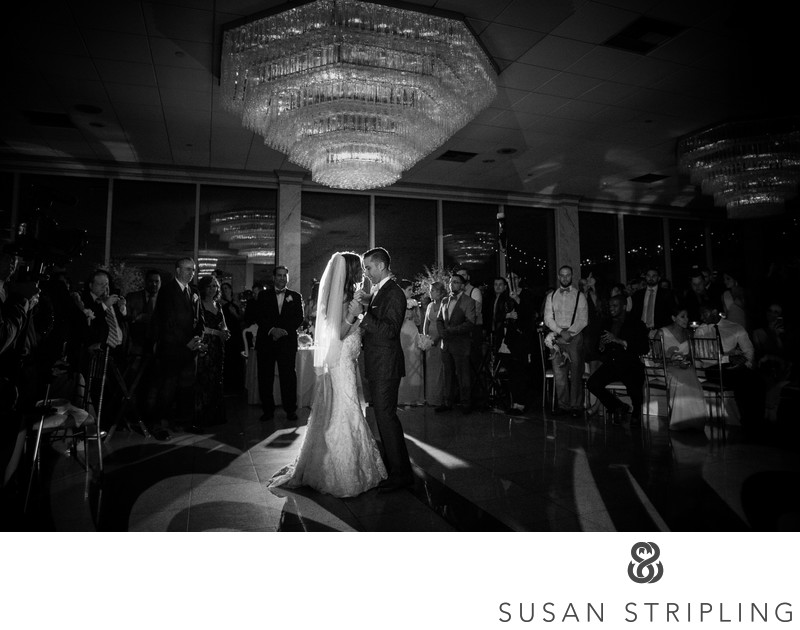 Giandos is another great Brooklyn wedding venue right on the water in Williamsburg.
On your big day, I won't get in the way and ask you to go through my pages-long list of particular poses and photo opportunities. I'll try my best to stand back and let your special day unfold as naturally as possible, capturing the moments that I know you'll cherish for a lifetime.
I know that it can be uncomfortable to be in front of the camera all day. Hence, I'll do my best to get the traditional wedding portraits but focus on capturing candid interactions, tears, laughter, speeches, dances, and anything else that paints the picture of what makes your love special.
I understand that your big day is about you, and I promise not to insert myself in unnatural places on your gorgeous wedding day.
My ultimate goal is to provide couples with creative, unique, captivating images that they will hold onto for a lifetime and look back on with pride for years to come.
Brooklyn Wedding Photography Pricing
I know that along with many other questions you might have come to this page to find out about wedding photography pricing for Brooklyn-based weddings.
Factors that influence price include:
The number of hours of photography on the wedding day.
The number of photographers covering the event.
Whether or not an engagement session is included or an add-on.
Possible albums, wall art, or other tangible products.
If your photographer offers it, a photo booth.
Additional coverage such as rehearsal dinners, post-wedding brunches, etc.
If your photographer is out of state/city/region and requires a travel fee.
You can find information about my pricing here, and obtain answers to frequent questions here.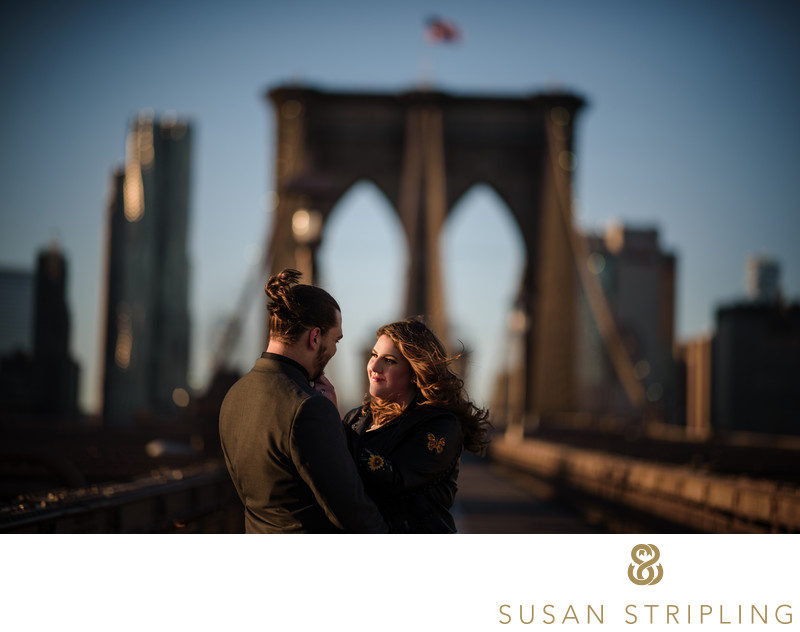 Brooklyn also boasts the aptly-named Brooklyn Bridge, a site of great wedding photos since, well, forever.
Brooklyn Wedding Photo Locations
Since Brooklyn is where my studio is based it only makes sense that I know a LOT of wonderful locations to take wedding day photos.
My favorite Brooklyn wedding photo locations are:
Brooklyn Botanic Garden
The scenic streets of Park Slope
Marsha P. Johnson State Park
DUMBO : Pebble Beach
DUMBO : Jane's Carousel
DUMBO : Max Family Garden (near St. Ann's Warehouse)
The Brooklyn Bridge
WNYC Transmitter Park
By the water in Red Hook
Outdoors at Industry City in Sunset Park
Adam Yauch Park in Brooklyn Heights
Canarsie Park in Canarsie
Fort Greene Park
Bushwick's Maria Hernandez Park
Owl's Head Park
Kaiser Park in Coney Island
Red Hook Recreation Area
Commodore Barry Park
Bed-Stuy's Herbert Von King Park
Marine Park
Sunset Park
Bush Terminal Park in Sunset Park
Coney Island Beach & Boardwalk
Riegelmann Boardwalk
McCarren Park
Prospect Park, including the Boathouse area
Wingate Park
Brooklyn Heights Promenade
Outdoors at The River Café
Louis Valentino Jr Park & Pier
Shore Promenade
The End of India Street Pier in Greenpoint
Washington St & Water St in DUMBO
Emmons Avenue in Sheepshead Bay
North 5th Street Pier and Park in Wiliamsburg
Squibb Park and Bridge
You can see a full list of my photo location recommendations here.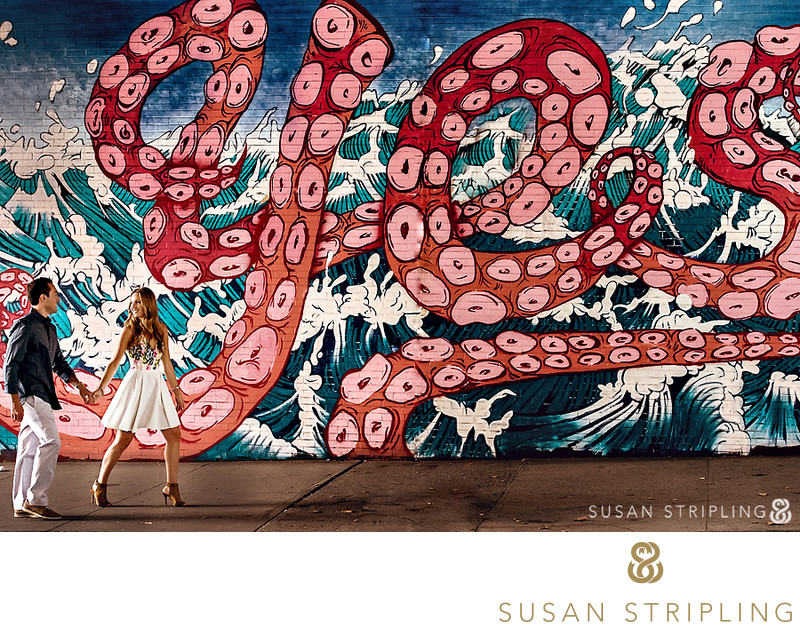 The graffiti walls in DUMBO are a great spot for wedding day photos.
Brooklyn Wedding Photographer
Please let me know how I can assist you in photographing your big day. Working as a Brooklyn wedding photographer has truly enriched my passion for this art form. From stunning portraits to breathtaking candid shots, I dedicate myself to capturing all of the aspects of your wedding day that you'll want to cherish for years to come as you look back on one of the most monumental days of your life.
Filename: brooklyn-botanic-garden-wedding-reception-at-night-photo.JPG.
1/100; f/4.0; ISO 1000; 24.0 mm.