New York Engagement Photo Locations
One of the top googled items about engagement photography in New York is "New York Engagement Photo Locations." It's easy to understand why, since there are so many incredible locations for engagement pictures in the city that it can be difficult to choose the right one for your session.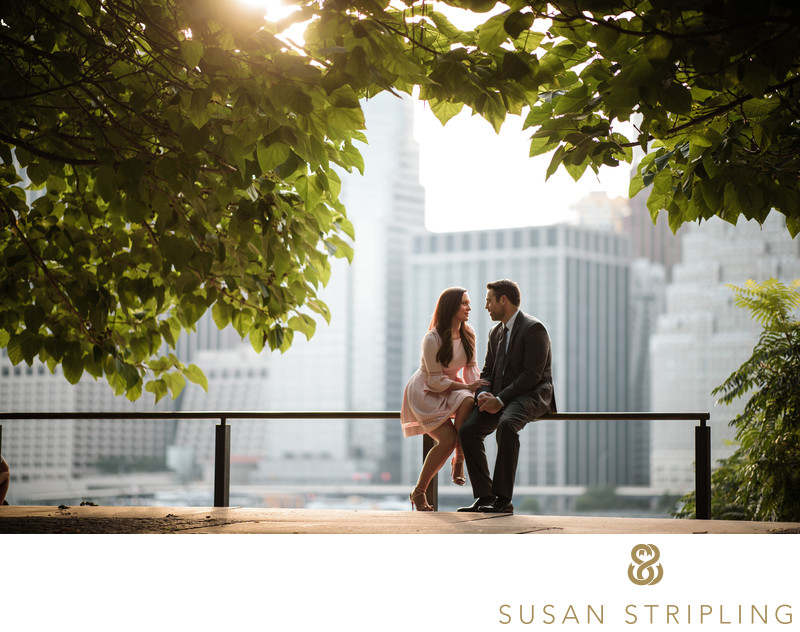 There are many things you should keep in mind as you consider where your engagement pictures will be taken in the Manhattan, Brooklyn, and surrounding NYC area. Answering these questions will help you determine where you should have your session photographed!
The best time of year for engagement pictures
One of the most popular questions I'm asked is when couples should take their engagement photos. As you consider your New York engagement photo locations you'll want to bear in mind what New York is like in all seasons!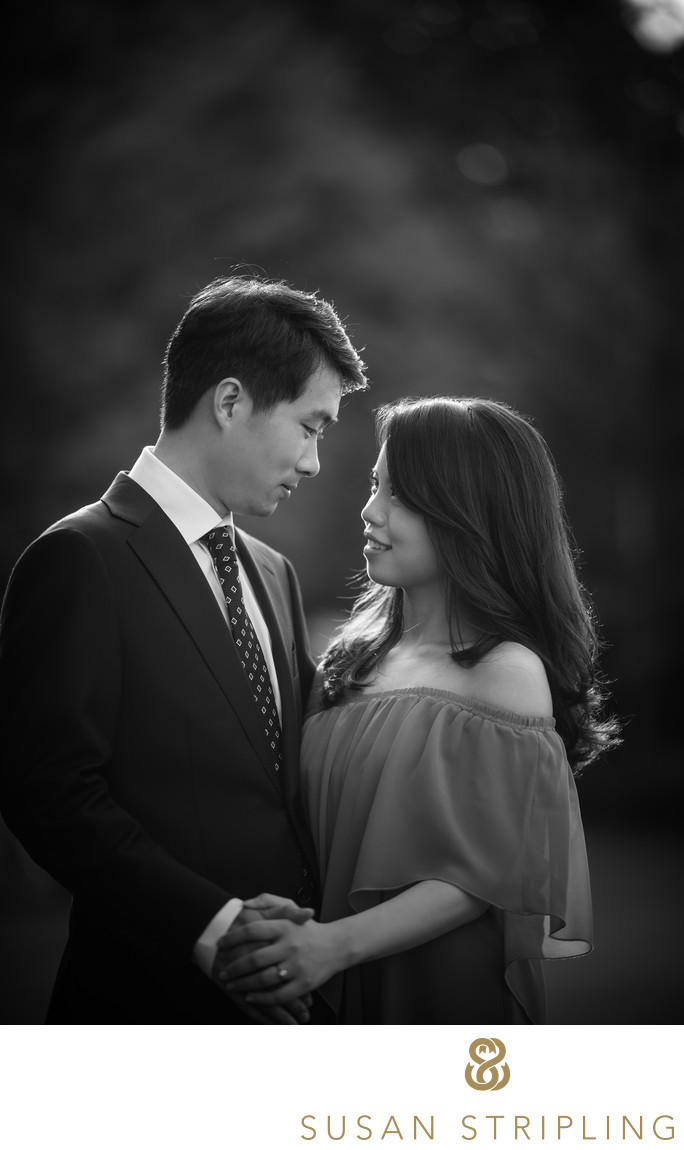 I love spring sessions in NYC, since the trees are newly in bloom and the light is so beautiful. The pros of a spring engagement session are easy to see:
You've been cold all winter, and now you can emerge from a cocoon of coats and scarves! It can be a pain to bundle up and unbundle for winter engagement sessions, so it's great to not have to deal with that anymore!
The trees are freshly green, buds are newly blooming, and the whole city looks and feels fresh!
It's still cool enough to not worry about sweating in your engagement photos!
There are also cons to consider with a spring engagement session:
The weather can still be unpredictable. While it can get up in the seventies, it can still dip down into the thirties and forties with little to no notice!
The sun still sets a bit early. It can be difficult to get great light if you need to wait until after your work day is over to shoot your engagement session.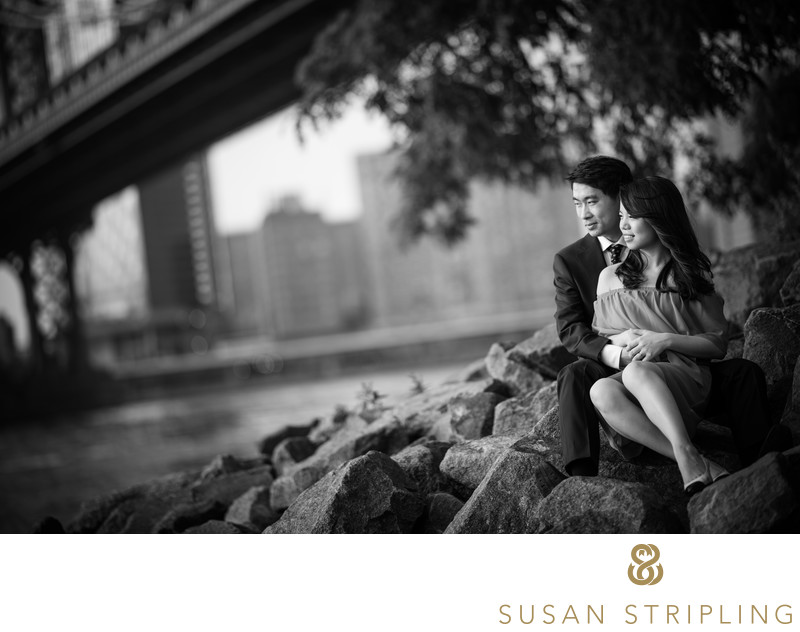 If spring isn't what you're looking for in terms of engagement photo times, what about the summer? Who doesn't love being warm? There are many pros to getting your engagement photos taken in late May, June, July, or August. Some of those pros can include:
Warmth! Finally, no more unpredictable weather! No more worrying about freak snowstorms or sudden cold snaps! You'll surely be warm the entire time during a summer engagement session. No "let's bring a coat in case we get cold!" No thoughts of "I might want to bring a scarf". You can show up in a comfortable, summery outfit and wear it with confidence!
Later sunsets. If you need to push your engagement session until after work during the week, the sun doesn't disappear until much later in the day.
Vacation time! Many clients choose to use summer vacation days to laze around the city, and they schedule their engagement session during this time.
However, as an avowed summer non-fan, I can empathize with clients who feel that the summer is not the best time for their engagement session. Some reasons to not get your engagement pictures taken in the summer may include:
Warmth! While that can be a pro, it can also be a con. No one really loves to snuggle and hug when they're sweating down the back of their best shirt!
New York can get super crowded in the summer when everyone comes to visit. It can be difficult to navigate more popular tourist locations in these busy summer months.
Your own schedule! Many clients choose to take vacation time during the summer, which can cut into the ability to schedule an engagement session.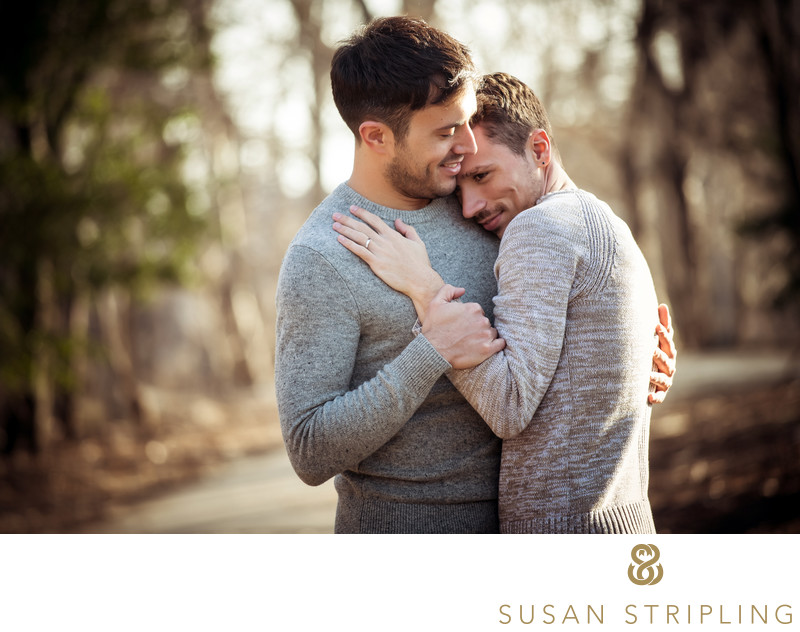 This leads us to my personal favorite season for engagement photos in New York : autumn. Fall engagement pictures in NYC have such a special feel about them. From the beautiful foliage to the newly cooling air, there is nowhere more magical than New York in September, October, and especially early November!
The pros of a fall engagement session in New York are so many!!!
The weather is simply magical. Nothing feels quite like that cool snap that fills the air in autumn. It's cool enough for a sweater, but not quite time to break out your winter puffer coat!
The foliage is spectacular. Central Park and Prospect Park explode in a riot of color, making the most glorious red and orange background to your engagement photos.
Who doesn't love sweater weather? Again, the weather is spectacular. I can't emphasize that enough!
Cons for engagement sessions in the fall? Let me think...nope, don't have a single one!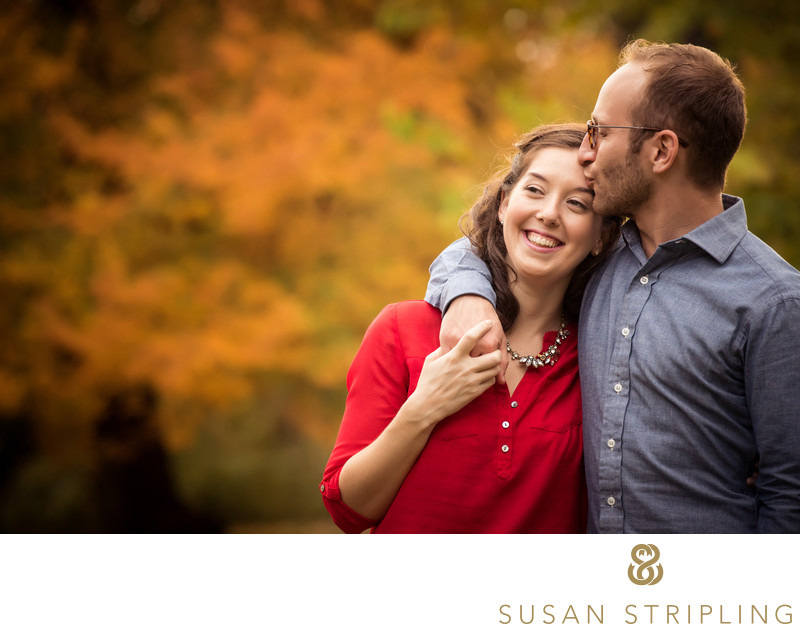 Winter, while maybe not the first and most popular choice for an engagement photo session, is still worth considering!
If you're getting married in a warmer month, a winter engagement session could be a beautiful contrast to your wedding day photos. The pros of a winter engagement session are many, including:
The chance of snow is super tantalizing. Who wouldn't want their engagement photos taken with softly falling snow in the background? Central Park and the most popular landmarks in NYC are simply magical when covered in a new coating of soft, puffy snow!
No worrying about being too hot! Cuddling up in your favorite winter coat, a scarf, and a hat can be a charming look for engagement photos. It also ensures that you'll never be too warm to cuddle!
However, with all the pros come some pretty substantial cons with regard to winter engagement photos:
It's cold. While I love it, I fully recognize that many do not! Red noses, runny noses, red cheeks : the cold can really affect many people in negative ways. If you hate being cold, this might not be the best season for you!
The weather can be unpredictable. Snow is gorgeous, but wet sleet is a bit less romantic!
The best time of day for engagement photos
I highly recommend that you take your engagement photos either in the early morning or just before sunset.
While you might not have a lot of flexibility with the timing of your portraits on your wedding day, an engagement session has a bit more movability. Wouldn't you want to make sure your session was scheduled at the best time of day?
If you have a busy work schedule and evenings are not a possibility for you, consider getting up a bit early one day and shooting your engagement photos before you head off to work. The city is magical and quiet first thing in the morning, and the light is beautiful and directional.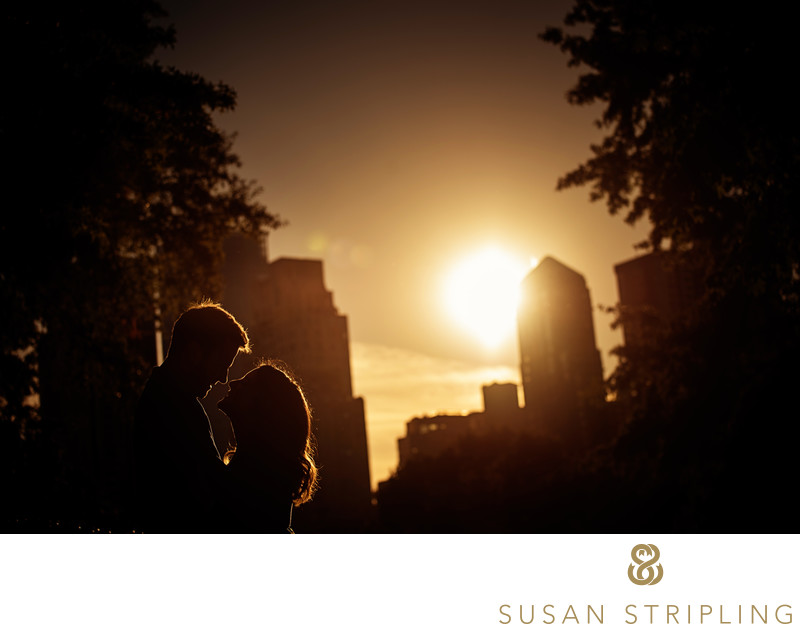 If you don't feel like getting up quite that early, plan for your session to take place an hour to two hours prior to sunset. The sun dips below the buildings before it goes away entirely, so "sunset" is really a bit earlier than you'd think!
Please understand that weekends are often difficult, if not impossible entirely, for wedding photographers to shoot engagement photos. While I'd love to make the schedule of my clients a bit easier and shoot on the weekends, booked weddings often prohibit that.
Best New York engagement photo locations
Now it gets to the difficult part : where do you want to take your engagement photos?
I have a great resource page for engagement photos, and I also have a wonderful page dedicated to New York locations for portraits. While it mostly focuses on locations for wedding day photos, it's also a great starting point to begin researching your engagement photo ideas.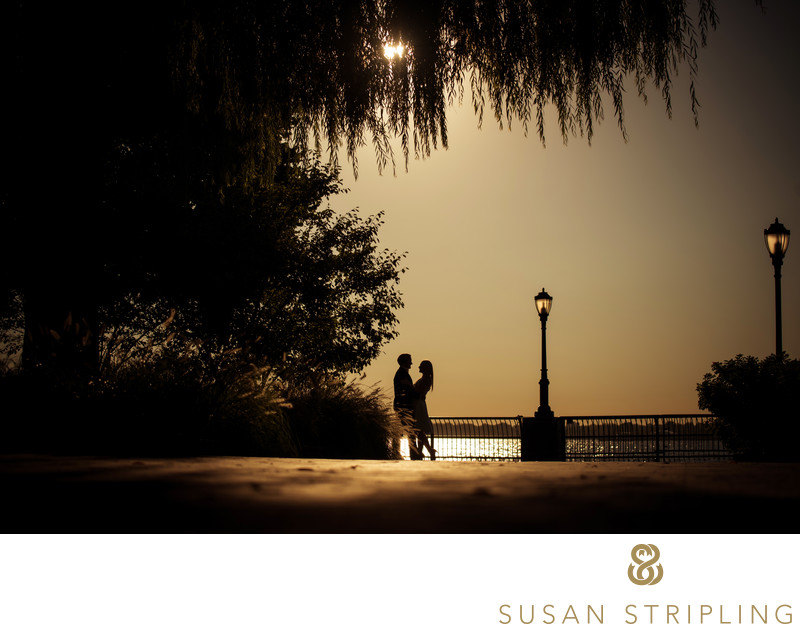 Popular engagement photo locations in Manhattan include:
Walking the streets of the West Village
On the platform of your favorite subway stop
Top of the Rock
Top of the Empire State Building
The High Line
New York Public Library steps
Bryant Park
The South Street Seaport
Rockefeller Center
Times Square
Grand Central Terminal (permit needed and strictly enforced!)
Little Italy
Chinatown (especially Doyer's Street)
Light tunnel at the Irish Hunger Memorial
In front of the Flatiron Building
Union Square
The streets of Greenwich Village
The pond and Gapstow Bridge in Central Park
Outside the Oculus
Central Park's Bow Bridge
Riverside Park
Fort Tryon
The Cloisters
Carl Shurz Park
Conservatory Garden
Belvedere Castle
The West Village at the location where Barrow, Bedford and Commerce Streets meet
Freeman Alley, the Bowery
Cortlandt Alley, Chinatown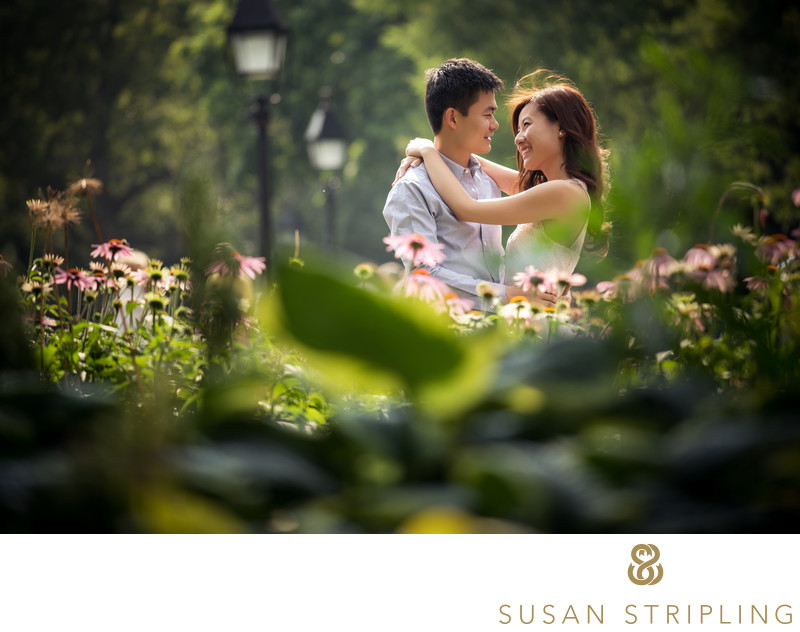 Popular engagement photo locations in Brooklyn include:
Washington Street between Front and Water (the most Instagrammed location in New York!)
Bushwick and Dumbo's Street Art Murals
Coney Island
Transmitter Park in Greenpoint
Grand Ferry Park in Bushwick
The murals in Williamsburg
Brooklyn Botanic Garden
Grace Court Alley and Hunts Lane in Brooklyn Heights
On the Brooklyn Bridge
Bushwick Inlet Park in Williamsburg
Sunset Park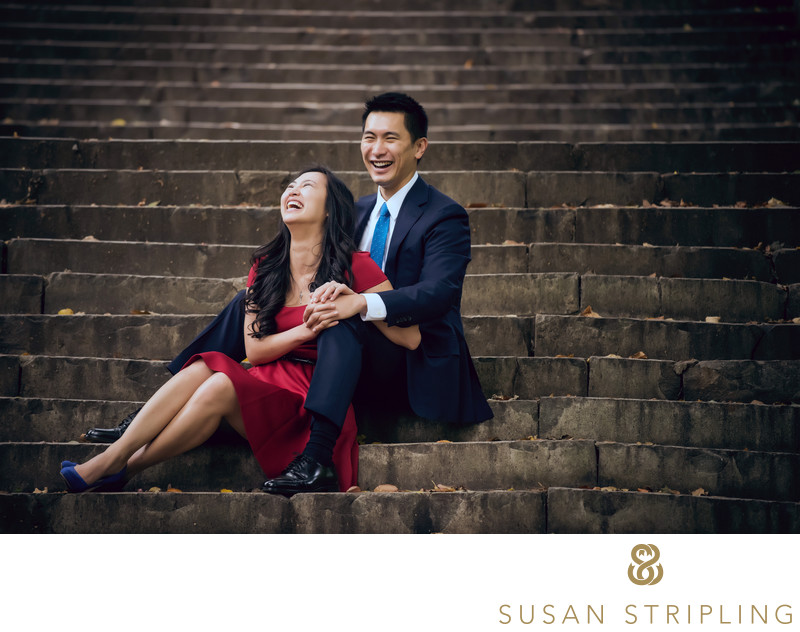 How to choose the best location for my engagement session
This is where all the advice in the world can't help - you have to decide by yourself.
Pick the season that you want to have your engagement photos taken in first. This will help influence your decision.
For example, while the Top of the Rock might be amazing in the summer months, the cold wintry win on top of such a tall building might not be what you'd choose in the winter months. And while the High Line might be amazing in the winter with snow coating the gorgeous pathways, it might be especially crowded and difficult to navigate in the summer.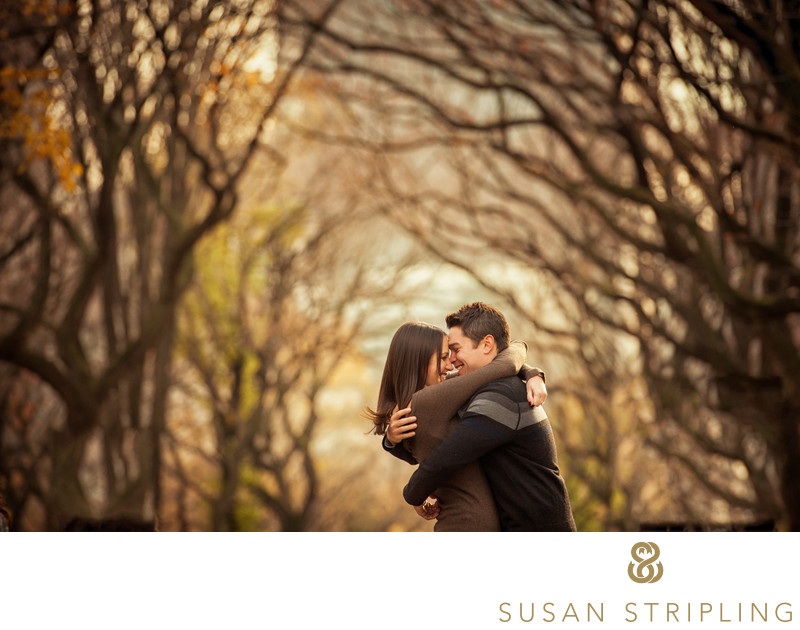 Once you decide what time of year you want to schedule your session in, then it's time to narrow down your locations!
Do you like nature? Architecture? Do you want to be somewhere that you two love to spend time together? Somewhere you've always wanted to visit, but maybe never been? Your own neighborhood? The building where you first met? Graffiti walls? Bridges? Skyline views?
If you're still not sure where you'd like to take your engagement photos, just contact me! I'd love to hear about what you're drawn to, the locations that you love in this amazing city, and when you'd like to be photographed.
I will work with you to help you pick the best date and best spot for your engagement photos. I know how important this time in your life is, and I want to help you have the most wonderful engagement session experience that you can possibly have.
You can call or email me with any questions - I'd love to hear from you!
1/500; f/1.4; ISO 100; 105.0 mm.
Privacy Policy.