Susan Stripling Photography
Four Seasons Philadelphia Wedding Photographer
I miss the Four Seasons in Philadelphia, and I cannot wait for its' new location to open! I loved it there so much that I actually got ready there on my own wedding day! Now it's the Logan, which is equally lovely, but I miss the old-world elegance of The Four Seasons.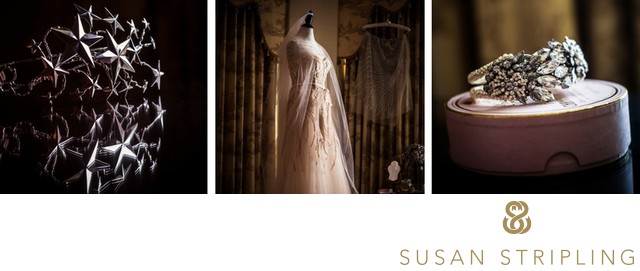 I photographed my own details from my own wedding in the beautiful light of the Four Seasons suite As an educator for photographers, I also like to include information on my website that speaks to them directly! I also find that including this information gives wedding clients a bit of an insight into my thought process on a wedding day!

Whenever I am photographing a wedding clients' delicate details, the first thing that I am looking for is beautiful light. The second thing that I am searching for is a compositional scenario that really allows the details to shine (no pun intended!).At this particular wedding, I found a small mirrored table that I was able to freely move around the bride's suite. I positioned this table close to an open window and had my assistant stand behind the table.Why would I have my assistant do that? Since both she and I always wear all black when we photograph weddings, her dark attire made the perfect black backdrop for this photograph of the bride's pearl necklace. The mirrored table allowed me to get a precise reflection of the necklace, and the dark background really made the lighting and the reflection pop.There is no additional supplemental light in this image besides the light coming from the window off to the left of the camera. I made sure to use my macro lens so that I could really get close to the details of the pearls. I chose to position the necklace so that it flowed from left to right across the frame. If you notice that only the center of the necklace is perfectly in focus, it was a deliberate decision so that the viewer's eye would travel across the frame, pausing in the middle on the sharp center.With any photograph that I take I am always considering the perspective of the viewer, and this precise composition was to elicit a specific viewing experience. Whether I'm photographing a portrait of the bride and groom, a documentary moment throughout the day, or even something as simple as a photograph of a wedding detail, the compositional experience is equally important.




Location: 1 Logan Square, Philadelphia, PA 19103.

Keywords: Four Seasons Philadelphia (7), philadelphia (157).

Filename: 054_050711_McFall_Wedding.jpg.

1/400; f/8.0; ISO 1600; 60.0 mm.