Susan Stripling Photography
Gotham Hall Wedding Photography
When considering Manhattan wedding venues, many options come to mind. There are gloriously appointed ballrooms, spacious hotels, and charming catering halls. There are remodeled warehouses, penthouses, and private clubs.
Then there are the icons, the best-known wedding venues. Of those iconic Manhattan wedding locations, Gotham Hall looms large.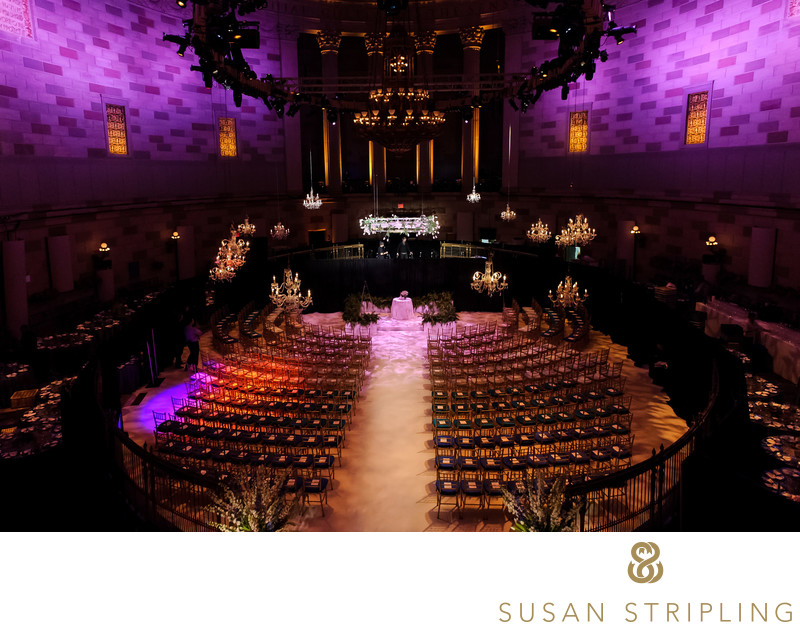 One of the best vantage points to see a ceremony in all of NYC!
Iconic bank building venue
Gotham Hall began as the Greenwich Savings Bank headquarters around 1923. It's now one of Manhattan's best wedding venues, and it only takes a quick look inside Gotham Hall's impressive interior to see why.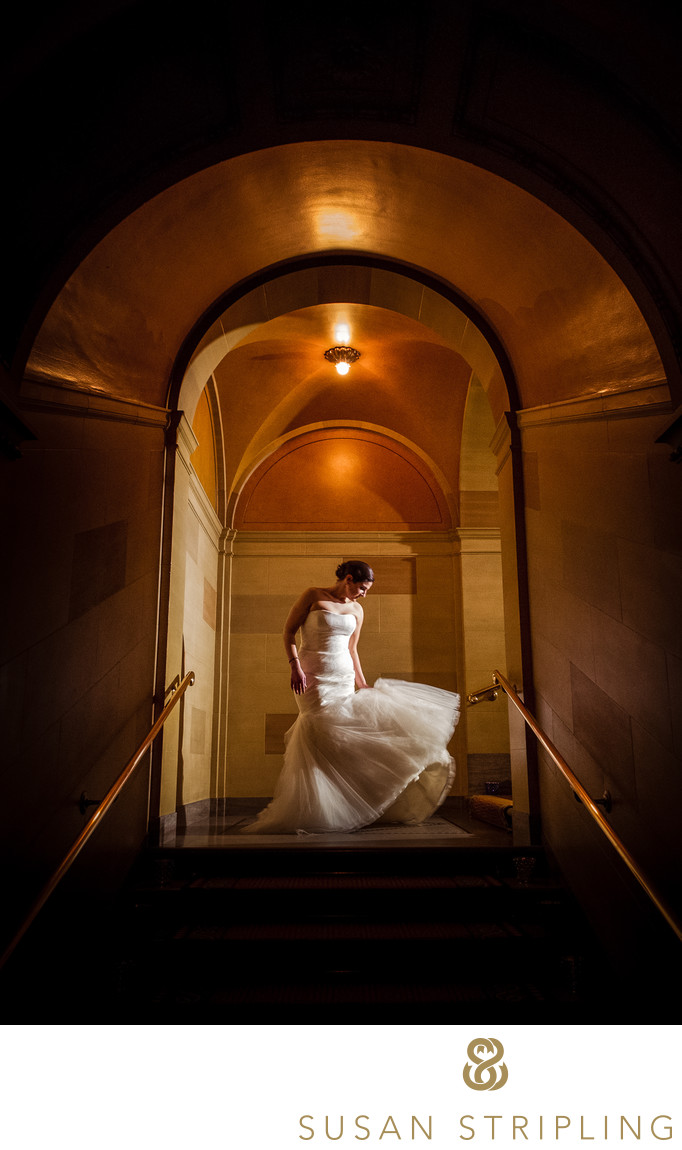 Gotham Hall is a beautiful space, full of interesting architecture and amazing opportunities for wedding day photography
The granite walls and the marble floors combine with an enormous domed ceiling to create an extraordinary event space unlike and other wedding venue in Manhattan. The second your wedding guests walk through the door there is an incredible "wow" factor like no other.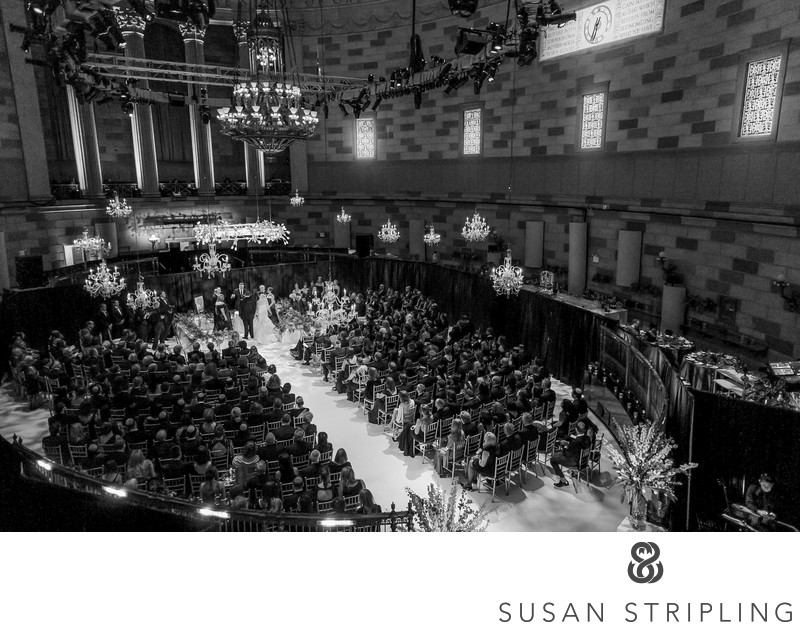 I love how they segment off the space to have ceremonies while still enabling a "flip" into a reception space!
Gotham Hall is also quite popular on wedding review sites such as Wedding Wire and the Knot. Past clients have called the event space "spectacular" and "superb" as well as "jaw-dropping!" It's easy to see why. The service is unparalleled, the staff incredibly kind and helpful, and the entire venue runs events with brilliant precision.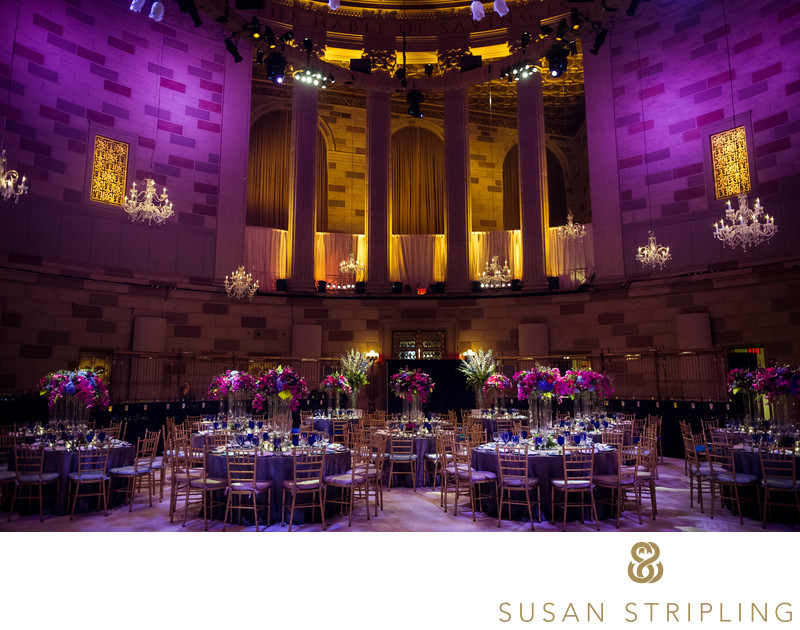 A wedding reception at Gotham Hall is always warm, welcoming, and oh so very regal
Places to take wedding pictures
Most wedding couples who are having all (or part) of their day at Gotham Hall want to know where we can take pictures nearby the venue. After all, being situated right in Herald Square and across from Macy's doesn't seem like initially the best location for wedding day portraits! (Especially not if you want to be alone and not surrounded by tourists!)
I love helping clients figure out where to take their pictures. It's why I have a page on my website dedicated entirely to places to take wedding pictures in NYC. Where we can go for your portraits depends on a lot of factors, including:
The weather : Will it rain? Snow? Does it look super cold? Will it be a hundred degrees? How willing and able are you to go out in this season, or this particular weather?
How much time do we have? Do we have time to go to Brooklyn Bridge Park, Central Park, or somewhere else you've always dreamed of taking your wedding day images? Or do we need to stay on site, or very close nearby?
How many people do you want to take out with you for portraits? Is it just you? Will your family and wedding party come, too? Do we need transportation for everyone? Do we have transportation for everyone?
Some of my favorite places nearby for portraits include:
Bryant Park
The steps of the New York Public Library
Madison Square Park
If you are getting married at Gotham Hall, I'd love to hear from you! It's a wonderful venue, and an amazing experience to get married there. I am looking forward to hearing your plans!

Keywords: Gotham Hall (16), manhattan (191), new york (503), prep for portfolio (85), reception (148), wedding (1294).

Filename: 571_011814_Abraham_Wedding.jpg.

1/60; f/4.0; ISO 800; 105.0 mm.