Susan Stripling Photography
Hyatt at the Bellevue Wedding Photographer
One of the first wedding venues I ever saw in Philadelphia was the Hyatt at the Bellevue. I was immediately charmed by the juxtaposition of the old-world Philadelphia decor and the more modern renovations that have taken place in recent years.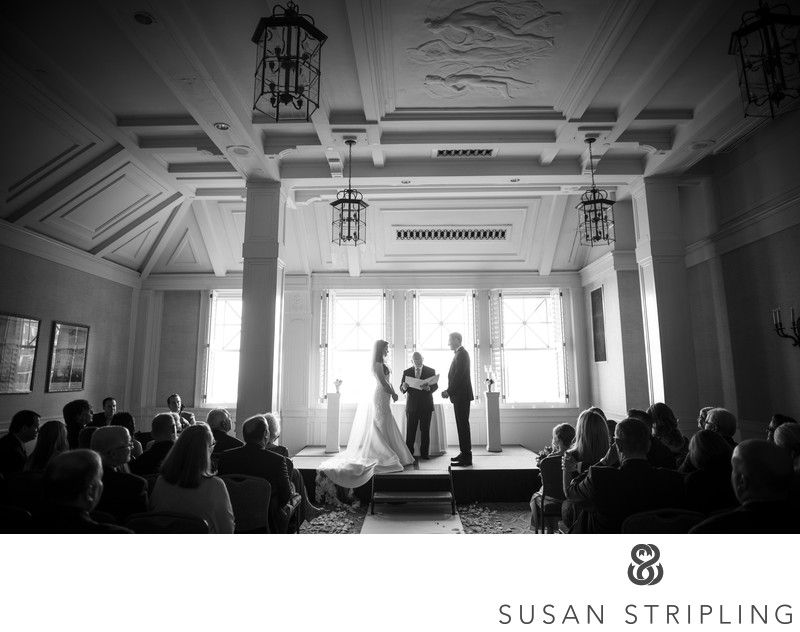 One of the numerous ceremony locations at the Hyatt at the Bellevue in Philadelphia.
As I got to know the Bellevue more, I fell more and more in love with this classic Philly wedding venue. From the staff to the service, everything there is always classic, classy, and oh so elegant.
Wedding photo locations

If you're looking for locations to take your wedding day pictures at the Hyatt at the Bellevue, you're in luck. The venue itself has amazing locations for portraits, and you're also quite close to other remarkable Philly wedding photo locations.

My favorite locations indoors at the Bellevue for portraits include:


Inside XIX (Nineteen) restaurant, especially by the amazing double doors and balcony in the North and South Cameo Rooms
The nearly 12,000 square foot Grand Ballroom
The Conservatory
The gorgeous 19th floor Rose Garden event space
State Drawing Room
Clover Room
Red Room
Cliveden
Wine Hall
1208
The Terrace Rooms

My favorite outdoor locations require either a quick walk, or a bit of transportation. If you're wanting to take your family and/or wedding party with you, we can absolutely do that provided we plan for how everyone is going to get around the city!
Amazing nearby locations include:


The Kimmel Center exterior
The Academy of Music exterior
The "Broad street shot" of City Hall
In, around, and under Philly's City Hall
The exterior of the Barnes Foundation
The Rodin Museum
The Art Museum steps

While my studio is based in Brooklyn, New York, I spend half of my time living in Cherry Hill, New Jersey. Philly is my second home, and there are never any travel fees to come to Philadelphia for an event. I have my own car, and I love driving - travel is easy for me!

I hope to hear from you soon and hear about your vision for your Bellevue wedding photography. I'd love to document your day at such an incredible location!



Location: 200 S Broad St, Philadelphia, PA 19102.

Keywords: Park Hyatt at the Bellevue (5), philadelphia (145), Please Touch Museum (6).

Filename: 14_notahugepriority-Edit.jpg.

1/160; f/8.0; ISO 3600; 60.0 mm.

Privacy Policy.