NYC Headshot Photography
I have been a
New York headshot photographer
since opening my first studio here in the city. Working with actors has been one of my favorite parts of being a
photographer in NYC
, and it's something that I still pinch myself about every time I book a shoot and photograph a headshot session.
As a lifelong theatre lover (we'll get to that in a second!), headshots have been a part of my life since I graduated from college. I was first on the other side of the lens as a performer. Now I'm the one taking the
headshots
, and I couldn't be happier.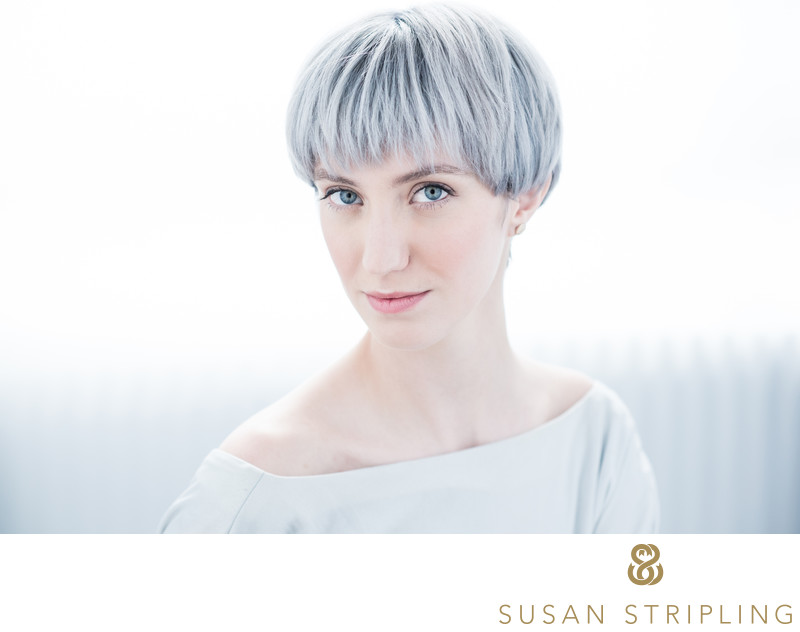 What is a headshot?
Wikipedia
defines a "
headshot
" as "...a specific type of
portrait
(usually a
photograph
) that realistically demonstrates a person's appearance for branding or casting. Many head shots are promotional pictures of
actors
,
models
,
authors
. Headshots could be a portrait of a face or full body with a background that clearly illustrate the personality inside the person photographed."
Simply put, your headshot is your calling card as an actor. It is the picture that will represent you at auditions and for submissions. It's the tiny grainy photo of you that will run in a Playbill above your name. If you are looking to make a career as an actor or performer, you will need a headshot…and it will need to be good.
Frequently Asked Questions
Pricing and Preparing
What does a basic headshot session cost?

A
basic headshot session
is $1500. This includes about an hour of shooting time, wherein you can choose from two different looks. This session fee also includes all of your images delivered in JPEG format via an online gallery. You also will have the right to use those images on the web, in social media, and in any other format that you are required to produce a headshot for.
This all sounds like theatre work, what if I just need a headshot for my LinkedIn profile or dating profile or business website?

Absolutely! This headshot page pertains to you, too! If you have any questions about what you need your headshot for,
don't hesitate to call me
. I'd love to hear about why you need a have a headshot taken, and help you find the right info to suit your needs!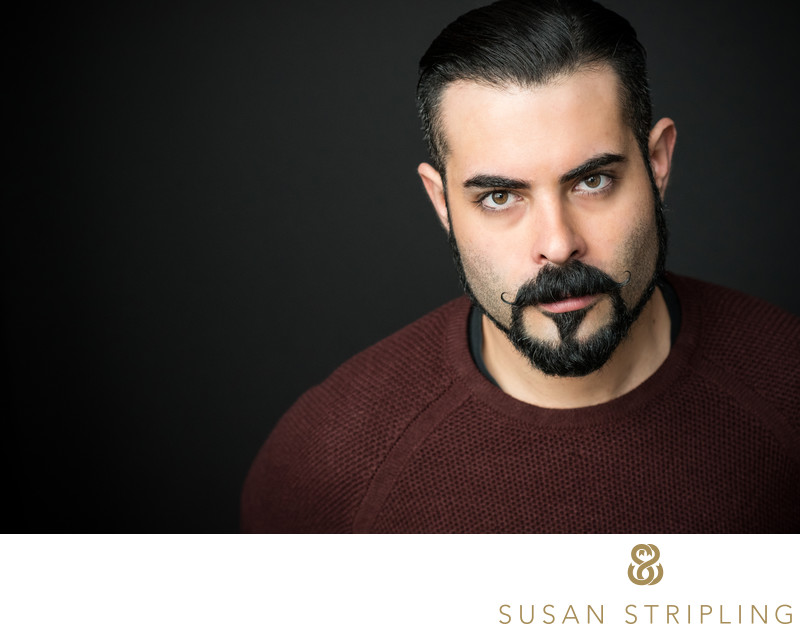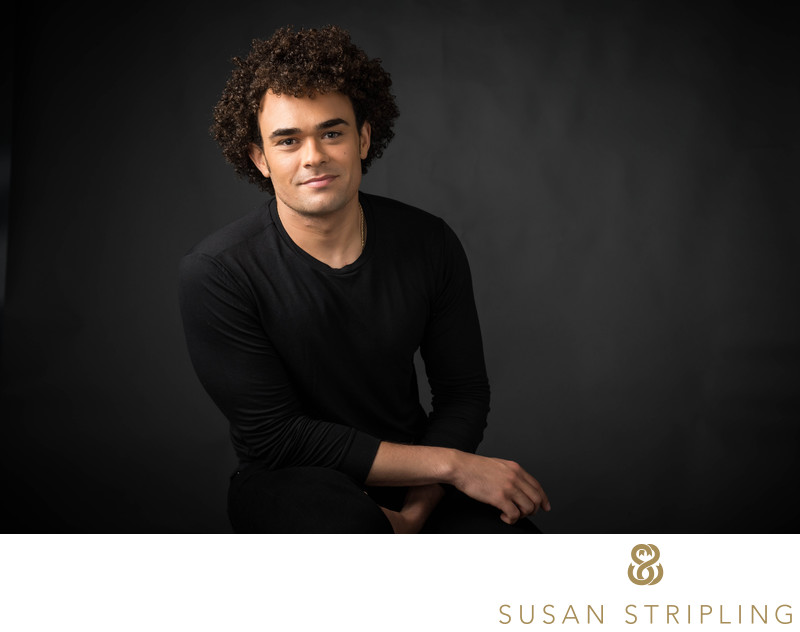 What does retouching cost?
Should you desire additional images to be retouched, the rate is $50 per image. You can decide on additional retouched images both before or after your session.
Can you explain what retouching is?
Of course! Retouching is a part of the production process after your headshot session. I retouch images by hand, in-house. This entails smoothing stray hairs, removing blemishes, softening under-eye circles, and more.
I strive to keep your images natural, with the retouching extremely subtle. I do not want you to feel like you look plastic or fake! It's important that texture remain on the face for your image to look natural. As it's imperative that your headshot actually look like you, you want to avoid any heavy-handed retouching that completely changes the way that you look!
If you desire additional, heavier retouching,
call the studio
and let's chat about your needs!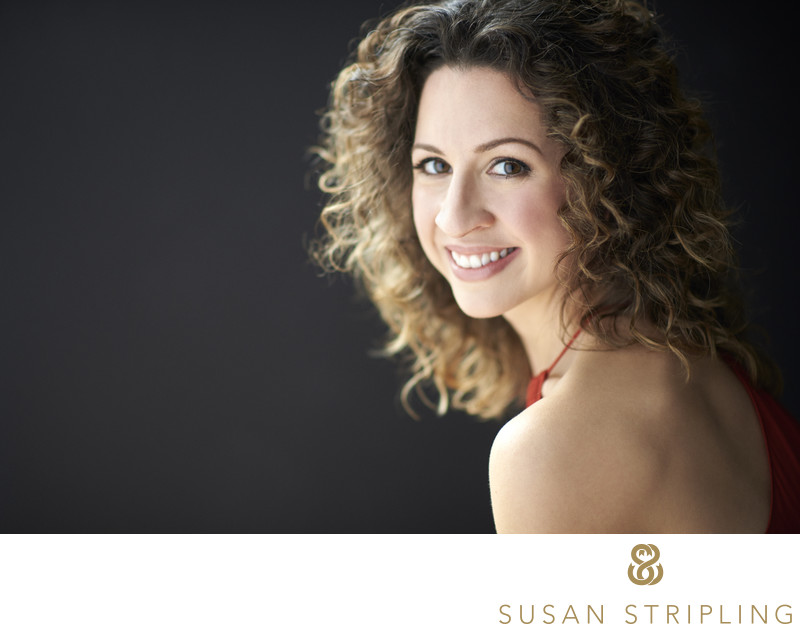 Can I hire someone else to retouch my images?
I have been retouching
headshots
for years, and have been trained by the best in the retouching business. I am confident that I can retouch your images to your satisfaction. That said, if you purchase your unretouched proofs, you can take them anywhere else you'd like to have more images edited. Once you have purchased those files, they
are
yours to do with as you'd like.
I would love to first hear about why you'd like additional images retouched elsewhere. I want to make sure that you're completely happy with your entire headshot process, from start to finish, and that includes the retouching of the images. Have a buddy who is a photoshop and retouching expert? Then go for it! Found someone on Craigslist who can "retouch" for $5 an image? Maybe not. If a deal seems too good to be true, it probably is!
Your headshot is such an important part of your presence, and the retouching is an important part of the process. You want to make sure that is handled by a trusted, trained professional.
Booking a session is quite easy! All you have to do is choose which package you'd like. From there, I will send you a contract to lock in your date and time. If you'd like to upgrade your package at any time, you're more than welcome to do so!
You'll pay a booking fee at the time you sign the contract. This is to lock in the date and time for your shoot. That fee will be applied towards whatever package you choose, and the remainder of your balance will be due on the session date.
What kinds of payment methods do you take?
We take all credit cards (Visa, Discover, Master Card, American Express), personal checks, Venmo, Paypal, and cash. If you have another way you'd like to pay, just let us know!
Are there any hidden fees that I should know about before my headshot session?
Absolutely not, no way, not ever. One of the things I despise most is hidden fees or misleadingly-worded small print. You'll experience none of that with us! If you have any questions about any part of your session, any of the fees, or anything about the payment schedule, just let me know.
The contract you will sign before your session also explains all of these items, and more. If you'd like to talk through the contract, we absolutely can. As always, feel free to let me know if you have any questions about, well, anything!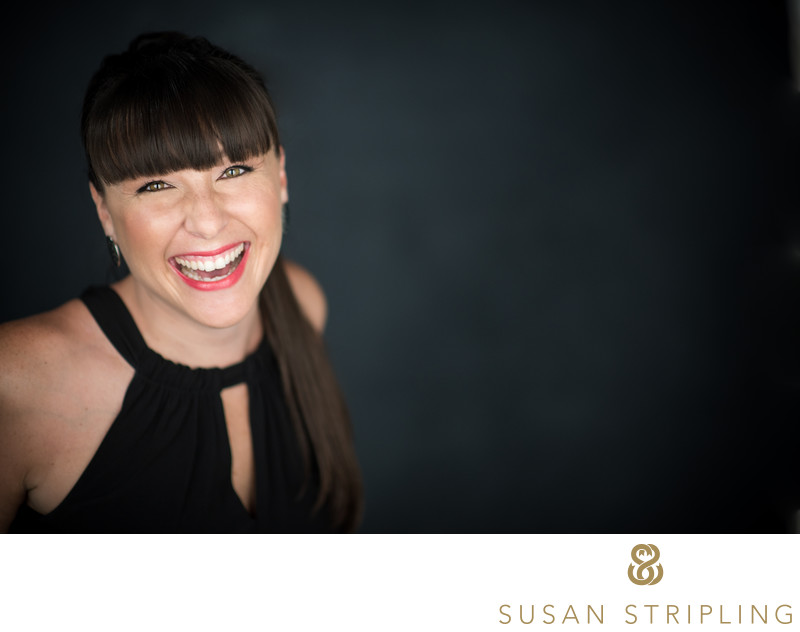 Can I get a discount on my headshot session if I refer a friend to you?
You can! If you refer a friend who books me before your session, you'll receive $100 off your session fee. This applies to whatever package you choose! If you refer a friend who books me after your session, you can receive $100 off of your next headshot session.
Do I get a discount if I come back to you for further headshots or branding sessions?
Absolutely you can! I am so honored whenever anyone comes back for more!
Additional headshots or branding sessions beyond your first session will be $100 off the new session or package fee.
Do you provide hair and makeup? What does that cost?
I work with a handful of extraordinarily talented, highly trusted hair and makeup artists. If you want to book hair and makeup for your headshot session - and I highly recommend that you do! - I'll book the artist for you and you will pay their fees directly to them, not me. Hair and makeup for your session are $300.
That $300 rate includes two looks. The first look will be a clean, simple headshot look. The makeup is minimal but striking, emphasizing what you naturally look like. Then you'll have the opportunity to create a second look, either amping up the first or going in a different direction.
I know that hair and makeup are very personal things and something that most clients feel very strongly about. If you have any inspirational pictures or ideas, please feel free to bring them with you! The more input you can give your artist, the more we can tailor the experience to your needs.
It's also okay if you don't know what you want! We are here to help with that, too! The hair and makeup artists that I work with are very understanding about the headshot process and will consult with you during your session to make sure that everything is exactly how you'd like it to be. They will make changes if you request them. We want to work together to ensure that your look is exactly what you want for your headshots. We know how important they are!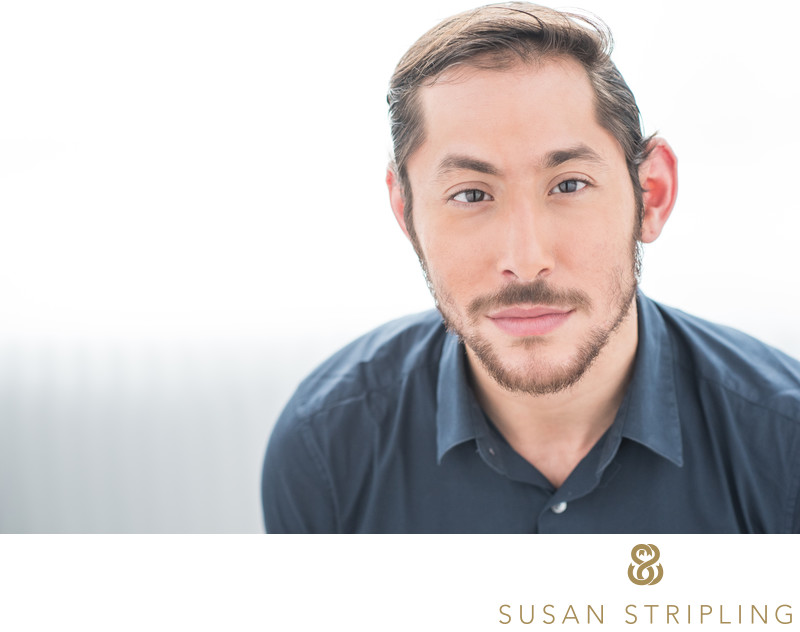 Before the Headshot Session
What is the best advice you can give me as a I prepare for my session?
This is a wonderful question. First of all, take care of yourself! Eat well, drink tons of water, and take good care of your skin. Now is not the time to try a new skin treatment or anything overly ambitious with your dermatologist! Stay out of the sun as much as possible, and get a lot of sleep.
If you color your hair or need a cut, now is the time to do that. Make sure that you do this at least a week in advance so that the cut can settle down and the color can settle in before the shoot. Try to not tweeze or do any hair removal in the days leading up to the shoot.
If you plan on tanning, make sure that you are comfortable with the process. Test whatever tanning salon you go to well in advance to make sure that you love the look and that it fits how you naturally look. Tan well in advance as well, in case there are any issues. You also want to make sure the color settles and looks as natural as possible before your headshot shoot date.
Men, if you'd like a clean-cut look, you're welcome to shave before the shoot or during the shoot as desired. If you want to start with a beard or any facial hair, make sure that you have plenty of time to grow it before the shoot date.
Map out your directions to the studio and give yourself plenty of time to get here. The MTA can be tricky, and if you've never been to the studio before you want to have extra time in case you make a wrong turn. I find that planning my route in advance helps me plan my timing better!
What should I do the night before to prep for my shoot?
NOTHING. The night before is when you should be sleeping, resting, and feeling your most zen. Make sure that you plan for the day well in advance so that you can get a good night's sleep the night before. Don't go out drinking, don't stay up too late, and don't get too stressed! Go easy on yourself, and don't overthink the upcoming shoot!
If you want to listen to music during your shoot, we can shuffle music with my Amazon Alexa or you can bring a playlist of your own. I have a small set of bluetooth speakers that we can sync with your phone to play whatever you'd like during your headshot shoot.
Drink loads of water, get your directions and your bag of clothes ready, and relax. All of your preparations should be done by now, so there is nothing to do but get a good night's sleep!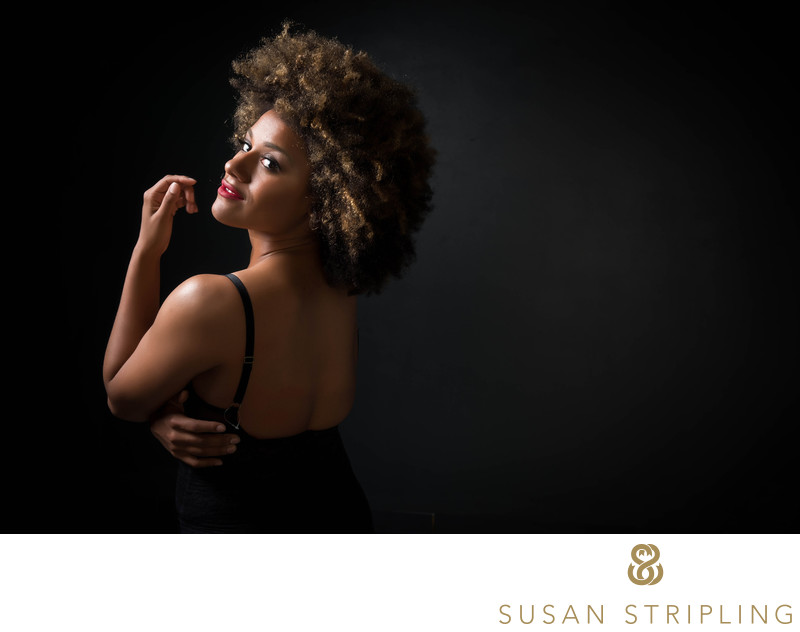 How do I know what to wear? Can you help me choose outfits?
Here are a few tips to picking something to wear for your session:
Solid colors are generally preferred. Black is always great. Keep it simple!
Keep patterns to a minimum, they can pull attention from your face.
No visible logos or branding on the clothing itself.
Don't worry about being seasonal. If it's summer and you want to wear a sweater, bring a sweater. If it's winter and thirty degrees outside but you look best in a tank top, bring it! We'll turn on the A/C or pump up the heat to accommodate!
If you have a favorite jacket or scarf, bring that! While we tend to veer away from accessories, adding a favorite accessory for a few shots can be a nice touch.
If in doubt, bring it! We will help you sort through what you've brought to find just the right outfit or outfits for your shoot.
Prepare your clothes by ironing and cleaning them before the shoot. We do have a steamer, but not an iron or ironing board.
If we're just shooting simple headshots and not a personal branding session, you don't need to worry about your shoes!
Pack your clothes the day before. Check and double check. This way you won't forget anything!
If you get stuck, you can always email me pictures of whatever you think of bringing. I'm glad to help you as much as you need!
I recommend keeping your jewelry as simple as possible. Dramatic earrings or necklaces might look amazing, but they will pull focus from your facial features. If you'd like to add them for a few shots, that would be great, but I'd advise steering away from them for the majority of your shoot time as even the smallest jewelry can pull the eye of the viewer away from you and onto your accessories.
Do I need to bring anything else with me to my headshot session?
If you think "I might need this thing," bring that thing! We have a steamer, scissors, and safety pins to help with outfits and stray threads. Your makeup and hair artist will have everything you need to create your hair and makeup looks.
If you're thinking of shaving during your shoot, please bring your own razor and shaving cream.
If you have any questions about something you're considering bringing, just call or email. I can help you decide if you need to bring it, or if we have something at the studio that can take it's place!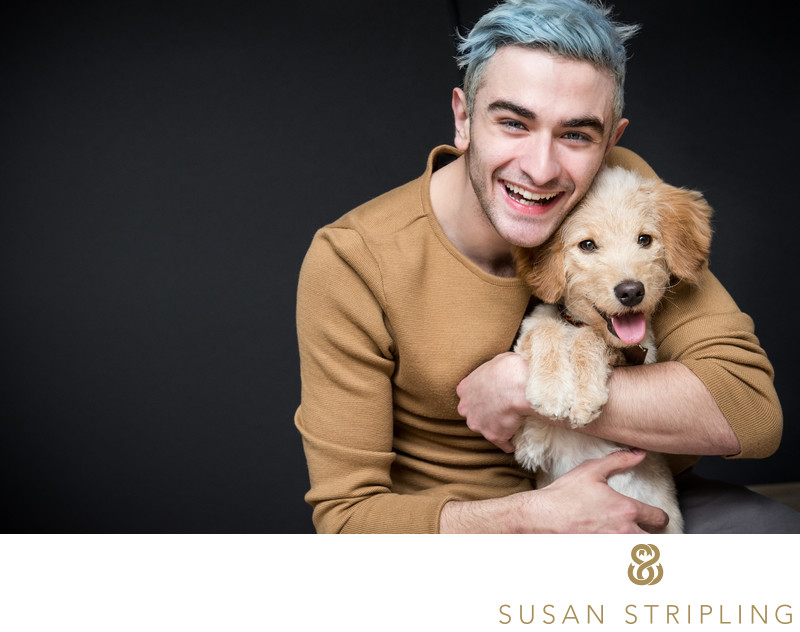 Can I bring my own hair and makeup artist?
If you have a long-term relationship working with a hair and makeup artist, I'm open to having them create your look in the studio before your shoot. If you want to hire someone you've never worked with before, let's talk before you do so.
Hair and makeup for a headshot session is a really specific skill. Preparing skin and hair for the camera, specifically for a headshot, is different than creating a hair and makeup look for an opening night, a fashion shoot, or really anything else. This is why we refer the artists that we work with most often, because we know that they will be able to create precisely what we need to make a great headshot for you.
Can I bring my own stylist?
Absolutely. If you have someone that you like to work with for your outfits, by all means, bring him/her/them!
Where is your studio located?
My studio is at 58 2nd Ave in Brooklyn, New York. It's located inside Gowanus Creative Studios, which is in Gowanus, Brooklyn. Once you book your session, I will send you precise directions to find my studio. GCS is huge, and it's easy to get lost here!
If you're trying to find the best train or bus route to us, I highly suggest mapping your route from Google Maps. If you're driving, your GPS or Waze should bring you straight to my door. If you do decide to drive, there is a parking lot on 9th at the Lowes that they don't mind us using!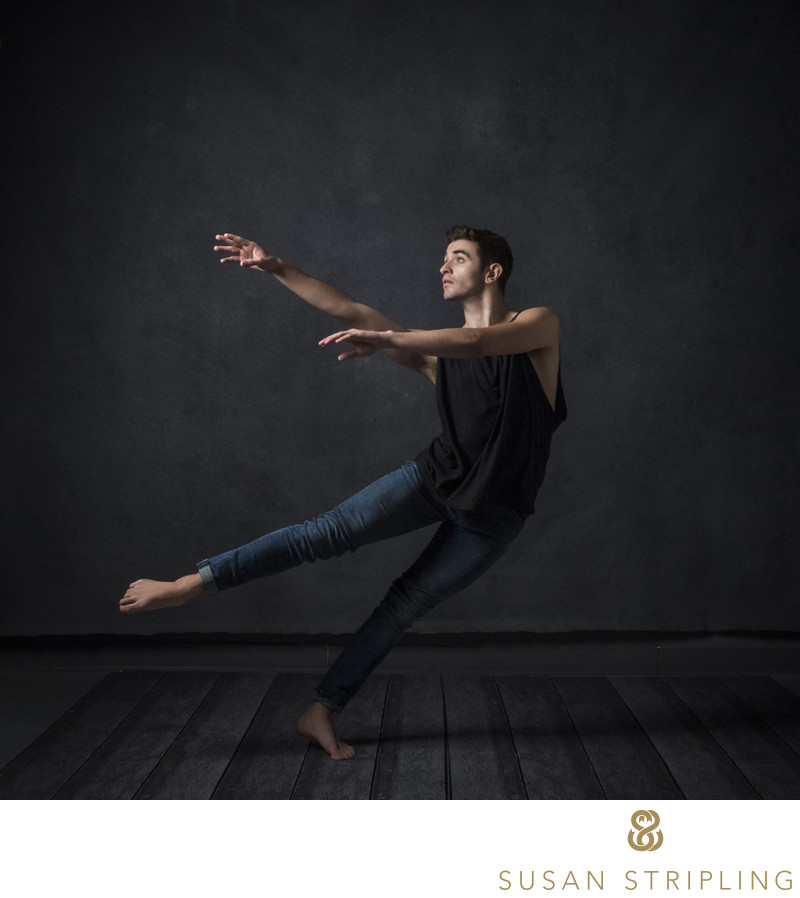 Can you travel to me for the shoot?
All headshot sessions are shot on location in my studio. I look forward to you coming to see it! It's a gorgeous, light-filled space perfect for headshots and portraits! I don't usually travel for headshot sessions, but if you have a need to have me come to you, let me know and I can send over travel rates and fees for an on-location session.
Can I reschedule my session if I book a new job or get sick or if something unexpected comes up?
I absolutely understand that life is crazy, and sometimes new jobs and last-minute auditions pop up out of nowhere! If you cancel at least 48 hours before your shoot, your retainer/booking fee can be applied to a newly rescheduled date. If you cancel with 48 hours of your shoot, your retainer/booking fee will be forfeited.
If you have a beyond-the-norm special circumstance arise in those 48 hours, please contact me and let me know!
What if I need my pictures on the same day we shoot? Can you do that?
I completely understand that sometimes you need a headshot and you need it fast. Proofs can be expedited for an additional $150. This would mean that your unedited proofs would be ready by 11:59PM on the same day as your headshot session.
If you need your edited images within the same day, it's an additional $150 to expedite the retouching. In this case, we'd view your proofs together before you leave the studio and you'd choose what you wanted to be retouched at this time. Your edited, retouched final images would then be ready by 11:59PM on the same day as your headshot session.
Can you make prints of my headshots? Can you refer me somewhere that does?
I highly recommend that you contact Reproductions in NYC to get your headshots printed. They have long been the industry standard in this area for printing of headshots and comp cards.
At Reproductions, your headshots can be printed in 8x10 format in batches of 25 for a very reasonable rate. I have seen their final products, and they're beautiful. You can also opt to have your resume printed directly on your headshot, should you so desire.
Their online ordering system is extremely easy, and you will be able to use the retouched high resolution digital files I provide you to order directly online.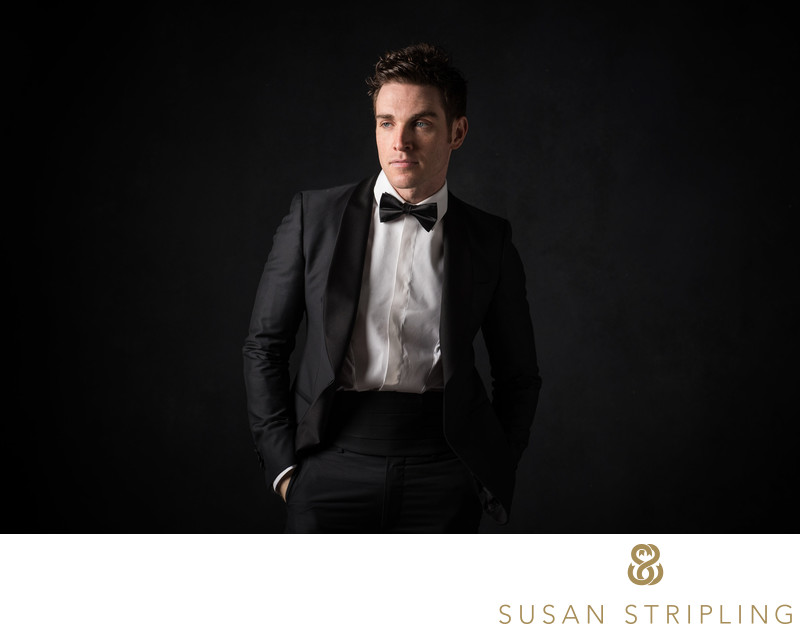 What time of day do you shoot headshot sessions? What day of the week? What about weekends?
I am available for headshot sessions in my studio from 9am until late at night Monday through Friday. Generally my last session appointment of the day is 4pm, but evening and even late-night hours can be available upon special request if your performance or job schedule is completely crazy!
I am also a wedding photographer, so weekends are a bit tougher to schedule. I have very, very limited Sunday availability throughout the year, but virtually no Saturday availability. If weekdays are difficult for you for whatever reason, please contact me and we can chat. I'm sure we can come up with a date that works for everyone!
I totally and completely hate being photographed. Can you help me?
I can. And I understand where you're coming from. Because I hate it, too.
I shoot weddings almost every single weekend, and the biggest worry that clients have is that they don't like being photographed, and will that ruin their pictures? Almost every performer and busienssperson and human being who comes through my studio doors says something like the following:
"I don't mind being photographed, but I hate getting headshots."
"When I have to look at the camera I just freeze up."
"I have never had a headshot session that I enjoyed."
"Getting headshots sucks, but I guess that's part of the process!"
Trust me that it doesn't have to be like any of the above statements!
I promise that I will do everything in my power to make you comfortable and happy. My studio is a cozy, welcoming space. We have water, coffee, great music, and snacks! We'll spend time talking about your session and about anything at all while you're prepping your outfits or getting hair and makeup done. We can talk about the weather, your dog, the current Broadway lineup, TV, or anything at all.
I think the biggest thing that enables me to make my clients comfortable is my empathy and understanding. I have been in front of the camera for many headshot sessions myself, and I know what made me comfortable during those shoots. I understand that the stakes are high, and that headshots are crucial. I promise to bring that understanding and kindness to your shoot and create a great space for you to feel calm, empowered, and ready to not hate the process of being photographed!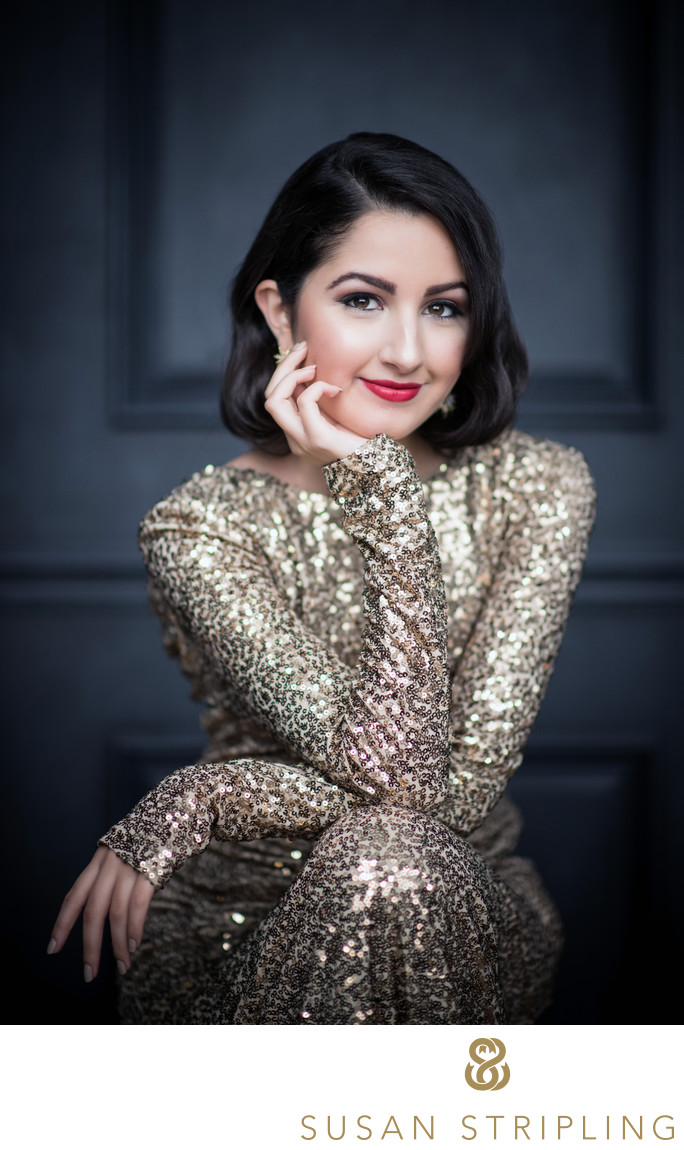 During the Headshot Session
What happens if I realize I'm going to be late while I'm heading to your studio?
Don't panic. Just drop me a text or give me a call. By the time your shoot date rolls around you'll have my cell phone number, so you can reach me at any time. Lateness will cut into your session time, but hopefully not too drastically. The important part is that you reach out and let me know you're en route so I know you're still coming to your session!
Do you have wardrobe or clothes that I could borrow?
I do have a very limited amount of clothing items in the studio, but it's truly most important for you to bring your own attire. Nothing that I have with me will fit you the way something that you own will fit you! If you're not sure what you should bring or what looks best on you, just let me know. We can work together to figure out what you should bring with you.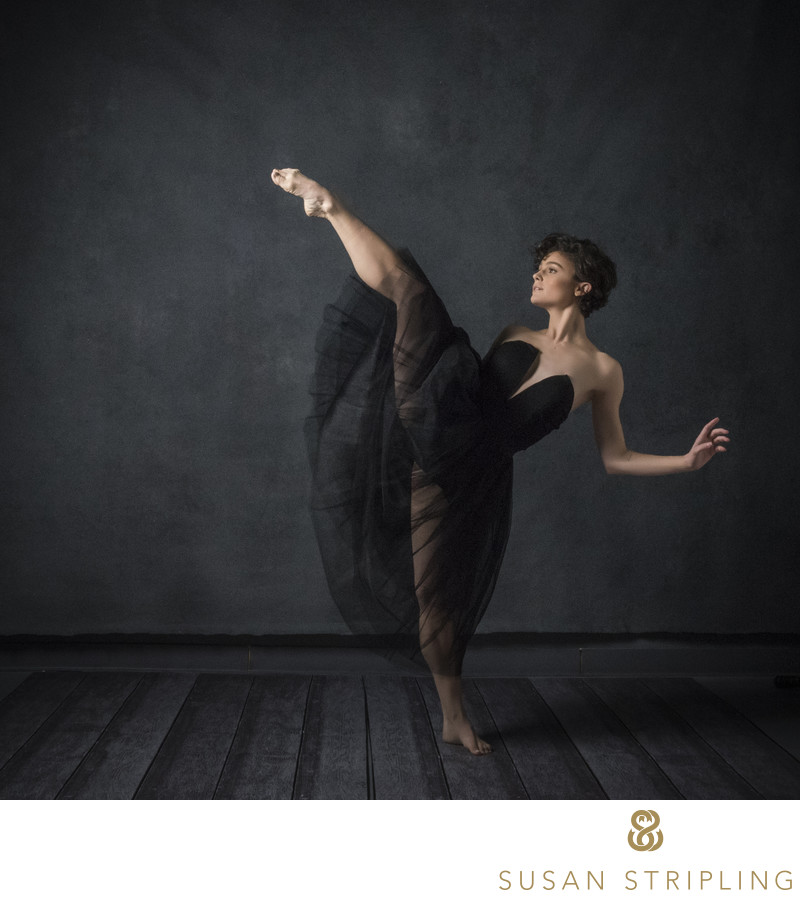 Can I bring my boyfriend/girlfriend/friend/mom/cat to just hang out while we shoot?
If you want to bring someone with you, you can. However, I want you to think about it before you decide to bring someone along!
While it might be super fun to have someone to chat with while you're getting hair and makeup done, or to have a familiar face in the studio, sometimes that can backfire and make you more nervous. It can sometimes be easier to pose and be photographed in front of people you don't know as well (namely, me!) and more uncomfortable to have someone you know there!
An alternative could be to have a friend hang out while you get ready and then grab coffee or go work in the communal area of the studio building while you're shooting.
Do you shoot headshots indoors or outdoors? Do I get input on where you choose to shoot? I talked to a photographer once you said you have to shoot inside/outside/in a studio/with a unicorn to get the best headshots.
I photograph most of my headshot sessions indoors with natural light. That said, there is no right way or wrong way to shoot headshots. Some photographers prefer to shoot indoors with artificial light. Some prefer outside with natural light. Some prefer outdoors with artificial light. As you can see, there are lots of ways to accomplish a headshot.
My shooting style uses the enormous lighting softbox in my studio for the main light during my headshot sessions. While sometimes we might venture outside for a few images, or for additional setups during your personal branding session, we'll spend most of our time in the studio.
To give you an idea of what a studio session looks like, all of these images were taking in my studio! Some used the natural light behind the subject like this: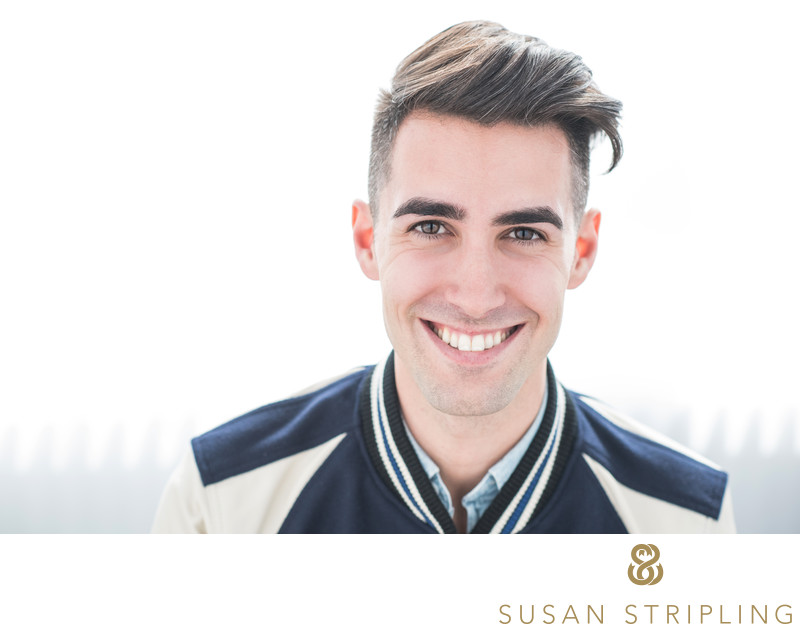 Some use the natural light as a main light, like this: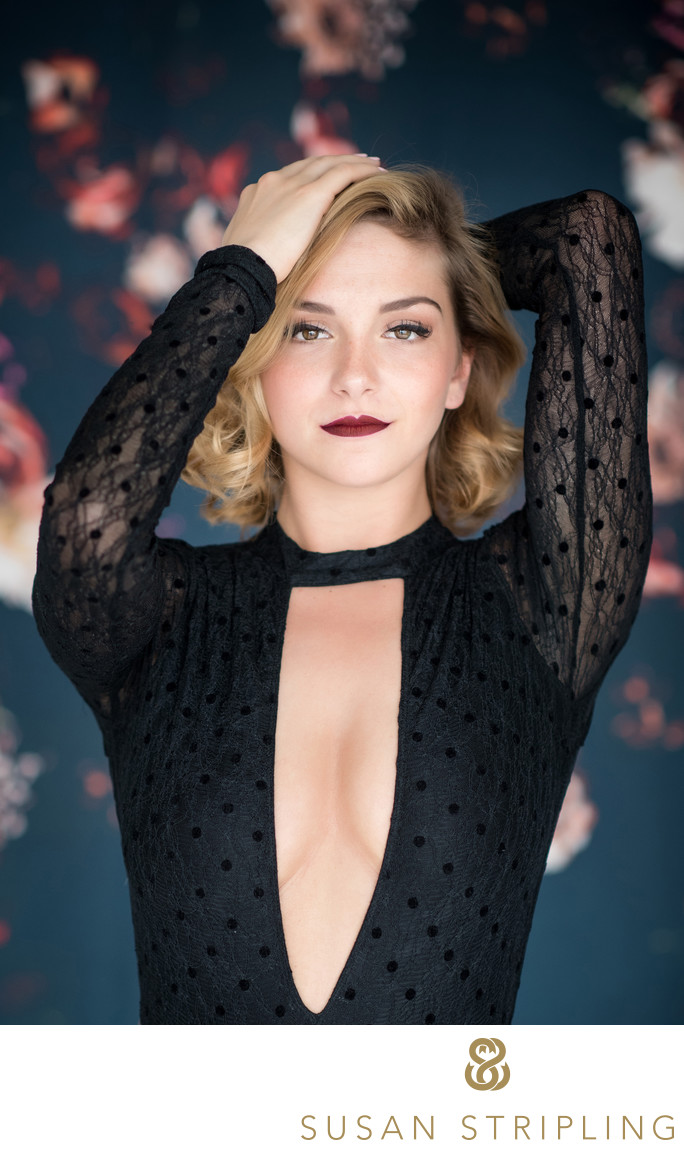 Some use the light as a side light, like this: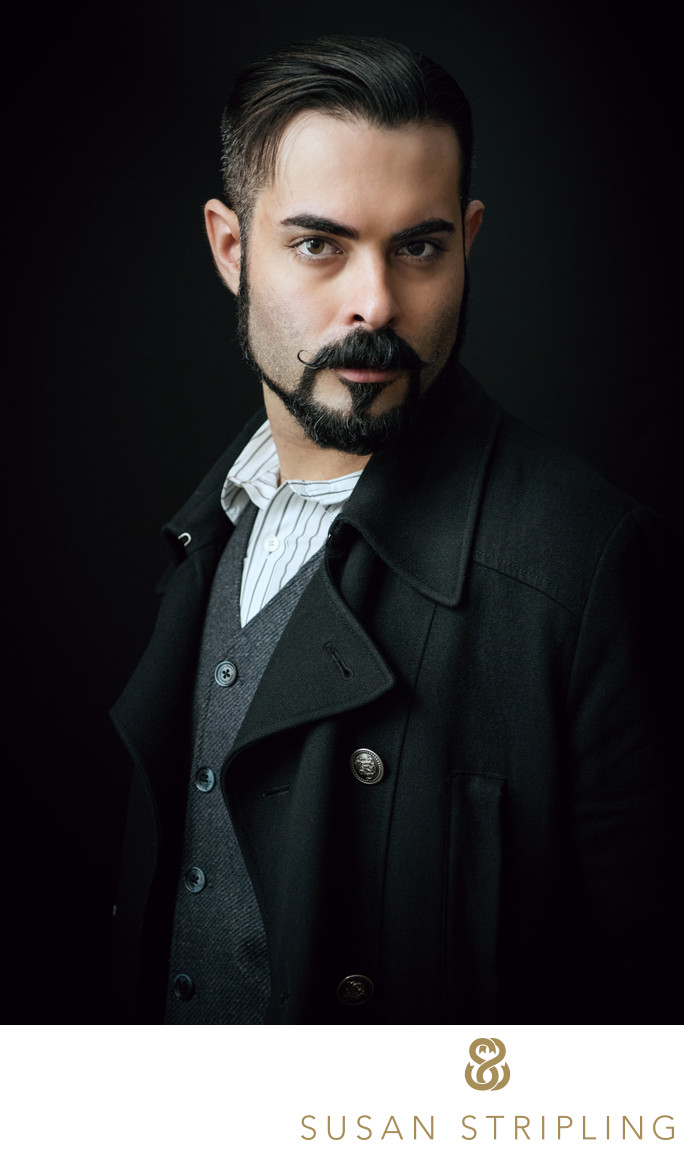 I have a variety of things that I use in the studio to shape the light, but it's a truly simple set up that results in beautiful, natural-looking images.
How long should the session take from start to finish?
If you're getting hair and makeup done, the initial round of styling takes about sixty to ninety minutes depending on the complexity of your look. Once we start shooting, the session takes anywhere from one to three hours depending on the package that you chose.
A basic session takes about an hour, the extended session takes two hours, and the personal branding session takes three hours.
Can I shave my beard or mustache during my session?
You can! If you want to shoot with two looks, just let me know. We would start with the look that involves your beard/mustache/facial hair and then shave for the second look!
What about my glasses? Can I wear them? Should I?
If you normally wear glasses, you should absolutely bring them to your headshot session. If you wear transitional lenses, those can be a bit of an issue in the light, so let's talk about that if those are what your glasses are like!
Glasses are best with anti-glare lenses. If you have the ability to bring the frames without lenses, that is another option. Also, if you ever don't wear your glasses, let me know that as well. We can do some shots with and some without your glasses.
After the Headshot Session
What is your turnaround time for proofs? What are proofs?
It takes 48 hours (during the business week) to receive your unedited proofs.
Proofs are just that - a proof set of everything from your headshot session. The images are color-corrected and exposed properly, but nothing is retouched. You'll see flyaway hairs, etc. in the proofs. They exist to help you choose your final images, and are not meant to be a final product in proof stage - though they're pretty close!
If you need these proofs sooner than the 48 hour time period, just let me know. We have options to rush your proofs same-day if necessary!
How do you deliver my proofs?
Your proofs will be delivered via a password-protected online gallery. You'll receive the gallery via whatever email address you used when booking the session.
What is your turnaround time for retouching? How does this process work?
It takes an additional 48 hours (during the business week) to retouch your final images.
What if I need to rush the retouching?
I do have an option where you can rush the delivery of proofs and/or the delivery of the retouched files. If you can let me know what your timeline is, I can let you know what your best options are for getting your finished headshots in your hands asap!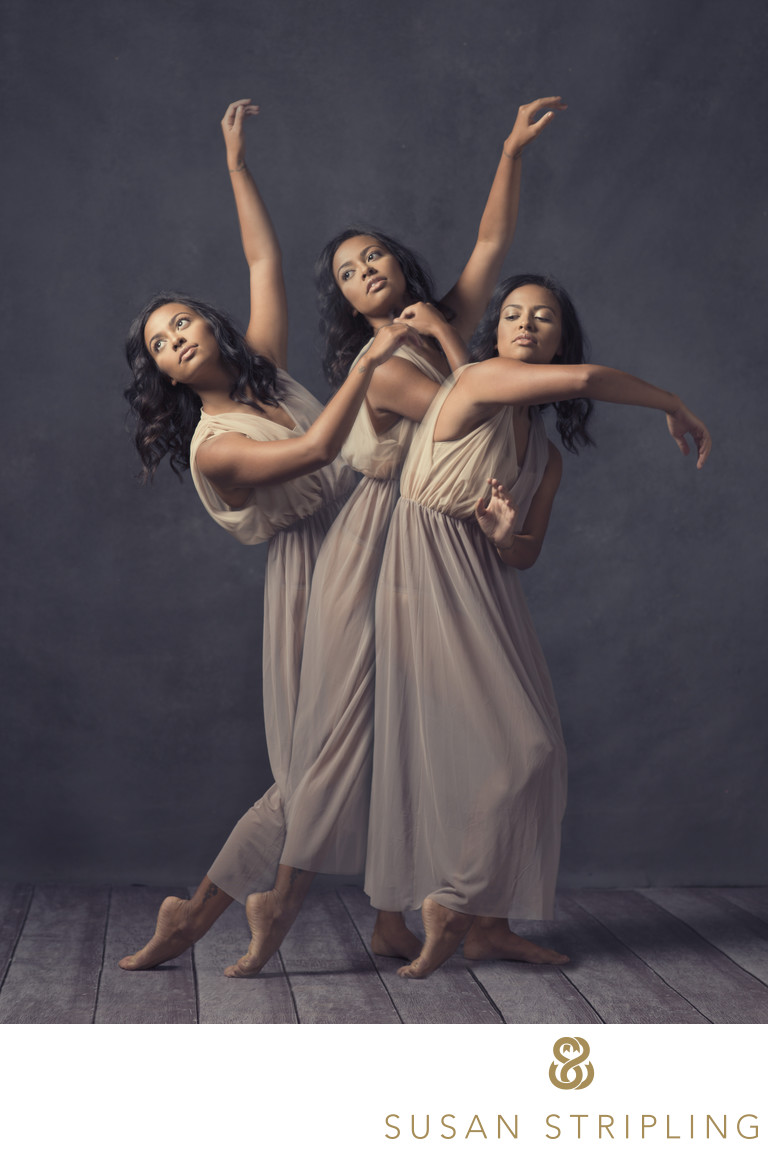 How do I choose what images I want retouched and share that information with you?
When you look at your online gallery, you'll be able to flip through the images one at a time. Whether you're looking at the images in grid view or one at a time, there will be a small star under each image. When you click on the star, it adds the image to your Favorites.
Once you've chosen your final images, you can choose to email those Favorites to me. You can also just write down the image numbers and email them to me. Whichever is easiest for you! I will email you back to confirm, and then start the retouching process right away.
What if I decide later that I want more images retouched from my session? Do you keep the files? How long do I have to decide?
I will keep your images on file for a year. After a year, they'll be moved to archives and there will be a $50 fee to unarchive the images. You are absolutely welcome to come back at any time for additional retouching to any of the images from your session!
Misc. Details
What kind of gear do you use and what format of file do you shoot in? Do you shoot film or digital?
Canon all the way!
I shoot in a RAW file format, but your delivered images will be in a standard JPEG format. I am a digital shooter.
Will my headshots be horizontal or vertical? Does it matter?
As trends in headshots come and go, vertical versus horizontal also comes and goes. I remember when the standard was to have a headshot in horizontal form. I also remember when it was standard to have a headshot in vertical form.
I will shoot both during your session, in order to give you a wide variety of images to choose from.
Will my headshots be in color or black and white?
Your headshots will all be delivered to you in color. This way you have the ability to use it in color, or to have it converted to black and white. If you want to have your headshot converted to black and white, I can do it for you. If you want to have them printed in black and white, companies like Reproductions can also do it for you.
Can I share my headshots on social media? Can I put my headshots on my website?
YES! You can absolutely share your headshots whenever and wherever that you want. If you share them on Instagram, please tag @susanstriplingphotography in your post. If you share them on any websites anywhere, please credit
susanstripling.com
and link back to my site. If you share them in print and have the ability to add a print credit, please credit Susan Stripling.
Thank you!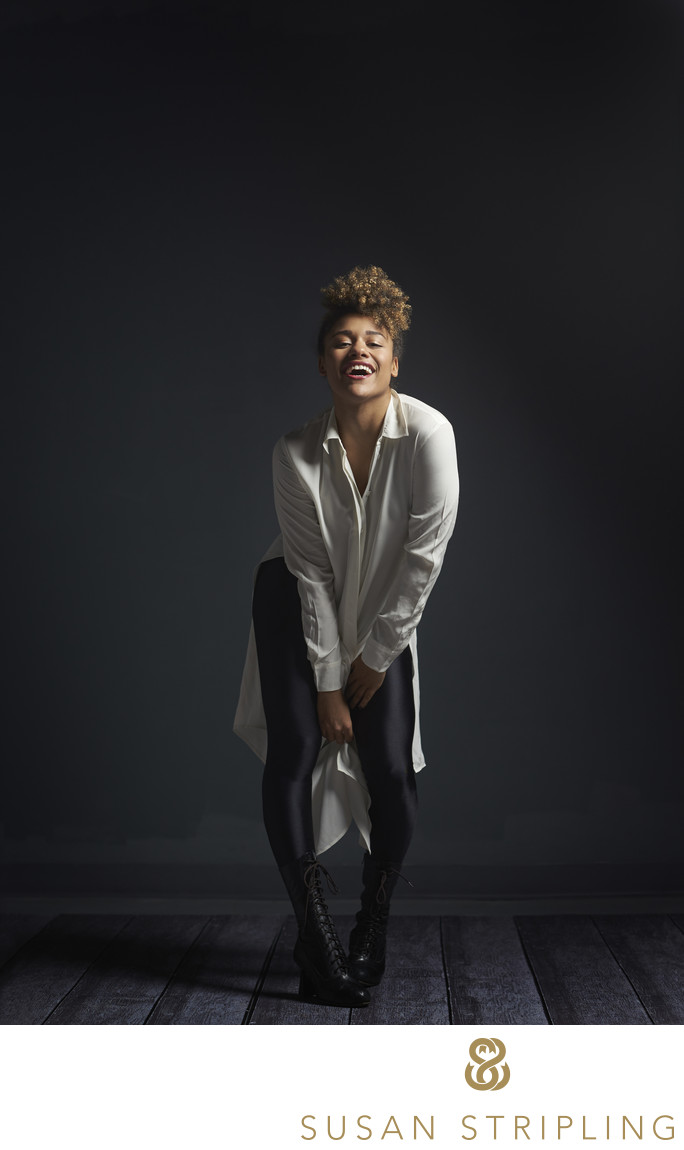 How long do you keep the digital negatives of my headshots?
I keep them on file at the studio for a full calendar year. After a year, they are moved to the archives. We will still have them, but will have to unarchive them should you need to receive any of the files in the future!
How often should I update my headshots?
This is a great question, and one that comes up often.
I recommend every time you change your look drastically to update your headshot. You'll also want to update it every few years as you age and your face changes. If you have the feeling of "It's time to get a new headshot," then it probably is!
About me and my headshot photography
I have been a wedding and portrait photographer since beginning my business in 2002. However, I have been in the business of theatre since well before that. I began taking headshots out of my Tallahassee, Florida studio in 2005, and have been shooting professionally in New York City since relocating here in 2008.
Theater Experience
As a lifelong lover of dance and all things musical theatre, I can still well remember performing in dance recitals and school plays at a young age. Ask me to sketch the neon green costume that I wore when performing a rousing jazz contemporary number to C+C Music Factory's Gonna Make You Sweat (Everybody Dance Now) at a mere twelve years old, I could do it. If you asked nicely enough, I could probably even break out pieces of the choreography. (I could. I just tried.)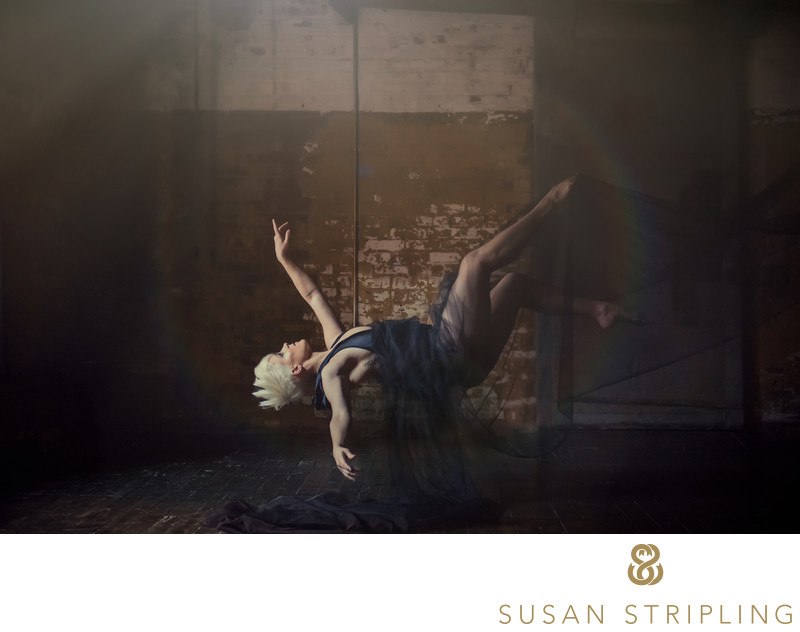 Theatre was a running theme and slight obsession all throughout high school. I quit the cheerleading squad to focus on plays and musicals. I was involved with everything from set design to costuming to being on the backstage crew for every show I wasn't a performer in.
I visited New York for the first time as a high school senior and that was that. We saw a few productions while I was in town, most memorably Matthew Broderick in How To Succeed In Business Without Really Trying. I was mesmerized, fascinated, hooked. I went home even more dedicated than ever to major in theatre in college, and shortly found myself packing my moving van and heading off to get a bright and shiny Bachelor of Fine Arts.
I acted and danced all throughout college. I loved every second of it. I took technical theatre classes and built sets. I learned to hang lights. I spend hour upon hour in that small collegiate black box theater, and truly felt that my path for the future was set. I was going to be an actor.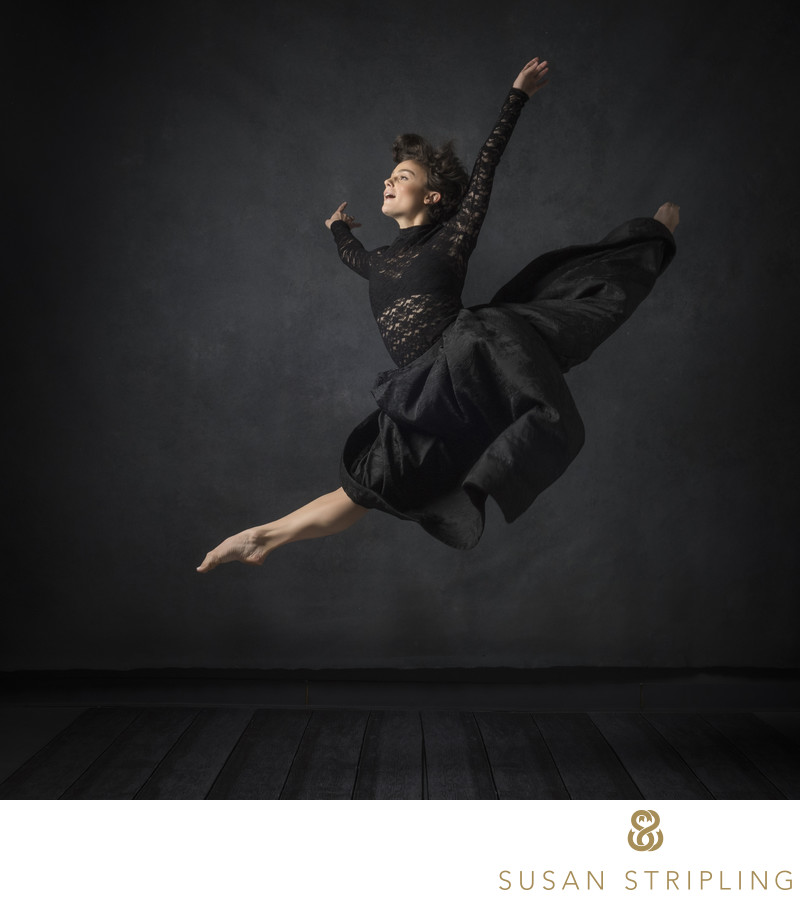 The summer between my junior and senior years of college I moved back to NYC to be an intern at the Roundabout Theatre Company. BROADWAY. Here it was. I spent time in the casting office and then in the education department. I saw every show that I could get a free ticket to. I remember seeing Alan Cumming about twenty times in the first revival of Cabaret, and never managed to get up the nerve to tell Natasha Richardson how incredible she was. It was a spectacular summer.
I went back to finish my senior year in college and something didn't feel right. I still loved theatre as much as ever, but a small voice in the back of my head kept telling me that I was not meant for the stage, I was meant for something else. I ignored that voice, as all bright young twenty-one year old's do, and graduated the following year. I moved to New York the day after my college graduation.
Upon landing in New York I bought a copy of Backstage and spent my hard-earned table-waiting money on some pretty incredible headshots. Here I was. I was ready. Unfortunately I had no idea what I was doing. Those gorgeous four years spent in the bubble of collegiate theatre prepared me for precisely nothing. I had no idea what summer stock was. I had no clue what an agent or manager were, much less how to find one or what to do with one if I did find one who would take me on. I had no idea how to audition. I had no clue how to further my education.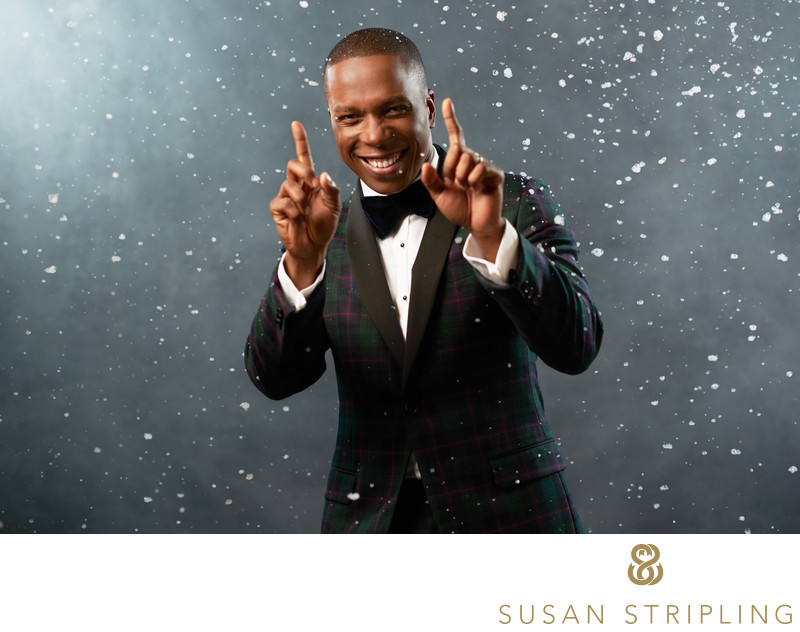 So I quit. I made it six months in New York before slinking back down south, still ignoring that voice in my head that said "You know this isn't how you're supposed to live in the theatre world, you know this." I settled into Florida life, got married, had kids. I started my wedding photography business. Life was good.
A few years later I'd opened my first wedding and portrait studio in Tallahassee. I was involved with the community theatre in town, shooting their productions and occasionally acting. I enjoyed it, and was feeling the pull back towards the theatre world in a wonderful new way. Then a handful of incredible seniors from Florida State University walked into my life and unknowingly began changing it for the better. I shot their graduation headshots and they all went off into the world of auditions and great successes, and I figured I'd never see any of them again.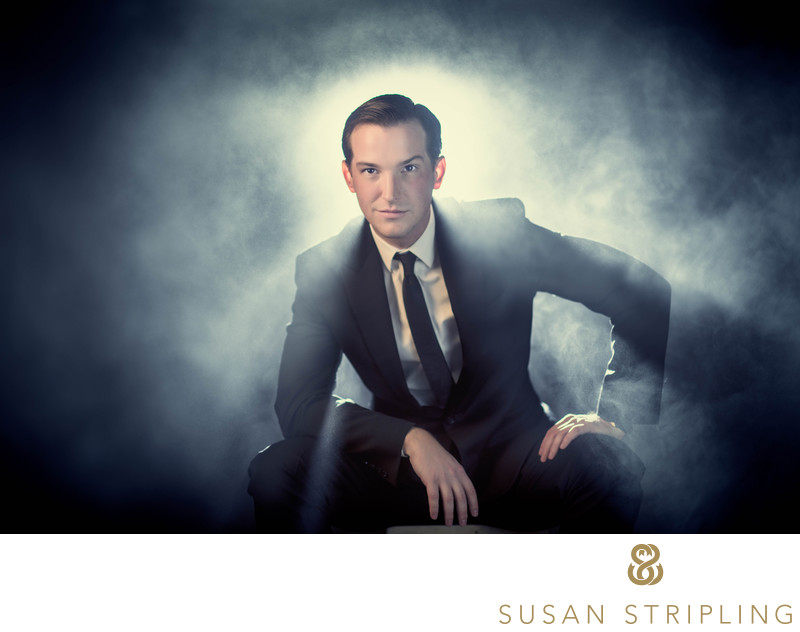 Flash forward to 2008. I was now living in Brooklyn, and establishing a wedding and portrait business in the New York area. I dabbled in headshots a bit, but didn't turn my eye seriously back towards theatre for a few more years. To my great surprise, those same Florida State University kids were now adults, most of them in Manhattan, and most of them in thriving theatrical careers. I was working with them again, now in New York, and life had oddly come full circle.
Along with headshots, I take fine art portraits of dancers, actors and performers. Many of those FSU alumni are featured in that work. I have photographed performers that before now were just names I'd admired from afar. I've met and worked with some of the brightest talents in the industry. It's been an amazing ride. Now I'm back in New York, but walking around Times Square is something new now. Something vibrant. Something finally, finally just right.