Ask This, Not That : The Wedding Photography Edition
Ask This, Not That : The Wedding Photography Edition
Hiring a wedding photographer can be incredibly difficult! As you search your local area, ask your friends and family for recommendation, and scour Instagram and blogs for referrals, it's easy to get inundated with information. There are so many styles of photography, so many different package options, so many studios to talk to. On top of that, it's easy to find yourself asking "What questions should I ask my wedding photographer?" How do you even know where to start? How do you know what is important information to have?
There are many blog posts out there on wedding planning blogs that advise you to ask every wedding photographer that you interview the same questions. Sometimes those questions are super helpful, sometimes the answers don't really matter. I truly want to make sure that all of my clients are thrilled with their decision to hire me as their wedding photographer, and I have compiled an extensive Q&A section of my website dedicated to the questions that I am asked the most. I believe that it's crucial to provide couples with as much information as I can on my website.
This "ask this, not that" list will hopefully help you communicate in a clearer manner with your wedding photographer. While I dearly hope that photographer is myself, I also hope this list will help you narrow down your choices when speaking to other wedding photographers.
Ask this: Have you worked at venues similar to mine before?
Not that : Have you worked at my venue before?
While it seems to make perfect sense to inquire whether your photographer has worked at you particular venue before, working at a venue before doesn't mean that you're going to produce great work there. Likewise, not working at a venue also doesn't mean that the photographer won't be capable of creating beautiful work there. There are many wedding venues that I have never worked at before, and many wedding venues I've worked at dozens of times. It's my job as a professional wedding photographer to be able to create unique, beautiful work at every one of those events.
Other important questions to ask can be "Have you shot at a venue like mine in the daytime before?" or "Have you shot at a venue similar to mine at night before?" A wedding venue with an outdoor ceremony and reception in the middle of the day is quite different from a wedding at that same venue indoors, at night, with the ceremony also inside. It's crucial that a wedding photographer be able to handle any and all types of weddings, indoors and outdoors, at all hours of the day and/or night. Asking those specific questions will inform you more about your photographer than simply asking if you've shot at their venue before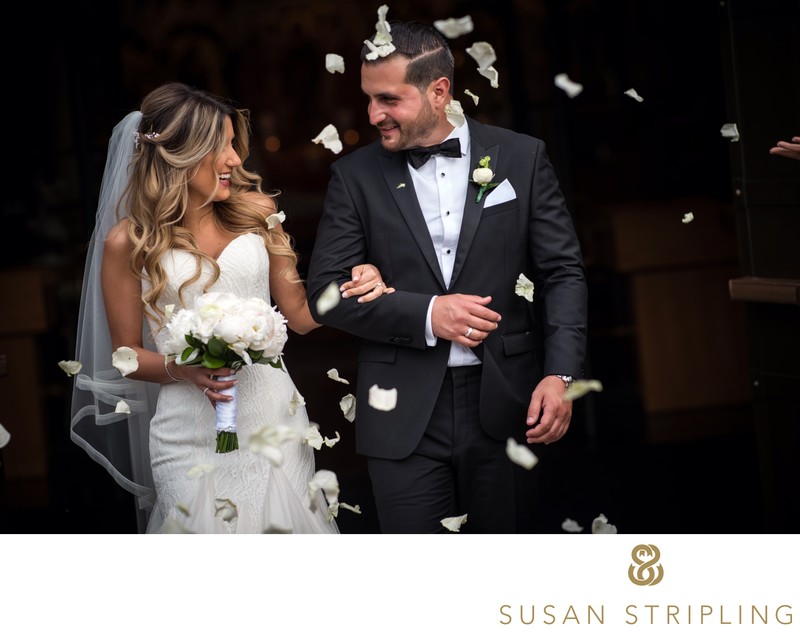 Ask this: What would working with you on our wedding day be like? How do you approach the day?
Not that : What is your style of photography?
There are so many different ways to describe a wedding photographer's style. "Documentary photography" can mean one thing to one photographer, and a completely different thing to another photographer. While "photojournalism" might mean "I don't set anything up and let everything occur naturally," it can also mean "I set everything up to look candid, but it's not." Just asking a photographer to describe their style might result in an answer that's more confusing than it is helpful! However, asking a wedding photographer how to describe what a wedding day will be like will result in an answer that should illuminate what that style truly is.
My style is largely documentary in nature, with bits of traditionalism and editorial work combined. That's a good descriptor of what my work is like. But what does that mean? It means that your wedding day will not be an art-directed photo shoot. I approach a wedding day with a very hands-off manner, letting you experience your moments as they happen. I document moments, I don't create or fake moments. From the time I start in your room while you're getting ready, I'm going to be observing, not directing. While I might offer up some suggestions, such as where to stand when you put your wedding dress on or how to pose when standing with your family for formal portraits, I'm never going to ask you to re-create or fake a moment. I want you to look back on your images later and remember how the day actually was, not a series of scenarios that were set up by your photographer!
The description of how I approach the day defines my style better than a few buzzwords or labels, and I hope that description helps articulate "style" to a prospective wedding client in a clear manner. Simply rephrasing this common question can really help illuminate how your photographer approaches the day!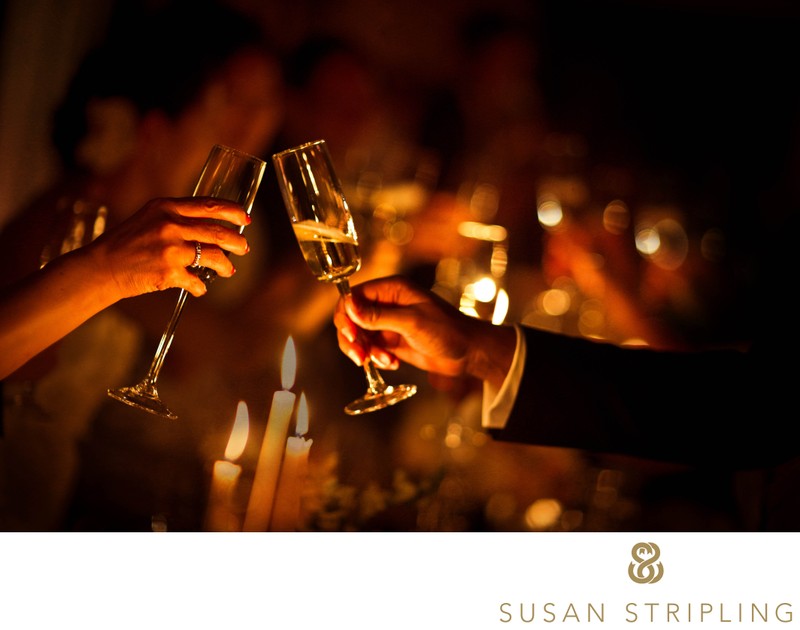 Ask this: Do you have a variety of full wedding galleries that we can look through?
Not that : Can we see weddings that you have shot at our venue?
I have almost a dozen full wedding galleries that prospective clients can look through. They illustrate indoor and outdoor weddings. They show portraits in the rain, snow, and sunshine. They show weddings at night, during the day, in the winter, and on the beach in the summer. They show weddings with large bridal parties, small bridal parties, lots of family formals, minimal family formals, huge receptions, and intimate parties. They show weddings where we spend three hours photographing just the wedding couple, as well as weddings where we had less than fifteen minutes during cocktail hour to create portraits of the wedding couple together. All of these galleries combined show a vast array of weddings, and offer up great examples of what my work is like in all scenarios.
If your photographer has only shot at your venue once or twice, or not at all, it's hard to get a full picture of their work by just looking at those galleries. What if the wedding they shot at your venue before was at night, but your event is during the day? What if it snowed at the wedding they shot, but your wedding is in July? What if they didn't get much time with the wedding couple at that particular wedding, but portraits are very important to you? Just looking at those galleries would give an incomplete picture of the work the photographer can do. While it is great to see work they've done at your space before, don't discount a photographer if they don't have galleries to show from those venues. Look through many galleries. That will give you a more complete picture of the work they are capable of doing in a variety of scenarios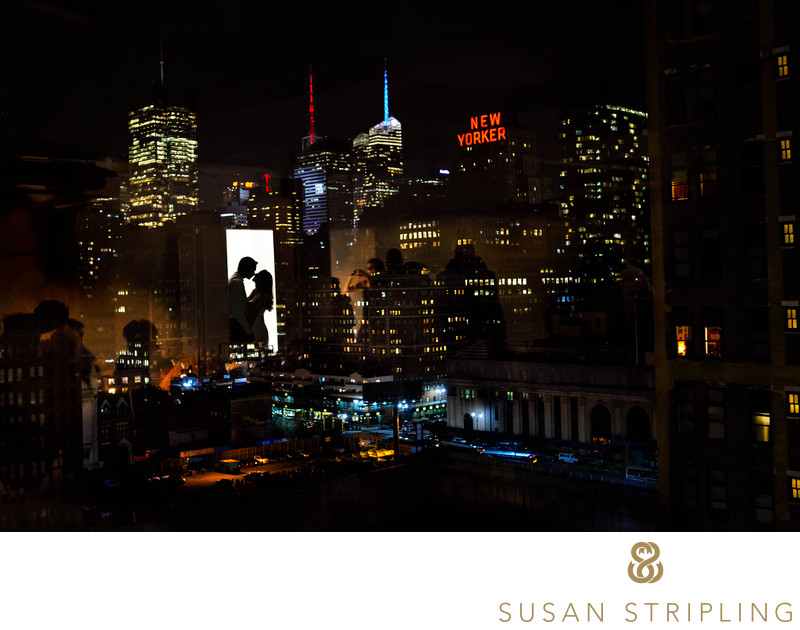 Ask this: How do you cover the day? How many photographers do you feel we need for ample coverage?
Not that : Do you work with a second photographer? We hear that we really need a second photographer.
The second photographer question comes up a lot around here. Some of my collections include coverage by myself and an associate photographer. Some include coverage by myself and my assistant. What is the difference? Why does it matter?
Many wedding photographers and well-meaning wedding blogs will tell you that you absolutely must have two primary photographers! This can be a bit misleading for a few reasons. One : most photographers who work with second shooters aren't bringing two primary photographers. There will be a lead photographer and a second, who backs up the lead with different angles to the coverage. There are some teams who have two primary shooters, but they'll generally describe themselves as such, not as a lead and a second shooter. Two : not all weddings need a second photographer.
I work with an assistant at every wedding that I photograph. My assistant helps with secondary angles during the coverage of the ceremony, oftentimes during cocktail hour, and during the portraits and reception coverage. She also helps with lighting, posing groups, keeping the day organized, and more. She shoots some, but assists some, too. I also have a second photographer option in many of my collections, as well as an a la carte add on item. That second photographer is a dedicated shooter who never assists. This is beneficial in some wedding situations, such as where the bride and groom are getting ready really far away from each other, in Jewish ceremonies where a Tisch and Bedecken might be going on at the same time, at weddings with a huge guest count over five hundred attendees, at a wedding where the bride and groom want to do portraits during cocktail hour but also want that time covered photographically, and so forth. I am always glad to chat with you about the flow of your day, and see if a second photographer wold be a good choice for your coverage.
Not all weddings need second photographers, and not all photographers need to work with another shooter to create beautiful images. I highly recommend asking your photographer how many shooters they need to cover your day, and go from there. You can always ask to see a full gallery captured by a single photographer to ensure that you love the coverage. I'm always glad to share to show that I can shoot action and reactions both, all without a second shooter present!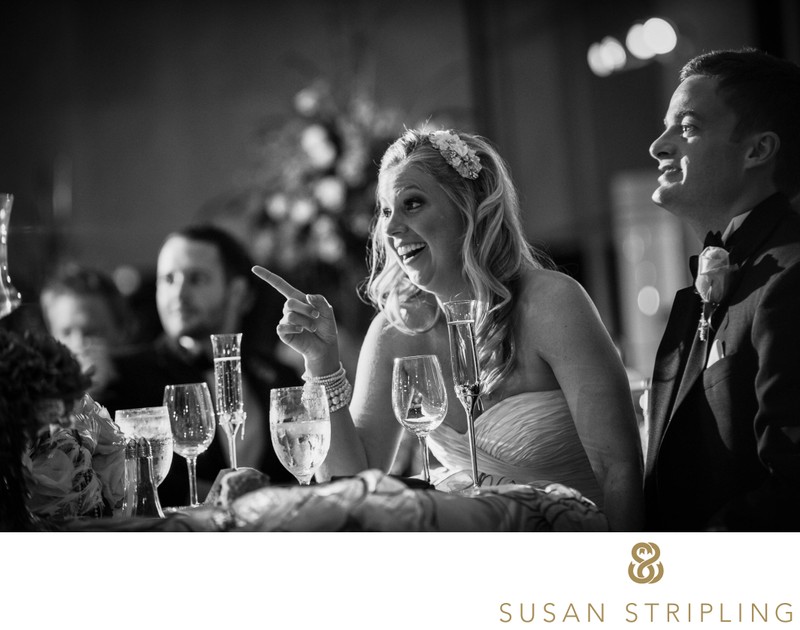 Ask this: Are there reviews about you on the web that we can read? Or testimonials on your website?
Not that : Can we get references and speak to some of your past clients?
I value the privacy of my clients, and am not going to give their names and contact information to prospective clients. Weddings are private events, and I don't believe that I should ask clients who have invested in my services to continue marketing for me after the fact. Also consider that if I've given you names and contact information from past clients, I've carefully chosen people who I know will say great things about me! I understand that asking for references is a big thing in many fields, but wedding photography isn't really one of them. I highly suggest asking if there are reviews for your photographer online, which is where most people will be very honest about their experience. I also suggest a Google search of that photographer, because if anyone is unhappy or happy with their services, you'll absolutely find it that way!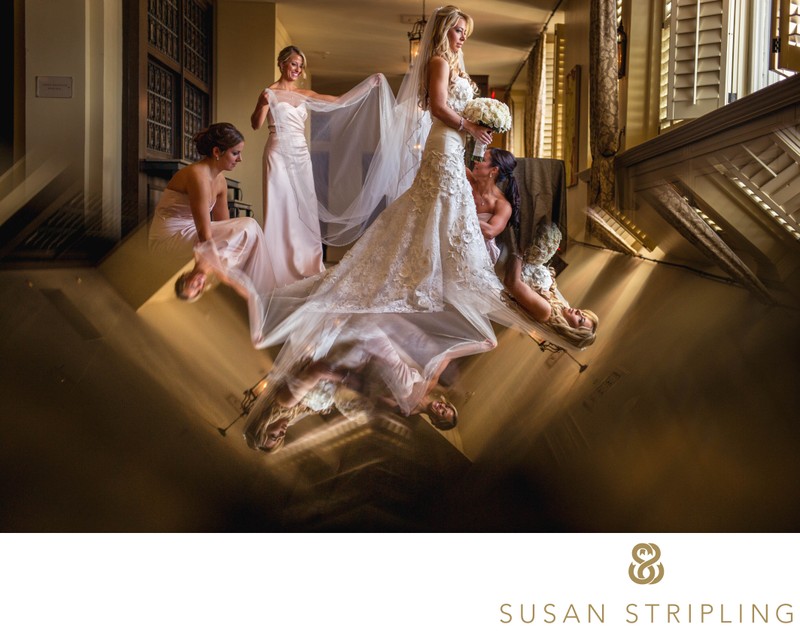 Ask this: What determines the final number of images we will receive?
Not that : Exactly how many pictures will we get?
This is a tricky one. I completely understand the need to know precisely what you'll receive from your wedding photography investment, but asking a photographer to pin down a precise number of images is difficult for many reasons. First, every wedding is different. Many factors affect the final image count on a wedding day, such as number of hours of coverage, time spent traveling in between locations, lateness or running behind schedule, number of guests, number of events happening during the day, and so forth. An eight hour wedding with no dancing and a five-course sit down dinner with a full Catholic mass beforehand will result in different coverage than a fourteen hour Indian wedding with six hours of dancing during the reception and a thousand guests.
While I can estimate what an eight hour event usually results in image-number-wise, it's hard to pinpoint precisely what your wedding will be like. Understanding how your photographer approaches the day will really help you understand how they come to their final image count. It's not that wedding photographers are avoiding answering this question, it's that they don't want to put a firm number on such a fluid event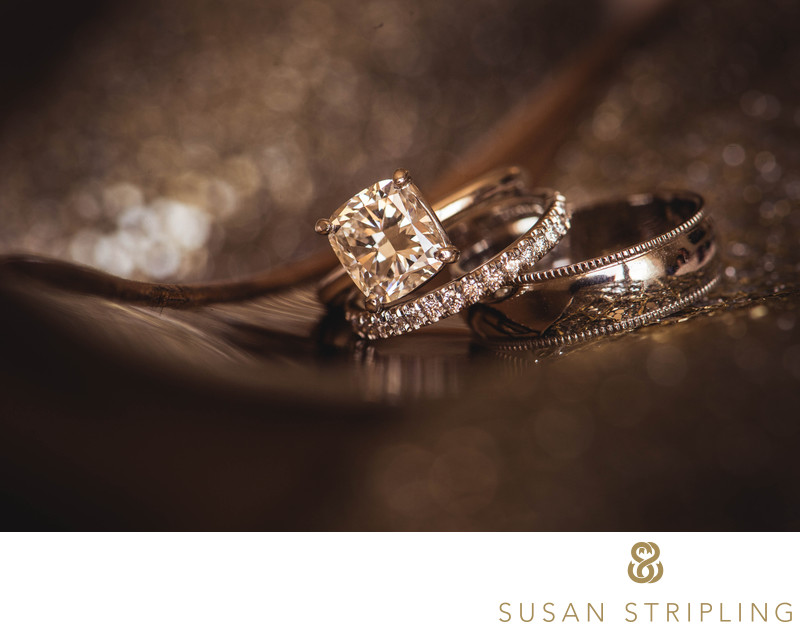 Ask this: Do you have backups for your equipment? What about insurance?
Not that : What gear do you use to shoot a wedding?
If you're a photography buff, it might be fun to peek inside the bag of your wedding photographer. If you're not, a long list of camera bodies and lenses will be meaningless data. Do you know the difference between an 85mm f/1.8 lens and a f/1.4 lens? Does it matter which your photographer uses? If one is more expensive, does it make him/her a better shooter? Far from it. One might favor a particular version of a lens for particular effect, another might prefer another for another effect. Some carry pricey camera bodies, some find better results with simpler gear. And so forth. For example, my favorite flash is two versions behind the current model. Does that mean my flash doesn't work? Of course not!
A list of gear isn't the information you need, it's more about backups and insurance. Does your wedding photographer have proper backups for the gear they bring to a wedding? Do they have enough camera bodies, for example, in case one fails? Do they have enough lenses? Most importantly, do they have insurance to take care of them in case of emergency? These are the crucial things to find out!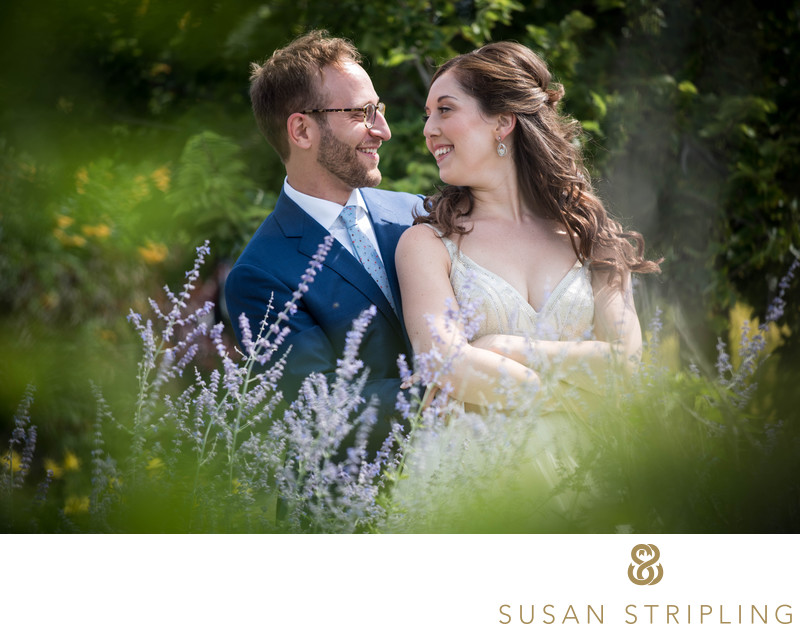 Ask this: What rights do we have when it comes to our digital files?
Not that : Can we have the copyright to our images?
Many prospective clients ask for "the copyright" when what they really want is the right to reproduce, print, and share their images online. A release is standard with all of my hourly and collection options, meaning that my clients receive their high-resolution digital files six weeks post-wedding and they are free to make their own prints, share images on social media, and reproduce their images in any way they'd like (except for selling them for a profit!). I am the copyright holder of my images, meaning that I am the creator of the images. Holding the copyright doesn't mean that you don't have the right to print your digital files. If you're not sure what your rights are to your files, talk to your wedding photographer about their print and sharing policies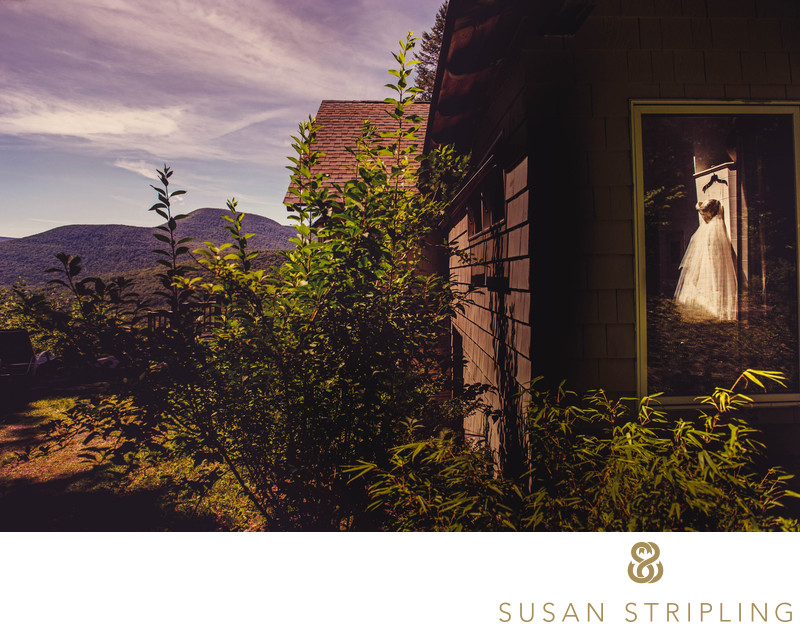 Ask this: How do we collaborate to decide what images are taken, and what "must take" shots do I need to tell you about?
Not that : Can we give you a shot list?
Many super well-meaning wedding blogs and magazines will offer up a printed checklist for you to hand your wedding photographer. It often covers things such as "the kiss at the end of the ceremony" and "the first dance." These are standard things that any wedding photographer will capture for you! Giving your photographer a list will mean that all that he/she/they can really do is check one image off after another as the day goes by. This limits their ability to create naturally occurring images for you, and to document moments in real-time.
That said, it is crucial that you have a discussion with your wedding photographer about shots that you really need. One of those things you should talk about are your family groupings. Without a list to work from, your photographer will have no way of knowing who you want together in your formal family pictures. Do you want an image with your dad, then your mom, then your mom and dad together? Or do you just want one image of your whole family together and that's it? I always work on a wedding day shot list with my clients via a worksheet sent approx. six weeks prior to their wedding day. That way my clients know what family groupings they're asking for, and I know what family groupings I need to capture.
It is important that your photographer know about special moments you're anticipating. For example, if you want to do a first look with your dad, we need to know that! It's a fine line between telling your photographer about these moments and creating a shot list, which is why it's super important that a dialogue is opened from the start. Again, this is why I send out a wedding day worksheet to my clients. I want to know about all of these moments and desires you have for your images so that we can talk about them and how to capture them before the wedding day occurs.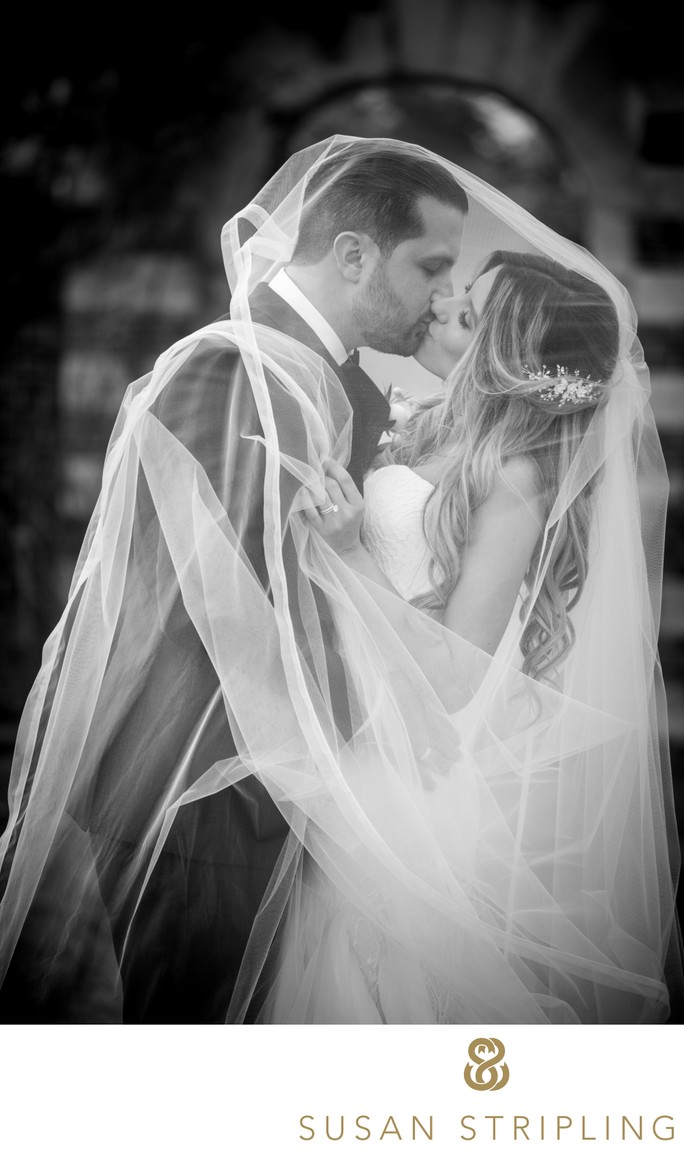 Ask this: We have a budget of $XYZ. Is there a collection we could customize at that price point?
Not that : Can we have a discount?
Negotiation is part of business. Many photographers don't like negotiation, but I am always open to discussion when it comes to customizing a collection. Sometimes potential clients are looking for their collection to include items that they don't see already on my price list, or they want a specific number of hours and product that isn't already bundled together. Creating custom collections is something that I am always glad to do!
If you have a specific budget and don't see a collection that fits that budget, it's absolutely okay to ask your photographer if they can customize something to reach that price point. Maybe they can and maybe they can't, but it can't hurt to ask! However, asking for a discount isn't the same as negotiating. Photographers aren't likely to just reduce the price of a collection for you, as it's not fair to other clients who are paying full price for the same services and products.
If your wedding is in the off-season, you can inquire about off-season discounts. Some photographers might offer that, or may be willing to negotiate their starting price. Some photographers might not. It's always best to work towards a customized package rather than asking for a flat discount, which many photographers are not so willing to offer.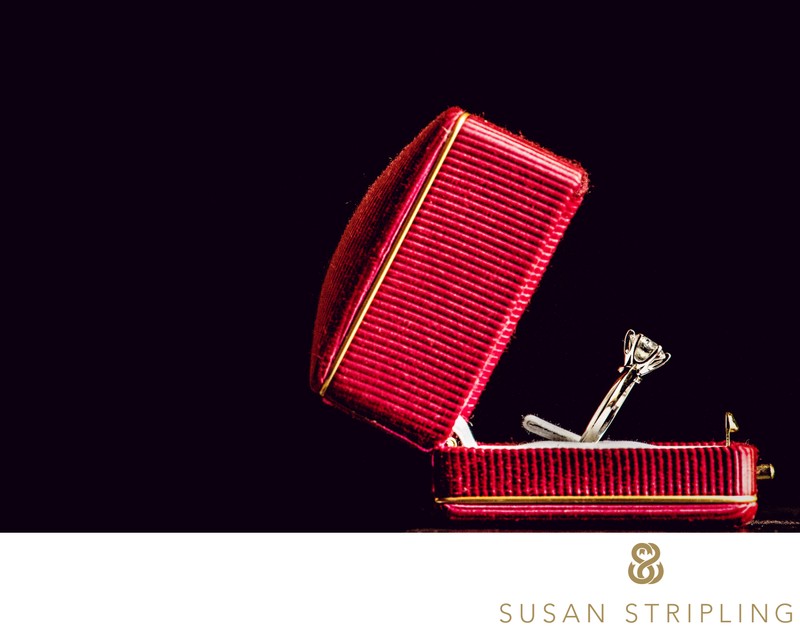 Ask this: Do you have a backup plan in case of a wedding day emergency?
Not that : What happens if you die?
You might laugh, but I've been asked point-blank "What happens if you die before my wedding?" more times than I can count! While the question might be a bit off-putting, I understand the nervousness behind it. Asking your photographer what they'd do if they dropped dead before your wedding might not be the best thing, but it is important to discuss a backup plan. When you a hire a one-person studio and that one person is the one person that will be capturing your wedding day memories, he/she does need a backup plan.

My plan is multi-fold. I have a studio manager who has access to my client database, everyone's contact numbers, and contact info to many, many wedding photographers that I know and trust. If anything were to happen to me, she'd have access to a great number of people to contact to ensure that any clients' wedding would be documented beautifully. I also have a whole clause in my wedding day contract that deals with how that will proceed, should such an awful thing occur. Whatever your photographer's backup plan is, it should be detailed out in your contract.
Please know that wedding photographers take their jobs very, very seriously. Not showing up for an event is just NOT something that we do! I can count on two fingers the number of times that I've heard of anyone "calling in sick" in the nearly sixteen years that I've been shooting weddings, and those were other photographers with crucial last-minute emergencies. I have shot hundreds and hundreds of events and never once considered calling for backup. This is something that happens rarely, and under extreme emergencies only.
What questions should I ask my wedding photographer? I hope you have found this list helpful! As I mentioned before, I do already have an enormous Q&A section of my website that answers most of the questions that I am asked on a daily basis by prospective and current clients. I want to help my clients as much as I possibly can! It's truly important to me that all of my clients feel educated and informed when they hire me, and that I continue to help make their wedding planning (and the day itself) go as smoothly and delightfully as possible.
If you have any concerns not answered here, please do not hesitate to contact me. I'd love to hear answer any questions you have!
** You may share this post, if you find it helpful! You may not copy it and use it as though these were your own words. All text © Susan Stripling, 2017.