Engagement Photos : What To Wear
What to Wear for Your NYC Engagement Photos
Planning what to wear for an engagement photo session can be challenging. Some couples pick their outfits months in advance, while some wait for inspiration and choose them the day before their scheduled photo shoot! At the end of the day, it doesn't really matter what you wear in your engagement photos. Be yourself, be happy, and embrace the moment in your NYC engagement photos.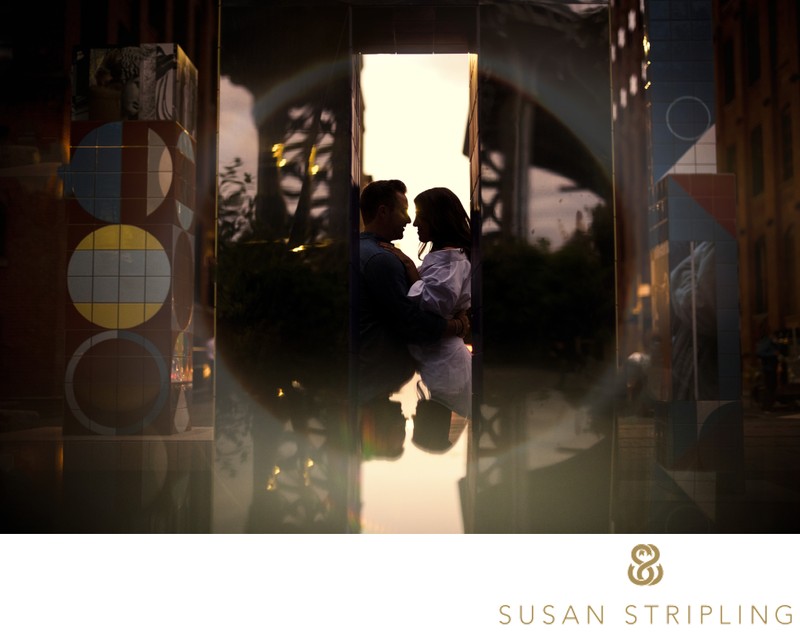 Dressing for NYC Engagement Photos
Typically, engagement photos are less formal than wedding-day photos. You won't have to rent a tuxedo or spend hours finding the perfect ball gown (unless, of course, you want to). Couples should focus on what makes them happy because the more comfortable they are in the outfits they choose, the more natural and magical the photos will turn out!
Here are some ideas for how to choose engagement photo outfits for a New York City photo shoot:
Dress For The Location
There are many iconic landmarks in NYC for a beautiful engagement photo shoot. Couples might choose outfits to match the ambiance of their photo shoot location. For more formal settings, such as the Brooklyn Bridge or Bethesda Terrace, couples might choose fancy clothing such as suits and cocktail dresses. Less formal locations, such as walking the city streets, might entice couples to wear more casual pieces, such as jeans, boots, and flannels. Accessories can change an outfit's look as well. If you plan on taking photos in an area with lots of natural sunlight, consider bringing a hat or sunglasses to jazz up the pictures.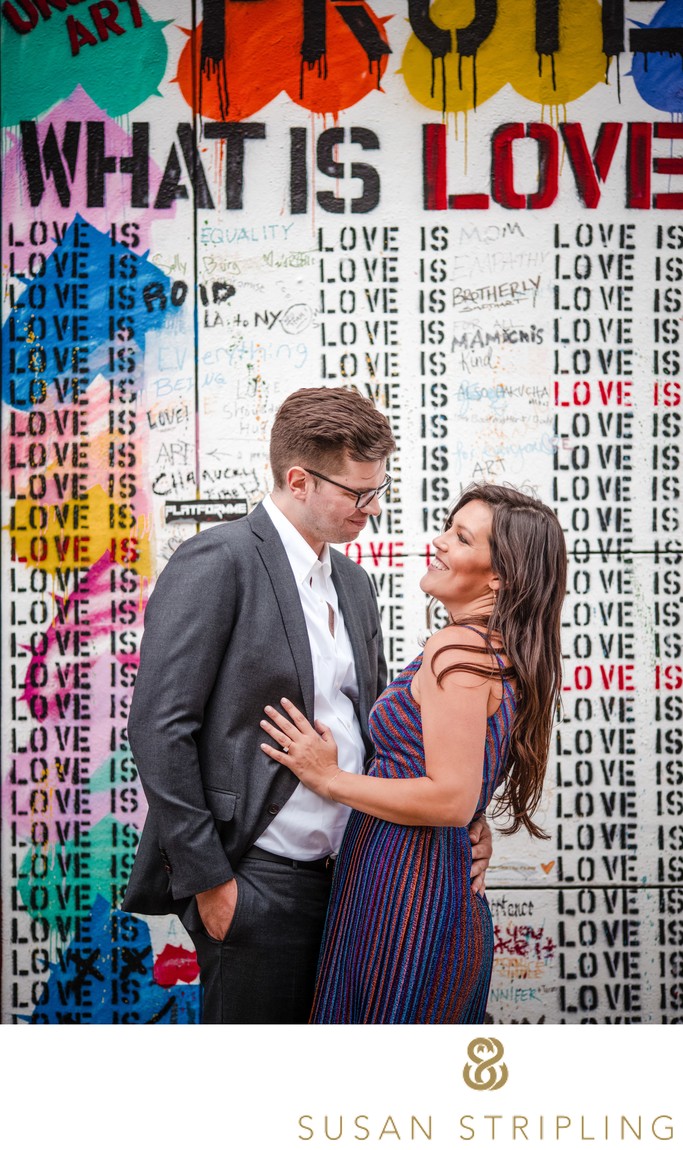 Dress For The Season
The weather changes a lot in NYC, depending on the time of year of your engagement photos. Some morning photo shoots can get very chilly! If you plan on getting photos taken during a colder time of year or early morning, plan on wearing layers and dressing appropriately. You can even incorporate winter jackets, hats, and coats into your pictures if you feel like it. You can also bring heavy jackets and gloves to wear in between photos and then remove them for each pose.
NYC engagement shoots usually last at least an hour or two to capture all the photos. So be prepared for a solid amount of time in cold weather. Hand warmers can be helpful, or accessories such as puffy jackets, umbrellas, and knit hats.
Similarly, plan on dressing appropriately for warmer weather. Avoid heavy sweaters and bulky, formal jackets that will cause you both to end up in a sweaty mess. Dress in lightweight clothing, and choose pieces that make you feel comfortable and easy to move around. If you select a button-up shirt, bring a few backup options. Sweating a lot is not uncommon, and you'll want to look your best.
There is no ideal season to get engagement photos taken in NYC - each time of year has its perks! In fall, changing leaves and colorful foliage make gorgeous backdrops for photos. In spring, blooming flowers add dimension to pictures. The bright sun and amazing sunsets make for exciting color schemes in the summer. Meanwhile, snow or winter trees offer a very different palette in the winter.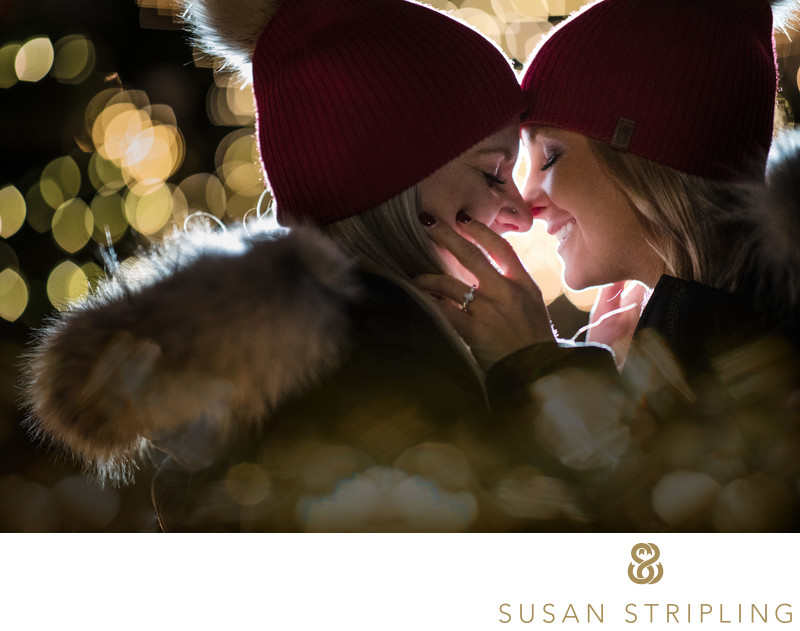 Choose A Color Scheme
Additionally, there is no perfect color for NYC engagement photo outfits; it truly varies by couple and location. Some couples choose to match the surroundings or landmarks in the photo shoot location, or some choose to wear bright colors to stand in contrast with the setting. For example, in a natural location such as a garden or public park, couples might choose a color scheme that matches the flowers in the area or the color of fall leaves. You might stick to neutrals or choose outfits with a pop of color for dramatic effect. Heavy, complicated patterns are typically discouraged, as they can be a distraction in photos. Choose pieces with solid colors, and don't be afraid to wear bold hues.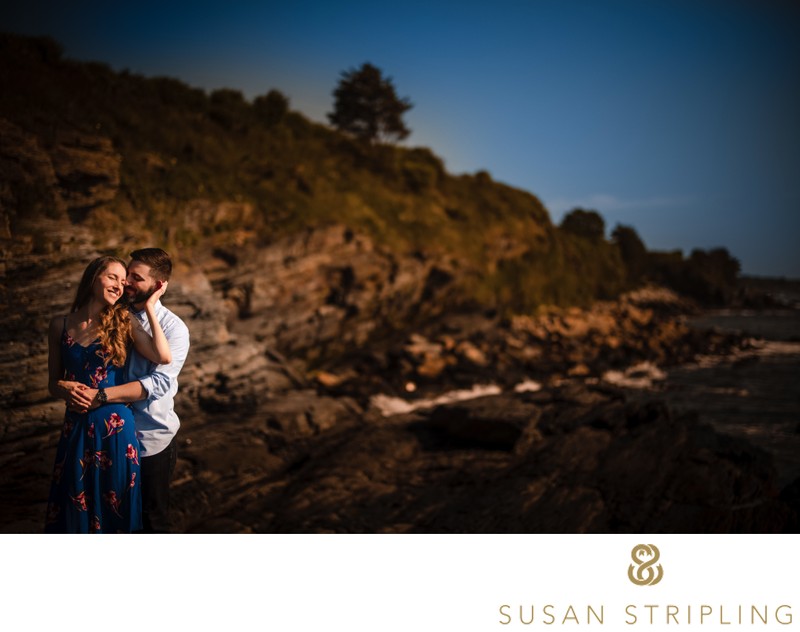 Plan For Outfit Changes
Changing clothes during an NYC engagement photo shoot is entirely optional. Still, it can be fun to add diversity to the final album. You can bring an outfit change and still decide to only wear one outfit the entire time. It truly depends on what makes the couple the most comfortable.
You will probably want to bring an outfit change if you plan on getting photos taken in these scenarios:
During summer heat: Bring some backup shirts or dresses in case you get too sweaty.
During cold months: Bring backup clothing in case it rains or snows.
For waterfront locations: Bring a change of clothes in case your shoes or pants get wet if you plan on photos standing in the water.
Choose Clothing for Your NYC Engagement Photos That Has A Dramatic Effect
Static shots can become more dramatic with a flowy skirt or dress. These make for breathtaking action shots, with the skirt or dress flowing in the wind as couples twirl, dance, and run. Check your outfit ahead of time to see what it does in motion, and consider choosing something flowy for a touch of drama.
Accessories can also add drama to photos and spice them up. Hats, gloves, strappy shoes, umbrellas, sparkly jewelry, scarves, or shawls can add character to your photos. Limit the accessories to whatever you feel comfortable wearing!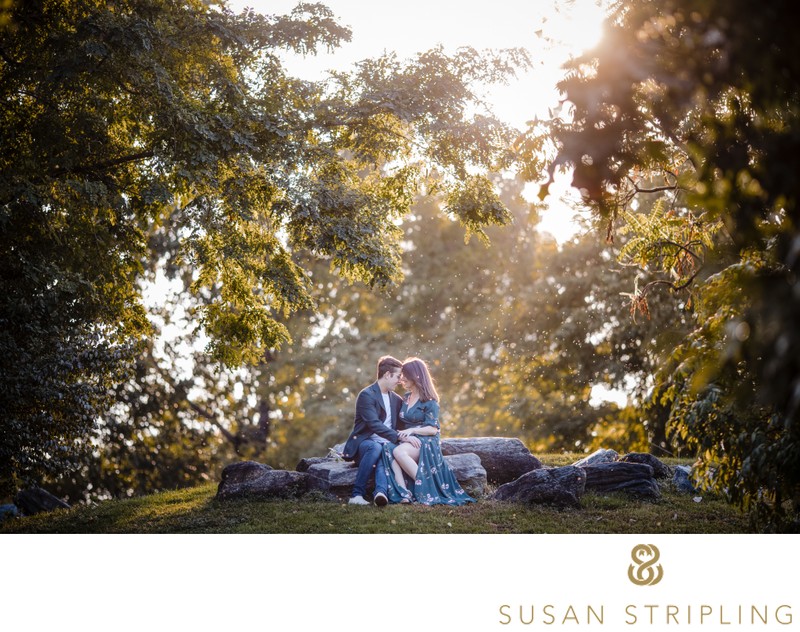 Pack An "Emergency Kit" Of Things You Might Need
You never know what will happen during a photo shoot, and it's ideal to come prepared. Pack an emergency bag and take it with you to the photo shoot.
Some items you might want to include are:
A lint roller
Tissues
Bobby pins or hair ties
Hairbrush and comb
Lipstick and powder for touch-ups
Water
A portable fan
Comfortable shoes to wear in between shots
Backup clothing
Hand warmers
A sweater or gloves
A list of any "must-have" photos
NYC Engagement Photos
There are so many fantastic ways to plan engagement photo shoot outfits. Whether you want formal or informal, rigid poses or action shots, lots of accessories, or simple outfits, there are many options to style your NYC engagement photos. Couples can choose to match the location, the season, or the wedding theme - or choose a unique color scheme that suits them. No matter what you choose, be sure to pick pieces that make you feel comfortable, beautiful, and happy!
Are you ready for more NYC wedding content? Before you go, feel free to browse through more of my wedding and engagement portfolios. Then let's talk about your wedding and engagement photography needs!