NYC Wedding Photographer Prices
New York Wedding Photographer Prices
Wedding photography services pricing can vary significantly based on numerous factors, such as the photographer's experience, location, and package offerings. To help couples make informed decisions when choosing a photographer, this page will provide an in-depth analysis of the elements that contribute to pricing - specifically New York wedding photographer prices.
Understanding the Factors Influencing Wedding Photography Pricing
Wedding photography is an essential aspect of any wedding, capturing memories that last a lifetime. However, the cost of hiring a professional wedding photographer can range from a few hundred dollars to several thousand dollars, depending on various factors. Understanding the elements that influence pricing can help couples make informed decisions and select the right photographer for their needs and budget.
Factors Influencing Wedding Photography Pricing:
Experience and expertise: The photographer's experience and expertise plays a significant role in determining the cost of their wedding photography services. Seasoned photographers with extensive portfolios and proven track records typically command higher fees than those just starting their careers.

Location: The cost of wedding photography services can vary based on the photographer's location and the market demand for their services. Photographers in larger cities or popular wedding destinations may charge more due to higher demand and increased competition.

Time and coverage: The number of hours the photographer spends capturing the event is another critical factor in determining the cost. Full-day coverage typically costs more than partial-day coverage, and additional hours may be billed at a higher rate.

Second photographer or assistant: Some wedding photography packages include a second photographer or assistant to ensure comprehensive coverage of the event. This additional resource can increase the service cost.

Post-production and editing: Editing and retouching the images captured during the wedding requires considerable time and expertise. The amount of post-production work involved can impact wedding photography costs.

Package offerings: Many photographers offer different packages that include various services and products, such as engagement sessions, wedding albums, prints, and digital files. The contents of each package can influence the price, with more comprehensive packages typically costing more.

Equipment and insurance: Professional photographers invest in high-quality equipment, backup gear, and insurance to protect their businesses and clients. These costs factor into the pricing of their services.

Travel and accommodations: If a photographer needs to travel to the wedding location, there may be additional costs for transportation, lodging, and meals, which can impact the overall pricing.
In general, wedding photography services are priced by a combination of factors, including the photographer's experience, location, time and coverage. These factors include additional personnel, post-production work, package offerings, and travel-related expenses.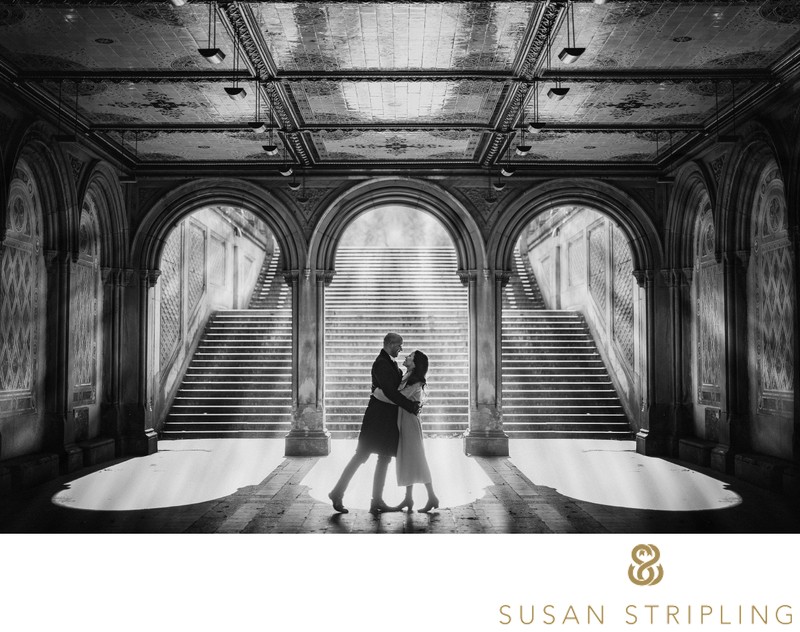 Wedding Photographer Pricing in New York City
Now let's get specific.
New York City, known for its vibrant wedding scene and diverse venues, is home to a wide range of wedding photographers with varying pricing structures. Let's continue by discussing the pricing ranges for wedding photographers in New York City and providing insights to help couples make informed decisions when selecting a wedding photographer.
Pricing Ranges for Wedding Photographers in New York City:
When discussing pricing data for wedding photographers, it is essential to recognize that such information serves as a general guide. It is not meant to minimize photographers' capabilities or talent at any price range.
The photography industry encompasses a wide variety of professionals, each with unique skills, styles, and experiences. While pricing can provide a general understanding of the market, it does not fully encompass the value, creativity, and dedication that photographers at all levels bring to their work.
Every photographer has their strengths and specialties. Couples should carefully evaluate each photographer based on their personal preferences, style, and vision, rather than solely focusing on price.
In this context, pricing data serves as a starting point for couples to navigate their options and make informed decisions. It also acknowledges photographers' invaluable contributions across the spectrum.
That said, here is a very general breakdown of New York wedding photographer price ranges.
Entry-level photographers: Entry-level wedding photographers in New York City typically charge between $1,000 and $2,500 for their services. These photographers may have less experience or are building their portfolios. Their pricing may include basic coverage and digital files, but they may not offer extensive post-production editing or additional services such as engagement sessions or albums.

Mid-range photographers: Mid-range wedding photographers in New York City usually charge between $2,500 and $5,000. These photographers have more experience, a well-developed portfolio, and may offer additional services such as engagement sessions and wedding albums. Mid-range photographers often balance quality and cost, catering to couples with moderate budgets.

High-end photographers: High-end wedding photographers in New York City typically charge between $5,000 and $15,000 or more. These photographers have extensive experience, a strong reputation, and often specialize in luxury weddings. High-end photographers offer premium services, such as full-day coverage, second shooters, high-quality albums, and extensive post-production editing.

Destination wedding photographers: New York City-based destination wedding photographers may charge between $7,000 and $20,000, depending on factors such as travel, accommodation, and the complexity of the wedding. These photographers specialize in capturing weddings in international locations and often navigate unique challenges associated with destination weddings.
In conclusion, wedding photographers in New York City charge as low as $1,000 and high-end photographers charge upwards of $15,000. Couples should consider factors such as experience, portfolio, reputation, and additional services when selecting a photographer that aligns with their expectations, needs, and budget.
By understanding the pricing ranges and what each tier offers, couples can make informed decisions when selecting a wedding photographer in New York City. This will ensure a memorable and cherished collection of photos from their special day.
Investing in a high-priced wedding photographer: is it worth it?
Investing in a high-priced wedding photographer can be worthwhile for couples seeking exceptional quality and a memorable experience on their special day. While the cost may be more expensive than entry-level or mid-range photographers, the value provided by a high-end photographer often justifies the investment. Here are some reasons why paying for a high-priced photographer is worth it:
Experience and Expertise: high-priced wedding photographers possess extensive experience and honed expertise, allowing them to capture the beauty and emotion of the wedding day with precision and artistry. These photographers have a deep understanding of lighting, composition, and storytelling, ensuring that each image is a work of art. Their years of experience and dedication to their craft translate into consistently stunning photographs from wedding to wedding.

Personalized Attention and Service: High-priced wedding photographers are known for their commitment to providing personalized attention and exceptional service to their clients. From the initial consultation to the delivery of the final album, these photographers ensure that every detail is meticulously planned and executed. This level of care and dedication results in a seamless experience for the couple. This allows them to enjoy their wedding day without worrying about the photography aspects. Many high-priced photographers are also full-time, with photography as their sole career.

High-Quality Equipment and Techniques: High-priced photographers invest in state-of-the-art equipment and continuously update their skills and techniques to deliver the best results. They often use multiple cameras, lenses, and lighting equipment to capture various angles and create stunning images in any situation. This dedication to using the most advanced tools and techniques ensures that the final images are of the highest quality, both aesthetically and technically.

Creative Vision and Artistic Style: A high-priced wedding photographer brings their own creative vision and artistic style to the table, setting their work apart from the rest. Their ability to envision and create extraordinary images allows couples to relive their wedding day through a collection of photographs that are visually stunning. However, they are also deeply meaningful. This level of creativity and artistic expression is often unmatched by lower-priced photographers.

Reliability and Professionalism: When investing in a high-priced wedding photographer, couples can trust they are hiring a reliable professional who will deliver on their promises. These photographers have established reputations for being punctual, well-prepared, and handling unexpected situations with grace and skill. This level of professionalism and reliability provides couples with peace of mind, knowing their wedding day memories are in capable hands.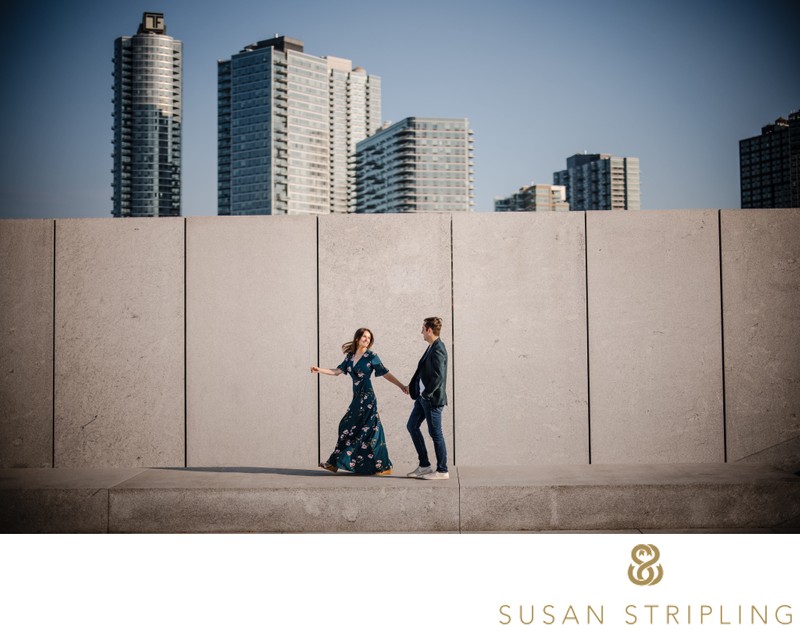 In conclusion...
In conclusion, investing in a high-priced wedding photographer offers numerous benefits, including an exceptional experience, personalized attention, high-quality equipment and techniques, creative vision, and unparalleled reliability. While the cost may be more expensive when it comes to New York wedding photographer prices, the value provided by a high-priced photographer ensures that couples receive a collection of timeless and breathtaking images that will be cherished for generations to come.
At the end of the day, pricing should not be the sole factor in choosing a wedding photographer.
It's critical to consider your budget and the pros and cons of high- and low-priced photographers, but it's equally imperative to pick someone whose work resonates with you, whose vision aligns with your own, and who you trust to capture your wedding day.
A wedding is a once-in-a-lifetime event, and the photographs will serve as lasting memories for years to come. When selecting a photographer, prioritize your connection to their artistic style, their ability to tell your unique story, and the rapport you establish with them.
Ultimately, the most meaningful and cherished photographs will come from a photographer who understands and shares your vision, regardless of the price tag.
I hope you found all of this information about New York wedding photographer prices helpful!
To learn more about our wedding photography services and pricing, get in touch today!