Philadelphia Location Tips
TOP PHILADELPHIA ENGAGEMENT AND WEDDING PORTRAIT LOCATIONS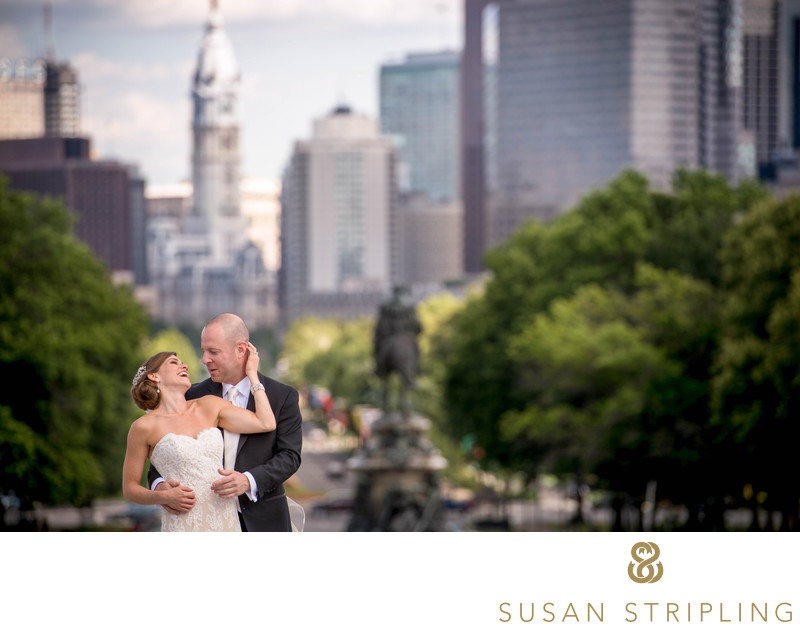 It is always an honor to assist my clients in choosing their locations for both their engagement session photography and their wedding day portraits.
Philadelphia is a very friendly city, but many locations do require you to have a special permit to take pictures for either your engagement session or your wedding day. I know that you might see tourists and amateurs in these locations snapping away with their selfie sticks, but many locations are very protective of their properties and the professional filming that happens there. For this reason, they require you to apply for a specific permit to take professional photographs at their locations. I can understand the desire to just "try to get away" without a permit, but if we're asked to leave a location for not having the proper paperwork, it can really throw a wrench in the schedule of the day and hurt my chances of ever being able to go back to that location with future clients. For this reason, I strongly urge you to obtain permits when requested!
I would suggest that you take these recommended locations with a grain of salt. It is my desire that you choose locations that are meaningful to you, and I would love to hear about any location that you love that isn't on this list! I want you to look back at your engagement session and wedding day photographs and love your chosen location, so take your time and choose wisely!
Also, please bear in mind timing when you choose your location. For an engagement session, I don't want you to lose out on your valuable shooting time by choosing multiple locations that we have to drive to, walk to, or transport to. I want to spend out time shooting, not transporting, so I'd recommend choosing your absolute favorite place (or two, if the second location is nearby!) for your engagement images. Engagement sessions are continuous, so time spent traveling is time that we'll lose shooting!
On your wedding day, we can go to as many locations as you'd like, time permitting. Please consider travel time when choosing your wedding portrait locations. We'll need to take into account the time it will take to transport you and your spouse, myself and my assistant, and anyone else you'd like to bring along for those portraits. If we're traveling through the city, remember to budget in a little time for extra traffic!
Favorite Philadelphia Locations
Shooting weddings in Philadelphia is one of my favorite things, and I am constantly in awe of this beautiful city and the dozens of amazing locations for wedding day portraits. My three favorite locations are Washington Square Park, the Philadelphia Museum of Art, and City Hall.
Washington Square Park
Sixth and Walnut Streets, Philadelphia
Washington Square Park is one of my favorite places in all of Philadelphia. It's where my husband proposed to me. I've photographed my children here. The light is always fantastic, there are dozens of picturesque locations, and it's never too terribly crowded, even on Saturdays. I love the paths, the trees, and the beautiful city background. You must have a permit to have your wedding pictures taken here, and this policy is strictly enforced. If we're approached by a park ranger and we don't have a permit, we will be asked to leave. You can obtain your permit here. The permit, as of the last time I checked in January 2015, is $25 to apply. You'll also pay per number of people involved in the shoot. 1-10 people is $50, 11-30 people is $150, and over 30 people is $250. There are many locations to choose from, but you have to pick only one of the nine locations : the Magnolia Garden, the 18th Century Garden, the Rose Garden, the south steps and the lawn area of the Second Bank of the United States, the front steps at the First Bank of the United States, the lawn area near Carpenter's Hall, the Benjamin Rush Garden, Washington Square itself, and behind the Merchant's Exchange. My two favorites of those are Washington Square and the steps of the Second Bank of the United States. Both locations are really beautiful, and have a wonderful old-world Philadelphia feel. Permits here are limited to one hour of shooting, which is plenty of time.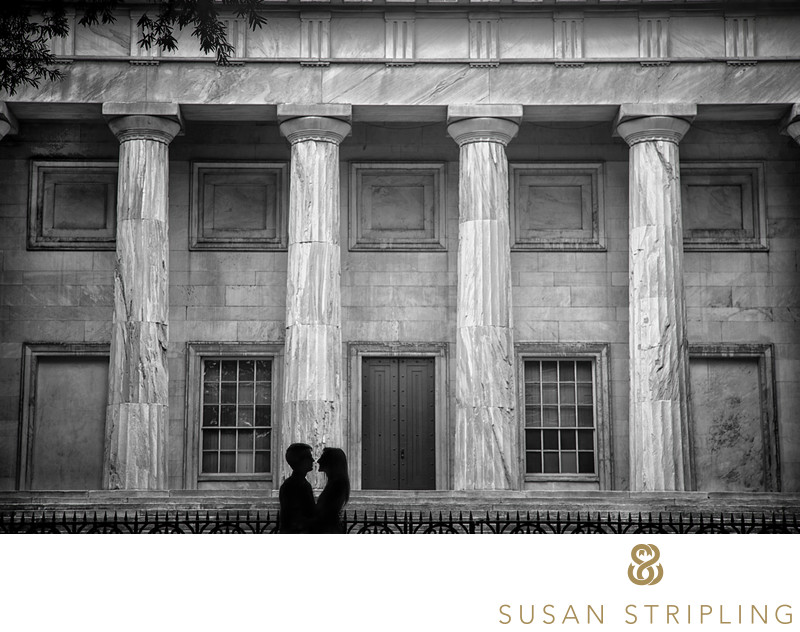 The Philadelphia Museum of Art
Benjamin Franklin Parkway at 26th Street, Philadelphia
Have you seen the movie Rocky? Of course you have. You've seen the shots of Rocky running through Philadelphia, taking his iconic run up the stairs of the Philadelphia Museum of Art, and so forth. It's no coincidence that the top of the steps at the Philadelphia Museum of Art is a huge magnet for wedding parties; everyone seems to want to shoot here. I love this location for the obvious reasons. The view of Philadelphia is superb. It's worth climbing every one of those seventy-two steps to get to the top! Situated at the end of the Benjamin Franklin Parkway, it might be cheesy to say this (and I know it makes me sound like a tourist in my own city!) but the view of City Hall just takes my breath away. I also love seeing Logan Circle in the distance, as well as the Cathedral Basilica of St. Peter and Paul. What I also love is seeing this location in ways different from other photographers. If you choose to take your engagement session or wedding day portraits with me at the Philadelphia Museum of Art, you're not going to get the same images you see on other photographers' websites. Not only will I use the light at the top of the steps in a different way, but we'll take the time to explore some areas at the Museum that are off the beaten path.

If you choose the Philadelphia Museum of Art for your engagement session or wedding day portrait location, be ready to spend part of that time battling the crowds. It can get super crowded and crazy there, especially on the weekends. While it won't feel intimate, and can at times even be overwhelming, we'll make sure we seek out areas that get us away from the crowds as well! The Philadelphia Parks and Recreation photos permit states that no photos are to be taken at the front of the Art Museum, but judging by the crazy crowds of bridesmaids and groomsmen there on the weekends, I can see that no one takes that rule seriously! If you're in doubt, call the Philadelphia Parks and Recreation Special Events Office at (215) 685-0060 with your questions.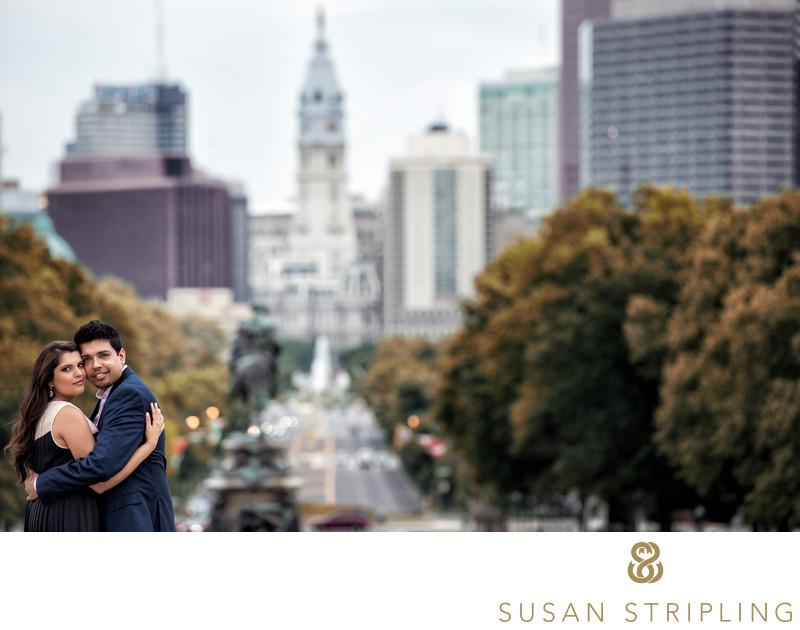 City Hall
Broad and Market streets, Philadelphia
I have been in love with City Hall since the first time I visited Philadelphia. There is just something about the sight of it that warms my heart and makes me feel like I'm home. I'm completely fascinated by the history of City Hall as well. For example, did you know that from 1901 to 1908, it was the tallest building in the world? And that it still remains the tallest masonry building in the world? I love shooting City Hall in two ways. If there is no construction, I love going underneath the beautiful arches to shoot underneath the building. I also love going down Broad Street and stopping in the middle of the street near the Kimmel Center. The view of City Hall from here is truly epic. No permits needed.
Logan Circle
Benjamin Franklin Parkway, Philadelphia
Situated perfectly just outside the Four Seasons Hotel and across from the Cathedral Basilica of St. Peter and Paul, Logan Circle (also known as Logan Square) is a fantastic location for pictures. I love Swann Fountain, and I adore the views of the Free Public Library of Philadelphia in the distance. While this is a wonderful location, it can be a bit tricky. It can get very crowded with wedding parties and tourists on the weekends, and it's always hard to tell when the fountain will be turned on or not! I've seen Swann Fountain running in the dead of winter, but turned off in the middle of the summer. Logan Circle is a great place to stop for a few portraits, but it's a limited location and I wouldn't recommend staying here for your entire session. No permit needed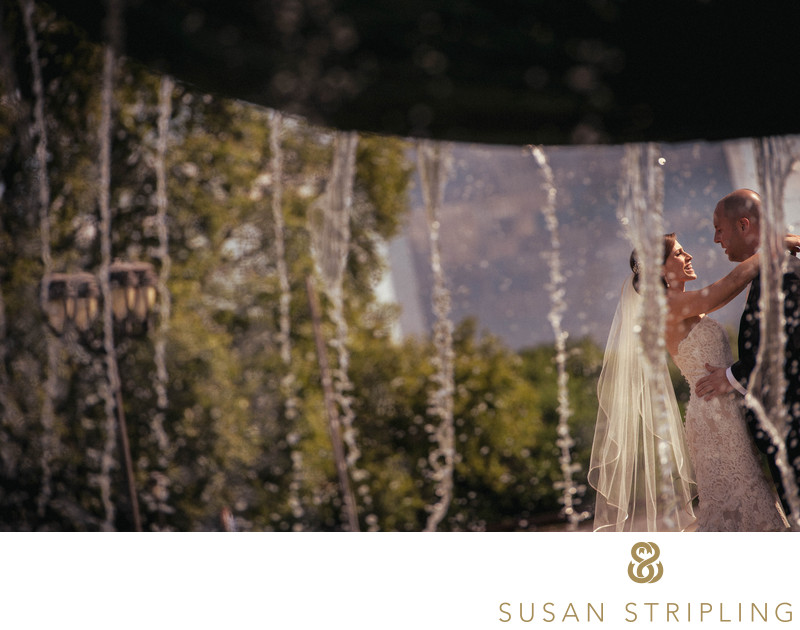 30th Street Station
Market and 30th Street, Philadelphia
30th Street Station is the major railroad station in Philadelphia. The building itself is on the National Register of Public Places, and it's beautifully situated right at Market and 30th Streets. The station was designed by architects from Chicago, Graham, Anderson, Probst, and White, and the building opened in 1933. I love the travertine-faced waiting room, and the flawless coffered ceiling. As of January 2015, there was no permit needed to shoot in 30th Street Station, but if you'd like to check on current rules, just call the station master at (215) 580-6500.
Rittenhouse Square Park
Between 18th and 20th Streets, Philadelphia
One of my first visits to Philadelphia ended with a walk through Rittenhouse Square Park. Bound by Walnut Street, 18th and 20th Streets, Spruce, and Locust, Rittenhouse Square Park truly is the heart of the city. I love how quiet the park is, a nice contrast to the crazy shopping streets nearby. While it can be extraordinarily crowded on the weekends, and while I prefer the vaster, quieter Washington Square Park, Rittenhouse Square Park is excellently located and convenient to many venues and hotels. No permit needed.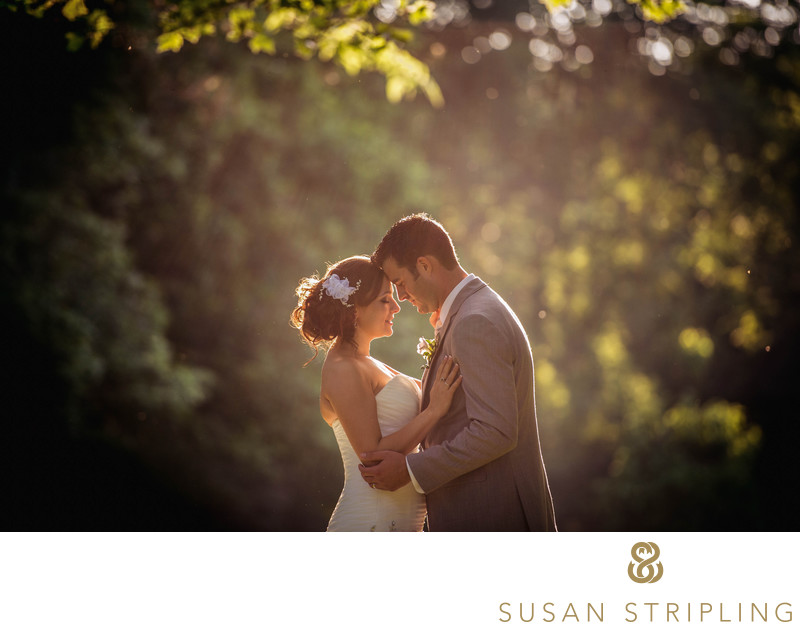 Eastern State Penitentiary
Fairmount Ave at N 22nd Street, Philadelphia
If you're looking for something super different and off the beaten path for your engagement session or wedding portraits, look no further than the delightfully strange Eastern State Penitentiary. ESP is a former prison that housed such notorious prisoners as Al Capone. Closed in 1971, the Eastern State Penitentiary is now a U.S. National Historic Landmark, and is open to the public as a museum seven days a week. Much of the property is off-limits, but photo permits are available. You can read about their photography policies here. Email rental@easternstate.org or photo@easternstage.org for more information about scheduling your session at Eastern State Penitentiary.
Philadelphia's Magic Gardens
South Street and S Alder Street, Philadelphia
If you're looking for something extraordinarily unique for your engagement session or wedding day portraits, then Philadelphia's Magic Gardens might be perfect for you. Taking up three entire city lots, The Magic Gardens is an indoor and outdoor labyrinth of an art gallery, covered in mosaic. The mosaics are comprised of, well, everything. From broken plates to bits of glass, it's absolutely mind-boggling how intricate the space is. To request a photo shoot in this amazing creation, fill out this form. You can also contact the Magic Garden's events manager, Allison Boyle, at events@phillymagicgardens.org.
Water Works
Water Works Drive, Philadelphia
The Fairmount Water Works is a truly unique space with a killer view of Philadelphia's Boathouse Row. There are a great number of unique locations in a very small area, so you'll get great bang for your buck here. Be prepared for a lot of tourists milling around behind the Art Museum. Also be aware that if the Water Works is hosting a wedding on the day of your shoot, we mostly likely won't be granted a permit. Permits range in price from $50-$150, and can be obtained from the Philadelphia Parks and Recreation office. The permit can be found here. You can also call the Philadelphia Parks and Recreation Special Events Office at (215) 685-0060 with any additional questions.
Please Touch Museum

Avenue of the Republic, Fairmount Park, Philadelphia
The Please Touch Museum is a museum for children in Fairmount Park. While the interiors are amazing, it's the exteriors that are so fantastic for photography. The Please Touch Museum is in Memorial Hall, which was an art gallery for the 1876 Centennial Exposition. The building is a gorgeous granite structure, and is a fantastic backdrop for engagement session and wedding day portraits. Call The Please Touch Museum for more information about permission to photograph on their grounds at (215) 578-5186 or email ptm@brulee-catering.com.
LOVE Park

JFK Plaza, N 16th Street and Arch, Philadelphia
LOVE Park, also knows as John F. Kennedy Plaza, is a really popular location for tourists and wedding parties alike. Like Logan Circle, I'd recommend just stopping by here for a few images and not trying to do your entire session here. While I do love the iconic LOVE statue, it's a very crowded, high-traffic area and a huge photo location for tourists. No permit needed, but be prepared to wait your turn at the LOVE statue!
The Horticultural Center at Fairmount Park
Fairmount Park, Philadelphia
The Horticulture Center is a gorgeous greenhouse and exhibition hall located in Philadelphia's Fairmount Park. A popular wedding location, the grounds of the Horticulture Center are also gorgeous for engagement sessions and wedding day portraits. There are incredible green spaces, beautiful tree-lined paths, and a fantastic long fountain that is really extraordinary for portraits. I'm a huge fan of this space. I know that on weekends, priority is given to the weddings they host at this venue. I've photographed engagement sessions there with permits before during the week with ease. For information about permits, contact the Fairmount Park Conservancy at (215) 988-9334 or email them at info@fairmountparkconservancy.org.
Shofuso
West Fairmount Park, Philadelphia
Shofuso is an amazing Japanese House and Garden in Philadelphia's West Fairmount Park. Built in Japan in 1953, Shofuso was first exhibited at the Museum of Modern Art IN New York. In 1958, it was moved to Philadelphia. There are three Japanese garden types represented on the 1.2 acre location. There is a hill-and-pond style garden a courtyard garden, and a tea garden with rustic paths. Quiet and tranquil, this really is an amazing oasis in the city of Philadelphia, and a truly unique location for engagement session or wedding day portraits. As of January 2015, their photography fee was $300 per hour for a public session, or $600 per hour for a private session. Contact events@shofuso.com for further information.
Cairnwood

Bryn Athyn, Pennsylvania
A bit of a drive from Philadelphia proper, Cairnwood Estate is one of the most picturesque locations I've ever been to. Cairnwood is amazing because it's fantastic to shoot both indoors and outdoors, something that not many locations can promise! Cairnwood is a beautiful mix of Greek and Roman architecture, while also appearing quite like a French chateau. There is a huge main house, a beautiful courtyard just outside the home, and a phenomenal formal garden. The lawn behind the estate is absolutely flawless, and it's always a treat to shoot at this gorgeous venue. The grounds and interiors are available for photo shoots, at an hourly rate and always by appointment only. As of January 2015, the rates for rental were $350 per hour or $500 for two hours. Call Cairnwood at (215) 947-2004 or email them at info@cairnwood.org for further information or to schedule your session!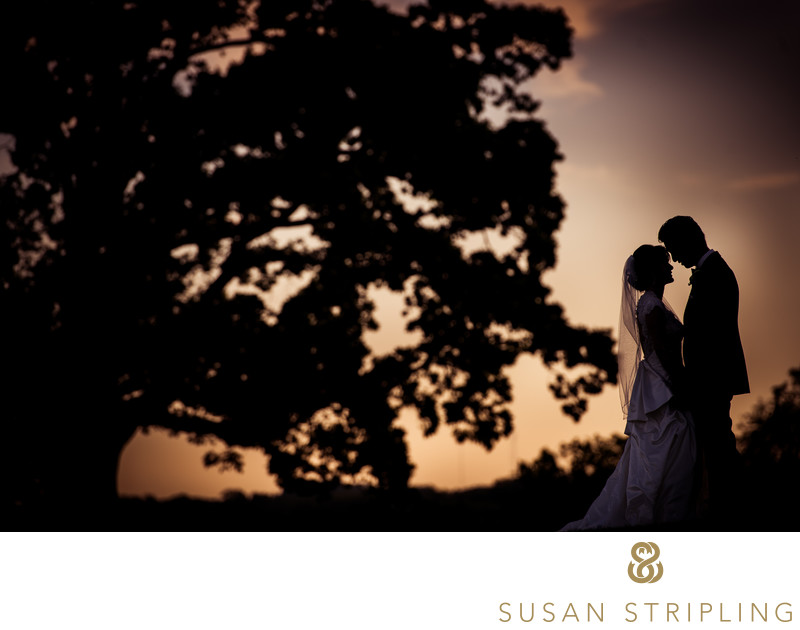 Fonthill Castle at the Mercer Museum
Doylestown, Pennsylvania
Also a bit outside of Philadelphia, Fonthill Castle and the Mercer Museum are absolutely beautiful locations for engagement sessions or wedding day portraits. If you like long paths lined with buttonwood trees, acres upon acres of rolling lawns, peaceful streams, and gorgeous wooded areas, then Fonthill Castle might just be the place for you. The interior of Fonthill Castle is covered in Moravian Tiles created by Henry Mercer, and the photographic opportunities are limitless. To learn more about the property, contact Jack Skudris at jack@memorableaffairs.com or call him at (215) 674-1047 ext 1.
Longwood Gardens

Kennett Square, Pennsylvania
If you have never visited the 1,077 acres that make up Kennett Square's Longwood Gardens, then you're missing out. There are more than twenty outdoor gardens, heated greenhouses, conservatories, and indoor gardens to stroll through, and there are so many incredible locations for engagement session or wedding day portraits. It can be crowded on the weekends, so just be prepared! Photo sessions are permitted at Longwood Gardens only between the hours of 9am and one hour prior to closing. The only cost is admission for each person entering the Gardens. For information on scheduling your engagement session or wedding day portraits at Longwood Gardens, contact the Gardens directly at questions@longwoodgardens.org or (610) 388-1000.
The Morris Arboretum

Northwestern Ave and Stenton Ave, Philadelphia
The Morris Arboretum at the University of Pennsylvania is 92 acres of beauty. Open daily (except for holidays), the Morris Arboretum is the official arboretum of the Commonwealth of Pennsylvania. There are twisting paths, delicate streams, rose gardens, a swan pond, and so, so much more. Fancy having your engagement session pictures in the English Park? Want to have your wedding day portraits taken by the Swan Pond? The Morris Arboretum is an excellent choice for portraits, and has an extraordinary amount of places to shoot. Generally the Morris Arboretum is only available to brides and grooms who have rented their facilities for their wedding, but it can't hurt to ask! You can contact them at (215) 247-5777 ext 158, or email them at rentals @ morrisarboretum.com