Cherry Blossom Photos : NYC
Cherry blossoms were first brought to New York City in 1912 as a gift from the mayor of Tokyo to the United States as a symbol of friendship between the two countries. The trees were planted in Sakura Park in Manhattan and have since become a beloved and iconic part of the city's landscape.
Cherry blossoms are popular for engagement session photography as well as senior portraits, couple's portraits, and family pictures. It's no wonder that bloom season is a wildly popular time for photographers.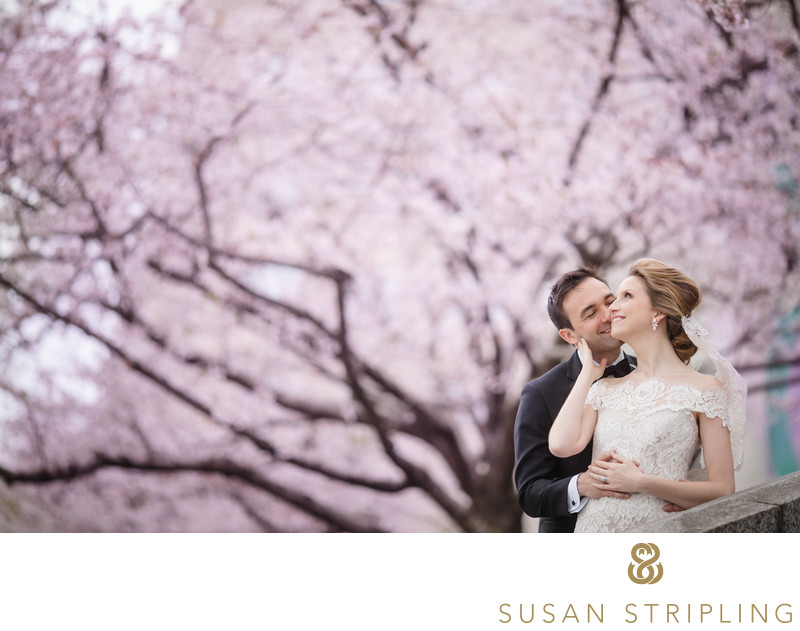 Here are my top 10 recommendations for places to take pictures with cherry blossoms in NYC:
Central Park: Head to the East and West drives for some of the most picturesque cherry blossom trees in the park. Located in the heart of Manhattan, Central Park is the perfect location for your cherry blossom photo shoot. No permit is required for personal photography.
Brooklyn Botanic Garden: With over 200 cherry blossom trees, the Brooklyn Botanic Garden is one of the most popular spots for cherry blossom photography. The garden requires a photography permit, and they're SUPER STRICT about it, but it's definitely worth the extra effort to capture stunning photos.
Roosevelt Island: The island offers a stunning view of Manhattan's skyline, framed by beautiful cherry blossom trees. The island is accessible by the Roosevelt Island Tramway, which offers its own photo opportunities. No permits are needed.
Pelham Bay Park: Located in the Bronx, Pelham Bay Park is home to the largest park in NYC and offers stunning cherry blossom trees that can be found along the Bartow-Pell Mansion Museum. No permit is required for personal photography.
Randall's Island: This island offers multiple cherry blossom spots, including the fields at Icahn Stadium, a great spot to capture photos of the blossoms with the city skyline as your backdrop. No permit is needed.
Flushing Meadows-Corona Park: Located in Queens, this park offers a great opportunity to capture cherry blossom photos with the Unisphere as your background. No permit is required for personal photography.
Van Cortlandt Park: Located in the Bronx, Van Cortlandt Park offers a tranquil atmosphere surrounded by cherry blossom trees. No permit is required for personal photography.
Green-Wood Cemetery: This cemetery in Brooklyn offers a unique setting for cherry blossom photography. The cherry blossom trees are located near the main entrance and require a photography permit. (Note: the permit is nearly impossible to obtain, but it can't hurt to ask!)
Hudson River Park: This park offers a beautiful backdrop of cherry blossom trees with the Hudson River and New Jersey skyline in the background. No permit is required for personal photography.
Fort Tryon Park: Located in Upper Manhattan, Fort Tryon Park offers a unique view of cherry blossom trees overlooking the Hudson River. No permit is required for personal photography.
A few helpful notes when planning your cherry blossom session:
Cherry blossoms in NYC usually bloom in late March to early May, with peak bloom occurring around mid-April. However, the exact timing can vary from year to year depending on weather conditions.
There are several species of cherry blossom trees in New York City, but the most commonly seen one is the Yoshino cherry blossom tree, which has pale pink or white blossoms. Other species that can be found in the city include the Kwanzan cherry blossom tree, which has deep pink blossoms, and the weeping cherry blossom tree, which has light pink blossoms and a drooping habit.
It's best to keep an eye on the bloom forecasts provided by organizations such as the Brooklyn Botanic Garden or Central Park Conservancy to plan your cherry blossom photography outings!
Cherry blossom trees can be various shades of pink, white, and occasionally light green or yellow. The exact color of the blossoms can depend on the species of tree, as well as environmental factors such as temperature and soil conditions. If you want a specific color let us know and we'll make sure the location we choose features the blooms you're looking for.