Favorite New York Locations
TOP NEW YORK AREA WEDDING DAY AND ENGAGEMENT SESSION LOCATIONS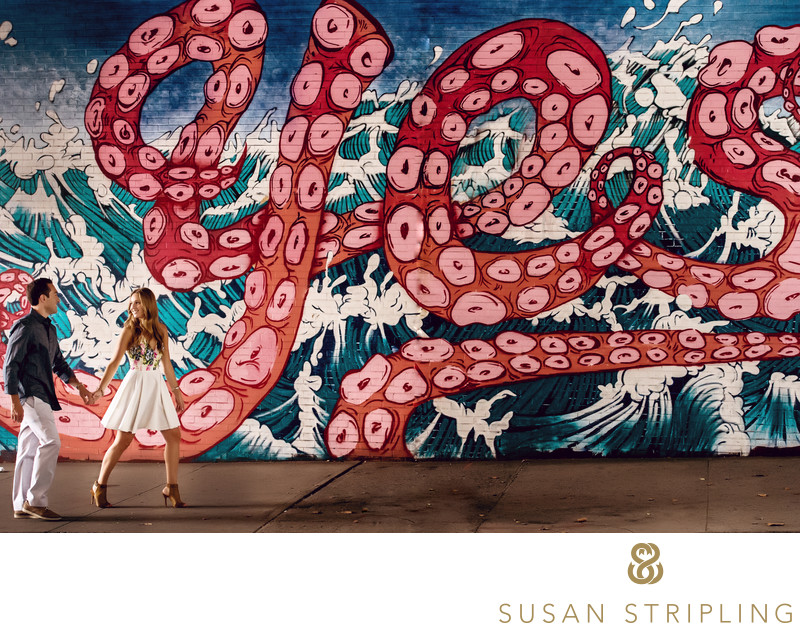 I love helping couples when it comes to choosing their locations for both their engagement session photography and their wedding day portraits.
New York and Brooklyn are extremely picturesque, but many locations require that you have a special permit to take photographs for either your engagement session or on your wedding day. I know that you might see tourists and others with cameras in these places shooting their selfie sticks and iPhones, but many locations are extremely protective of their properties and the professional filming that happens there. For this reason, they require you to apply for a specific permit to take professional photographs at their locations.
I would strongly suggest that you take these recommended locations with a grain of salt. It is my desire that you choose locations that are meaningful to you, and I would love to hear about any location that you love that isn't on this list! I want you to look back at your engagement session and wedding day photographs and love your chosen location, so take your time and choose wisely!
Also, please bear in mind timing when you choose your location. For an engagement session, I don't want you to lose out on your valuable shooting time by choosing multiple locations that we have to drive to, walk to, or transport to. I want to spend out time shooting, not transporting, so I'd recommend choosing your absolute favorite place (or two, if the second location is nearby!) for your engagement images. Engagement sessions are continuous, so time spent traveling is time that we'll lose shooting!
On your wedding day, we can go to as many locations as you'd like, time permitting. Please consider travel time when choosing your wedding portrait locations. We'll need to take into account the time it will take to transport you and your spouse, myself and my assistant, and anyone else you'd like to bring along for those portraits. If we're traveling through the city, remember to budget in a little time for extra traffic - and you know how unpredictable that can be in Manhattan and Brooklyn!
Favorite Manhattan, Brooklyn, and New York Area Locations
Shooting weddings in New York is chaotic, beautiful, and incredible. I am constantly blown away by this beautiful city and the dozens of amazing locations for wedding day portraits. My three favorite locations are Brooklyn Bridge Park, Central Park at Bethesda Terrace, Liberty State Park, and Brooklyn Bridge Park at Pier 1.
MANHATTAN
Central Park
Bethesda Terrace, Manhattan
I absolutely adore starting at the Mall in Central Park. With its soaring arc of elm trees, this quarter-mile path is one of my favorite locations in Manhattan (it's especially amazing in the fall, with the leaves changing, and in the winter when snow is on the ground and in the trees). I also love a quick stop by the cast-iron Bow Bridge, which spans the Lake and connects the Ramble with Cherry Hill. There are great views of some iconic buildings from Bow Bridge, so it's definitely worth the few minute walk to get there. You can't forget Bethesda Terrace, either. The fountain is a popular location for engagement sessions and wedding day portraits, as is the Terrace itself. Be ready to dodge tourists like crazy, since this is a popular location, both during the week and on weekends. I've counted upwards of nine wedding parties just in this location alone on a Saturday! If you're wanting images with no one else in them, this will be a tough spot because it is such a huge tourist attraction. Don't worry, there are plenty of out-of-the-way spots to tuck into for some more private, moments away from the crowds. No permit needed.
Other notable Central Park locations include Gapstow Bridge.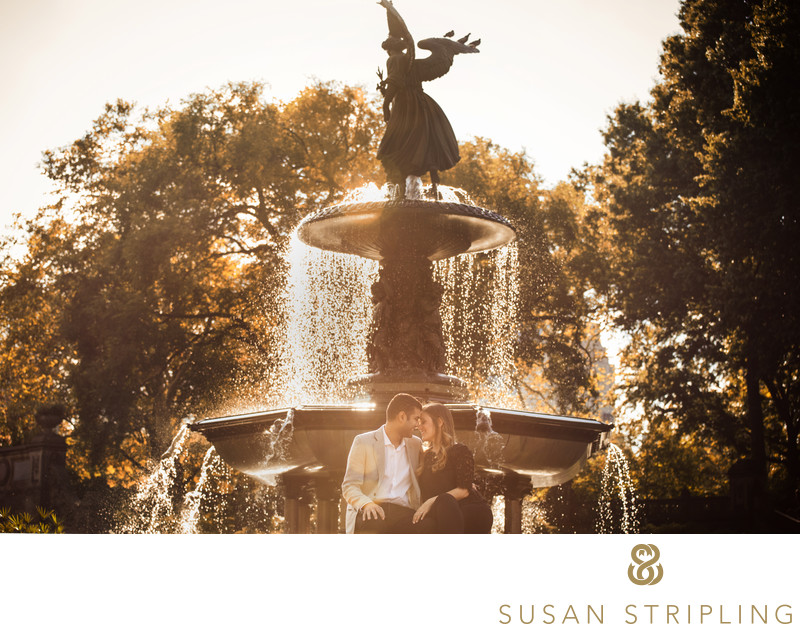 Riverside Park
W 72nd St to 158th St , Manhattan
Less crowded and quieter than Central Park, Riverside Park is a great Manhattan alternative for the couple who wants the park-like feel but doesn't want to battle the tourists on the Mall in Central Park! Quietly situated on four miles along the Hudson River, this waterfront park area is an excellent choice for engagement sessions or wedding day portraits. My favorite place to enter the park is at 91st Street. The 91st Street garden is beautiful, and was also an iconic location at the end of You've Got Mail, starring Tom Hanks and Meg Ryan. No permit is needed.
Fort Tryon Park and The Cloisters
Riverside Dr. to Broadway, W 192nd St to Dyckman St., Manhattan
I recommend starting at the New Leaf Restaurant for your engagement session or wedding day portraits in Fort Tryon Park. From here, we can fully explore the 67-acre park. Located at the very tip of northern Manhattan, the high elevation of the park offers amazing views of the George Washington Bridge, the New Jersey Palisades, and the Hudson River. I especially love the Abbey Lawn, the Linden Terrace, and the Billings Lawn. I've included The Cloisters as well because many people who want to shoot in Fort Tryon Park wish to do so in order to go to the Cloisters, but any photography (engagement sessions or wedding day portraits) is strictly prohibited at The Cloisters. No permit is needed for the rest of Fort Tryon Park, but contact the Fort Tryon Park Trust with any questions at (212) 795-1388 ext 300.
Carl Schurz Park
East End Ave to the East River, from E 84th St to E 90th St. , Manhattan
The boardwalk is excellent, and there are also many other places for portraits in this beautiful park. I especially love the bridges and staircases! The New York Parks Department calls Carl Schurz Park "one of the city's best-concealed secrets", and once you visit here you'll understand why! There are wonderful river views, as well as views of the Roosevelt Island Lighthouse, Gracie Mansion, and the Triborough bridge. I recommend entering the park above 86th Street for the more peaceful areas. No permit is needed.
Battery Park City
Battery Park City, Manhattan
Still a quiet gem of a location - shhh, don't tell anyone! From the Pavilion to the Pylons, this is an excellent location for portraits near the you-need-a-permit Battery Park. I love the Waterfront Plaza, the Pavilion, and the excellent walking paths.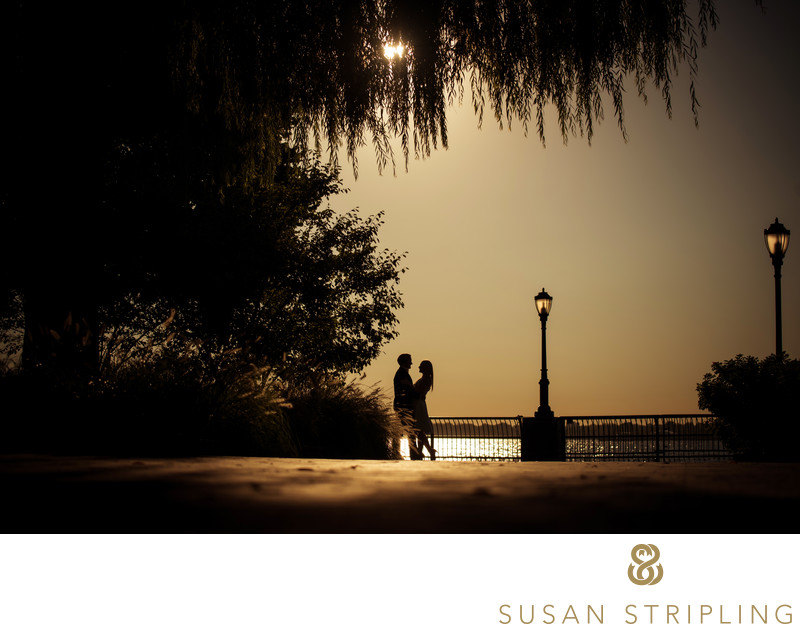 Conservatory Garden
E 105th Street and Fifth Ave, Manhattan
This garden is six acres of peacefulness in the middle of the bustling city. It's a separate part of Central Park, the only true formal garden location in the park, and a great place for engagement sessions or wedding day portraits. The garden comprises six acres and is truly lovely. You absolutely need a permit here, and it's strictly enforced. You can download the permit application here, or call the Central Park Conservancy for more information at (212) 360-2766 for more information. If you're so inclined, you can even download the Conservatory Garden's Bloom Schedule here.
Belvedere Castle
Central Park, mid-park at 79th Street, Manhattan
Belvedere Castle's name actually means "beautiful view" in Italian, and that name truly fits this gorgeous location. The views from Belvedere Castle encompass the Delacorte Theater, Turtle Pond, the Ramble, and the Great Lawn. It's a gorgeous, Victorian stone structure, and provides a beautifully different backdrop to engagement sessions and wedding day portraits. No permit is needed.
Top of the Rock
Rockefeller Center, Manhattan
If you're looking for amazing views of the Manhattan skyline, this is absolutely the place for you. Spring for the VIP access to skip the lines - they can get long, and eat into your time quickly, especially on a wedding day. The extra dollars spent to get to the top quicker makes all the difference, and the views from the roof are worth the trip to this busy tourist neighborhood.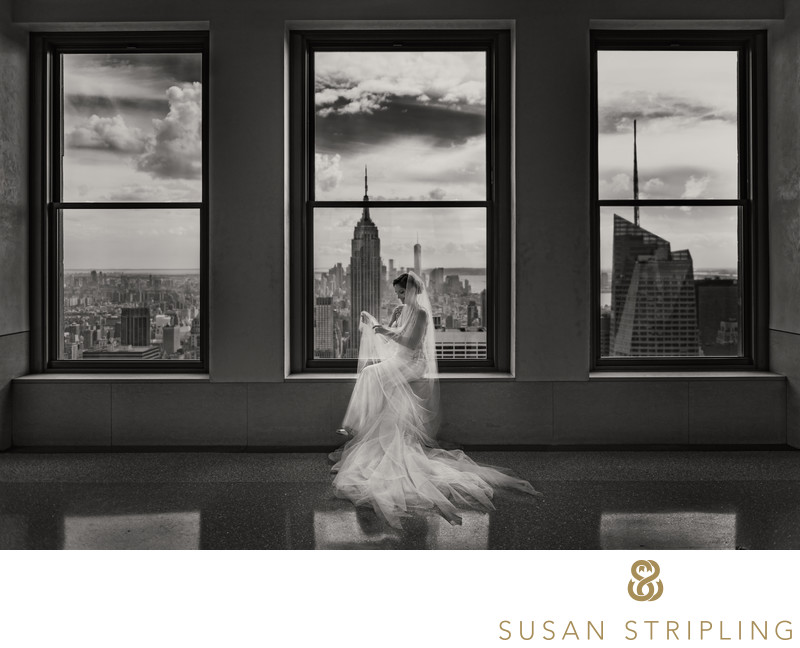 Brookfield Place
Battery Park City, Manhattan
What do you do if it rains on your wedding day? What if it's freezing cold? What kind of indoor backup locations do you have? Brookfield Place is a wonderful option for inclement weather on a wedding or engagement session day. Located in Battery Park City, you absolutely need a permit to photograph here ... it's strictly enforced. Contact them directly to obtain the permitting information.
New York Public Library
Fifth Avenue, Manhattan
Beautiful, incredible, iconic. Those are just a few words to describe this classic NYC venue. Seen in movies and TV shows such as Gossip Girl, Sex and the City (movie), Spiderman 3, All My Children, there are few locations more easily recognizably New York as the steps and interiors of this magnificent space. This is a wonderful indoor option for your wedding or engagement images, but permits are strictly enforced. Permit information can be obtained by contacting spev@nypl.org for interior photography permission. To obtain permission to photograph on the steps, contact Bryant Park. To photograph on the sidewalks, contact the City of New York.
Washington Square Park
Greenwich Village, Manhattan
Easy to get to, gorgeous in all seasons, full of iconic landmarks (the arch!) and gorgeous gardens, this is a wonderful one-stop shop for pictures. There is a fountain, copious green space, black brick paths, and scenic vintage-style streetlights.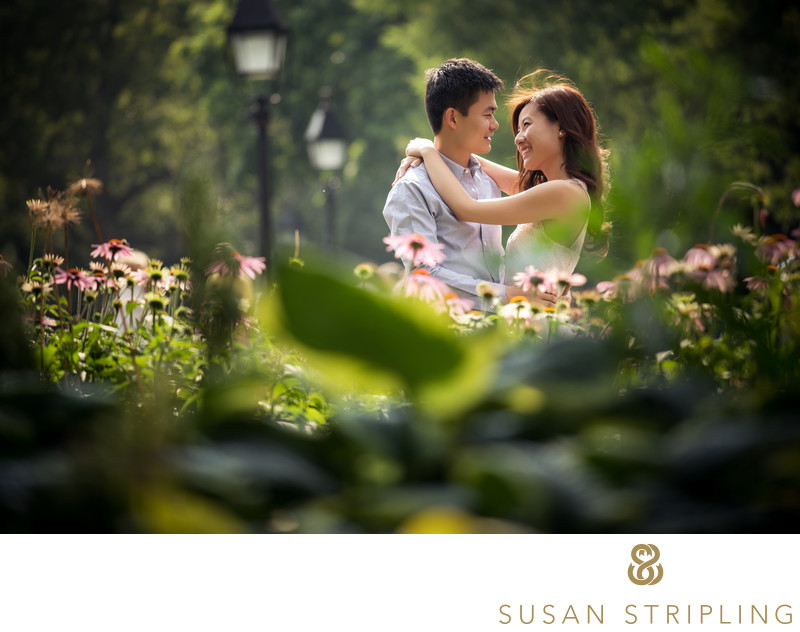 Teardrop Park
Battery Park City, Manhattan
A sweet little enclave between Warren Street and Murray Street, this park spans a scenic two acres. I love the "Ice Wall" especially, and the seclusion here. It can get crowded on summer weekends but is a dream at sunrise or sunset - or during the week for an engagement session.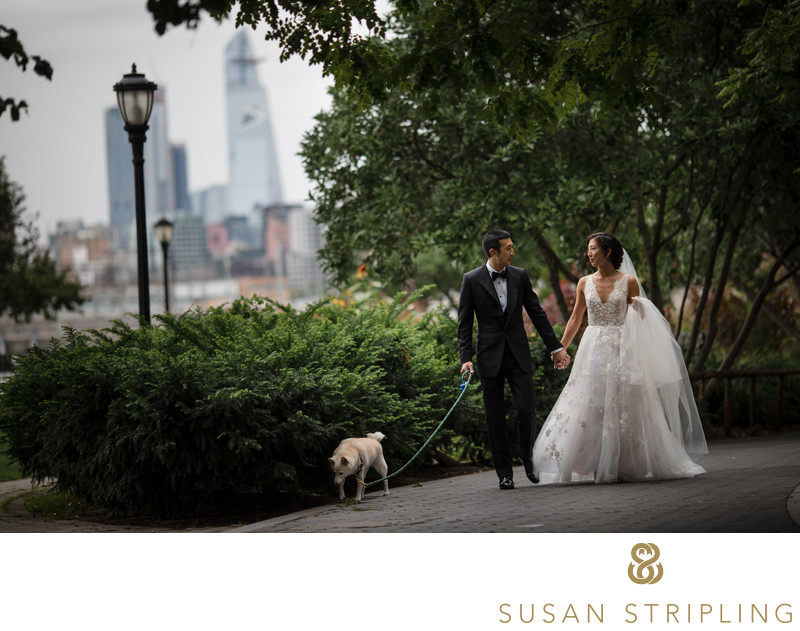 The High Line
Meatpacking District at W 16th, Manhattan
The High Line is a great location in the Meatpacking District, close to cobblestone streets and other beautiful photo locations. The High Line used to be an active train line, running from 34th Street to St. John's Park Terminal at Spring Street. The last train ran on the High Line in 1890, and then it was closed. In 2009, the first section was open to the public, with subsequent sections opening over the following years. This old railroad trestle is an extraordinary public landscape, with a fascinating self-seeded look to the plant design. No permit is needed for engagement or wedding day images, but this location is massively crowded on the weekends, and we will be asked to move along if our photo session draws a crowd and starts impairing the flow of traffic.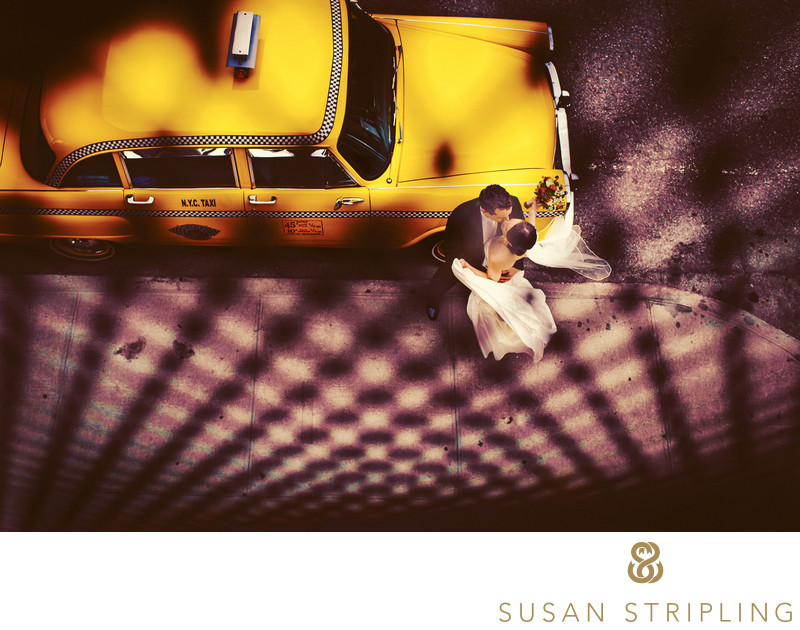 BROOKLYN
Brooklyn Bridge Park, Pier 1
Brooklyn Bridge Park, Brooklyn
While I really love ALL of DUMBO, the Pier 1 at Brooklyn Bridge Park is especially fantastic. It's less crowded than the Promenade, and the views of Manhattan are just as killer. It also has the added bonus of being a little off the beaten path, so it's quieter and offers more variety for your photographs. You'll get the skyline as well as greenery, which is a really nice combination. I suggest being dropped off or taking the subway to where Furman Street dead-ends into the Park and walking to Pier 1 from there. No permit is needed.
Brooklyn Bridge Park
Furman Street, Brooklyn
When you think of iconic New York, what's more iconic than the skyline, the Manhattan Bridge, and the Brooklyn Bridge? Brooklyn Bridge Park has extraordinary views of all three things, and more. It's one of the most well-rounded locations for engagement sessions or wedding day portraits, offering up a variety of locations and looks. Within a few blocks are city views, lush greenery, cobblestone streets, and gritty, graffitied walls. Less than a ten-minute walk away are great murals under some hidden bridges that can also make for great photo backdrops. Just be ready to battle for the views with tourists and other wedding parties on the weekends! I also highly suggest researching your date in advance to make sure there are no street festivals or green space closures. No permit is needed unless you want to get on Jane's Carousel! I suggest entering the park at Main Street and Plymouth Street.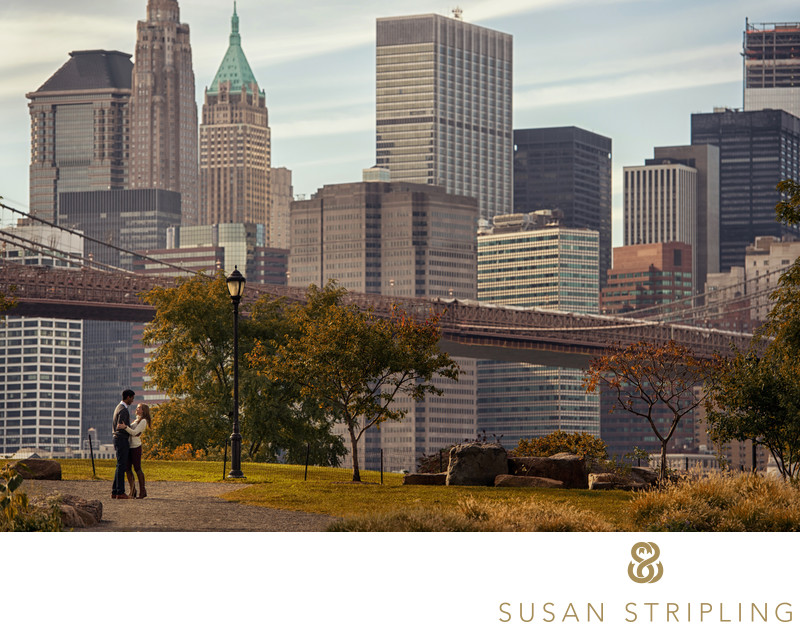 Brooklyn Botanic Garden
Washington Avenue, Brooklyn
They're strict about their photo permit process, but oh yes is it worth it. With cherry blossoms in the spring and phenomenal fall foliage in the autumn months, Brooklyn Botanic Garden is truly a sight to behold. There are many different gardens and locations to photograph in, all with very different looks and feels. From the Shakespeare Garden to the Japanese Garden, you'll really get a huge variety of locations for your portraits at this Brooklyn venue. A popular location for wedding and engagement portraits alike, obtain permit information here.
Sunset Park
Between 41st and 44th Streets, and 5th and 7th Avenues, Brooklyn
When asked what my favorite place in all of New York to shoot the Manhattan skyline is, I'd have to say, without hesitation, that it's Sunset Park. The view is utterly unparalleled, and it's an extraordinary location for wedding day or engagement session photographs. I absolutely suggest trying to be here at sunset, when the views are especially spectacular. No permit is needed.
The Boathouse
Prospect Park
Lullwater Bridge in Prospect Park is stellar, especially with the views of the Boathouse. If you like the idea of Central Park but hate the idea of the crowds and tourists, Prospect Park might be a great alternative location for your engagement session or wedding day portraits. All of Prospect Park is beautiful (I might be biased since I live nearby!), but the Boathouse is a real hidden gem. No permit is needed.
Brooklyn Botanic Garden
Washington Avenue, Brooklyn
I love everything about the Brooklyn Botanic Garden, especially the Cherry Esplanade. When the cherry blossoms are in bloom, there is nowhere in the city near as gorgeous. During the weekend it's crazy crowded, but it's a good option for engagement sessions and Friday weddings. To shoot at the Brooklyn Botanic Gardens, there is a fee and you must book early and choose your locations when you book. They are very strict about timing, and your session must be booked between 10 am-4:30 pm from April to September, and 10 am-3 pm from October to March. You're only allowed forty-five minutes for your session, and you are escorted by a security guard the entire time. For more information, and to schedule your session, call the Brooklyn Botanic Garden at (718) 623-7220.
OTHER NEW YORK AREA LOCATIONS
Liberty State Park
Jersey City, New Jersey
I could go on and on when describing my love for Liberty State Park. Located in Jersey City, New Jersey, the views of the Manhattan skyline are divine. Site of Empty Sky, the breathtaking memorial to the World Trade Center attacks on September 11, this peaceful park is a true hidden gem. The view of the Statue of Liberty is also especially lovely. There is even an old locomotive in the park, which makes a fun backdrop for photographs. Permit information can be obtained here, or by calling (210) 915.3400.
New York Botanical Garden
Southern Boulevard, Bronx
A beautiful oasis in the Bronx, the New York Botanical Garden is a truly stellar backdrop for photographs. If you're curious about what will be in bloom during the season of your shoot, or even to just find out what's especially gorgeous right now, check out this page! For information about scheduling your engagement session or wedding day portraits here, contact the New York Botanical Garden at (718) 817-8738 or via email at amineo@nybg.org.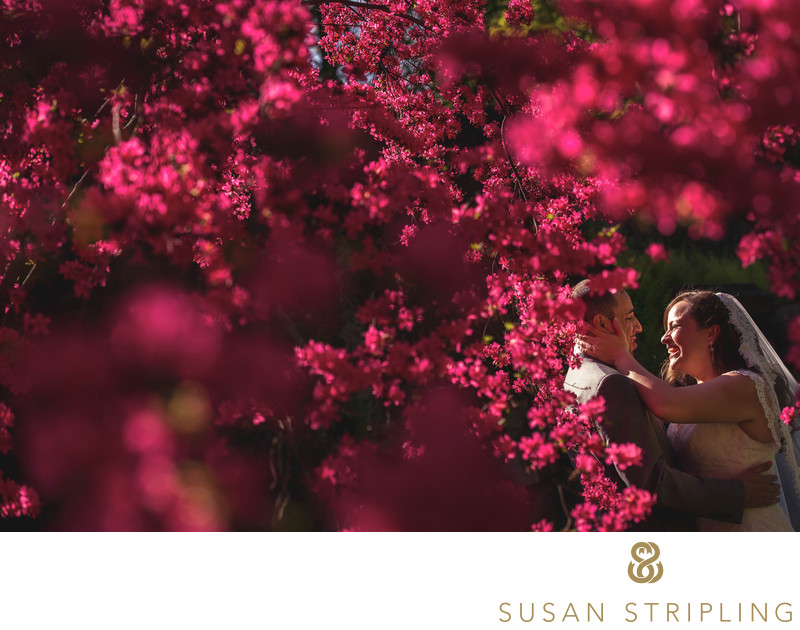 Okeha Castle
Huntington, New York
Most recently famous as the location in Taylor Swift's fantastic Blank Space video, Oheka Castle is no stranger to being filmed. It's been prominently featured in Citizen Kane, Royal Pains, Platinum Weddings, and so, so much more. This Gold Coast Mansion is one of my favorite locations to shoot, both indoors and outdoors. You'll get the luscious gardens, incredible pathways, beautiful Oheka backdrop, excellent views, and also incredibly ornately stunning interiors. To obtain permission and receive more information about scheduling your shoot at Oheka Castle, email Kelly Melius at kmelius@OHEKA.com or call (631) 659-1301.
Old Westbury Gardens
Westbury, New York
If you're looking for an incredible Charles II-style mansion, over 200 acres of meticulously tended gardens, woodlands, quiet ponds, and flawless lawns, then Old Wesbury Gardens might be the perfect spot for your wedding day or engagement session portraits. My favorite locations are the Boxwood Gardens, Primrose Path, Front Hall, Red Ballroom, Rose Garden, South Terrace, Temple of Love, Walled Garden, and my absolute FAVORITE place at Old Westbury Gardens is the South Lawn. Old Westbury Gardens is very strict with their schedules and permits, so plan accordingly - and way in advance! To learn more about their policies for scheduling your session, check out their page or contact them at (516) 333-0048.
Chinese Scholar's Garden; Snug Harbor
Staten Island, New York
Rockery. Pavilions (eight of them!). Koi ponds. An exquisite bamboo walking path. Waterfalls (more than one!) A quiet oasis on Staten Island, this amazing garden is worth checking out if you want something uniquely off the beaten path! Permit required, and you can obtain it here.
HONORABLE MENTION NYC AREA LOCATIONS
Belvedere Castle, Central Park
620 Loft and Garden, Manhattan
Bushwick Inlet Park, Brooklyn
NYU Language Houses alley, Manhattan
Cop Cot, Central Park
Brooklyn Promenade, Brooklyn
Astoria Park, Queens
Empire Stores, Dumbo, Brooklyn
The Metropolitan Museum of Art steps, Manhattan
Spring Street, Soho, Manhattan
Staten Island Greenbelt
Meatpacking District, Manhattan
Vale of Cashmere, Prospect Park, Brooklyn
Staple Street Bridge, Manhattan
New York City Public Library steps, Manhattan
Riverside Park, Manhattan
Fort Wadsworth, Staten Island
Lincoln Center, Manhattan
Gantry Plaza State Park, Queens
Hudson River Waterfront Walkway, Manhattan
Fort Greene Park, Brooklyn
Manhattan Beach Park, Coney Island, Brooklyn
Coney Island, Brooklyn
Marine Park, Brooklyn
Governor's Island
Jacob Riis Park and Beach, Rockaway
Tudor City, Manhattan
Marsha P Johnson Park, Williamsburg, Brooklyn
WNYC Transmitter Park, Greenpoint/Williamsburg, Brooklyn
Shirley Chisholm State Park, Brooklyn
Grand Army Plaza, Prospect Park, Brooklyn
1 Hotel Brooklyn Bridge Rooftop, Dumbo, Brooklyn
South Street Seaport, Manhattan
Domino Park, Williamsburg, Brooklyn
Seaglass Carousel, Battery Park, Manhattan
McCarren Park, Greenpoint/Williamsburg, Brooklyn
The Edge, Hudson Yards, Manhattan
Washington Square Park, Manhattan
THINK TWICE BEFORE CHOOSING THESE LOCATIONS:
Brooklyn Bridge
While the views are beautiful and the location iconic, unless we're here at the crack of dawn the Brooklyn Bridge is crowded, loud, crowded, and even more crowded.
Grand Central Station
Crowded, dark, and chaotic, I can understand why this location looks desirable (it's beautiful!) but in reality, it's tough. Their permit rules are really strict, and you're very, very limited as to where you can go and where you can shoot. The crowds make it nearly impossible to get a clean shot of anything, so if you do desire shooting here, let's just make it a quick stop out of the day. With all of the limitations of their permit, there isn't much that you can do in terms of creativity (you can't part the crowds or stop traffic, for example), and the crowds can become especially overwhelming on the weekends.
Gramercy Park
Don't even try. Even if you have a key, even if you think it's okay, don't even try. Gramercy Park is so fiercely private, that I've been bounced out twice by the cops. Once the bride and groom were guests at the Gramercy Park Hotel, and had been given a key and permission by the hotel itself. Once, the couple were residents of Gramercy Park, with their own private key. Either way, this place is locked down tight!
Bryant Park
Crowded, crowded, crowded! It's a shame, because I absolutely adore Bryant Park, but it's madhouse on a weekday and even worse on a weekend. More so, it's a popular location for popup shops and festivals. In the winter, there is a skating rink and winter garden that take up the entire lawn, and in the summer there are also various events that take over the whole space for the week or weekend.
Times Square
Loud, crowded, filthy, and teeming with tourists. It's a great stop from one photographic location to another, but not the best of ideas for your entire session. It will be 100% impossible to have any sort of intimate look to your images here, so be prepared for tourists and passersby to be in your images! If that's what you want, and the environmental aspect is a lure (let's be honest, for me it IS) let's go! Just know that if you're hunting for a very private location you won't find it here.