ALBUMS
We live in a time where every image, every picture, every moment lives on our phones. On our computers. In the cloud. On hard drives. We take more pictures than ever, but we print less.
More and more, I see wedding clients opt out of the wedding album. They have truthful, viable reasons to say no to a book. They want to save money, they just "need" the digital files, they'll make their own album. Year after year I hear from past clients that they never made that book. They can't remember where their USB drive of digital files is. They haven't printed a single image from their wedding.
Every time I hear of a client choosing to not invest in an album, I think of a few stories.
I don't live near my parents. They're in the south, and I live up north. When I visit, however, I always take a trip down memory lane by opening up the side table in the living room and pulling out the albums. Page after page, it's the history of my family. Each image, printed and carefully adhered under a sticky layer of plastic. My childhood. My brother. My parents, when they were younger than I am now. An entire history, preserved forever.
I was married once before. Out of that marriage came my two beautiful daughters and years of warm memories. The album from that wedding sits downstairs, marring up the pristine white shelves of a bookcase with it's cheap black cover. Every time I pick it up, it turns my hands and the shelves black. It is made of "aristohyde", a non-leather option that bleeds all over everything it touches. When I look through that book, I see two incredibly young people who had no idea what life was hurtling towards them. I see the parents of my children. I see my memories, and I love them. I will keep that album always, for myself, for my children (despite the goo it leaves all over my shelves).
I am married again. I am married to a marvelous man, a man who makes me laugh and think and argue with him endlessly about boring golf is. We were older when we got married, and our wedding was a beautiful blending of two families. I can tell you precisely where our album is, how it feels to hold it, how I feel to look through it. It's one of my most precious possessions.
I've seen family members climb into attics for old family pictures. I've heard of people running back into burning houses to save their wedding albums. I've never heard of anyone going out of their way to save a USB drive, the cloud, or their phone.
I am so proud of every album that leaves our studio. I am honored to be a part of creating the first heirloom you'll have as a new family. Your album will be viewed by you together, your children, your children's children, and generations to come.
Album Style
Our albums are mostly considered a "coffeetable" style, meaning that the images are printed directly onto the pages. They're not set down in mats, or under any adhesive pages. The pages are a very delicate textured white, and the printing is impeccable. The books have a distinctly fine art feel. We have samples of the book in our Sunset Park, Brooklyn studio, and you're more than welcome to come in and see the books in person!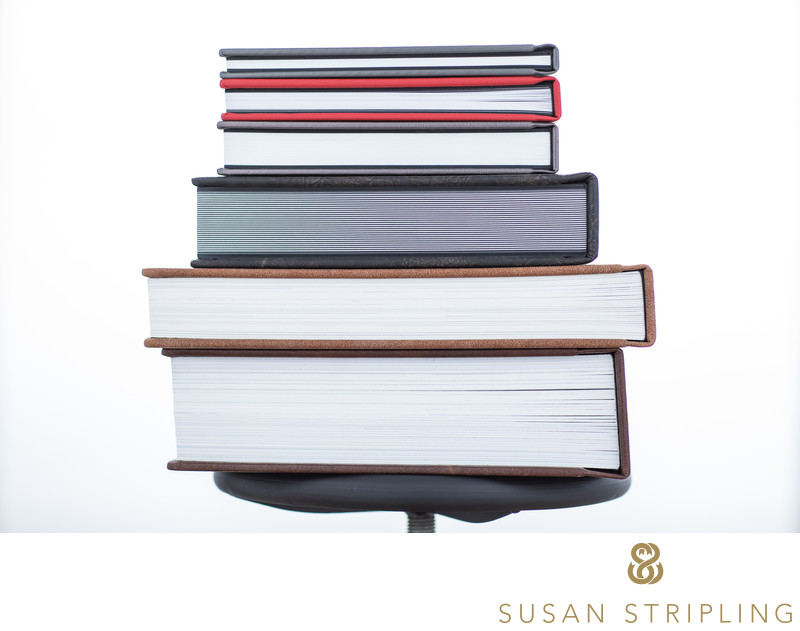 What kind of album does our collection include?
Our Signature Albums are beautiful coffee table albums, where the images are printed directly on the pages. The pages are made of beautiful photographic paper, and each book is printed and bound by hand here in New York.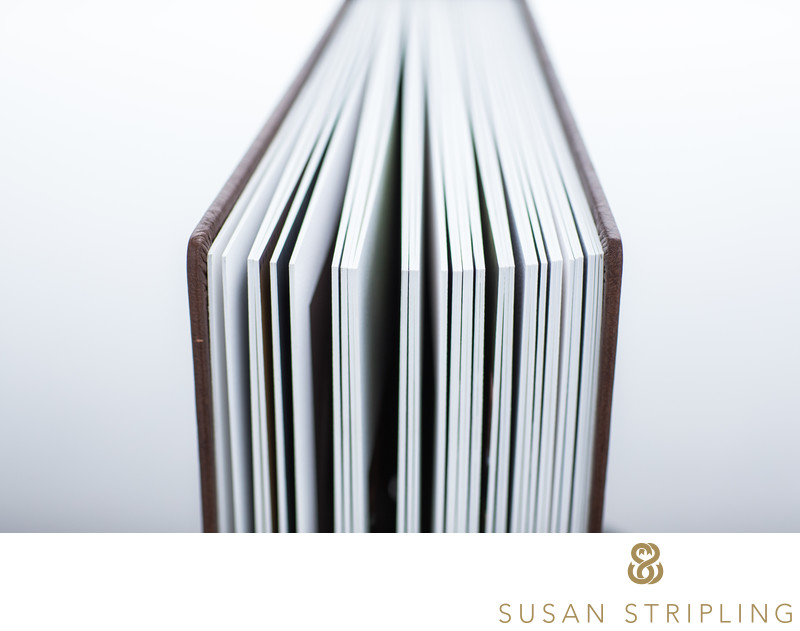 Cover Options
You will have many options when it comes to choosing the cover for your wedding album. (Note : should you opt to have your album design meeting in the studio, you'll be able to see swatches of the fabrics in person!)
The Signature Albums are available in the following fabrics and non-leather standard covers**: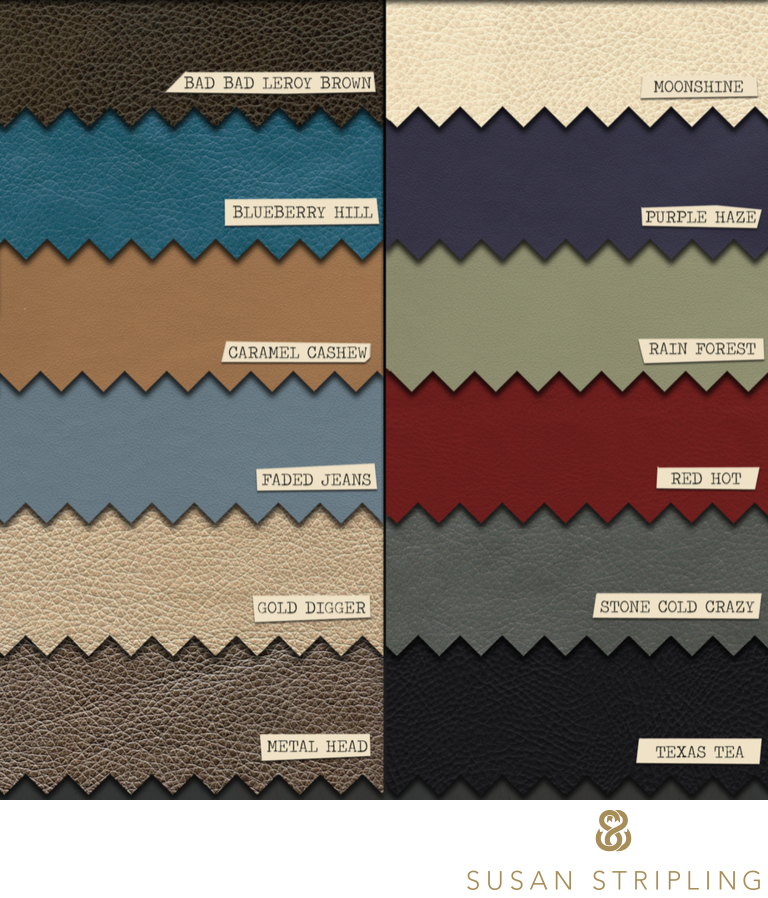 For an additional fee, you can upgrade to a leather cover: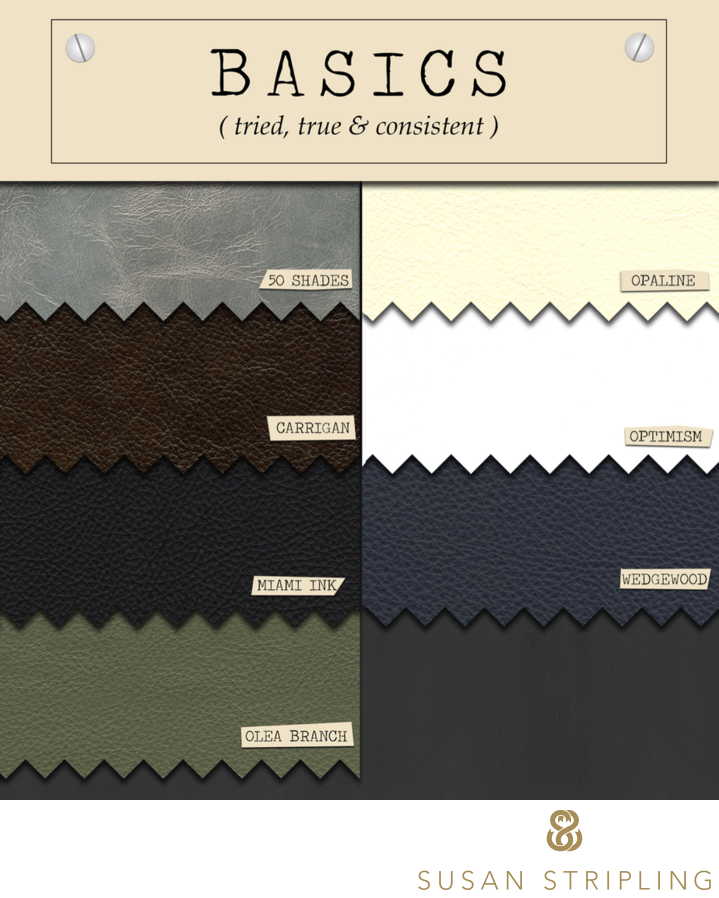 Album Imprinting
There are five different fonts available for adding your name and date to the albums. Most clients opt to place their names/date inside the album, which is available for all cover choices. If you'd like imprinting on your cover, only certain leathers are available for imprinting.
Here are just a few examples of how the fonts will look on different pages/covers with different imprint foils. You can also "brand" the font without a foil.
The fonts available are:
Modern
Pascal
Goudy
Fournier
Coronation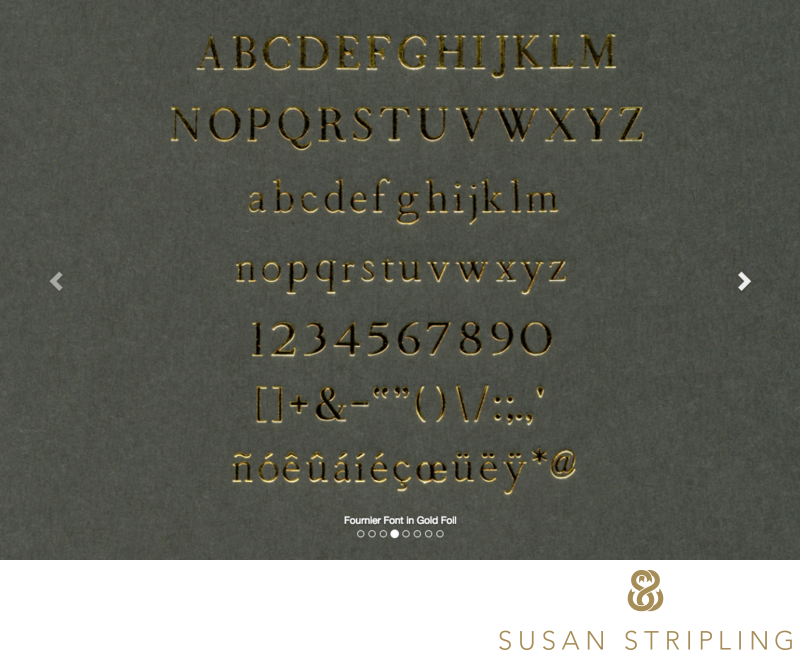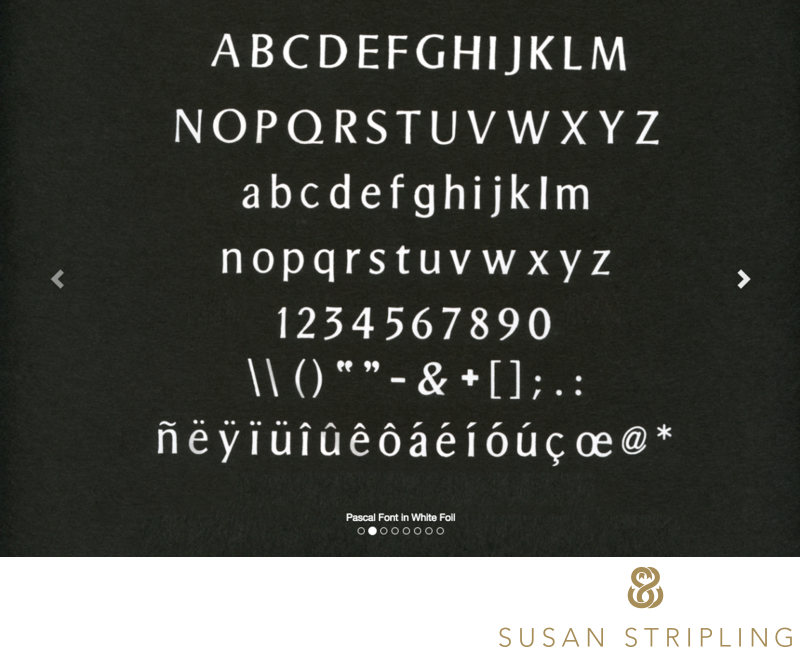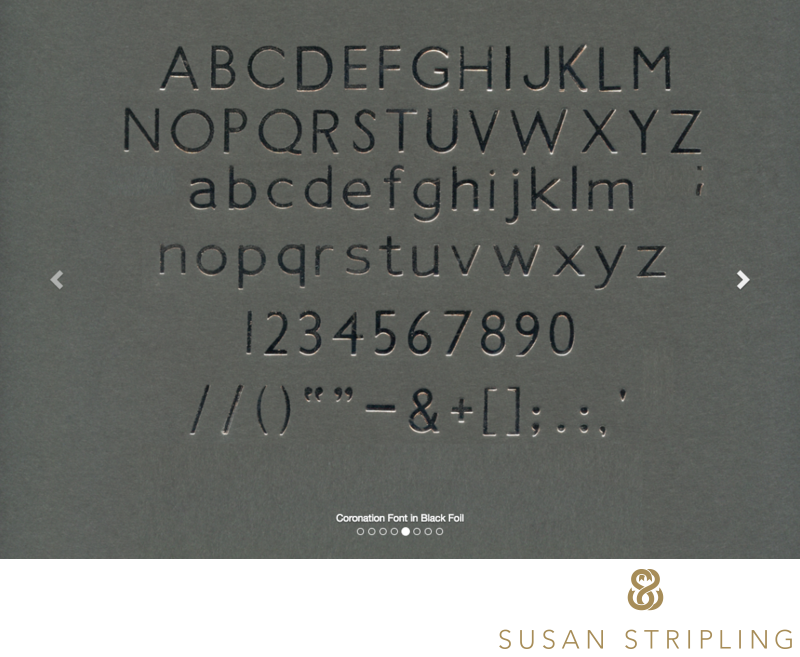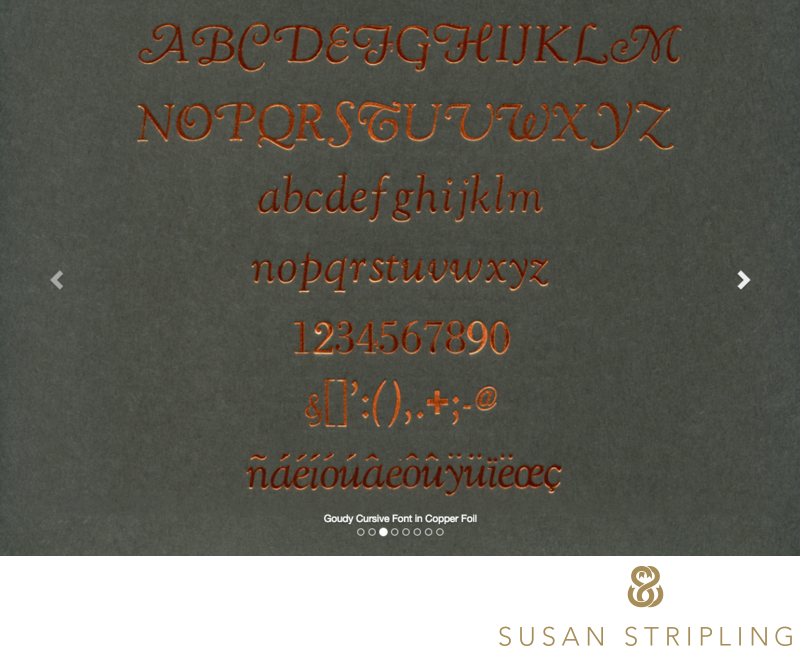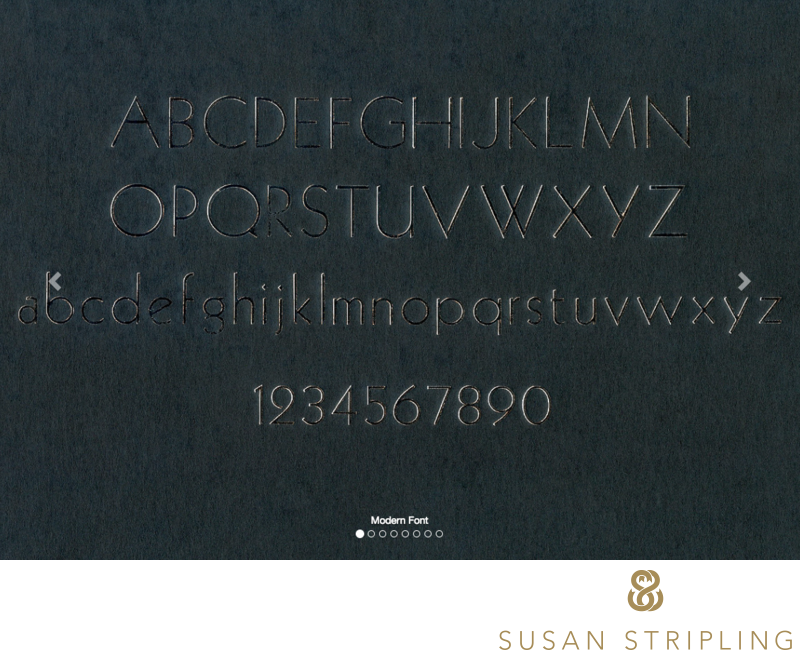 Design Process
It takes approx. six weeks post-wedding for us to deliver your hand-edited digital files. We will also deliver your album design at that time.
You will see your book laid out in "spreads." A spread is two pages together. Imagine a book open in front of you. You'll have a left hand page, and a right hand page. Those two pages together form a spread, just like you're looking down at the left and right hand pages in a book laid flat open.
We will design your album with more spreads than you have in your contract, and we will give you time to review the album design before we chat next.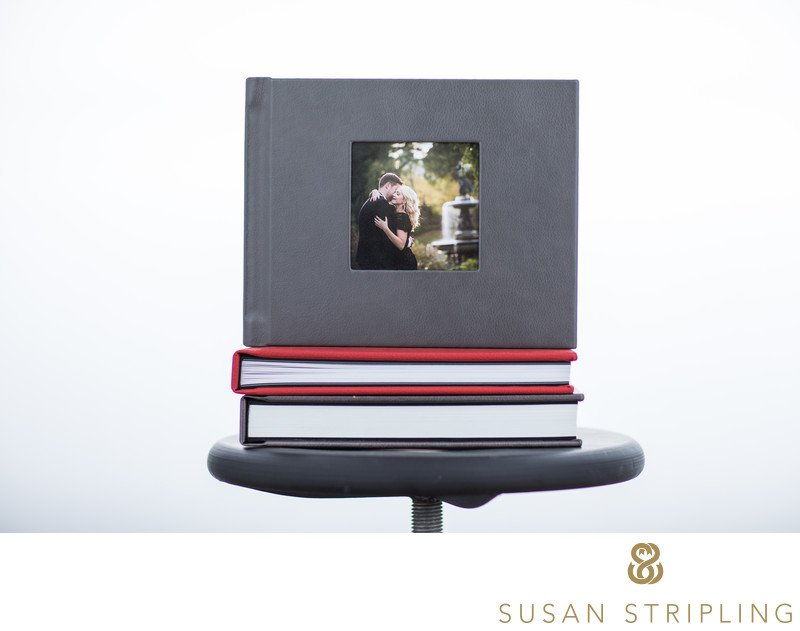 Starting in late 2016, we have added concierge design services to our current wedding contracts. About two months post-wedding we'll set a time to meet via Facetime, Skype, or in person to go over your album design. You'll have the option to remove spreads or add additional spreads to your book.
Should you decide to upgrade to a larger book, we can discuss your options. Each album is completely custom, with a design created for you and you alone.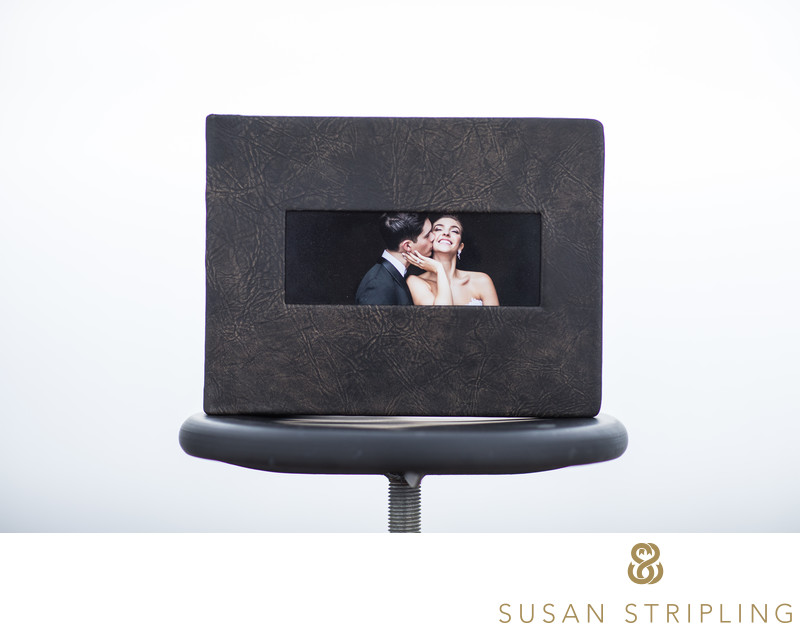 You can check out a sample album design below. The gray border is not part of the album, it's simply the frame around the book in the video. The album itself has white pages.
FREQUENT QUESTIONS
How do I care for my wedding album?
You'll want to treat your album with loving care, ensuring that it stays preserved for generations to come. Please make sure that your album isn't exposed to steep changes in temperature. You also want your album to remain in a low-humidity atmosphere, keeping your cover from warping or waving. Clean your album with a soft, dry cloth. Never use any type of cleaning product on your album cover or pages. If despite your best efforts, something does cause your album harm, please contact us right away. We can work with the album manufacturer to repair your album.
How much does a wedding album cost?
The cost of the album will vary, based on different variables. Size, page length, and number of volumes will affect the final cost. The base album in our wedding collections is a horizontal book, but we do have options for square options or vertical layouts, should that better fit your needs. Parent albums are 8x10 in size. You can also order a larger album for your parents, or even an exact duplicate of your book. You will receive a discount on your album if you commit to it before the wedding, and the costs for the books are locked in until your wedding date. Post-wedding, albums are still available at current wedding rates.
Will the images in our album be retouched?
We do retouch all images in the album. Your images will have already been lightly retouched during the proofing process of your digital files, but we do take it to another level with the album images. You can also let us know about specific retouching requests, such as flyaway hair, bug bites, exit signs, and so forth. If you desire very intricate retouching, it might incur an additional fee if we have to send it to our custom retouching experts. We will always let you know about any additional fees up front. We don't want there to be any surprises!
We keep thinking about it, and we're still not sure we want an album. Can you tell me why you think it's important?
I used to feel the same way. I had my digital files from my wedding, and I backed them up everywhere. They were on my phone, they were backed up on my computer and laptop, and I'd even backed them up in the cloud. I could access my wedding files anywhere, at any time. So why did I need an album? The future is digital, aren't wedding albums an antiquated idea?
Put simply, your wedding album is a tangible heirloom. A well-made album from a custom bookbinder will last longer and be more durable than anything consumer-created. Our books are meticulously designed, and flawlessly made. You won't have to worry about the paper fading, or the binding not holding up over years. I am passionate about creating the best books possible, and we've worked for over a decade to choose the best album company possible.
We want our clients to have the best heirloom they can. We look forward to creating that for you!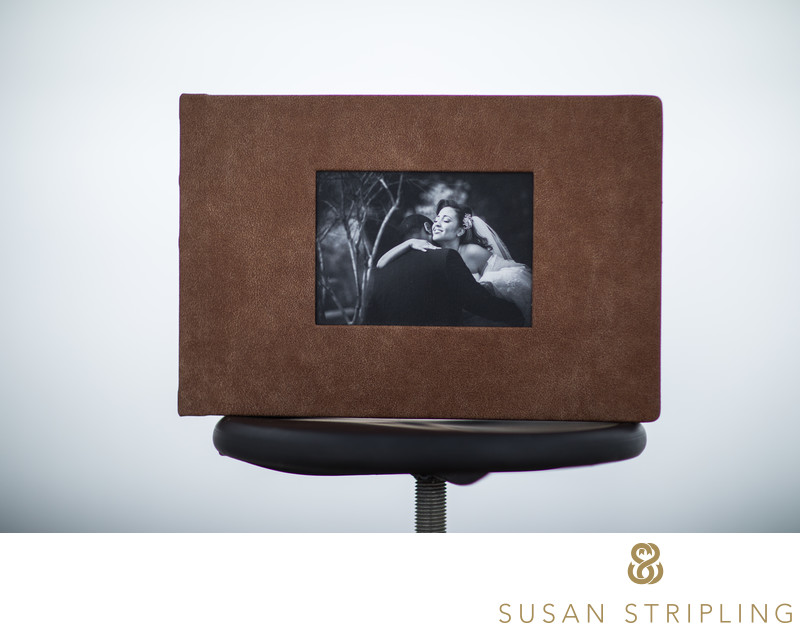 ** As leathers, fabrics, and cover options change over time, please always contact the studio for the most current available cover choices!
Privacy Policy.