Brooklyn Botanic Garden Wedding Photos
It is always a treat to take Brooklyn Botanic Garden wedding photos. Nestled sweetly in an incredibly beautiful park of Brooklyn, the Brooklyn Botanic Garden has long been one of my favorite Brooklyn wedding venues. It's wonderfully located, incredibly picturesque, and offers up indoor and outdoor locations sure to make any wedding couple thrilled!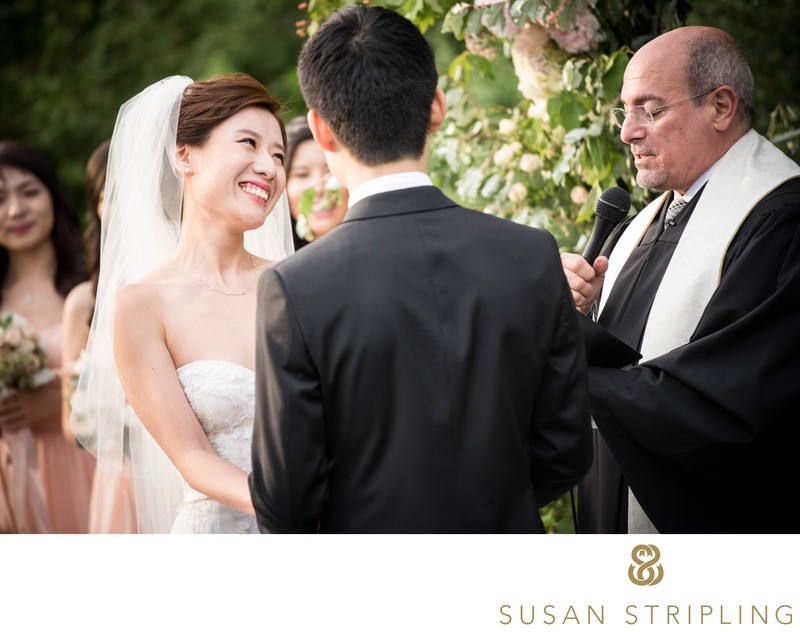 How to take Brooklyn Botanic Garden wedding photos
When creating Brooklyn Botanic Garden wedding photos, the first thing I need is a great location. It's not hard to find an incredible backdrop at the Brooklyn Botanic Garden, as everywhere you look will be beautiful!
We started this particular Brooklyn Botanic Garden wedding at a hotel, where we photographed the bride's details and the preparation for the day. She finished with hair and makeup, got into her Monique Lhuillier wedding gown, and traveled to the Brooklyn Botanic Garden to see her groom for the first time.
First look
I loved that this wedding did a "first look." A "first look" is not the best choice for every bride and groom, but it was a great idea for this couple.
They wanted to spend time together before their wedding ceremony. They wanted to take pictures around the Brooklyn Botanic Garden, which they wouldn't be able to do otherwise without missing cocktail hour.
They wanted to get images taken with their family and bridal party so they didn't have to waste cocktail hour time doing those portraits. I love that they considered every element of having a "first look" before deciding that it was right for them!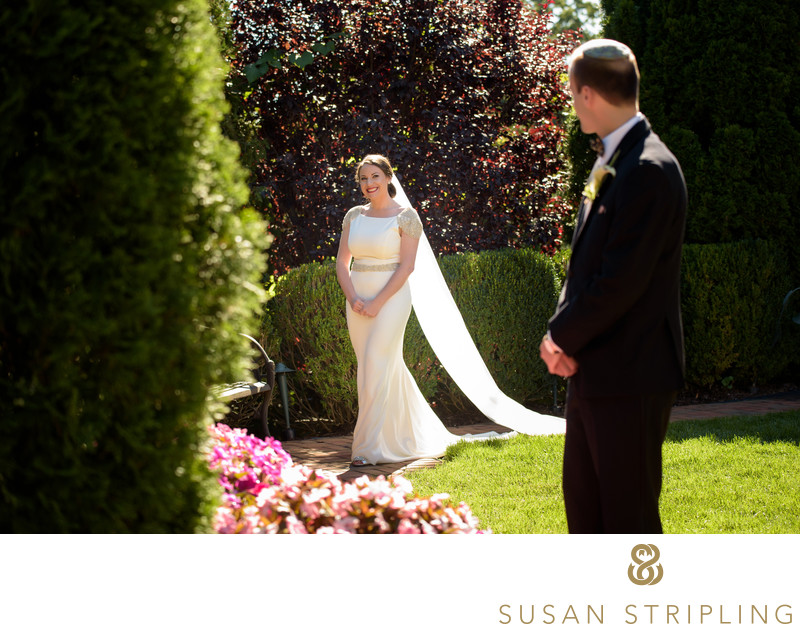 Best time for Brooklyn Botanic Garden wedding photos
My favorite time to photograph Brooklyn Botanic Garden wedding photos is during cherry blossom season. If you have never seen the Brooklyn Botanic Garden when the cherry blossoms are in bloom you should! It's utterly spectacular and truly a sight to behold.
It is also a great spot for engagement pictures, but you need to make an appointment to do so. You only get a window of an hour to an hour and a half to shoot engagement pictures at the Brooklyn Botanic Garden during cherry blossom season, so we have to plan carefully!
This particular wedding was later in the summer, so there were no cherry blossoms to be had. It was July, long past cherry blossom season. Despite the soaring temperatures, the bride and groom were excited to have their portraits taken outdoors.
Many clients opt to stay inside during the hotter months, and I was glad they were such troupers! The entire park was lush and green, with many of the flowers in full bloom. It was stunning!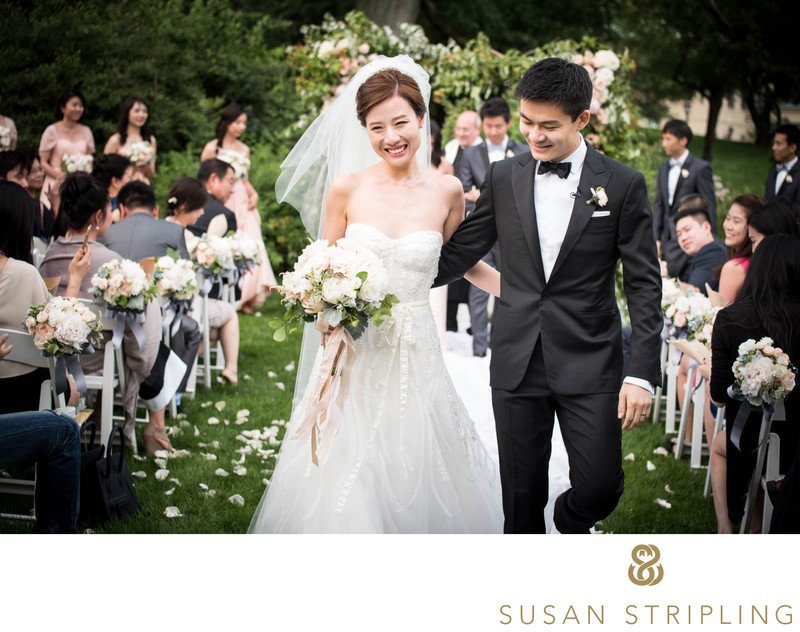 Where to do a first look
I had some time to scout the Brooklyn Botanic Garden before the first look. My goal was to choose a location that worked for both us and the videographers for the day.
I was looking for somewhere with a simple, uncluttered background. Having a simple background behind the bride and groom meant that the background would not be competing with the couple for the attention of the viewer. All of the attention would be on the faces of the bride and groom when they saw each other for the first time.
It can be really difficult to set up first looks in public places. Because the grounds are still open during much of a Brooklyn Botanic Garden wedding, you have to shoot around the public and cannot ask them to move or relocate. It was a peaceful day at the park, luckily for us!
We had our choice of many locations, but chose to stay near the Palm House for the first look. Why is this? We placed the bride in position, and knew we'd have to wait for the groom to walk to her.
It's a short walk from this location to the Palm House, where the groom was waiting for his cue. It was a win for everyone involved!
It was especially crucial that I consider my background, as mentioned before, for this first look. Not only did it need to be simple for photographic purposes, it needed to be a place that the public wouldn't be walking.
The last thing I wanted was a tourist wandering in the back of these special first look images!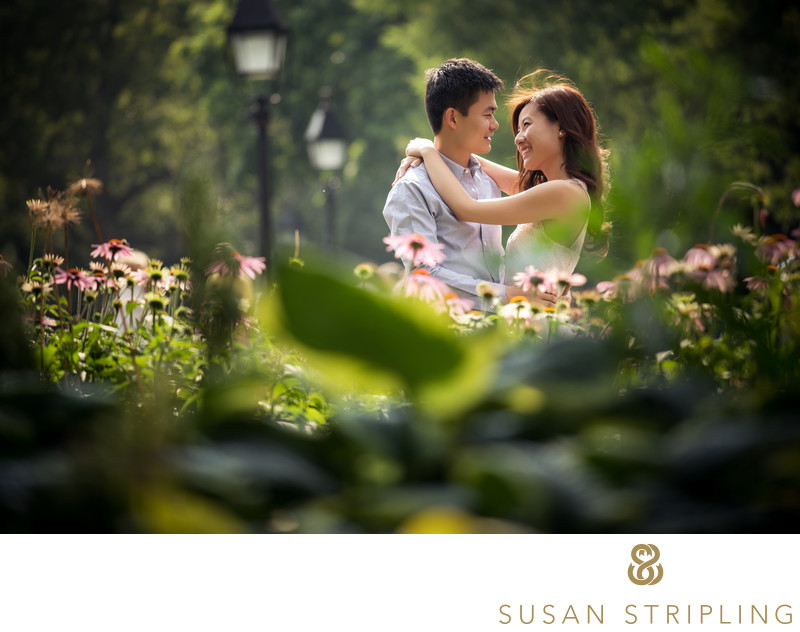 Eliciting emotion during a first look
I often get asked "How do you get such emotional reactions during first looks?" I know a lot of wedding videographers will opt to repeat the first look two, even three times. Rest assured that I don't do that!
I believe that a first look should be an organic thing, with actions and reactions happening naturally. If brides and grooms want emotion during a first look, that is up to them.
I always tell my clients that if you want a particular emotion in your images, you have to provide that emotion! While that might sound like a simple instruction, so many photographers stage moments. That might be what the bride or groom expects from a first look.
You cannot assume that your clients are on the same page as you, as you shoot weddings every weekend and they do not! I try to take the time to truly educate each of my clients about the first look, and let them take it from there!
Photographers, understand that many clients are incredibly nervous and excited about this part of the day. They don't know where to walk, stand, or how to execute a first look without our expert instruction! Reassuring my clients that all they have to be is themselves goes a long way towards a successful first look scenario.
No staged recreation of a first look will ever look the same as a naturally emotive real first look in real time. I was so lucky at this Brooklyn Botanic Garden wedding that I had a bride who wasn't afraid to show her emotions on her face!
She was such a beautifully expressive woman, and her reaction to seeing her groom for the first time is completely priceless! It really made for a wonderful start to this Brooklyn Botanic Garden wedding day!
If you're getting married at the BBG, I'd love to hear from you!
Location: 990 Washington Ave, Brooklyn, NY 11225.
Filename: 104_070315_Song_Wedding.jpg.
1/400; f/4.0; ISO 1250; 180.0 mm.