Wedding Photos at Liberty Warehouse
It's easy to look at wedding photos at Liberty Warehouse and see why this wedding venue is so in-demand with Manhattan and Brooklyn brides, grooms, and wedding couples.
It can be really hard to find a great Brooklyn wedding venue. Where do you go if you don't want to be in a hotel ballroom, but you have a large guest list?
What do you do if you want an outdoor space as well as a wonderful, versatile indoor space? How many venues can boast a modern appeal and rustic charm at the same time? And let's not forget the view - how many Brooklyn wedding venues with views of Manhattan are there? Not many!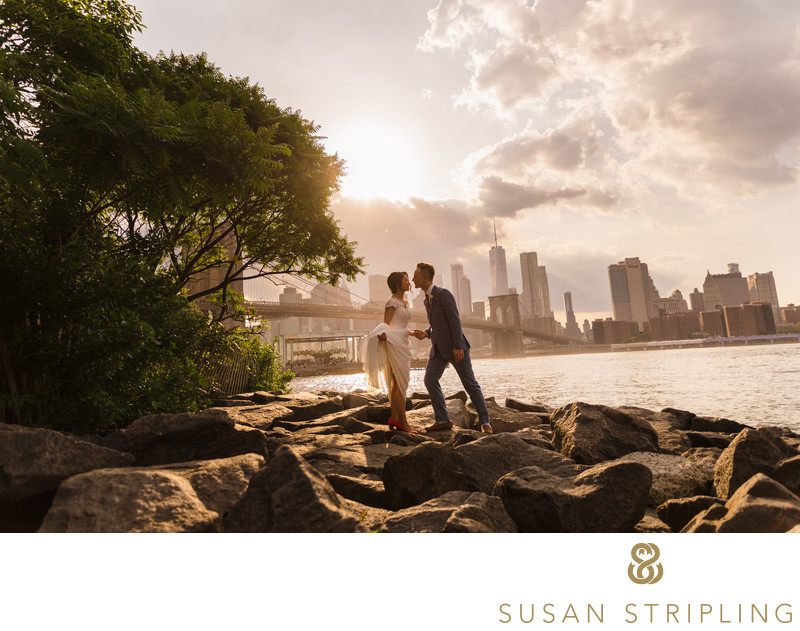 Liberty Warehouse is one of the most wonderful wedding venues in Brooklyn. It often pops up on "best of" lists with descriptors such as "rustic Brooklyn wedding venue" and "large Brooklyn wedding venue." You can see wedding photos at Liberty Warehouse on blogs such as Style Me Pretty, Junebug Weddings, Here Comes the Guide, Pinterest, Woman Getting Married, the Knot, and Wedding Wire. I've even seen Liberty Warehouse showcased on Four Weddings, one of my favorite wedding-related TV shows.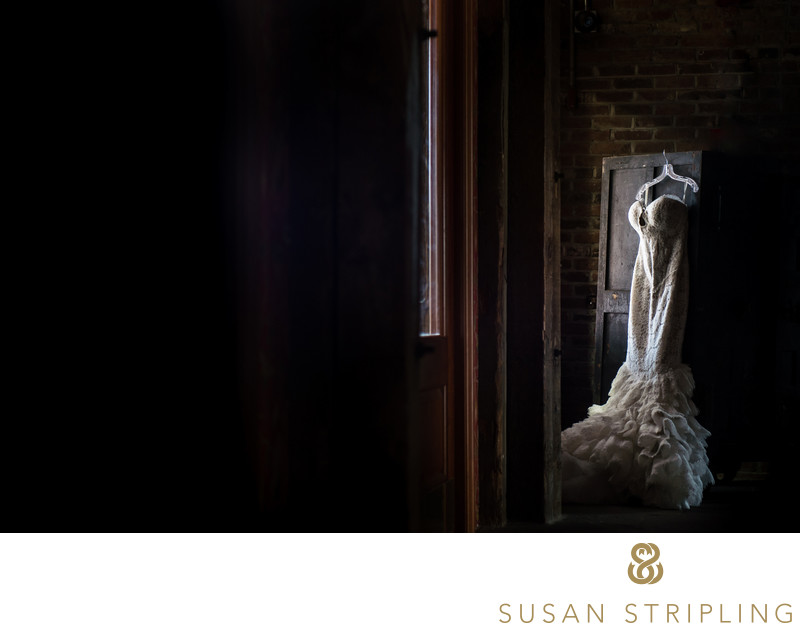 I am often asked by Brooklyn wedding clients where they should take their wedding photos at Liberty Warehouse. This is a great question, and there are many, many answers! The best answer is "where the light is!"
One of the things that I love so much about taking wedding photos at Liberty Warehouse is that there is always great light somewhere! If it's raining outside, you have great options on the top floor and main floor inside the Warehouse.
You have areas overlooking Brooklyn and New York that are outdoors, but sheltered from inclement weather. This is also helpful in the winter, when the wind off of the water is especially cold.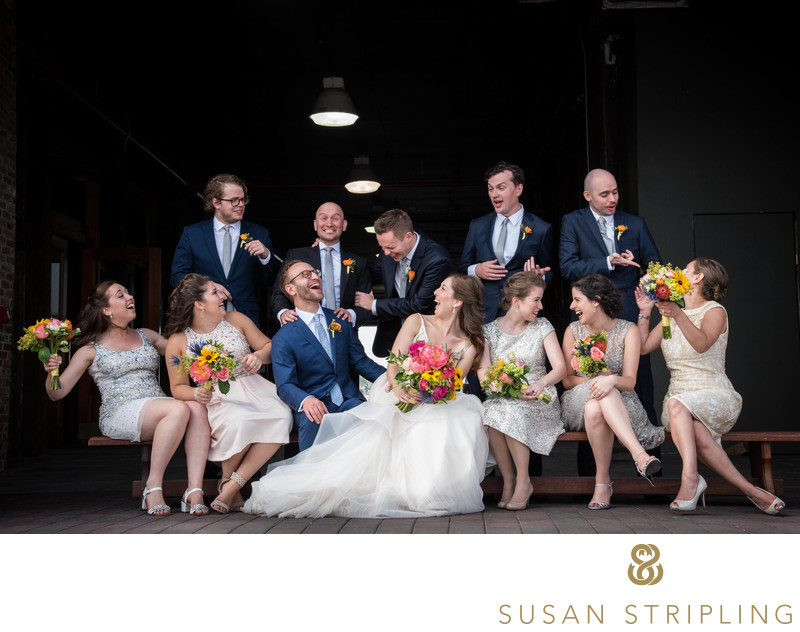 Outside is an absolute paradise when taking wedding photos at Liberty Warehouse. Because of the location of the Warehouse in Red Hook, one side of it almost always has great light.
Over the years the outdoor areas have evolved to include a really beautifully manicured nearby park space that overlooks the water and the Warehouse both. It has great paths and a wonderful huge tree that makes for a great photo location.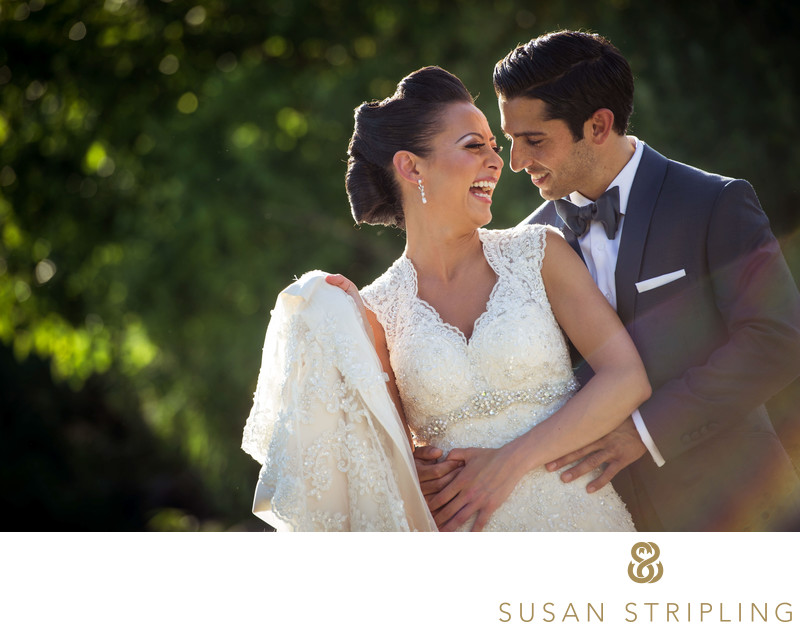 My favorite thing to do when shooting wedding photos at Liberty Warehouse is to go outside and find the light. Sometimes that light is in the beautiful nearby park space. Sometimes the light is on the streets of Red Hook, with fantastic old-New-York style backgrounds.
Sometimes the light is even in the parking lot, with the Liberty Warehouse in the background! I've taken pictures in the wine bar next door, under the overhang where Liberty Warehouse valets the cars, and even on the fire escape right on the Warehouse itself!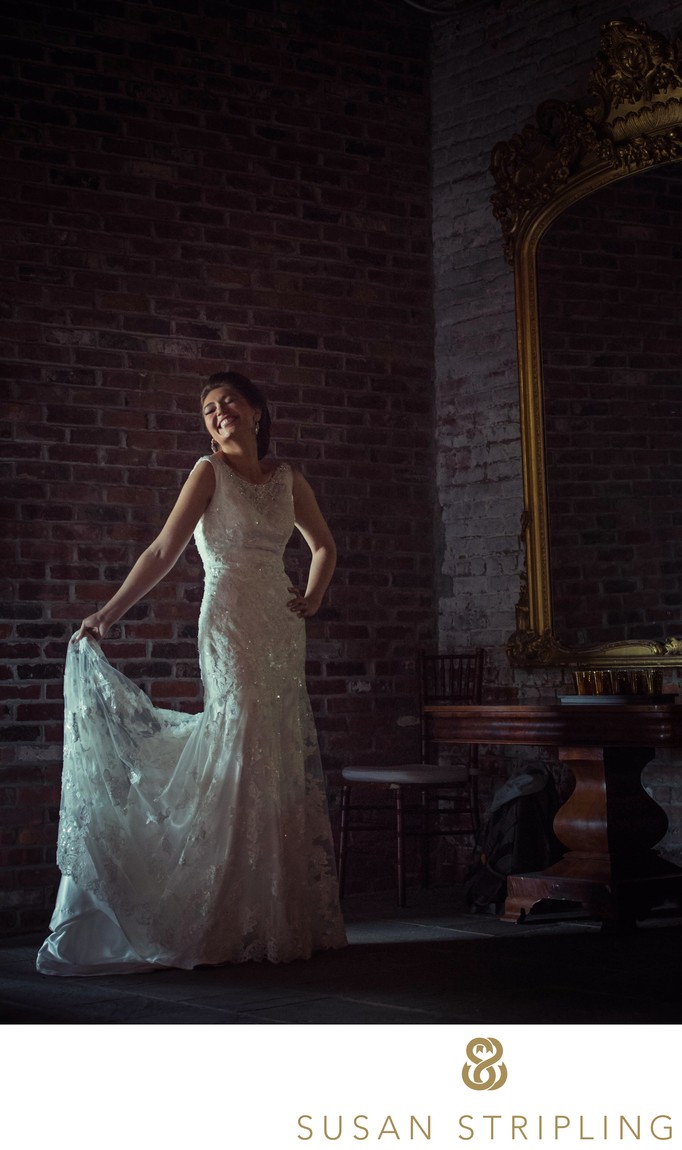 This image was taken at a summer wedding. The bride climbed up the fire escape and tilted her face into the setting sun. I love how the light on her face really sets her apart from the darker background behind her. I love how the leading lines of the stairs bring the viewer's eye right to the bride's face. I love how the softness of the bride contrasts beautifully with the harsh brick behind her.

If you are having your wedding photos at Liberty Warehouse, trust the guidance of your photographer! If I hadn't had clients willing to look in unconventional locations for their portraits, we'd never have ended up with this wonderful bridal portrait!

Keywords: Bridal Portrait (61), Brooklyn (159), liberty warehouse (49), new york (503), prep for portfolio (85), wedding (1294).

Filename: 316_060714_Holzer.jpg.

1/1000; f/4.0; ISO 100; 70.0 mm.