Susan Stripling Photography
Liberty Warehouse wedding photo
Every Liberty Warehouse wedding photo is an opportunity to show yet another aspect of this fantastic wedding venue. Located in picturesque Red Hook, Brooklyn, the Liberty Warehouse is an extraordinarily popular New York wedding venue.
Wedding photo locations at Liberty Warehouse
There are so many amazing faces take your wedding day photograph at Liberty Warehouse that it is almost impossible to know where to begin.
First of all, the interiors of this unique Brooklyn wedding venues simply must be seen to be believed. There are two floors at Liberty Warehouse, both with brilliant, huge windows. This allows in an abundance of light even in the dreariest of rainy wedding days! There are numerous indoor locations to take your pictures together with your husband or wife, your family, and your bridal party.
There are also numerous amazing outdoor locations for photos at Liberty Warehouse. You can take your wedding day pictures by the water with a view of Manhattan in the background. You can walk around the charming cobblestone streets of Red Hook and check out all that this unique neighborhood has to offer.
Whether you have five minutes or two hours to take your wedding day pictures around Liberty Warehouse, there will be a location that is just right for you!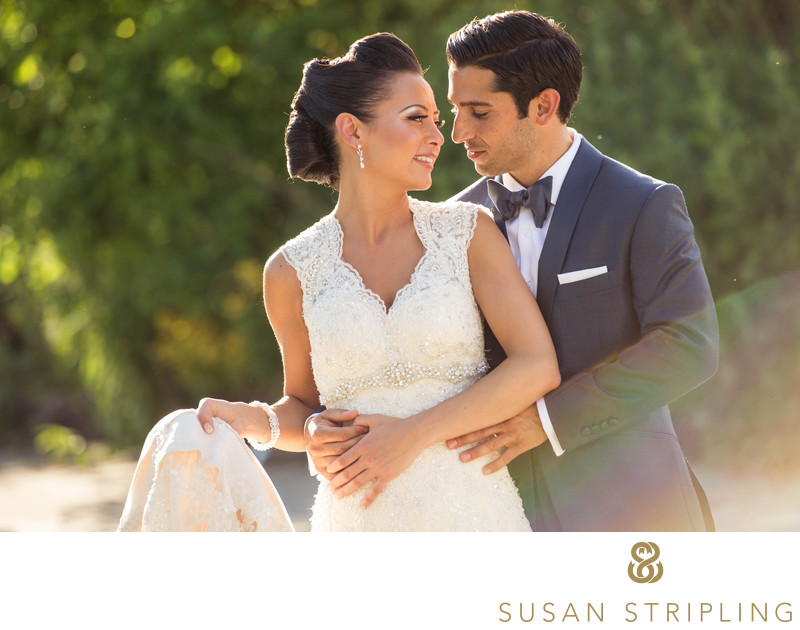 Unique wedding photos at Liberty Warehouse
I love watching the light change and the venue practically change entirely as it is illuminated differently throughout the day.
On this particularly dramatic summer day, the bright blue sky gave way to a majestic burnt-orange sunset.
I wanted to showcase the bride and groom against the gorgeous sky, but wasn't moved by any of the options right in front of me. If I photographed them against the railing that goes around Liberty Warehouse, separating it from the water, you'd see the railing bisecting the bride and groom's bodies at the waist. I liked the graphic element of the railing, but not how it cut the couple in half.
I saw this staircase leading up to the second floor of the Liberty Warehouse, and immediately knew that it would give me the graphic interest that I wanted without the added distractions.
I love how the bride and groom are sharply silhouetted against the late-day sky. I love how the awning over the landing and the stairs going upwards contrast neatly with the puffy clouds and sweet pose of the couple.
Most of all, I love how the bride and groom are situated on the right third of the frame, letting the clouds lead you into and out of the image.
If you are getting married at Liberty Warehouse, get in touch! I'd love to hear about your day!
Location: 260 Conover St, Brooklyn, NY 11231.
Filename: 0268_071314_Gambarin_Wedding.JPG.
1/400; f/2.8; ISO 1600; 150.0 mm.