Susan Stripling Photography
Pine Hollow Wedding Photographers
In recent years the "first look" has made a surge forward as a current trend. What is the "first look"? Simply put, it's the new tradition of a wedding couple seeing each other before their ceremony to take portraits.




The image above was taken right before the first look at a Pine Hollow wedding. The bride was preparing to see her groom for the first time, and the anticipation was incredible.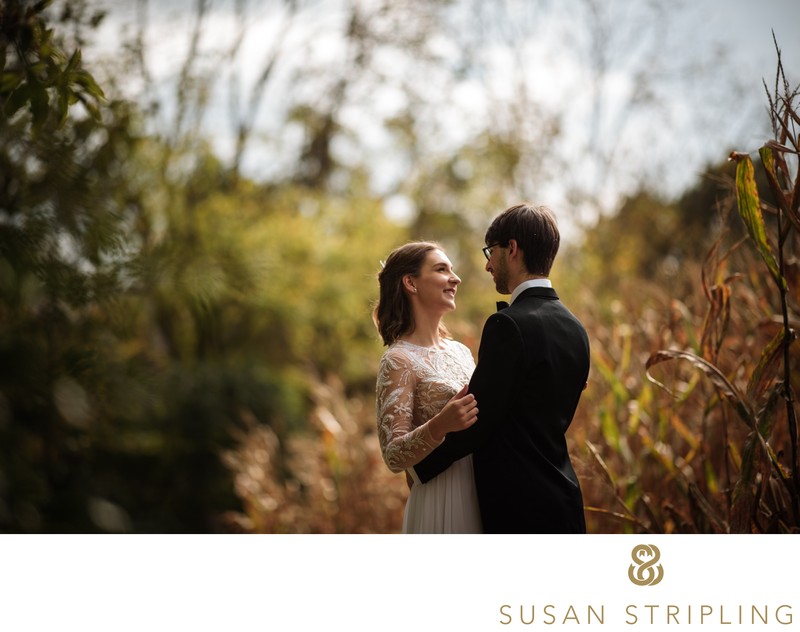 The first look can be a sweet, lovely way to see each other before the ceremony in a private way.
But let's go back to the "first look" concept. What happens during this time? Sometimes it might just be portraits of the couple together. Sometimes we'll even take wedding party and family pictures after the first look, which means that all of your posed portraits will take place before the wedding day itself. This trend grows in popularity every year, and it looks like it's here to stay!
Is the first look a trend that I like? Well, that answer is multifold.
I have my own personal answer and then my answer as a professional wedding photographer.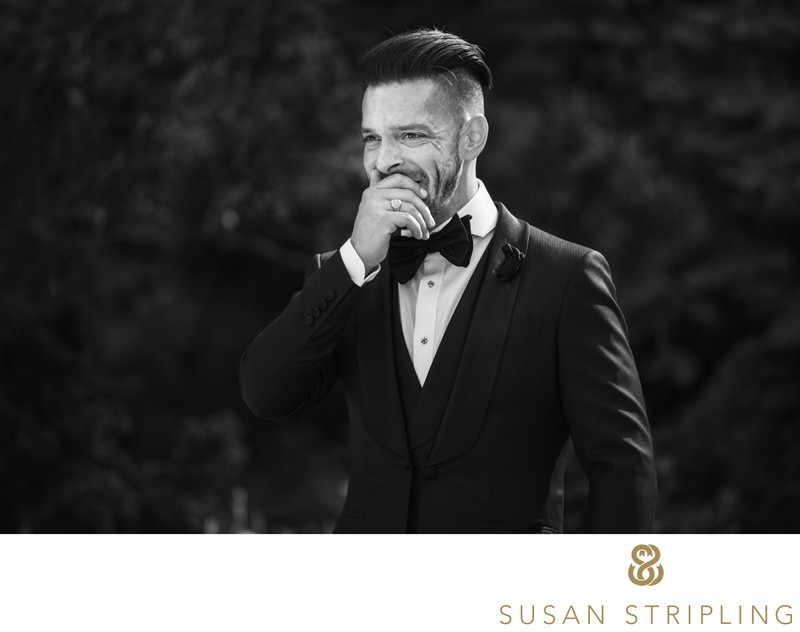 The moment this incredible groom saw his bride for the first time was truly breathtaking.
As a wedding photographer, my answer is that I like what my clients like. It's my job to provide information as to why first looks are great and why they're not. It's up to me to make sure that my clients are well educated on all aspects of this tradition, and then to back off and let them make the decision that works best for them.
Many wedding photographers will push hard for first looks, and while I can understand that, I promise that I will never push you. I don't ever want clients to make decisions about their wedding day that they don't want to just because their photographer told them to.
The decision to see each other before your ceremony or not is a private one, and I promise to respect whatever you want to do and help you craft a timeline around it that works for you and your day!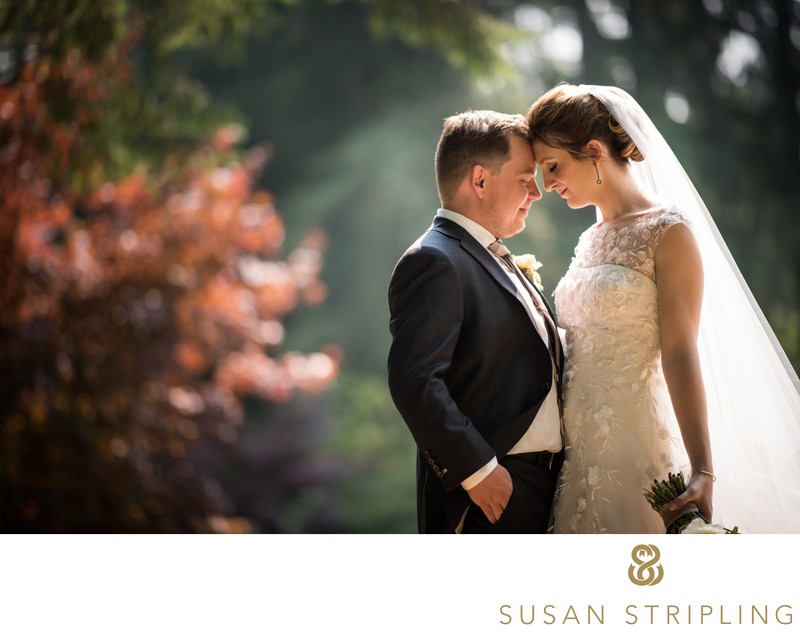 This couple opted to see each other before their wedding ceremony. This gave us much more time to take pictures around the amazing venue property before the ceremony took place, time we wouldn't have had if they waited until their ceremony to see each other for the first time that day.
Why are first looks awesome?
First looks are great because:
You get to see your future spouse before the wedding.
You get to have some time alone together.
We get more time for portraits of the two of you, especially helpful if you want to go to multiple different locations for your portraits.
We often get to document your family formal photographs early, and after the ceremony you get to immediately head to your cocktail hour.
If you're nervous at all about seeing each other for the first time in front of other people, this intimate, private moment will be yours and yours alone.
Why are first looks a terrible idea?
A first look might not be a great idea for several different reasons, including:
If anything runs behind during your preparation time (hair, makeup, questions, bathroom breaks, phone calls, all the random little things that can toss a wedding day timeline a wrench that can make things run a bit late) your portrait time will be what's cut short.
First looks often means that you need to extend coverage on your wedding day by several hours to accommodate getting ready early.
First looks mean that you have to get ready early, often being ready several hours before your actual ceremony.
You won't get that moment of seeing each other for the first time when you come down the aisle at your wedding ceremony.
If you're doing wedding party and family portraits before the ceremony, you'll have to talk your wedding party and family into getting ready early.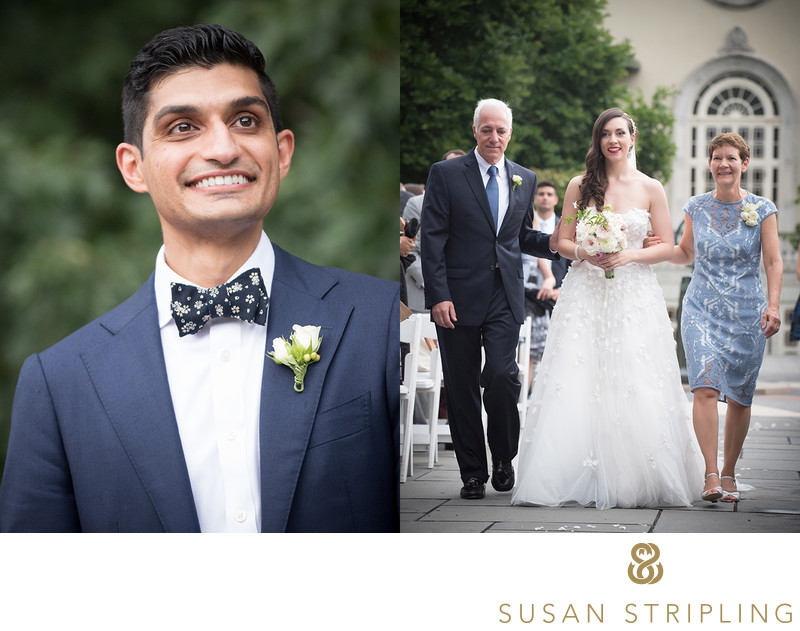 If you're worried about the moment you come down the aisle being "less special" because you do a first look, consider this gorgeous wedding ceremony. Despite doing a first look, both the bride and groom had an amazing reaction to seeing each other coming down that aisle!

Whatever my clients choose on their wedding day will be perfectly fine with me - I never want to be the wedding photographer who tells you how to script your day! Whatever you choose I'll help you craft your schedule to make the most of our time.

Personally, however? I chose to wait and see my husband when we walked down the aisle towards each other. It was one of the most defining moments of my life and one that I would not trade for anything. We had to do all of our portraits during cocktail hour but it was well worth it to me!

Location: 6601 Northern Blvd, East Norwich, NY 11732.

Keywords: East Norwich (8), long island (8), Pine Hollow Country Club (24).

Filename: 0315_042013_Winoker_Wedding.jpg.

1/160; f/2.8; ISO 500; 36.0 mm.