Best Maternity Photographer Manhattan
As the best maternity photographer in Manhattan, I am often asked a lot of questions by my maternity portrait clients.
The question I get asked more than any other question is "When is the right time to take my maternity portraits?"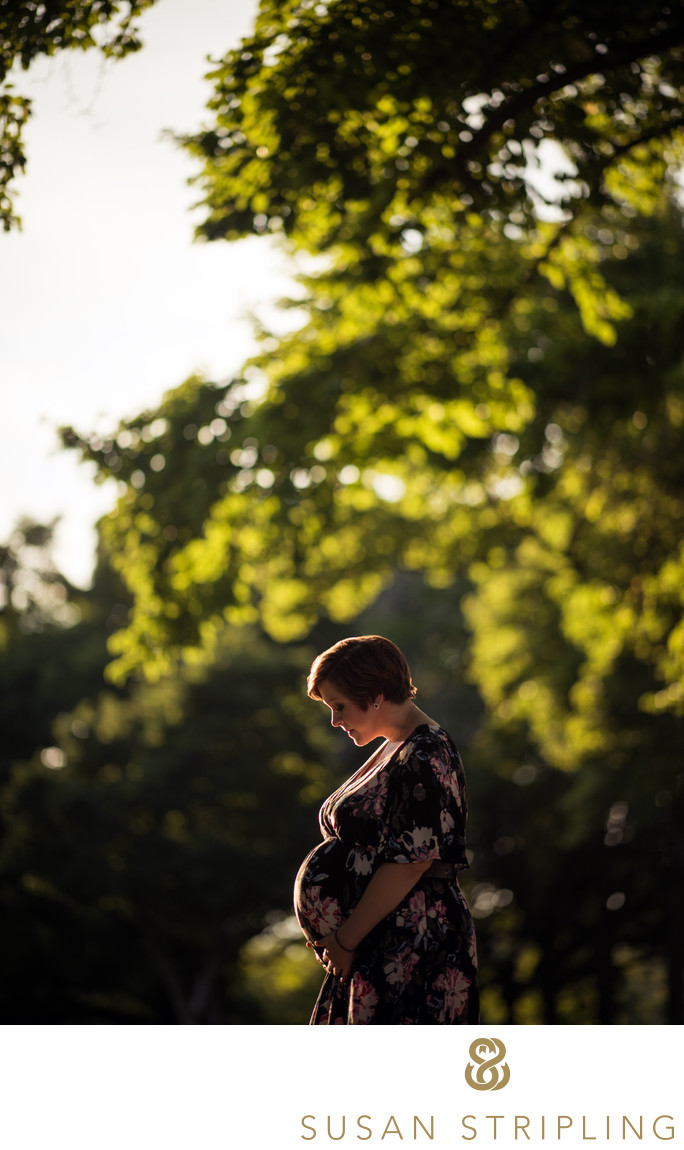 The right time to take maternity portraits
I well remember being pregnant. I have two daughters, and even though they are teenagers now, the many months that I spent pregnant with them is still very vivid in my mind.
I loved being pregnant. I loved having maternity portraits taken for each of my pregnancies. However, I never really took the time to consider when the optimal time for these portraits would've been.
With my first daughter, I took my maternity portraits too early. I looked pregnant, but not very pregnant. With my second daughter, I took my maternity portraits too late. I looked and felt huge. My face and hands were swollen, it was difficult for me to walk around, and posing was extremely uncomfortable. When I look back on the images from my second pregnancy, I remember just how uncomfortable I felt and hot I was.
My favorite time to photograph maternity portraits is around thirty to thirty-four weeks. You will be visibly pregnant, and beautifully round. It will also still be early enough that moving around, posing, walking, and moving from place to place will not be too uncomfortable!
I have had clients wait until after their 36th week of pregnancy to schedule their session. Some of these sessions were absolutely fantastic, but some never happened at all because the mother went into labor early! I never want you to have to worry if you will go into labor before you have an opportunity to get your maternity portraits taken!
Where should I take my maternity pictures in New York?
The question of location is another question that I get asked quite a bit. Much like choosing a location for your engagement photos or your wedding photos, choosing a location for your maternity portrait is a very personal decision.
If you opt to have your maternity portraits not taken in the studio, there are so many locations in Manhattan and Brooklyn to choose from.
My favorite location to take maternity portraits in New York City is at my studio in Industry City. Industry City is a fantastic location in Sunset Park, Brooklyn. I have a gorgeous natural light indoor studio, as well as a great deal of outdoor space that is exclusive to me as a tenant at Industry City.
I would love to have you as a guest in my studio. I can give you a tour, show you all of our incredible products, and talk with you about your maternity session needs. We could sit down, put our feet up, and plan your session! You can also get a great look at the studio that we would be shooting in, and the many outdoor locations that we can also create portraits. It is a wonderful space, and I would love to have you come visit!
Should I bring props to my maternity shoot?
Not at all!
That is an incredibly simple answer to a complicated question! A lot of maternity portrait photographers in New York encourage bringing a lot of props. These products could include, but are not limited to:
Ballons
Custom signs
Smoke bombs
Confetti
Glitter
Banners
...and more.
I find that when clients bring props to their maternity sessions, the shoot becomes more about the props and less about the pregnancy. My goal is to create beautiful portrait of you at this remarkable time in your life, not to surround you with props and things.
That said, if you have a prop or memento that is especially important to you, I would love to hear about it. If there is something that you feel very strongly about including in your session, I'd love to know about it first. This will give me an opportunity to storyboard out some ideas to include it in your maternity portraits in a way it feels organic and natural!
Do I have to do my own hair and makeup for my maternity pictures?
Hair and makeup should be the least of your concerns as you prepare for your maternity portrait! You have an awful lot going on in your life right now, and figuring out how to do your hair and how to put on your makeup should not even take up a second of your headspace!
I work with absolutely incredible hairstylists and incredibly talented makeup artists for all of my portraits. Whether you are having your headshot taken, doing a studio bridal session, working on a personal branding shoot, or having maternity portraits created, hair and makeup is an important part of the process.
Our talented artists will consult with you on the day of your shoot. All you have to do is show up with clean hair and a fresh face! All of the artists that I work with have worked with me before, and I'm confident in their abilities without doing a trial beforehand.
You will have the ability to input your opinions on your hair and makeup looks, and our artists will work with you to tailor your final look to your needs and desires. Often times we change up the look in the middle of the shoot, opting for a completely different look halfway through. This is an incredibly fun part of the process, and always a great experience for all of my maternity session clients!
Can I bring my husband, wife, boyfriend, girlfriend, partner, child, children, or someone else to be in my maternity portraits with me?
You absolutely can!
Your desire to include someone else, or several other people, in your maternity session is something that we will discuss far in advance of the session itself. If you want to include your children, we will talk about styling and scheduling. If you want to include your spouse, partner, or significant other, we will also talk about what styling is needed.
I absolutely recognize the importance of these portraits, and the importance of the incredible people in your life at such a special time in your life. I want to make sure that they are included in your maternity portrait in the most spectacular way possible.
If you want to bring someone else during your session, just let me know. We will make sure to address it completely when discussing our plans for your session.
How do we book a maternity portrait with you?
When you're ready to book and schedule your maternity session, the first thing that I will do is send you a contract. once you read, initial, and sign the contract, you will pay a small retainer fee that will reserve your date with my studio.
We will then set up a time for consultation. I would love it if you could come in in person! We will talk about many things during your consultation, such as:
Your needs for hair and makeup
The actual timing for your shoot, when he will start, and how long you can expect to be at the studio.
Wardrobe, styling, what you'll need to bring, and what I can provide for you.
If anyone else will be in your shoot with you, and how we'll style them as part of the session
The products that I offer, their pricing, and what they look like
The reveal and ordering appointment : what it is, why it's important, when it will take place, and what you can expect at that time.
...and anything else you have questions or concerns about!
I look forward to talking with you soon about your maternity session. I sent so many incredible congratulations your way! As I mentioned in other places on this website, I have two beautiful daughters and remember being pregnant with them so incredibly vividly. It was an amazing time in my life, and I wish you all the best during this amazing time in yours!

Keywords: maternity portrait (6).

Filename: 54_042517_HollyGauper_Color.jpg.

1/250; f/4.0; ISO 250; 85.0 mm.