Maternity Photography in Central Park
Working on maternity photography in Central Park is one of the great joys of being a working New York City photographer.
I have taken many wedding pictures in Central Park. I have shot dozens and dozens of engagement sessions in Central Park. It's been a pleasure to add Central Park maternity sessions to my list of photo shoot opportunities!
When to take maternity pictures in Central Park
Many maternity clients ask when a good time of year to take outdoor maternity pictures is.
My favorite time of year to take any photos in Central Park is always going to be the fall.
I absolutely love how all of the trees burst forth in a riot of red and orange at this time of year. Based on my experience in past years, the leaves usually reach their brightest and most vibrant color in the last week of October and the first week or two in November.
If you are looking to have maternity photos taken in Central Park all the leaves are experiencing peak fall foliage, make sure that you book your session early! Many of my wedding client opt to have their engagement pictures taken in Central Park at this time of year as well.
With so many sessions and so few days to really experience the peak of fall foliage season, it's imperative that you get your session booked and scheduled early!
However!
Talking about the most photogenic time of year in Central Park when discussing a maternity shoot does bring about a few laughs. It's not like you can schedule your due date around peak fall foliage! Central Park remains one of my favorite places to take portraits because it truly is beautiful all year round.
Central Park in the spring is an absolute riot of fresh greenery, newly blooming flowers, and brilliant spring light. There is something so beautiful about this time of year in such an iconic location.
Central Park in the summer is an absolute dream. Hot, bright, and blazing with sun, the greenery is brilliant and the sunsets are spectacular. The sun sets extremely late in the day, meaning that you can even get in a full day of work before a sunset maternity shoot!
Central Park in the winter is absolutely luminous. I completely adore the crisp winter light in New York. While the sun does set early, that brilliant light makes for some sharply beautiful sunsets. Absolute bonus points if there is snow on the ground! Central Park under a blanket of newly fallen snow is, quite simply, a magical dreamland.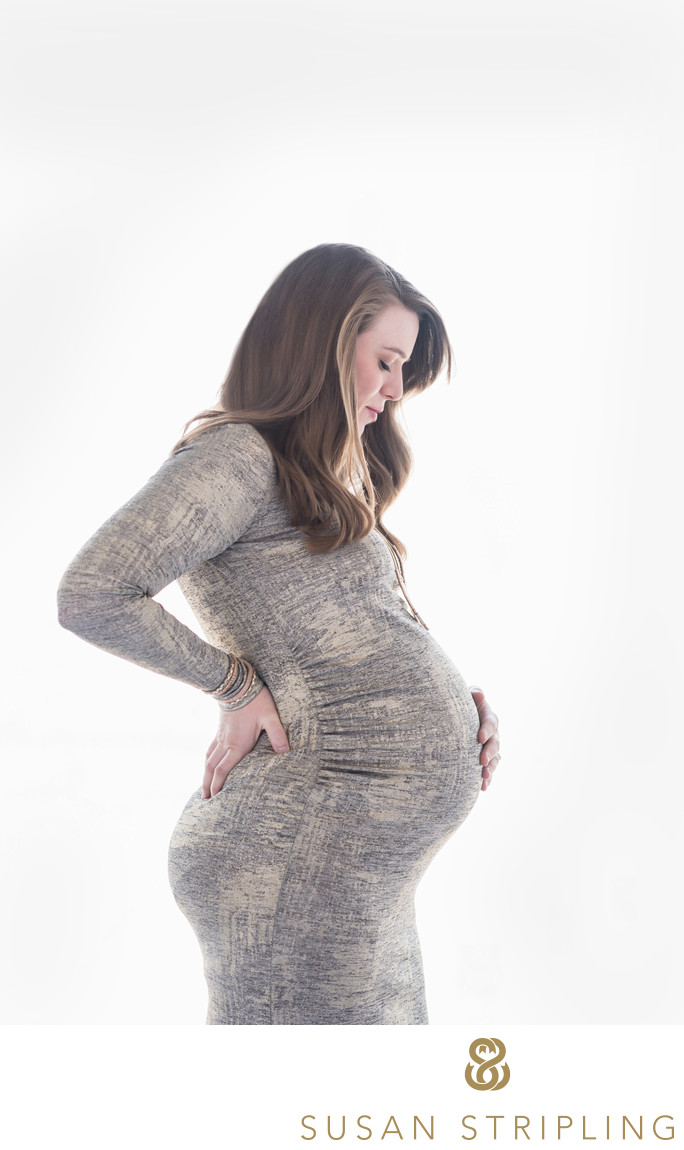 What to wear for a Central Park maternity shoot
Aside from being asked what time of year Central Park is the most beautiful, "what do I wear?" is the biggest question that I have asked from maternity clients.
The most important thing is that you wear something that looks like YOU. If your style of dress is boho and flowy, you're not going to want to wear a tight-fitting evening gown. If you spend most of your day in jeans and a tank top, a flowing, trailing dress might not be your style.
This is where working with a photographer who understands attire is crucial. I can work with you to help you find an outfit that makes you feel your most beautiful for these incredibly important photographs. I would love to talk with you, get to know you, and help you plan the maternity shoot of your dreams!
Drop me an email or give me a call, and let's chat!
Filename: maternity.jpg.
1/4000; f/1.4; ISO 100; 105.0 mm.