New York Headshot Pictures
I always wanted to work in theatre. I had a Bachelor of Fine Arts, and graduated college with dreams of making it big on Broadway. I quickly realized that while I loved performing, the act of observing a performance brought me more joy than actually being onstage.
I wasn't sure what that meant for me, but luckily life led me to wedding photography and then back to the theatre. While I am a full-time wedding and event photographer in New York and Philadelphia, I also enjoy being a dance, theatrical, and headshot photographer in the New York area.
My New York headshots encapsulate many genres. I photograph actors, actresses, ballerinas, dancers, modeling portfolios, fashion shoots, glamour, boudoir, and beauty models.
How should I prepare for my headshot session?
I'm glad you asked! In the weeks leading up to your session, please don't drastically change your appearance! If you're going to dramatically change your facial hair or hairstyle, consider it carefully and make that change well in advance of any professional photography session.

Please don't pluck your eyebrows, wax any part of your face, or do anything outside of your normal beauty routine right before your headshot session.

If you have an agent, publicist, manager, or casting director that you're working with, please discuss the shoot with them in advance. What do they want you to accomplish at your session? What look are you trying to portray? Any feedback from your agent, publicist, manager, or casting director will be helpful information to have. Please feel free to have them contact me directly to go over the specifics of your shoot.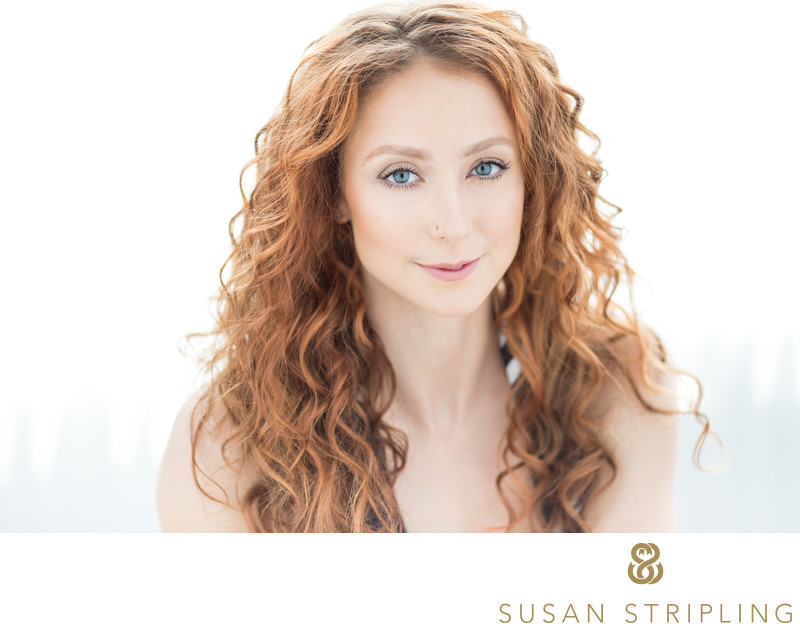 For women, please come to your session totally clean-scrubbed and with no product on your face or in your hair. For men, please do the same!

I highly recommend that you hire my makeup artist and stylist, as she will consult with you and create your look for the shoot.

Bring a variety of shirts and tops in different colors, and stay away from patterns and boxy, loose shirts. I highly recommend that whatever you choose to wear fit your body instead of obscuring it. We won't use your entire wardrobe, but bring as much as you feel comfortable with. I will help you choose what you're going to wear before we consult with your hair and makeup stylist.

Expect to spend about an hour in hair and makeup, and another hour to two hours actually taking pictures!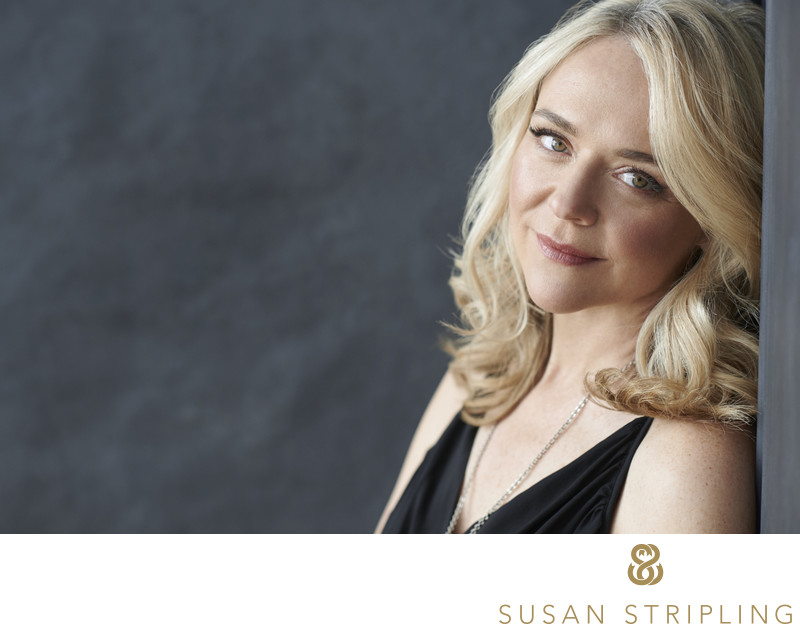 This New York headshot session features the amazing talents of Ali Stroker. It also shows exactly what I like best in a headshot.
First of all, the light is simple and classic. It's not dramatic or covered in deep shadows. You can see Ali's face perfectly, and the light helps mold her amazing features flawlessly. The look for this New York headshot season was dramatic, so the makeup by Michelle Elise Artistry elevated Ali's look to that dramatic level. We had her hair swept off of her face so that the focus would be on her expression and beautiful skin, without her long blonde hair obscuring the shot.
I love the simple black leather bustier top that she's wearing, and how it is dramatically offset by the texture and color of the red bolero. As an added bonus, the bolero and her lip color match perfectly. The choice of a dark background really makes Ali's blonde hair pop off of the darkness. It also provides the perfect backdrop for her beautiful skin and dramatic lip color.
If you are looking for New York headshots, please don't hesitate to contact me. I'd love to hear about your needs and work to customize a headshot session just for you. Whether you're an actor, a dancer, a performer, or totally new to the city, I'd love to be the headshot photographer for you. I look forward to hearing from you soon!
Location: 67 35th Street, Suite B528, Box 71, Brooklyn, New York, 11232.
Filename: SS4_6914.jpg.
1/200; f/1.6; ISO 800; 85.0 mm.