Portrait Studio NYC
I am often contacted by prospective clients in the New York area who are looking to book a portrait session. Some of these clients may have hired a portrait photographer before, but many are coming to my site for the very first time. If this is your first time to my website, welcome!
I have been a portrait photographer in the New York area since I moved here from Florida in 2008. I started my photography career in New York primarily photographing weddings, but my portrait business began evolving almost immediately.
In my first few years as a portrait photographer in the city, most of my portrait sessions took place on location. This was partly born out of necessity, since in my early days in New York I did not yet have my own studio. This let me get to know New York, and helped me create the incredible portrait location resource that you can find here on my website.
In 2015, I opened my first studio in the Crown Heights neighborhood of Brooklyn. I had begun booking more headshot sessions and studio portrait sessions, and it had become quite necessary to have my own dedicated indoor space. It was wonderful to have a location where I could photograph portraits, as well as meet with my wedding clients both before and after their events.
I outgrew that small Crown Heights studio in 2017, and moved into a more spacious and light filled location in Sunset Park. I absolutely adore every single thing about my studio located in the Industry City area.
While this little trip down memory lane might be a fun read, I am pretty sure that you did not come to my website to learn about my journey as a portrait photographer. You probably came here to find information about booking your own portrait session, so let's get right to it!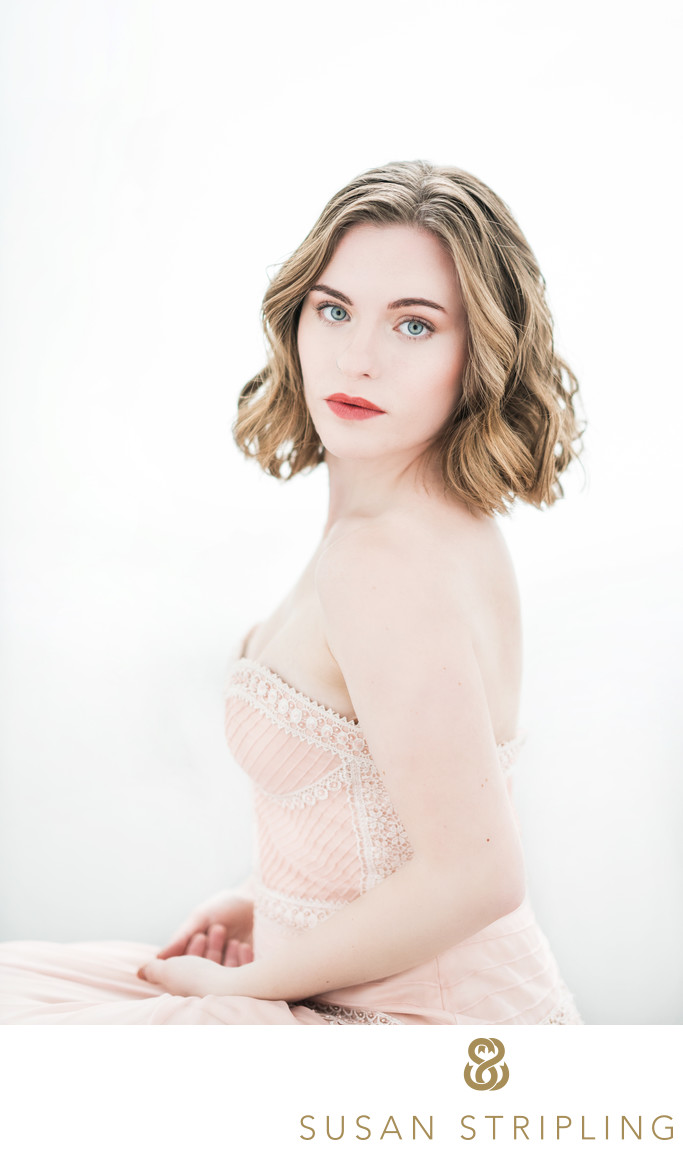 An example of high school senior photography
Types of portrait photography I offer
I have been thrilled over the years to offer the following types of portrait photography to my clients:
Maternity portraits, both solo and with a partner
Pet photography
Documentary birth photography
Newborn portraits (aka : the "Fresh 48" session)
First year photography
Birthday photography
Pre-wedding, post-wedding, engagement, and anniversary portrait sessions
Quinceañera and sweet 16 portraits
Senior year and prom portraits
Business and acting headshots
Modeling headshots and portfolios
Personal and business branding portrait sessions
..and so much more
Portrait rates and packages

My portrait rates and packages vary based on the type of portrait session that you are looking to book. For example, an hour spent with you and your family taking family photographs in Central Park with the fall leaves all around you is a different type of session than a 20 minute headshot session because you just need to update your LinkedIn profile picture.

Drop me an email, give me a call, or book an appointment to come into the studio and we can chat about your specific portrait photography needs. If you email me, and let me know what type of session you are looking for, I can send you over rates and pricing information in a follow-up email.

If you're not certain exactly what type of portrait session you need, just write to me or call me with a description of how you envision your session taking place. This will not only help me craft the perfect portrait session for you, but to direct you towards the correct rate and package information for that specific type of booking.
My studio location and details
As I mentioned before, my studio is located in the incredible Industry City section of Sunset Park, Brooklyn. It is 1000 ft.² of incredibly bright, charming studio space. We are close by to a subway stop, a parking lot runs behind our building, and it is also quite easy to walk to from surrounding neighborhoods.
Should your portrait session take place in my studio, I will provide you with incredibly specific directions to find my space in the building. As my studio is by appointment only, to protect the privacy of my clients, drop-in sessions are not available.
All sessions are by appointment, and I would love to talk with you to schedule yours today!
Location: 67 35th Street, Suite B528, Box 71, Brooklyn, New York, 11232.
Filename: _7525568.jpg.
1/50; f/5.6; ISO 320; 32.0 mm.