New York Proposal Photographer
Are you looking to hire a New York proposal photographer? If so, I would love to learn more about your plans!
New York is an absolutely magical place to get engaged. Whether you live here or have traveled here to propose, there is something so incredibly special about becoming engaged in such an iconic location.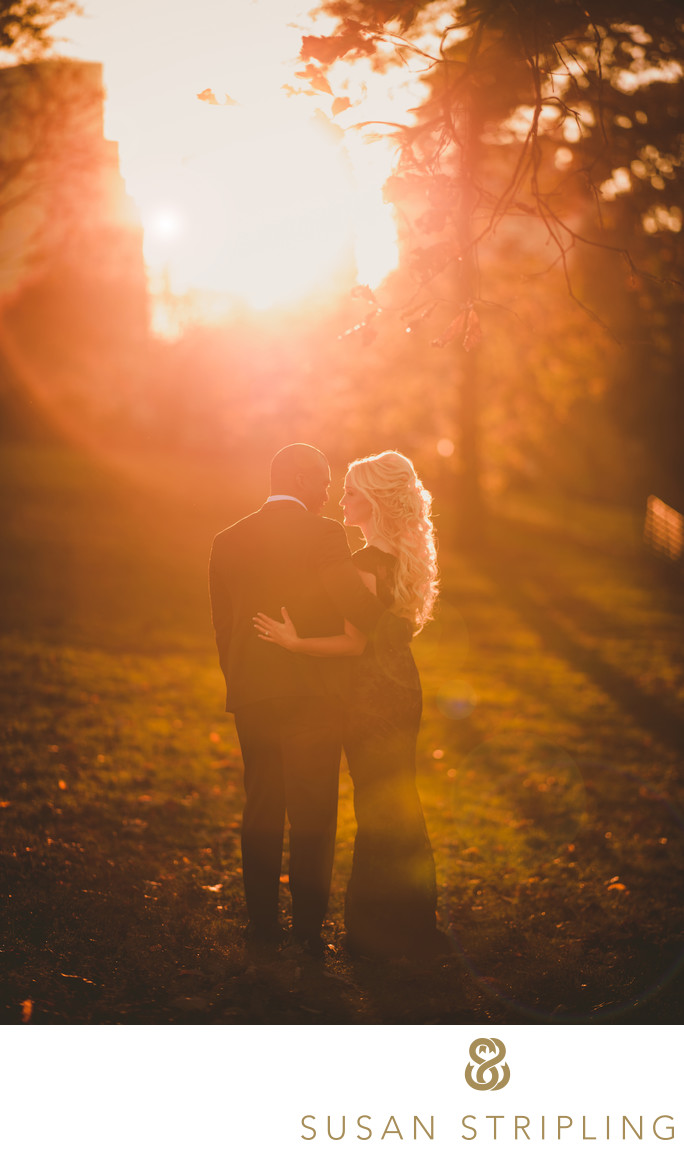 I especially love how hiring a photographer to document your proposal is a trend that seems to be sticking! I still wish that when my husband proposed to me that there was a photographer there to capture the moment. I love that commissioning a New York proposal photographer is becoming more popular as the years go by!
Places to propose in New York City
Propose in Central Park
If I had to choose one popular location for proposals in New York City, Central Park would be at the very top of that list.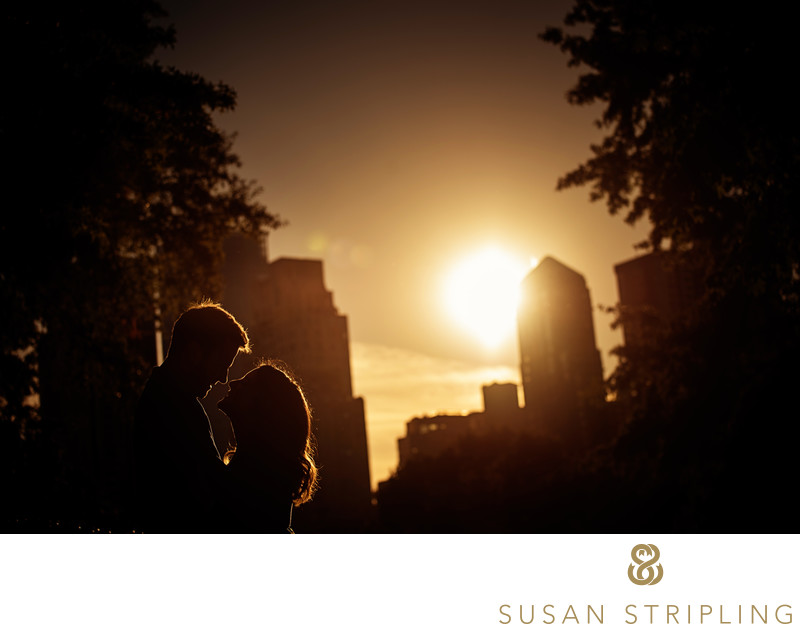 There are reasons why both locals and tourists flock to this gorgeous park to get engaged. After all, when you think of iconic locations in New York City there is nowhere more iconic than the famous Central Park.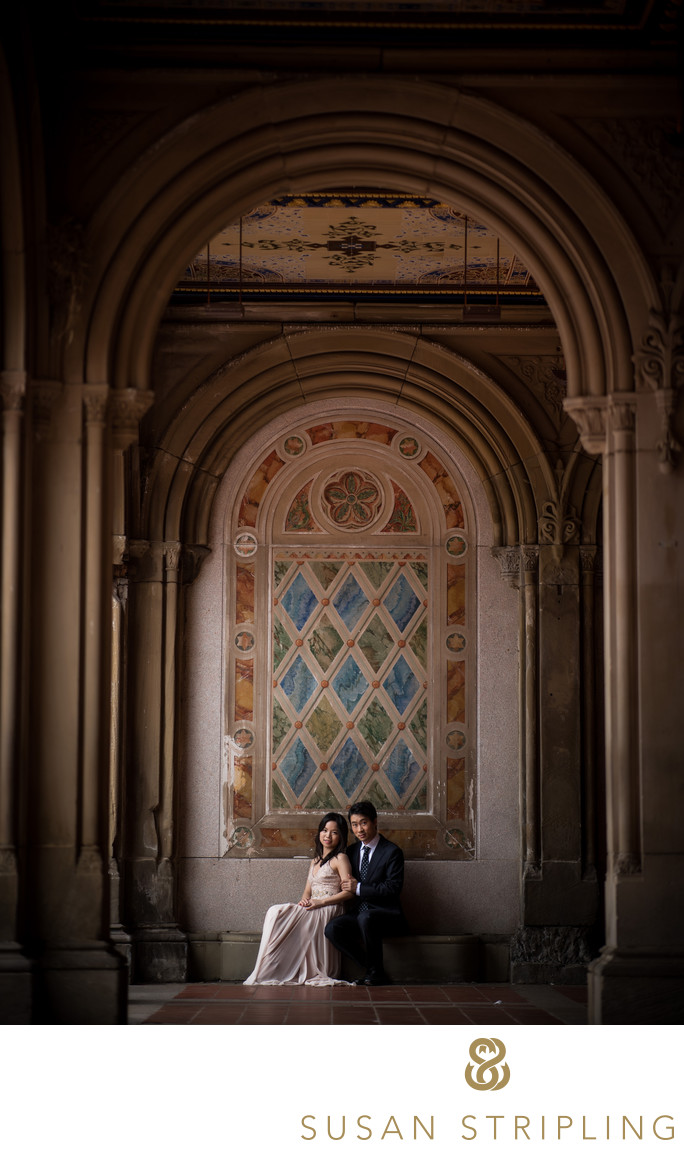 Popular photogenic locations in Central Park where people propose and get engaged include:
The mall (incredibly beautiful walking path in the middle of the park near the 72nd Street entrances)
Ladies Pavilion
Loeb Boathouse
Shakespeare Garden
The Pond
Central Park Zoo
Bethesda Terrace
Conservatory Water/Boat Pond/on an actual boat in that Boat Pond!
Starwberry Fields
The Ramble
Belvedere Castle
Propose on top of the Empire State Building
If you go to the very top of the Empire State building, you will see a view unlike any other in all of Manhattan. This is just one of the many reasons that the top of the Empire State Building is an incredibly popular location for people to propose!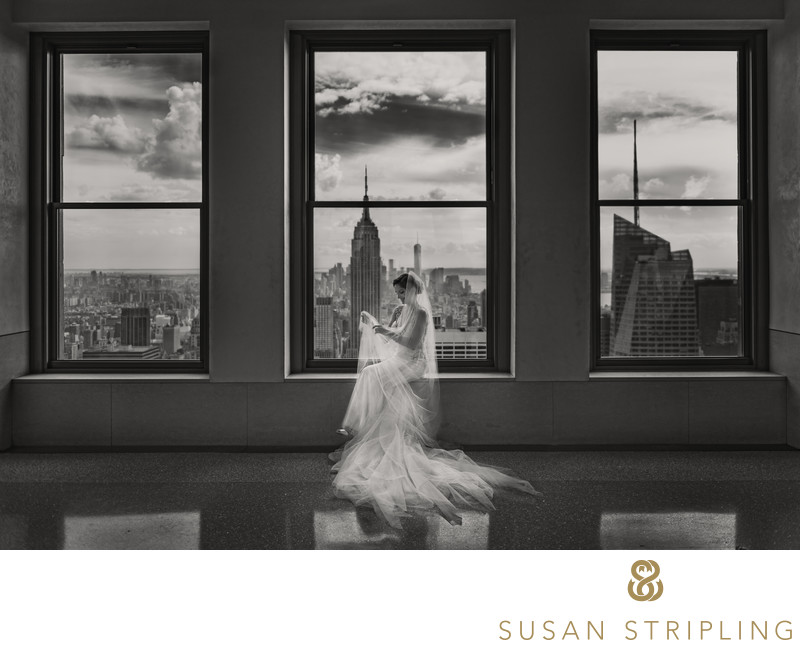 If you manage to get your future spouse up to the 86th floor Observatory, be on the lookout for the saxophonist. It is a little-known but absolutely fantastic tip that you can ask that saxophonist to play a special song before you start proposing!
You do not need any special permission or permits to propose on top of the Empire State Building. It can be a little bit crowded up there, but I have found that the incredible ambience more than makes up for a little bit of a crowd!
Propose on the Brooklyn Bridge
Another popular location for New York proposal is on the iconic Brooklyn Bridge.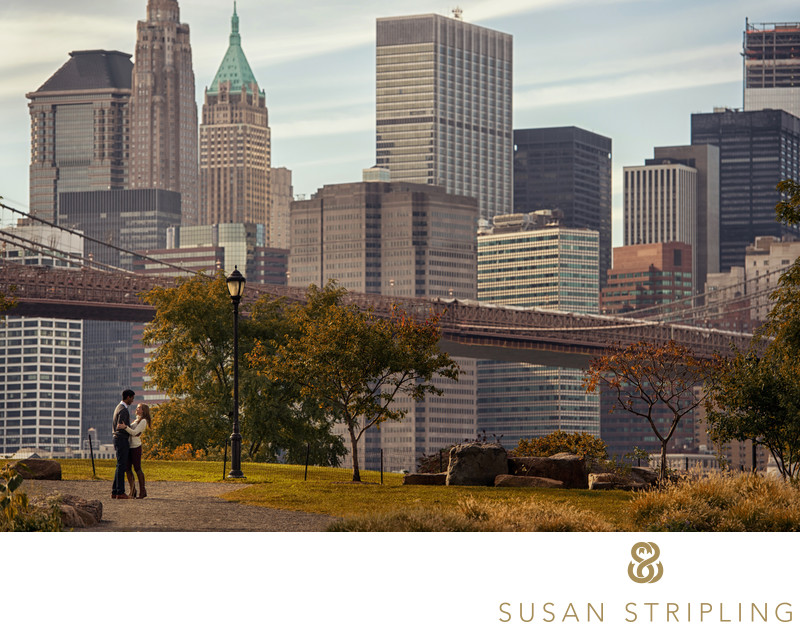 Proposing on the Brooklyn Bridge is not only incredibly photogenic, as it sets you up in an excellent location to immediately take engagement photos following your proposal!
Brooklyn Bridge Park is one of my favorite locations to take engagement pictures in all of the New York area. It is also conveniently located right in between the Brooklyn Bridge and the Manhattan Bridge.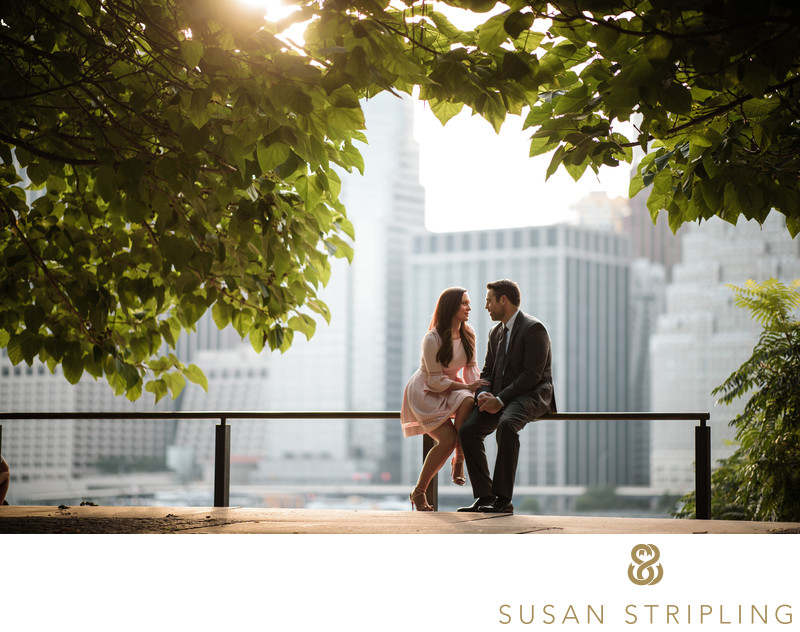 After you have proposed, and your future spouse has said yes, let's take a stroll off of the bridge and into the park. It offers up an absolutely miraculous view, and is an extraordinary location to continue your proposal and engagement photo session.
Many proposal and engagement photography clients want to show off the Manhattan skyline in their proposal and engagement images. After years of experience in the New York area, I can confidently say that the best view of the Manhattan skyline can be found in Brooklyn Bridge Park!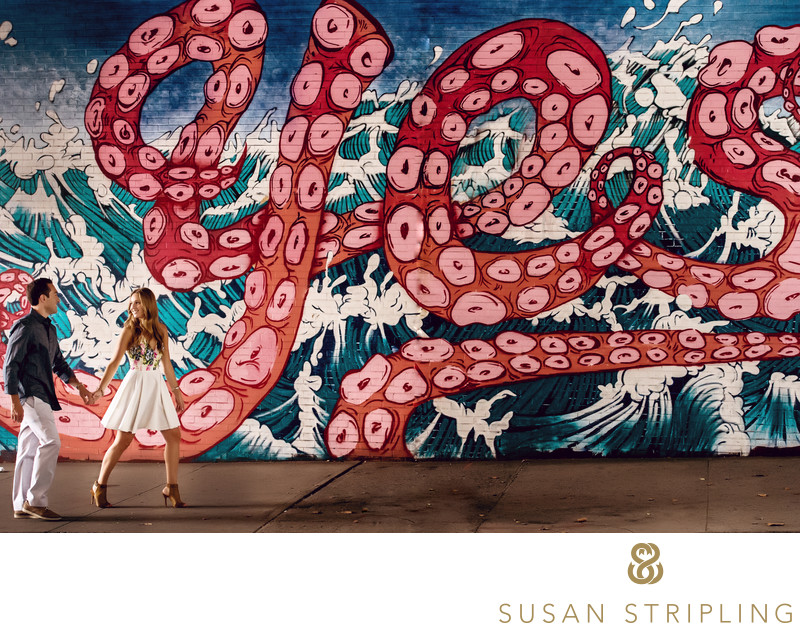 Propose on the rink at Rockefeller Center
While this is absolutely a seasonal choice, proposing on the ice skating rink at Rockefeller Center is certain to result in an enthusiastic response!
Rockefeller Center even offers proposal packages to make the experience all the more special!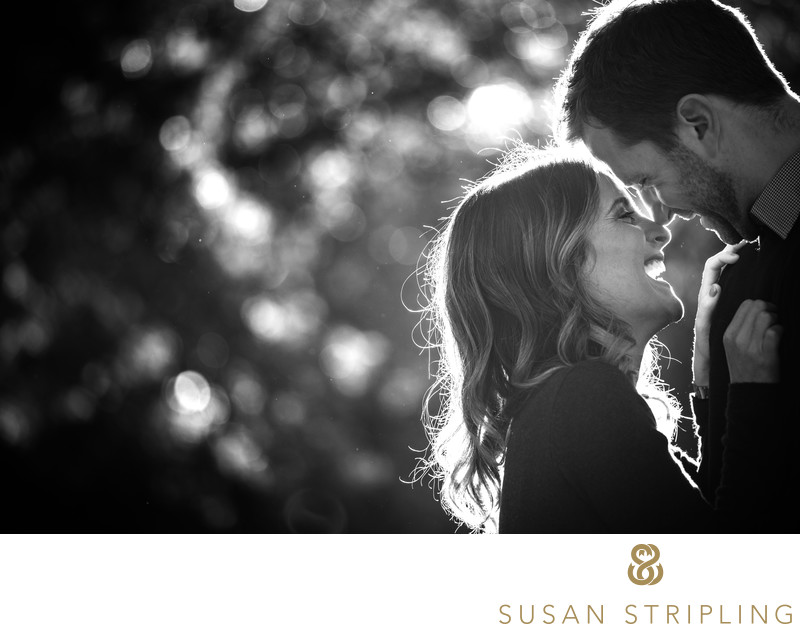 There is something absolutely magical about New York City in the wintertime. From the tree at Rockefeller Center to the holiday lights that cover the entire city, the holiday atmosphere is unlike anywhere I have ever been. It is a wonderful time of year to get engaged, and Rockefeller Center is a wonderful location to propose.
I am completely enthralled, entranced, and amused by the proposal packages offered by Rockefeller Center. Beginning with the silver package, there are so many excellent amenities to make this experience all the more special. You get to bypass waiting lines, have exclusive ice time in the center of the ring, play whatever song you'd like while proposing, and then toast with champagne by the edge of the rink.
If you upgrade to Rockefeller Center's gold package, your champagne is upgraded, the champagne comes with two flutes, and you are upgraded with access to the VIP igloo!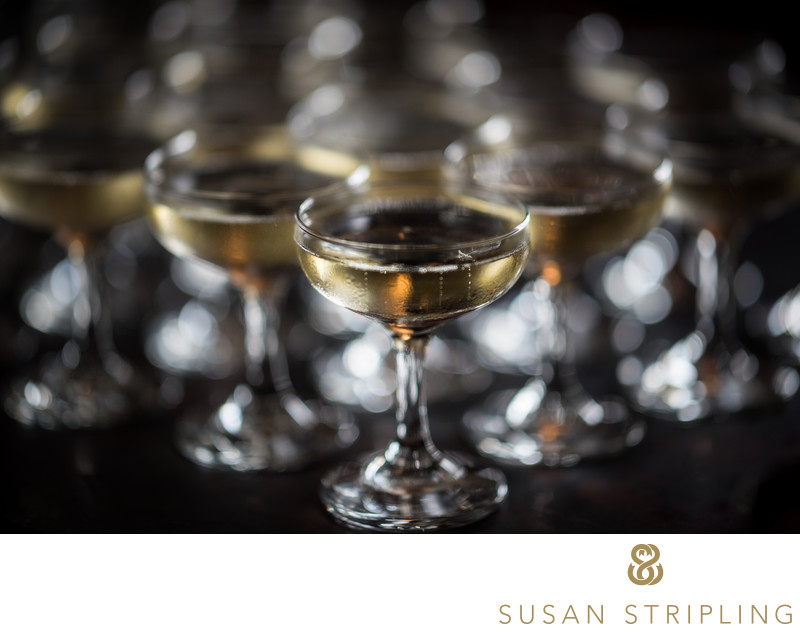 Rockefeller Center's platinum proposal package really sets itself apart from the other two. After you senior status of the newly engaged couple, you get to experience a five course tasting menu. There will be roses waiting for you at your table, champagne, and a romantic atmosphere unlike any other.
(Please bear in mind that these packages and rates were researched in 2017, and are obviously subject to change at any time!)

Propose at Lincoln Center
When I very first moved to New York, one of the first landmarks that I encountered was Lincoln Center. It was a summer night, and I went with a boyfriend to take swing dancing lessons in front of the fountain.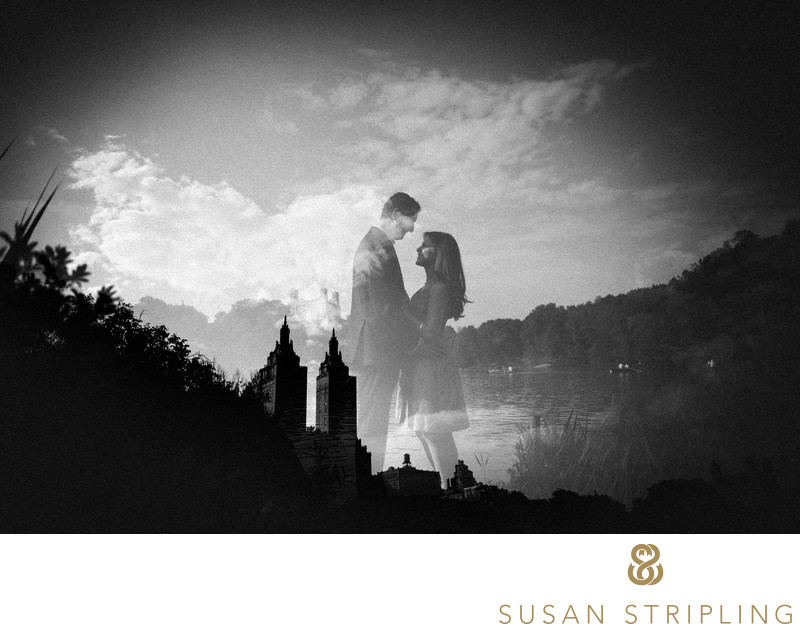 I was immediately entranced with this incredible location, and that infatuation continues to today.
If you are looking to propose at Lincoln Center, a highly recommend you check out the location at night. When Revson Foutain lights up in the evening, it creates an incredibly romantic atmosphere.
Imagine proposing all the water of the fountain crashes next to you, with the warm ambience of Lincoln Center around you, and the beautiful Manhattan night sky above you!
Propose at the Hayden Planetarium
The Hayden Planetaruim at the American Museum of Natural History is a fantastically unique location to propose.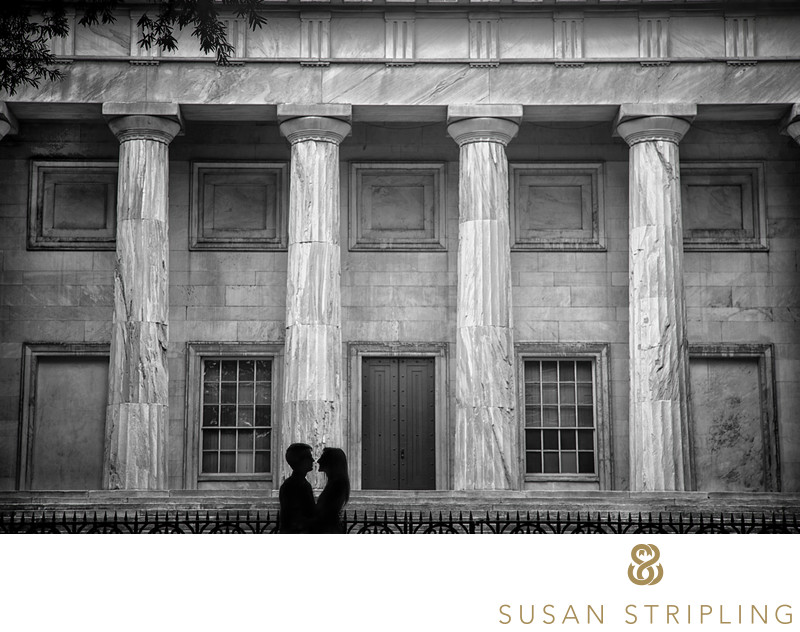 Do you want to actually get engaged under stars and planets? Do you think science is super sexy and romantic? I don't know about you, but I think a planetarium would be an absolutely amazing location to pop the question!
The American Museum of Natural History is a beautiful venue, and the Hayden Planetaruim is incredibly romantic. While it might not be the first location you think of when you are considering proposing in New York, it could absolutely be the perfect location for you!
Propose on a Rooftop in New York
Many people who have traveled to New York City to propose want to find a romantic rooftop views of the city. If you're not from New York, it can be difficult to know where to begin the search for the perfect rooftop.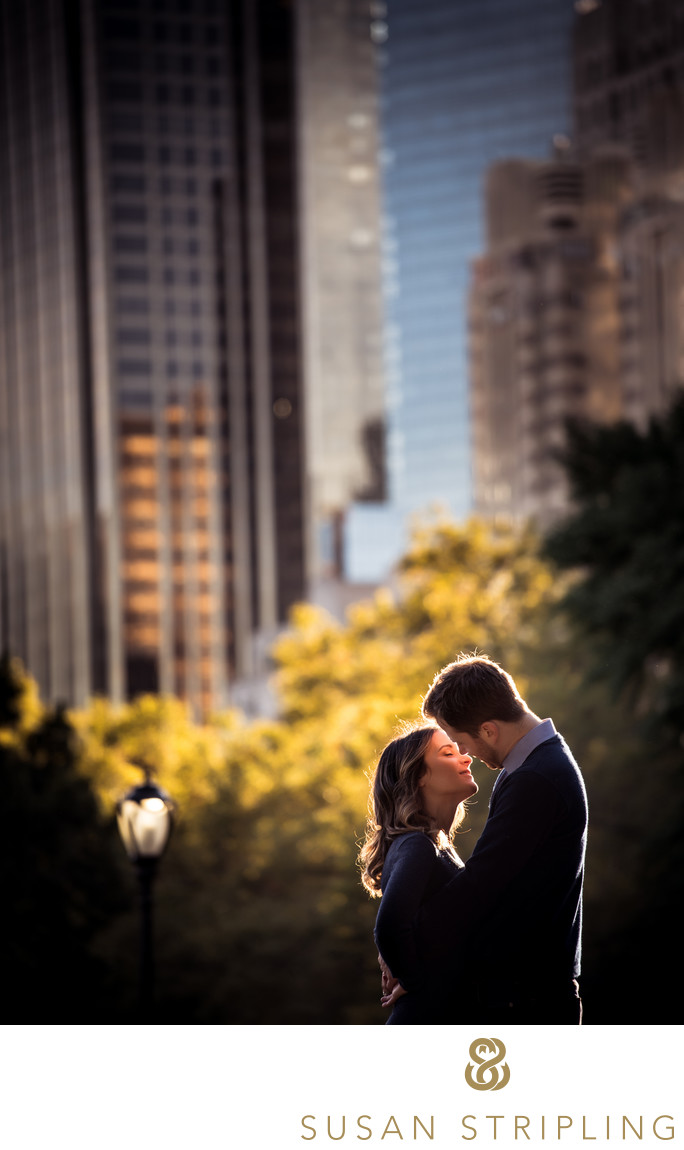 Consider these amazing rooftop locations if you are looking to propose in New York!
AVA Lounge on the terrace of the Dream Hotel
230 Fifth, with views of the Empire State Building
Bookmarks Lounge at the Library Hotel
Roof Garden Cafe and Martini Bar at the Met
Z Roof at the Z Hotel NYC
The roof deck at the 1 Hotel Brooklyn Bridge : this has spectacular views of the Manhattan Bridge, Brooklyn Bridge, Brooklyn Bridge Park, and the Manhattan skyline.
Unique Locations to Propose in New York
Other incredible New York locations to pop the question include:
The Metropolitan Museum of Art roof garden
The New York Public Library
Times Square
Outside of your favorite Broadway show
Brooklyn Bridge Park
A cruise on the harbor
Top of the Rock
Governor's Island
St Luke's Garden
The American Wing at the Met
620 Loft and Garden at Rockefeller Center
Alphabet City Community Gardens
The Little Red Lighthouse
Bow Bridge in Central Park
Madison Square Park
Coney Island
Washington Sq., Park
Bronx Zoo
Brooklyn Botanic Garden
Grand Central Terminal
Staten Island Ferry
Bryant Park
Gantry State Park
A horse and carriage ride through Central Park
Greenacre Park
Battery Park
Four Freedoms Park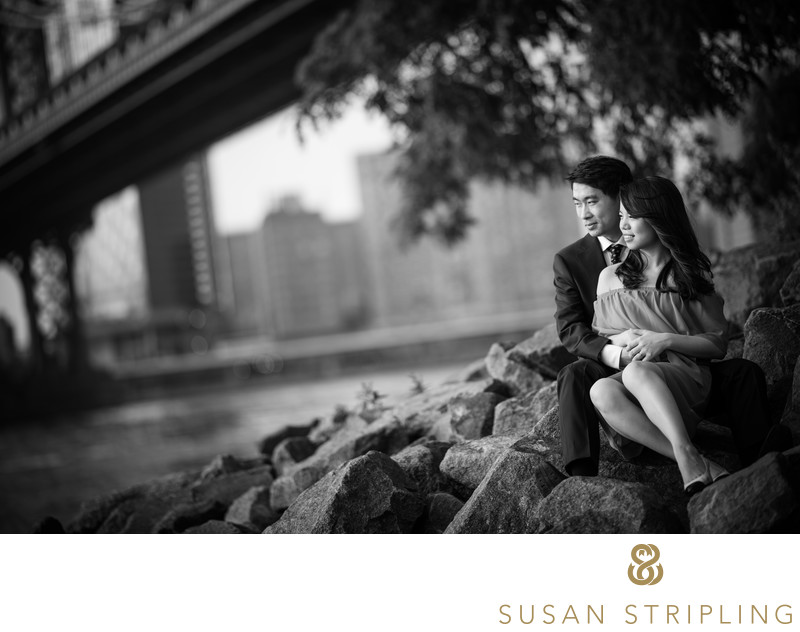 Hiring a New York Proposal Photographer
You have decided to pop the question, you've picked the perfect location, and now it's time to find a New York proposal photographer to document the event!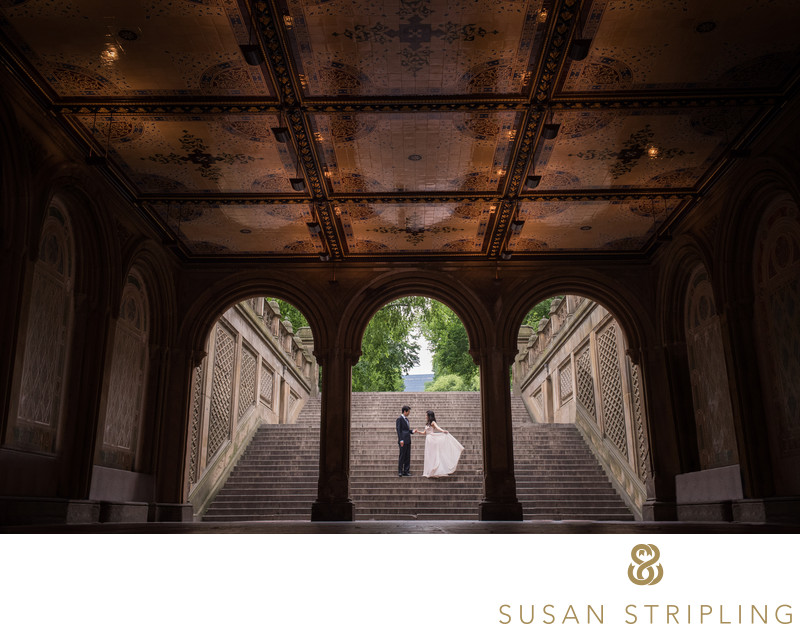 If you are planning on getting engaged in the New York City area, I would love to hear from you. I would love to talk to you about your plans, learn how you plan to propose, and work with you to create a proposal and engagement photography package that meets all of your needs.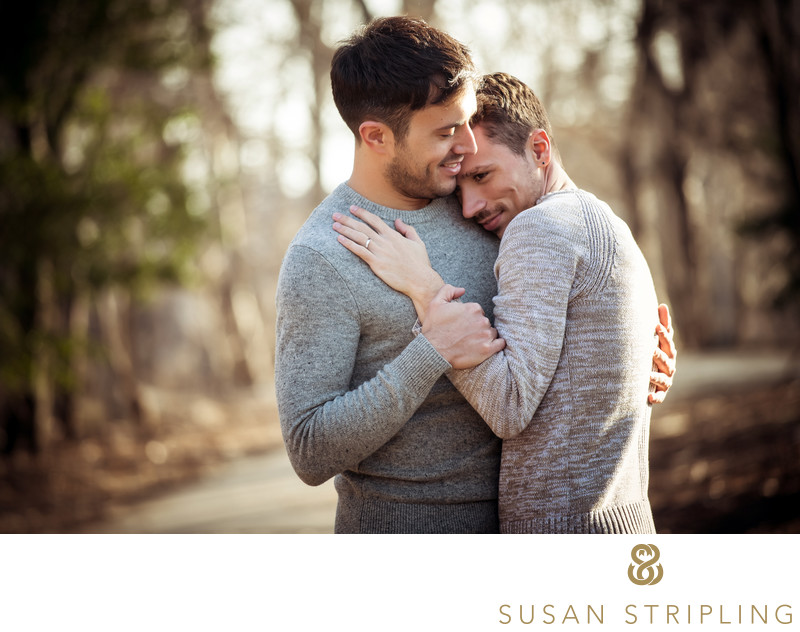 It is incredibly fun to work with my clients on their proposal and engagement photography sessions. From figuring out where I'm going to hide to determining exactly when you will drop to one knee, creating these sessions is a fantastically collaborative process!
Please drop me an email or give me a call if you would like to talk about your proposal. I wish you all the best and I can't wait to hear about your plans!
Filename: nyc-proposal-photography.jpg.
1/1600; f/2.8; ISO 100; 28.0 mm.
Privacy Policy.