What to wear for engagement photos
If you are having a New York engagement photo shoot, you probably have a lot of questions!
One of those questions might be "What do we wear for our engagement pictures?" After you've chosen your location for your engagement pictures, set your date and photo shoot time, then it's time to open up your closet and choose something to wear!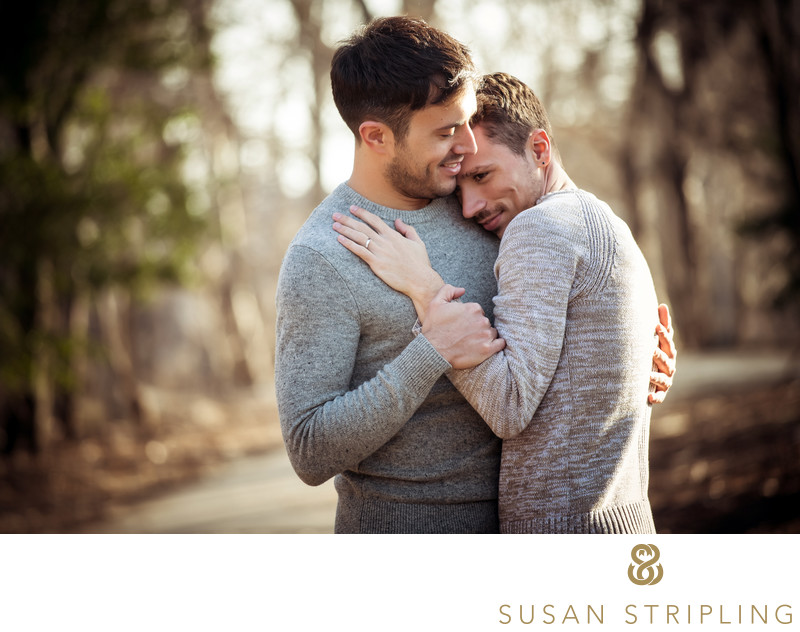 What do we wear for our engagement pictures?
What to wear for engagement photos has been a discussion on Facebook, google, message boards for brides and grooms, and the internet at large for ages now! After all, what you choose to wear in these photos will live on for generations to come, so there is a lot of pressure to "get it right!"
After eighteen years as a professional wedding, engagement, and portrait photographer, I have compiled my best advice for what to wear for engagement photos. Whether you're having your engagement pictures taken indoors or outdoors, in the summer or the winter, this is universal advice to all engaged couples!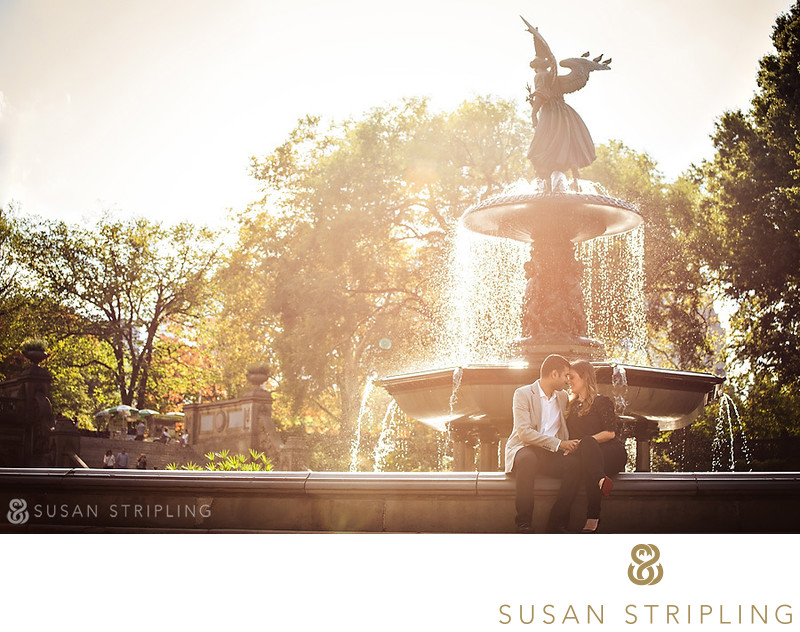 As always, take this advice with a grain of salt. Rules are made to be broken, and the most important thing you can do is follow your heart - after all, that's what resulted in this engagement in the first place!
Basic tips for choosing your engagement session outfit
Pick your outfit well in advance of your actual engagement session date. Try it on. Try it on again. Get it cleaned or dry-cleaned if you need to. Make sure you have time to get it back in case something goes wrong. Try it on with any hats, scarves, accessories, or shoes you're considering wearing with the outfit. The last thing you want is to be scrambling to change outfits because you thought you wanted to wear something that you actually don't love when the entire outfit is compiled and put on together!
If you're putting together an outfit and you're not sure, lay it flat, take a picture, and send it to me. You can send me your outfits together. You can send me choices. You can send me dozens of choices. Since I've shot a lot of engagement sessions, I can help you choose an outfit if you're truly stuck! It's my pleasure to help out!
Make sure you can MOVE in your outfit. While the tightest leather catsuit in the world might look spectacular on you, if you can't lift your arms in the leather sleeves to hug your beloved, it might not be the best choice of attire for your engagement shoot! Can you sit? Stand? Walk comfortably? Hug? Make sure that you can interact with your future spouse comfortably in whatever you choose to wear!
If you're debating a new cut or color for your engagement shoot, cut and color your hair well in advance of the session. This gives your cut and color time to settle. It also gives you time to make another change if you don't like what you've done!
Consider using your engagement session as a time for your hair and makeup trial. Bonus : you get awesome hair and makeup for your engagement shoot! Make sure to schedule enough time that you can change your hair and makeup back to "normal" if you don't like the results of the trial!
If you are bringing a change of clothes, make sure it's packed well. We don't have access to a steamer or an iron while on location, so make sure you pack everything neatly so that it doesn't wrinkle in transit!
Bring everything you need in one bag if possible. Since NYC isn't really a driving city, most engagement sessions take place while walking around...a lot! If you have a change of clothes or shoes, your purse or other things you need to bring with you, consolidate them into as few bags as possible. This will make transporting things even easier during the shoot. The last thing you want to worry about is dragging a lot of bags around the city while also trying to concentrate on your engagement session experience!
If you want to tan, tan in advance. Much like a hair cut or color change, you want to make sure that any tanning that you do has a chance to "settle" before your engagement shoot. It will also give you time to exfoliate some of it away if you don't totally love the results!


Wear clothes that you would actually wear!
If you are most at-home in jeans and a tank top, don't wear a ball gown to your engagement session. If you love to dress up in a three piece suit, jeans and a sweater might not result in images where you feel that you look like you.
When I look back on my own engagement pictures, I am wearing an outfit that is precisely what I'd wear in everyday life. Torn jeans. A simple tank top with an awesome jacket. Rings on almost every finger. While my own personal style might change over the years, I was wearing what was uniquely me at that point in my life.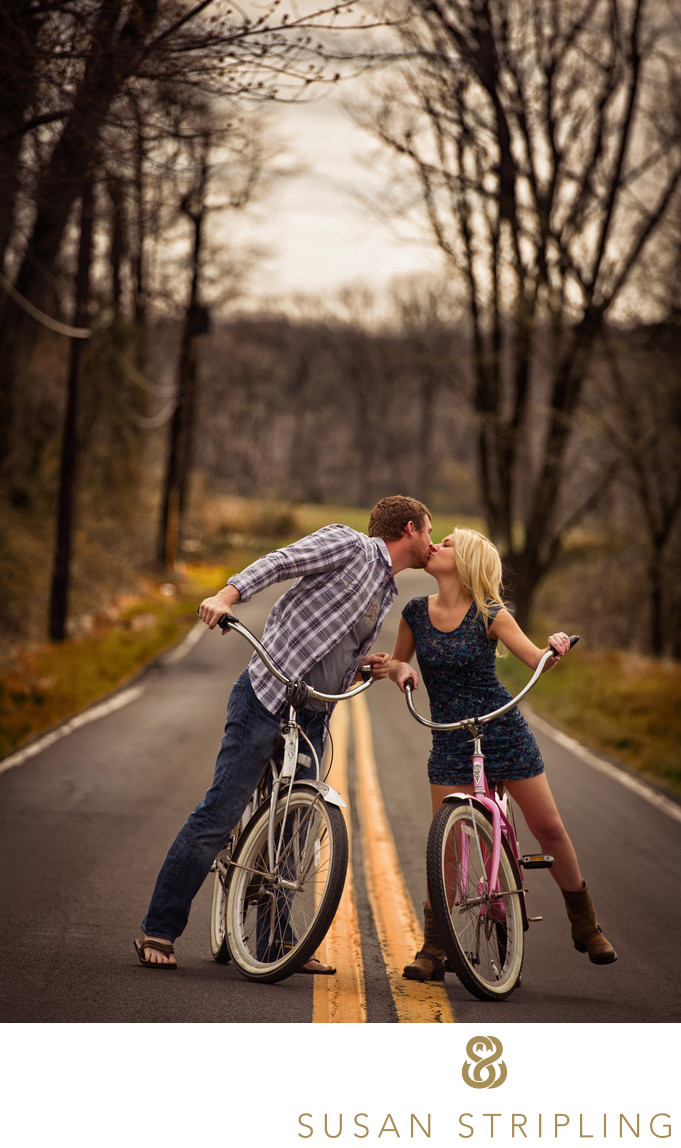 (For the record, I still wear rings on almost every finger. And I love torn jeans and awesome jackets. Some things never change.)
What do you like to wear when you feel the most you? Do you gravitate towards comfort, style, athleisure, formality? What about your future spouse? How can you fit those two styles together in a cohesive look?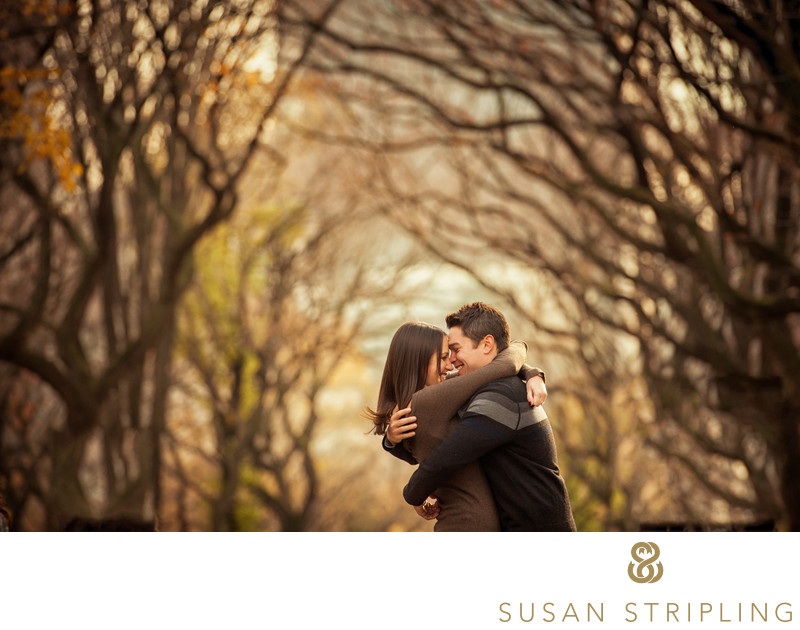 Make sure your outfits compliment each other without matching
If you both love jeans and sweaters, don't wear the same jeans and the same sweaters. Wear jeans and sweaters that compliment each other without being carbon copies of each other.
Gone are the days of jeans and button-up white shirts. No more khakis and black sweaters. There are no rules about matching for your engagement photos.
Keep an eye out for solid colors or simple patterns. Stay away from hugely visible logos, clashing patterns, and any graphics that will draw the eye away from your faces.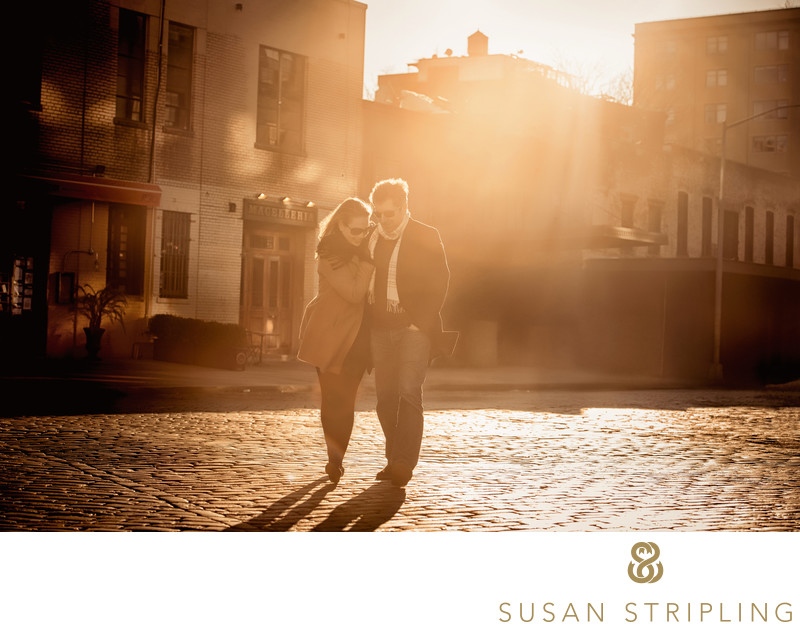 Should we let our chosen location dictate what we wear?
If you're having your engagement photos taken in Central Park, you might naturally want to steer yourself towards sweaters, jeans, and cozy boots.
If you are shooting your engagement photos amidst the murals and graffiti of Williamsburg, Brooklyn, you might be eyeing a pair of leather leggings and a bold top, or a sharp three-piece suit in a bold color.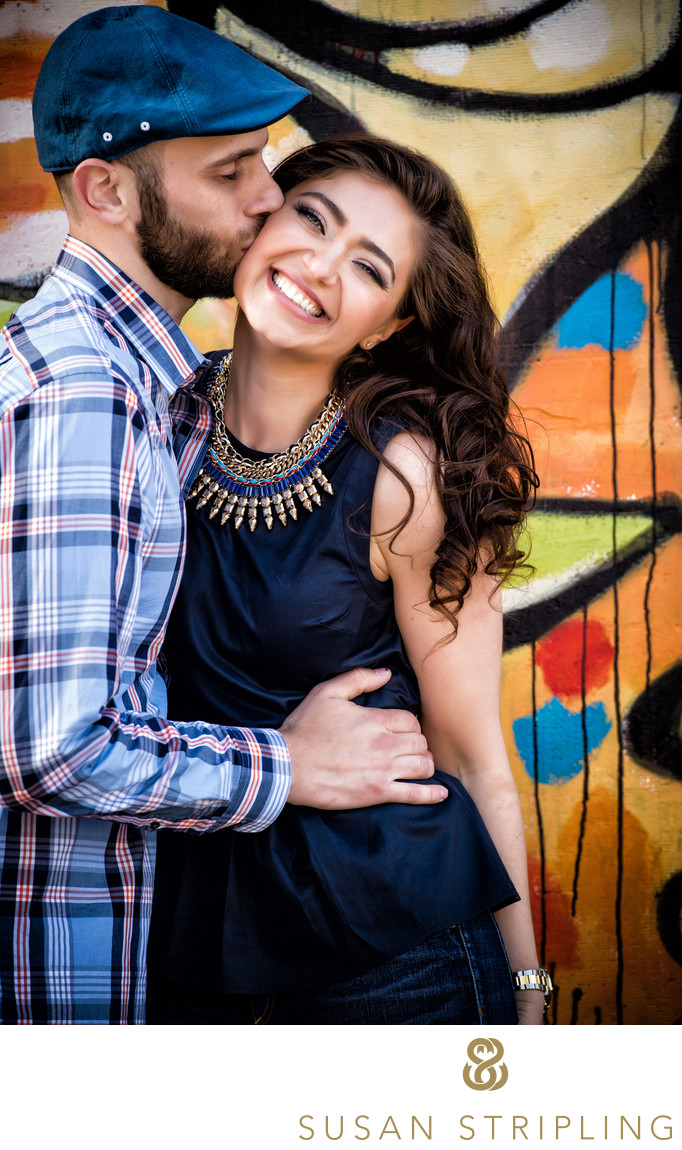 There are two schools of thought when it comes to matching your attire to your engagement session locations:
Do it.
Don't do it.
I love the look of a russet red sweater, blue jeans, and brown boots against the backdrop of Central Park in the fall. The colors compliment each other, and feel fully organic in the space. I love a brown tweed suit against all that nature, and I love it when clients completely embrace tailoring their outfits to compliment their chosen engagement session shoot space.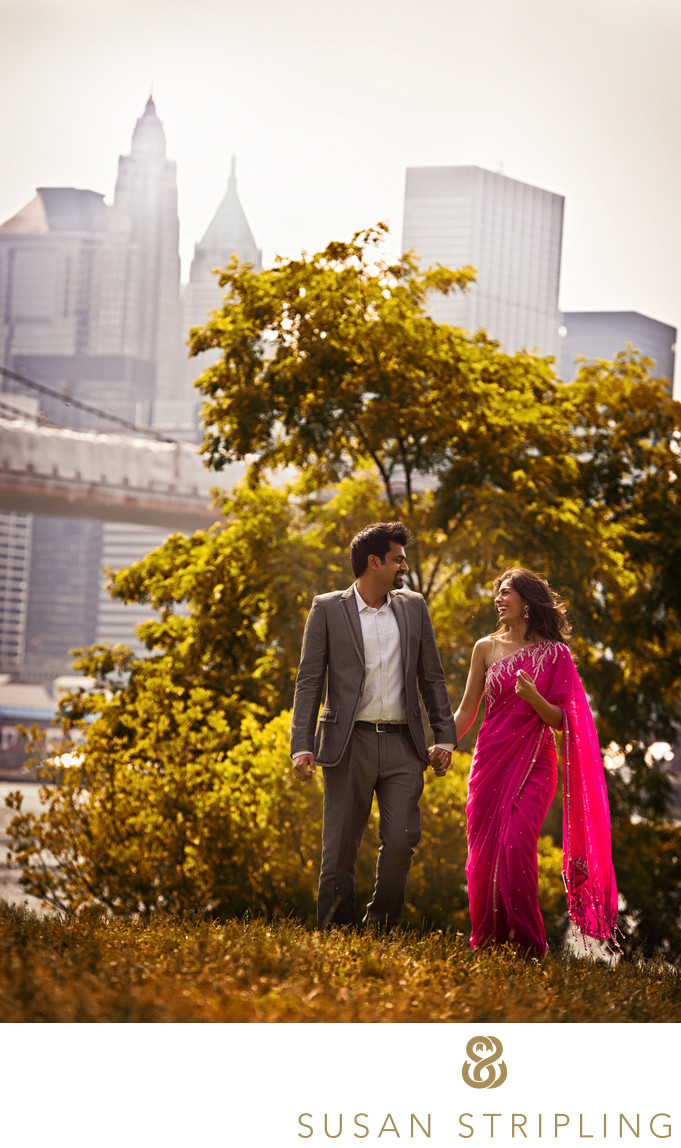 I also love it when clients buck the norm entirely and go the OPPOSITE of what you'd expect in a given space. A ball gown in the middle of Times Square. Formalwear in Central Park. Ripped jeans and a tank top on the steps of the New York Public Library.
What speaks to you most? Do you want to compliment your scene? Juxtapose a totally out of the box look against the norm? Do you want to change in the middle of your session and do both?
The sky's really the limit, and all rules are made to be broken. Be you! What speaks to you?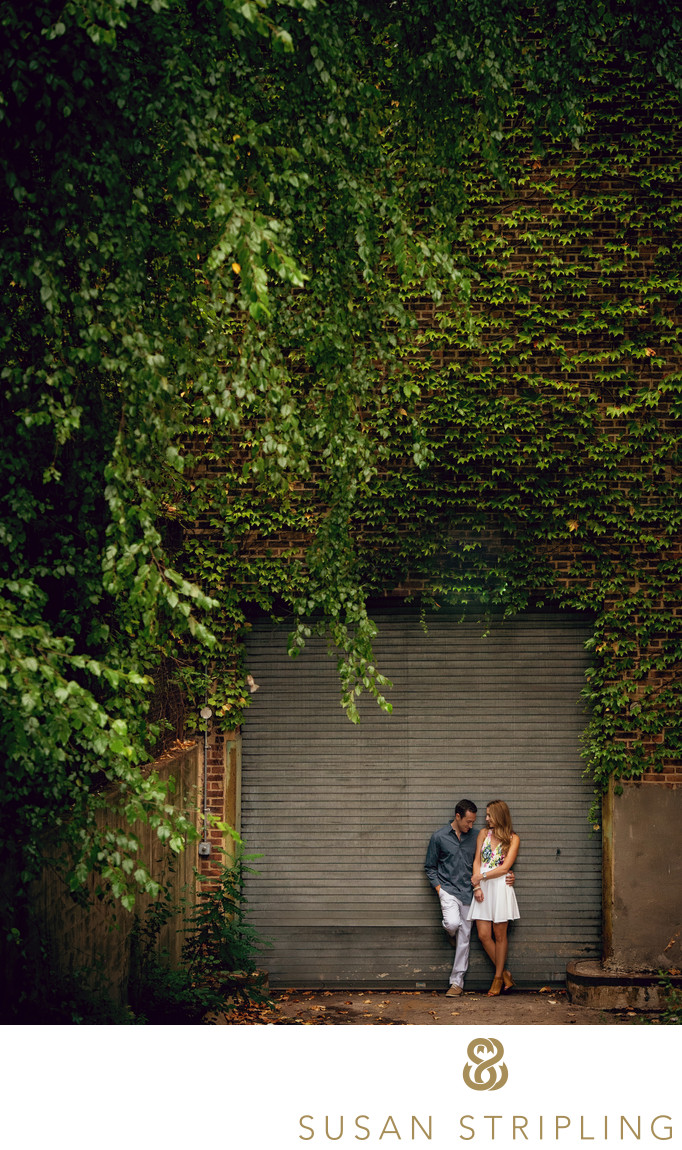 Don't be frightened of bold colors
If I read one more article that tells brides and grooms to stay away from "bold colors" I might cry. I have no idea when the internet banded together to decide that pastels and soft neutrals were the only way one could dress for an engagement photo session.
If you love bold colors, embrace them. Wear them. I love a good deep emerald, a brave bright mustard, the richness of ruby red, and so forth. I think that a bold pop of color against a park or city skyline can be an eye-catching thing without distracting from you two together!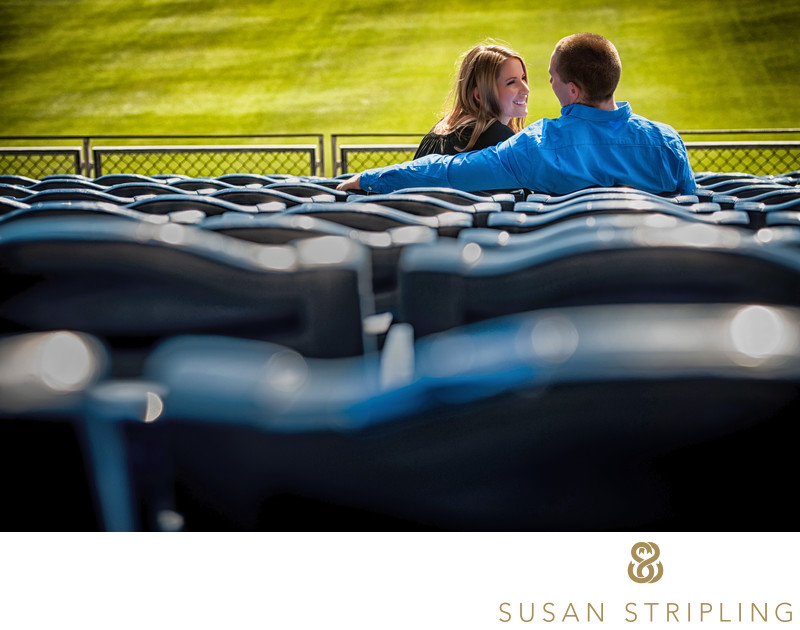 If you love being bold but you're just not sure if that's the best choice for you, consider packing one bold outfit and one less-bold choice. You can always take a second to change in the middle of your session to get another look!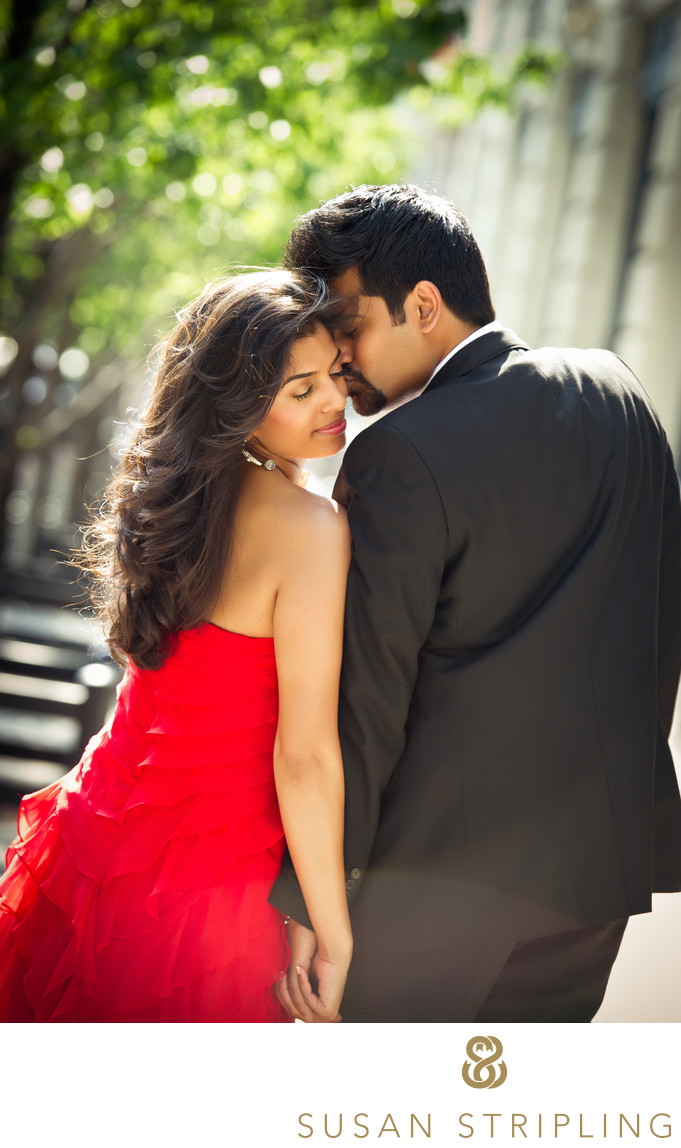 Consider your shoes
I hate wearing heels. I love boots with a good heel and some awesome wedges, but I am well aware I can't spend much time in those shoes without my feet really hurting.
How far are you going to walk during your engagement session? Are we planning to traverse Central Park from top to bottom? Do you envision yourselves walking across the Brooklyn Bridge during your shoot?
If you do those things, will you be comfortable in whatever shoes you choose?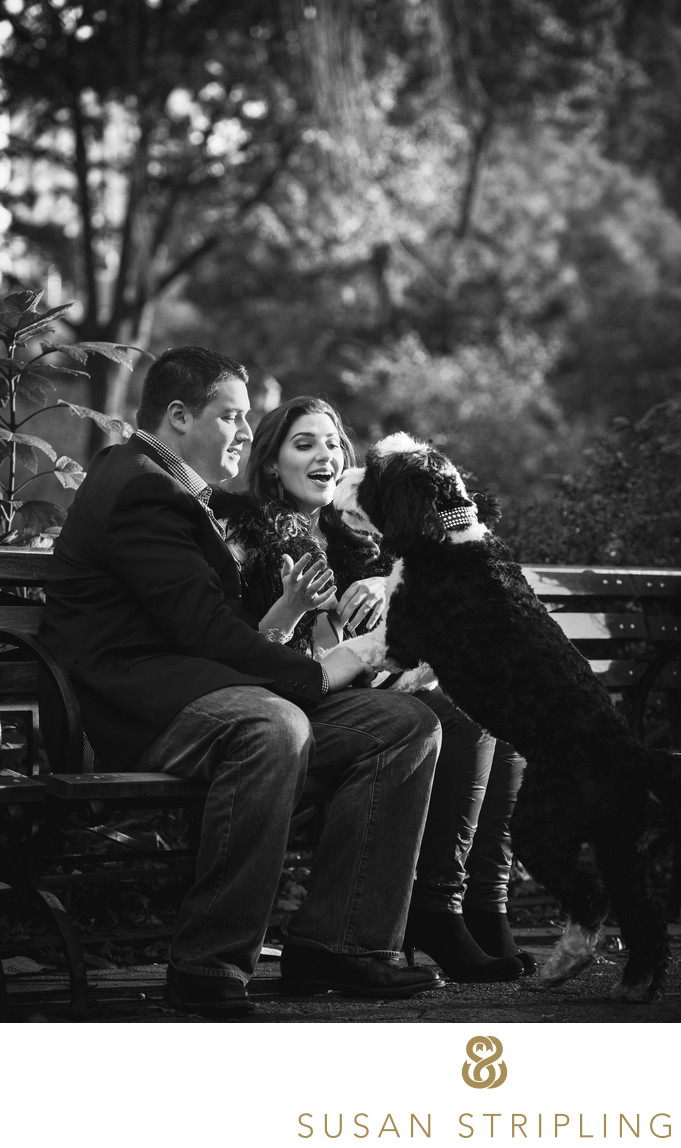 Women, if you want to wear heels or a wedge that you love but know you won't be super comfortable in, please pack a spare pair of shoes for the purposes of walking only! We can tuck them in your bag and you can change into your less-comfy shoes for the pictures. This way you'll be comfortable while walking, and have the look you desire in the images!
Men and women alike, make sure you're wearing shoes you've fully broken in. Whether you're wearing walking sneakers or flats, sandals or lace-ups, make sure that you've worked out any spots that pinch or rub. You don't want to have aching, blistered feet distracting you from your engagement photo session!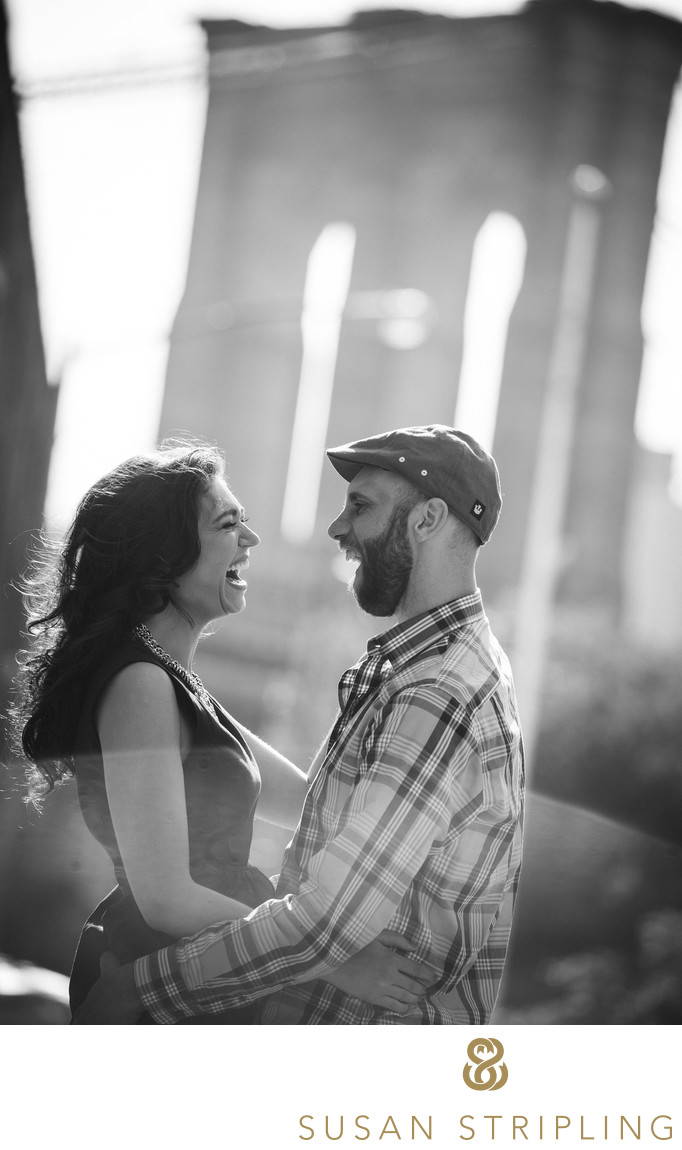 How much should the season affect what I wear?
The season can drastically affect your outfit options for your engagement session pictures! You won't be able to wear your favorite sundress in the winter. Your best new wool coat would be hugely out of place in the summer.
For spring and summer engagement sessions, dress light and cool. You want to make sure that you're not too bundled up, as becoming overly hot in your engagement session outfit will mean that you've got sweat dripping while you're trying to snuggle up together!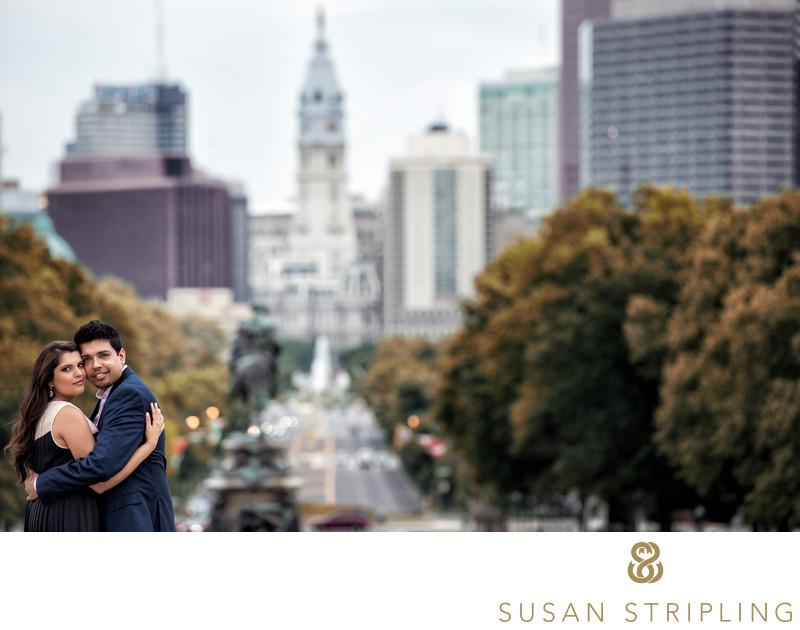 If your engagement session is in the spring, bring a light jacket or light sweater along with you. Sometimes the temperature can drop abruptly, and you don't want to be shivering or too cold!
If your engagement session is in the fall, take the opportunity to start snuggling up! Popular outfits for fall and autumn engagement sessions include cozy sweaters, jeans, sharp suits, warm dresses with tights and boots, scarves, and sometimes even a hat (or two!). Layers are key to fall engagement session outfits, as you can add and remove those layers as it gets warmer or colder.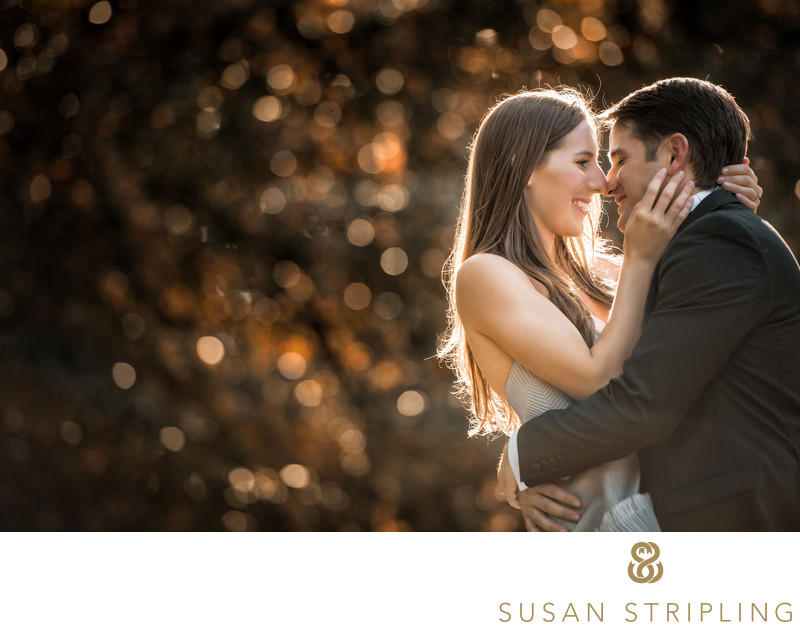 Winter engagement sessions give you more versatility than you might think! Warm woolen ponchos (which I became completely obsessed with while in Iceland), sharp winter peacoats, huge cozy scarves, even a packed blanket to cuddle under! Try not to get too bulky with the outfits, even though it's cold!
Some winter engagement session outfit tips that I've picked up over the years are:
Wear fleece leggings or tights under your outfit.
Consider other thermal or smartwool undergarments under your outfits. Long sleeved shirts under your sweaters, etc. Layer, layer!
Pick up some hand warmers for your pockets! I even buy the ones that go under your toes in your boots, since it can get wicked cold in NYC in the winter! These hand warmers might not seem like much, but they've kept many a winter engagement, wedding, and elopement client warm during the cold days!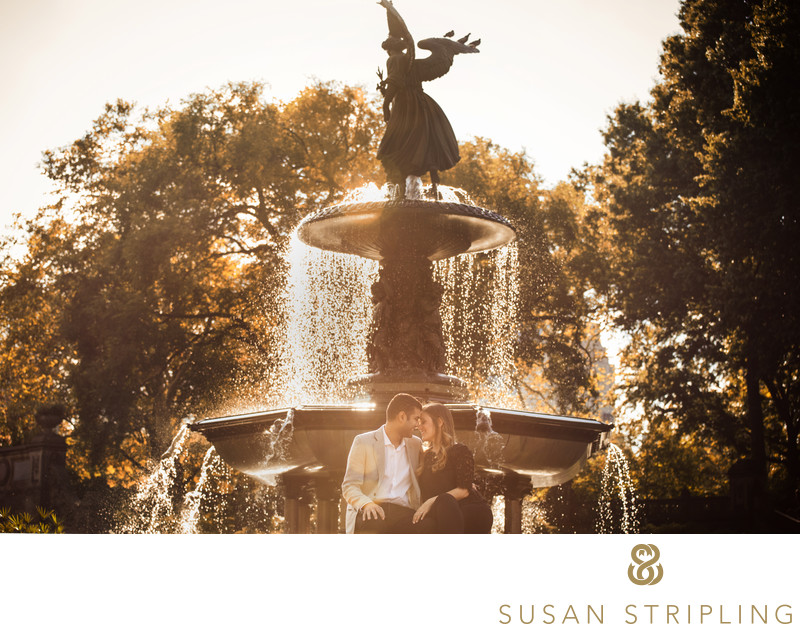 What if I don't own the outfit that I want?
There are many times that I want to dress up without the budget to spend on a one-time outfit. I highly suggest checking out Rent the Runway if you're looking for an outfit for this occasion only.
I use Rent the Runway if I've got a speaking engagement or one-time-only social occasion that needs an amazing outfit!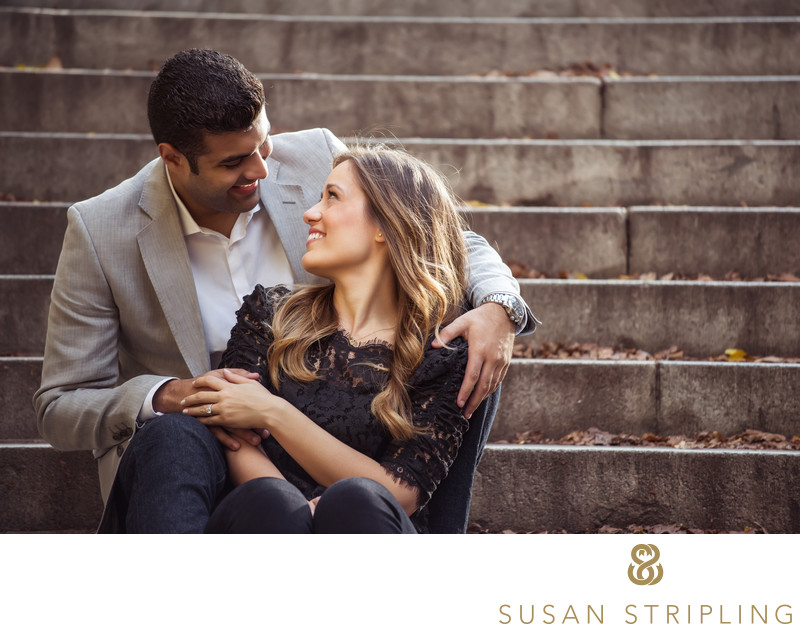 How many times should we plan to change clothes during our engagement shoot?
Most of my engagement sessions last an hour, two hours at the most.
Most of my clients opt to wear one outfit.
However, many clients desire a change of clothes, and that's okay! Understand that your time spent changing is part of the session timeline, so plan accordingly. I can help you pre-scout a location that you can pop into and change up your look without taking too much time away from the photography portion of the engagement session.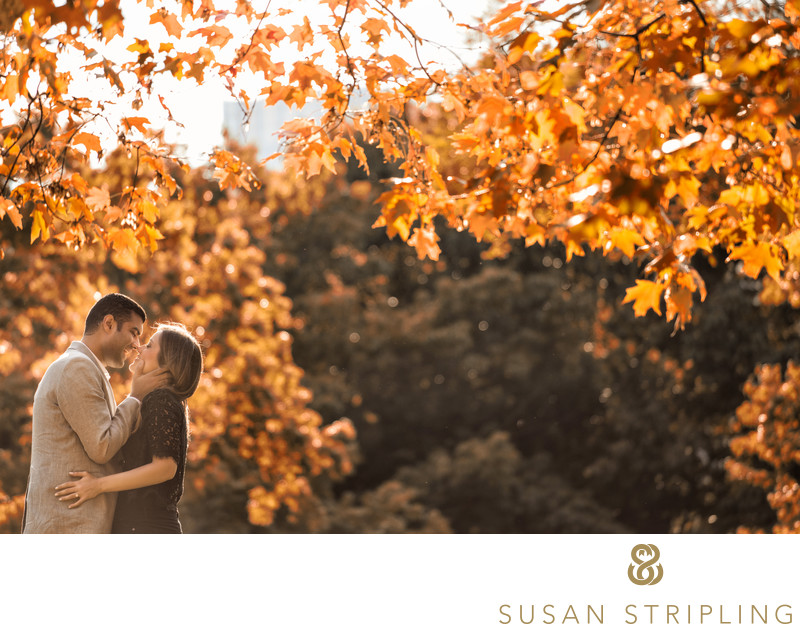 If you're not sure how many looks you should bring, how much time you have for your engagement session, or where you can change your outfit in the middle of your engagement session, just ask me!
I've been photographing engagement sessions in NYC for over a decade, and I have a lot of experience in finding bathrooms, changing spaces, shoot locations that allow for each quick changes, and more!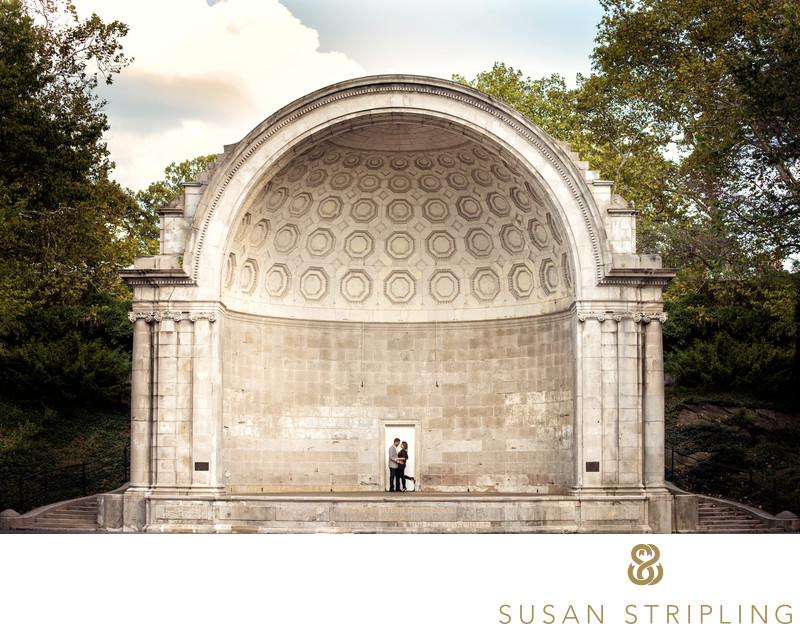 Do we need to bring props to our engagement shoot as well as our outfits?
Need? NO.
If you have a sign with your wedding date on it, and you want to feature that sign in your save the date cards, by all means, bring the sign.
If you have something truly meaningful that you'd like to incorporate in your images, absolutely.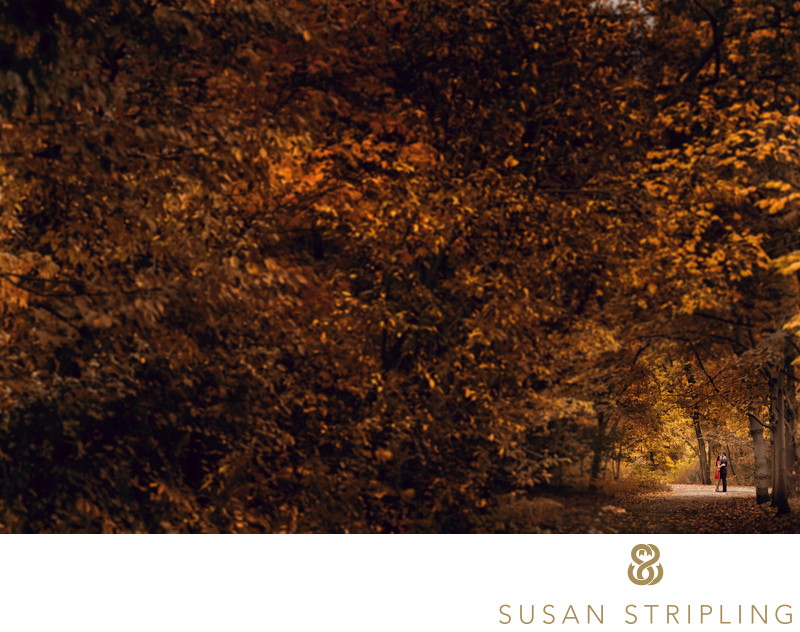 Please don't feel that you need to bring any of the following:
Balloons
Champagne
A picnic basket and blanket
A kite
A bouquet
Anything Pinterest told you to bring that you think "That seems weird"
Those are just a few examples of things that clients have brought to their engagement sessions, thinking that "props" were necessary. I promise you that they are not!
I want your session to reflect who you are as a couple, and no props are needed to do that! If you do have prop ideas, or a quirky idea for a themed shoot, let me know! We can talk about the concept and best prepare for it properly!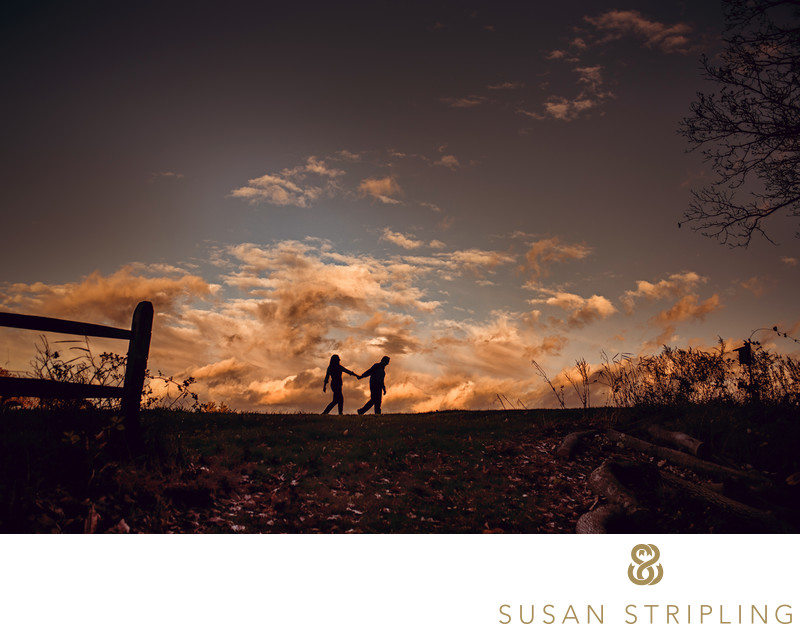 Filename: new-york-engagement-photo-shoot.JPG.
1/1000; f/1.4; ISO 100; 105.0 mm.
Privacy Policy.