Susan Stripling Photography
Riverside Church NYC Wedding
"The Riverside Church is an open and affirming interdenominational Christian church with extensive experience uniting interfaith, heterosexual, and same-sex couples."

This incredible sentence opens the website of Riverside Church, and if the venue itself weren't impressive enough, this warmly inclusive affirmation would have already skyrocketed it to the top of my list of NYC church venues!
This warm, welcoming church provides many social services, ministries, food banks, and more. They are advocates of the LGBTQIA+ community, have an African Fellowship and Ministry, participate in the National Religious Campaign Against Torture, have an incredible Prison Ministry and Family Advocacy Program, and work hard to protect immigrant rights with their participation in the New Sanctuary Movement.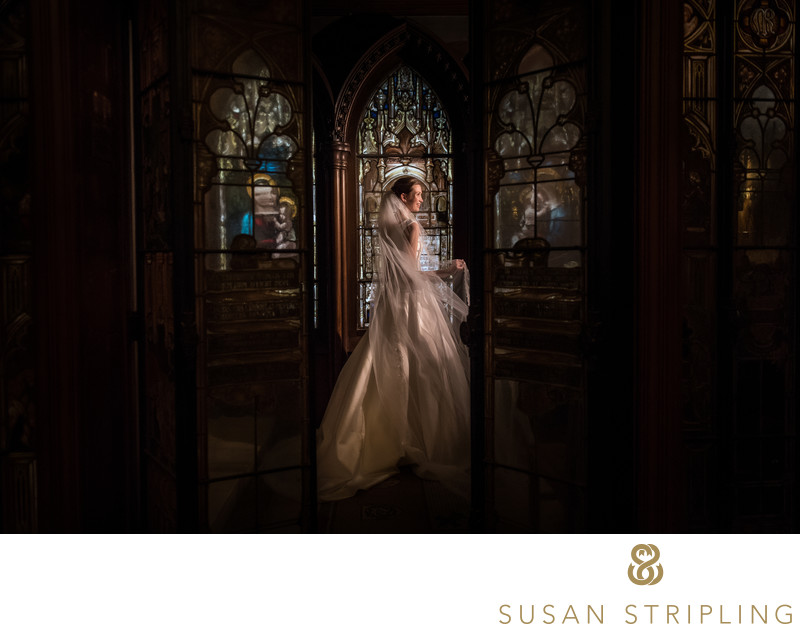 Churches aren't just for wedding ceremonies...they can be incredible portrait locations, too!
Wedding locations
There are many incredible places to take pictures and have your events at Riverside Church. Some are on-site, and some are nearby. My favorite on-site wedding locations include:
The Nave
The Nave is the main sanctuary at Riverside. It's design mimics that of a French cathedral, with huge stained glass windows and meticulous architecture. I am amazed by the light that pours on to the altar, and how the arches of the ceiling meet perfectly over the ceremony location.
Christ Chapel
Christ Chapel is a smaller, sweeter, more intimate chapel for smaller weddings. This gorgeous space has the same exquisite architecture as the Nave, just on a smaller scale for weddings with a more intimate guest list.
Meditation Chapel
If you're having a very private, very small event, you might want to look at holding your ceremony in Riverside Church's Meditation Chapel. I love that Riverside has not just one, not two, but three spectacular locations for you to host your wedding ceremony!
South Hall
Now it's time to chat about reception spaces! South Hall is the largest reception venue that Riverside Church offers, large enough to throw a party for 350-500 of your nearest and dearest family and friends. There is a lobby, a state, and plenty of space to party the night away.

I love the intricate flooring, soaring arches overhead, charming state, and overall warm vibe of this space. It's a huge space that manages to still feel intimate and cozy, certainly not an easy feat!
Assembly Hall and the Ninth and Tenth Floor Lounges
The Assembly Hall is a gothic dream! With the ability to host 150-300 guests for a wedding reception, Assembly Hall is a great choice for a midsize wedding. The Ninth and Tenth Floor Lounges can seat 70-100 guests for a wedding reception, and also have the warm, intimate atmosphere that Riverside Church is so well known for!

Photo location ideas
If you have time to leave Riverside Church on your wedding day, there are so many amazing locations nearby to take pictures of you together.

There are some sweet green spaces directly outside Riverside on Claremont Ave that would be a great spot if you just had a few seconds to step outside. It also could be the perfect spot for some family and/or wedding party photos.

At the corner of Claremont and W 122nd Street is Sakura Park, which is a beautiful old-world NYC style park with gorgeous architecture and greenery. Also notable in that area is the General Grant National Memorial, Claremont Playground, the beautiful views along the Hudson River Greenway, and the entirety of Riverside Park.

Other incredible photo locations nearby include:


Barnard College
Columbia University
Morningside Park
West 11th Street People's Garden
Staus Park
The beautiful streets of the Upper West Side
…and so much more



If you are getting married at Riverside Church, let's talk! I'd love to hear about your plans for your day, and which parts of the Church you're using for your ceremony and reception. I'd love to hear about what you envision for your wedding photography, and work with you to make that experience a great one!




Location: 699 Walnut St, Philadelphia, PA 19106.

Keywords: Curtis Center (6), Hotel Monaco (9), philadelphia (145).

Filename: 167_111712_Wang_Wedding.jpg.

1/400; f/2.8; ISO 10000; 200.0 mm.

Privacy Policy.