Susan Stripling Photography
Wedding Photographer at Belle Mer
Outdoor ceremonies are risky! While a beautiful sunset ceremony is a gorgeous thing, couples have to have a rain plan and the fear of the rain can really be a stressful thing.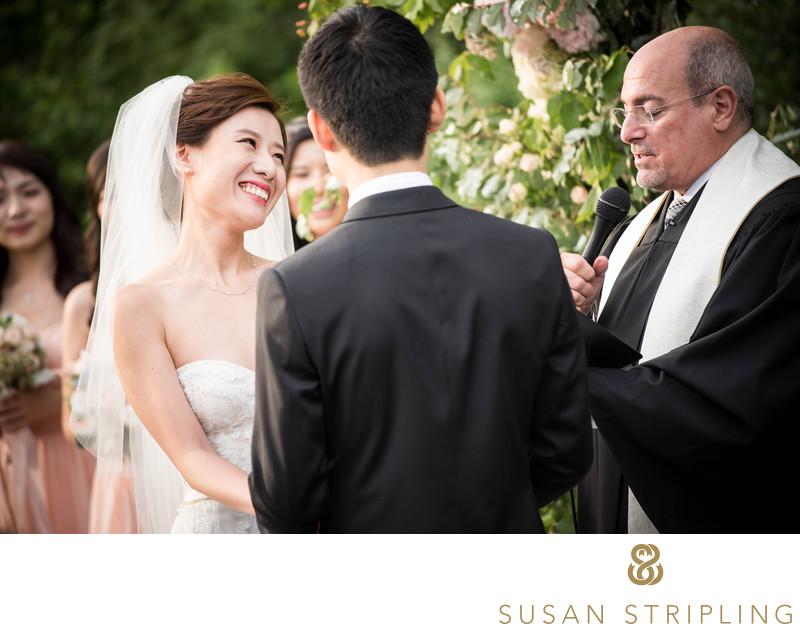 The couple at this 2013 wedding need not have feared because their Newport, Rhode Island summer wedding day was bright, beautiful, warm, and without a single raindrop to be seen. The ceremony was held on the Belle Mer Ocean Lawn overlooking Narragansett Bay.

I absolutely love that the ceremony was timed so that the sun would be setting over the bay. I love that the ceremony layout was angled so that the sun was in the perfect location. I love the rose petals that had been scattered by Flowers by Semia. I adore the striking drama of the bride's Lazaro gown.

Goat Island is such a beautiful place for a wedding and the bride and groom did an exquisite job of tailoring their entire wedding day to truly embrace the natural beauty of Newport in the summertime!

Location: 2 Goat Island, Newport, RI 02840.

Keywords: Belle Mer (22), Flowers by Semia (10), Newport (20), Rhode Island (50), Vanderbilt Grace (10).

Filename: 591_080313_Longo.jpg.

1/6400; f/2.8; ISO 100; 24.0 mm.