Susan Stripling Photography
Wedding Photography at Winterthur
I've talked many times on this website about how much I love harsh natural light. There is something so dramatic about the juxtaposition of bright sunshine with a dark, shadowed background. I love the drama, I love how this lighting scenario makes the subject pop off of the background, and I love the brilliant halo of light that wraps around my clients in these conditions.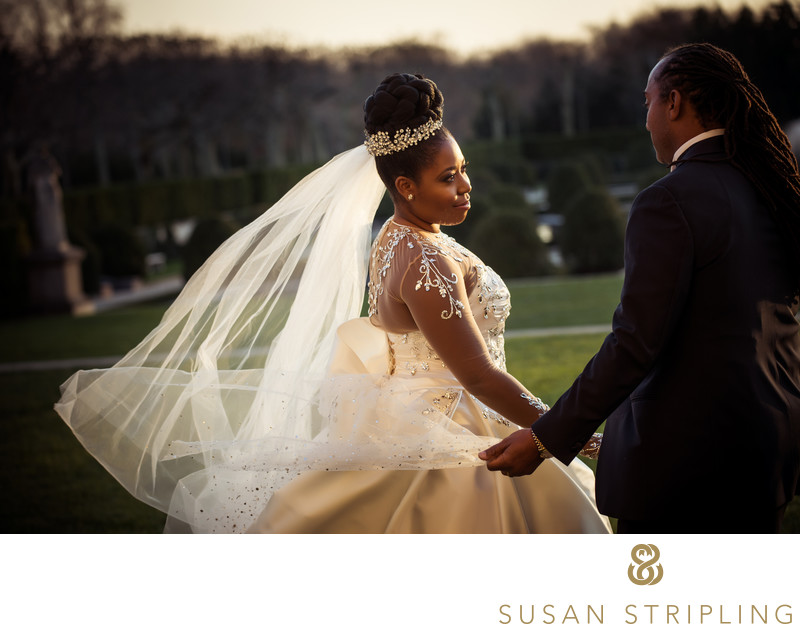 Like this - I love this. I love how the halo of light around her face and in her veil separate them so dramatically form the background.

I'm not the wedding photographer that will ever run for the shadows, and I am certainly not the wedding photographer that puts their subjects in dappled natural light.

So what kind of fight do we find this particular pride in for this portrait? Dappled light.

But why?

Doesn't that break the rules that I have set for the way that I like to photograph my clients?

It does, and that's why this image is so effective.

By standing my client in the dappled light, I created a beautiful pattern of shadows and highlights across the front of her dress. I need sure that she was positioned far enough away from her background that the textures in trees mirrored and emphasized the pattern of light on her dress.

I was also very deliberate in making sure that her face stayed in the brightest part of the light. The patterns of the background lead you to the patterns on her dress, which in turn leads you to the brightness of her face. The shape of the reaching branches, the swirl of her veil, and even the positioning of her face all draw the viewer's eye right to where I want it to go.

While this seems like a lot of consideration for a simple bridal portrait, this is the thought and care that I put into every single image that I make. Whether it is a portrait of you, a family image, or picture of your third cousin breaking it down on the dance floor long into the night, equal care goes into the lighting and composition of each frame. I'm constantly striving to tell the story of your day in new, unique ways. I can't wait to see what your particular day looks like!

Location: 1405 Greenhill Ave, Wilmington, DE 19806.

Keywords: Hotel DuPont (7), Wilmington (7), Winterthur (3).

Filename: 282_110913_Mannion.jpg.

1/400; f/4.0; ISO 400; 155.0 mm.